This Week in Fintech (3/27)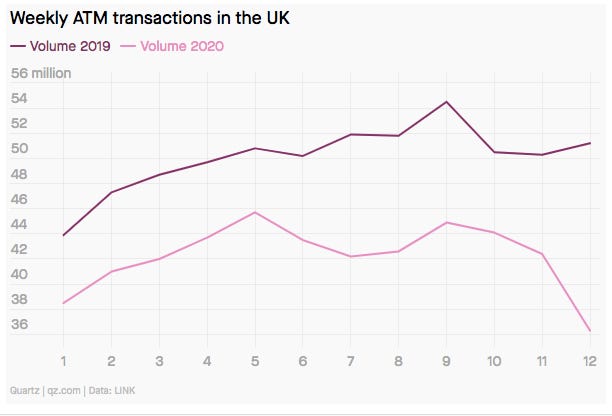 Hello Fintech Friends,
Please excuse the slight delay this week, a midweek fever shifted priorities into the weekend. Take care, and enjoy another week of fintech news below!
Quote of the week

"In the future, as issuing platforms become more mature and less expensive to experiment with, I anticipate you'll see even more vertical neobanks. As the barrier to entry for issuing drops, you'll see one of these from every company that has aggregated a captive segment of customers, and stands in their money flow."
Read of the week
In Cardless in the coronavirus crisis, the Financial Times discusses those who get left behind as the world moves away from cash to cards and mobile payments.
---
Banking and Credit Cards
The tech community has paused at the possibility of a new recession to reflect on technologies like Slack, Stripe, and Uber that came out of the last one. Necessity is the mother of invention. Already, we see an early indicator of a paradigm shift that may emerge from this period: mobile and contactless payments. Cash usage in the UK has dropped by half. African fintech startups are leading consumers to increasingly turn to mobile payments. Mastercard, Dutch banks, and the UKhave raised purchase limits for contactless transactions (in Mastercard's case, across 29 countries). Though people have predicted that the phone would replace the wallet as the primary form of payment for a decade now, it may be the specifics of this downturn that create the conditions for that to happen.
Credit card issuers are beginning to prep for the inevitable charge-offs from the coronavirus crisis, with American Express scrapping its guidance for the year.
Hearteningly, many financial services firms have committed not to lay off employees due to the worsening economic situation, including Visa, Wells Fargo, and Citigroup. HSBC will delay its restructuring until the epidemic is over. Chase will give its front-line staff a $1,000 bonus. And Interest.com publishes a summary of eight credit card lenders - BoA, Barclays, Capital One, Chase, Citi, Discover, Apple, and Wells Fargo - offering debt relief for customers.
However, many banks are also shuttering branches to limit the spread of the virus, as demand for in-person transactions drops, Nationwide and Italian bank Unicredit among them.
As Congress passes a historic $2 trillion stimulus bill, regulators are working with banks to get more small-dollar business loans deployed. UK banks are under fire, however, for imposing onerous personal guarantees on their small business loans. Mortgage lenders are bracing for significantly reduced returns.
HSBC in China has partnered with logistics firm Cainiao to facilitate faster trade finance loans to Alibaba merchants in Hong Kong.
Scotiabank Peru, BBVA and Interbank rolled out PLIN, a peer to peer payment and interbank transfer app in Peru.
The FDIC has proposed a path for more non-banks and fintechs to obtain banking licenses.
The current economic turbulence has also catalyzed the movement for a US digital dollar, with the CFTC putting together a 22-representative advisory group for creating a US central bank currency.
The Bank of England has canceled its 2020 stress tests.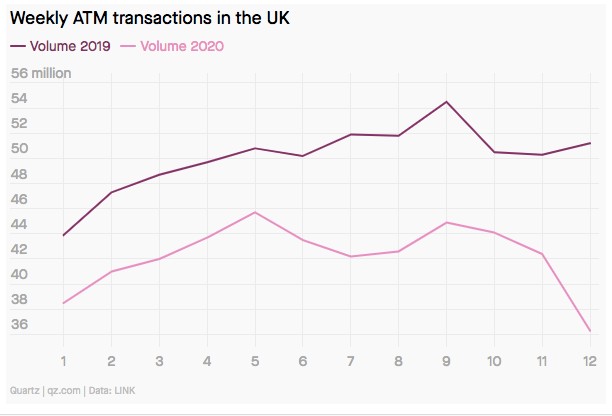 ---
Fintech
After a year in private beta, Revolut launches its consumer banking app in the US. Howevrer, the neobank, along with Monzo, are fighting rumors of insolvency.
Neobank Juno, developed in India but launched for US consumers, launches with a public promise of a 2.15% APY for the first year for its first 2,000 customers, in a period of dropping APYs, and 5% cashback on select brands. Moven, one of the oldest US neobanks, will wind down its consumer unit this year as it focuses its B2B platform. Nubank is focusing on fast-following its credit card launch in Mexico with bank accounts and loans. And Russian payment provider Qiwi will shut down its Rocketbank neobank.
Transferwise has struck a potentially lucrative Alipay partnership to move into the Chinese market.
Corporate credit card fintech Brex acquired (acqui-hired) three fintechs this week - Neji, Compose Labs, and Landria - to help it build out core functionality.
A group of UK fintechs - Trade Ledger, Wiserfunding, Nimbla, and NorthRow - have created a Fintech Task Force to help small businesses through the criss.
Fintech lenders are asking lawmakers to help distribute bailout funds, which have been reserved for banks.
Ant Financial launches OceanBase, its distributed database, for developers.
Sardinia's B2B cashless credit system Sardex is looking to expand more globally.
Currency exchange fintech FairFx has stopped taking cash in its operations.
Greendot hires former Netspend CEO Dan Henry as its CEO.
https://www.braintreepayments.com/se/features/serverless-connections
Earnin says coronavirus has already caused a 30% drop in hours worked.
Womply called on government to work with fintech lenders in providing a direct cash stimulus to small businesses.
Round Up to Zero, a fintech focused on student debt management, has opened up its platform to developers and organizations to drive donations to COVID-19 victims.
UK fintech Finastra was forced to shut down servers as it was hit by ransomware hackers.
French small business lending fintech October approved a three-month freeze on customer repayments.
Mexican fintech lender Credijusto raises new $100 million in debt from Credit Suisse.
See Maximilian Friedrich of Ark Invest detail the growth of Square's Cash App vs. Venmo across the US:
---
Financings
Exits and M&A
---
Deeper Reads
Rosenblatt Investment Banking – FinTech Viewpoint
A List Of Fintech Firms Providing Free Technology To Banks During The Coronavirus Crisis
How the Coronavirus Crisis is Impacting Fintech
Why Aren't Credit Card Companies Releasing New Cards Anymore?
The murky world of India's fintech scams
YNAB: Can an $84 app give you a financial makeover?
Self-isolating fintech coders build app to support 5m freelancers over Covid-19 income loss
Credit scores and the willingness to repay in the age of Covid-19
Irish President's giant dog refuses to leave his side unless he gets a belly rub