This Week in Fintech (3/18)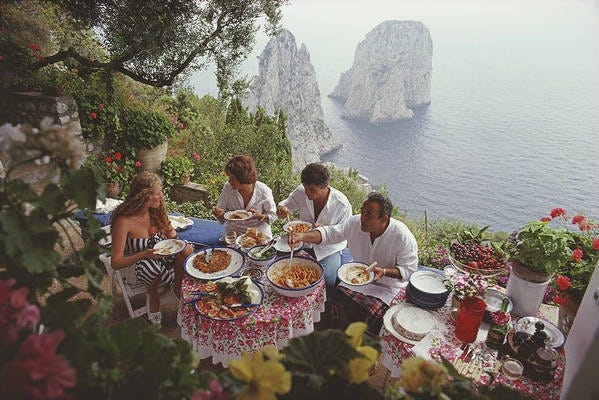 Hello Fintech Friends,
I'm heading to Bogotá next week for our first-ever fintech meetup there, organized by our LatAm Editor Christine Chang. Who should I meet with?
(By coincidence, Jenny from BTV will be in Medellin if you're a fintech company based there.)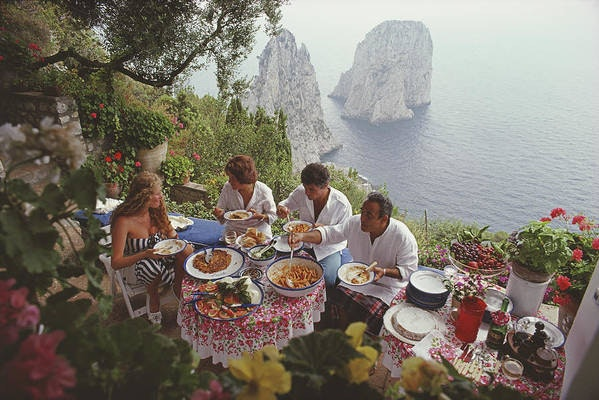 Please enjoy another week of fintech and banking news below.
---
💬 Quote of the Week
---
📖 Read of the Week
Russia's entire financial system could be turning to China to avoid the impact of US sanctions. This is a transition that other countries that find themselves non-aligned with the US will watch closely to understand if it's possible to build an entirely separate financial regime from the American one.
With the rise of central bank digital currencies, it looks increasingly likely that the world will fragment into multiple different currency regimes - each with its own programmatic set of rules. Enacting sanctions may be as simple as turning off interoperability between those currencies overnight.
And digital ledgers could provide governments with unprecedented levels of insight into individual transactions - and the ability to restrict them, freeze the assets of rule violators, and use them to pursue rule breakers. You could picture an individual donor to pro-democracy causes in Hong Kong, living in a country subject to Chinese pressure, having their assets frozen and repatriated to China for making that donation. The libertarian dreams of the blockchain could ultimately end up reinforcing existing power structures, much like the internet did before it.
📊 Stat of the Week
UK fraud victims lose £28K to bank transfer scams every hour. (Source)
---
Sponsored Content
Like geometry?
The Open Banking Triangle is connecting banks with data providers and account-to-account payment solutions—unlocking opportunities to transfer money faster and safer than ever before. The experts at Dwolla, The Clearing House and Plaid share their insights in this report to explain how the global financial system is being revolutionized.
Your first steps to capitalizing on the Open Banking movement are in this report. Read the report and get started today!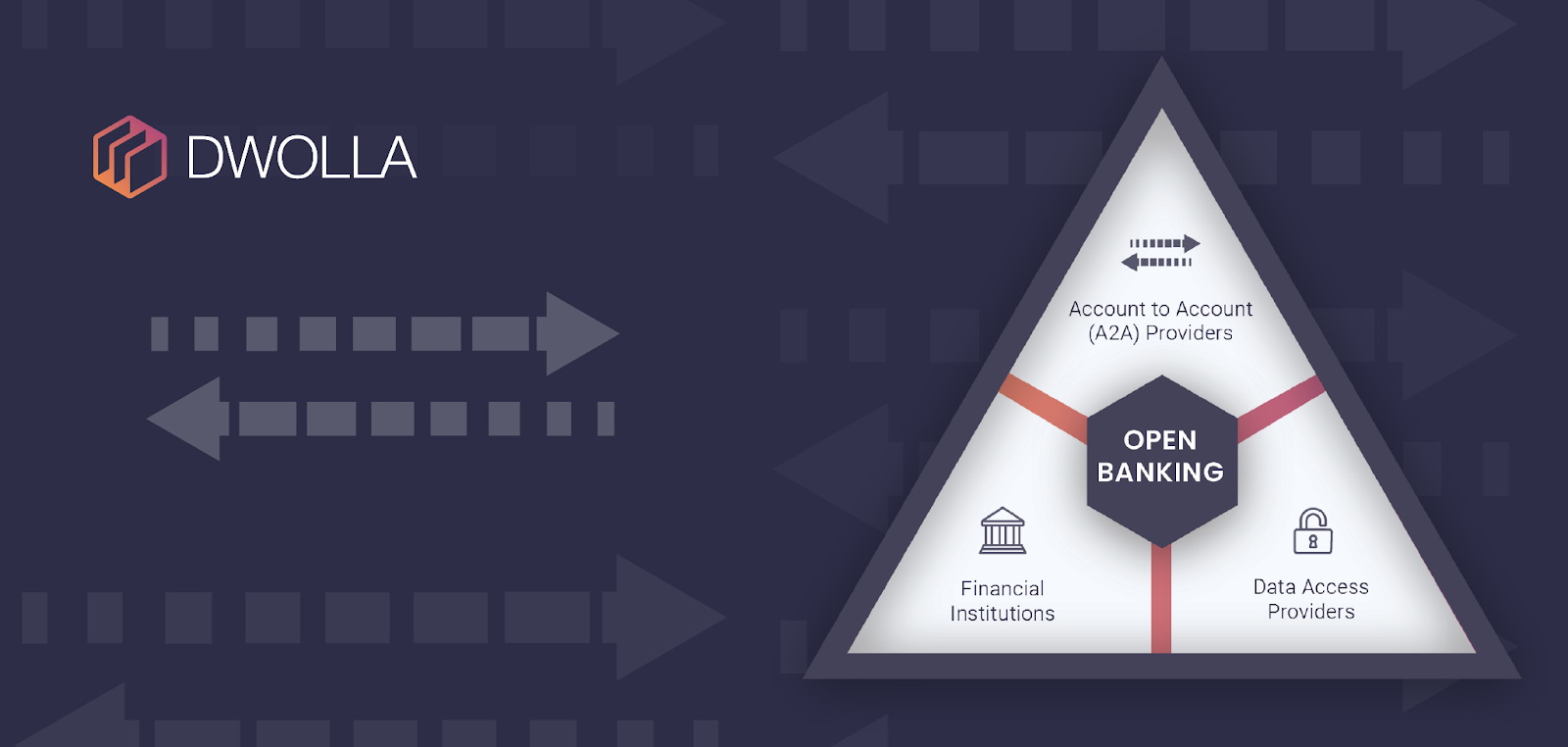 Want to sponsor a newsletter? See our sponsorship information here.
---

If you're looking to hire from a group of 10,000+ smart, motivated fintech professionals, come join This Week in Fintech Talent talent group.
---
🏦 Financial Services & Banking
🚀 Product Launches
Belgian bank KBC launched its own fintech, called Discai, to sell its applications to third parties.
Citi partnered with IntraFi Networks to launch a corporate liquidity management service.
JP Morgan, Bank of America, Citi and Credit Suisse launched a syndicated loan platform called Versana.
📰 Other News
Attention BaaS companies: the Irish postal service is looking for a banking provider.
The USDF Consortium for tokenized bank deposits added Amerant Bank, ConnectOne Bank, and Primis Bank to its ranks. Ten Estonian banks also took part in an AML pilot that caught €3 million in criminal transactions.
The Philippines is launching their own central bank digital currency.
Nigerian banks are limiting how much Naira-based credit cards can spend on foreign purchases to $20 or $50 per month.
Western Union is the latest firm to quit Russia.
Banco Santander was fined for forcing customers to use mobile phones for its web app.
Bank of Ireland plans to hire "100 techies," while BNP Paribas hires 1,000 women coders. HSBC is taking Zoom calls with novice investors and shutting 69 branches.
In the skeuomorphic phase of web3, we're just recreating the offline world online, exactly as it is, and leveraging almost nothing about web3. To that end, HSBC now has a digital sports arena and Siam Commercial Bank joined JP Morgan *in the metaverse.* (And AmEx is not far behind.)
---
💻 Fintech
🚀 Product Launches
Baselane * debuted a unified financial management platform for landlords.
Treasure launched Treasure Cash to help businesses maximize yield on their treasuries.
Mercury launched its own revenue-based financing / venture debt product.
Catch debuted free personal payroll for freelancers.
📰 Other News
EBay teased a digital wallet - and is looking into crypto and other payment options.
Japanese 7-Elevens are getting a holographic payment terminal.
Green Dot and Plaid partnered to enable open banking solutions for Green Dot's payments customers. FinScore and Advance AI partnered on open banking credit scoring in the Philippines.
Stripe is already picking up clients for its new crypto ID verification product, beginning with FTX. Next up - Blockchain.com.
The Reserve Bank of India ordered fintech giant Paytm to stop onboarding new customers and submit to a tech audit.
Crypto provider Notabene partnered with Refinitiv on sanctions screening.
Cryptocurrency exchange FTX is moving into Europe. B2B customer payments dashboard Cledara launched in the US.
Instagram is getting into NFTs too.
PayPal raised $250 million for Ukraine relief efforts and Revolut generated €10 million in funds raised for the Red Cross in Ukraine.
Funding Circle, the UK peer-to-business lender (where I started my career in fintech in 2012), announced £64 million in profit for 2021. Finland's Fellow Finance is shutting down its peer-to-peer lending and pivoting into banking.
Payments firm Dash was ordered by the Bank of Ghana to stop operations (a week after raising its seed round). Vanguard faces a class-action lawsuit over its management of retirement funds.
---
Sponsored Content
Solid provides the complete FinTech architecture and guidance you need to quickly build, launch and scale your FinTech program! Think of Solid as a gym with a trainer included – one that helps you achieve your FinTech goals!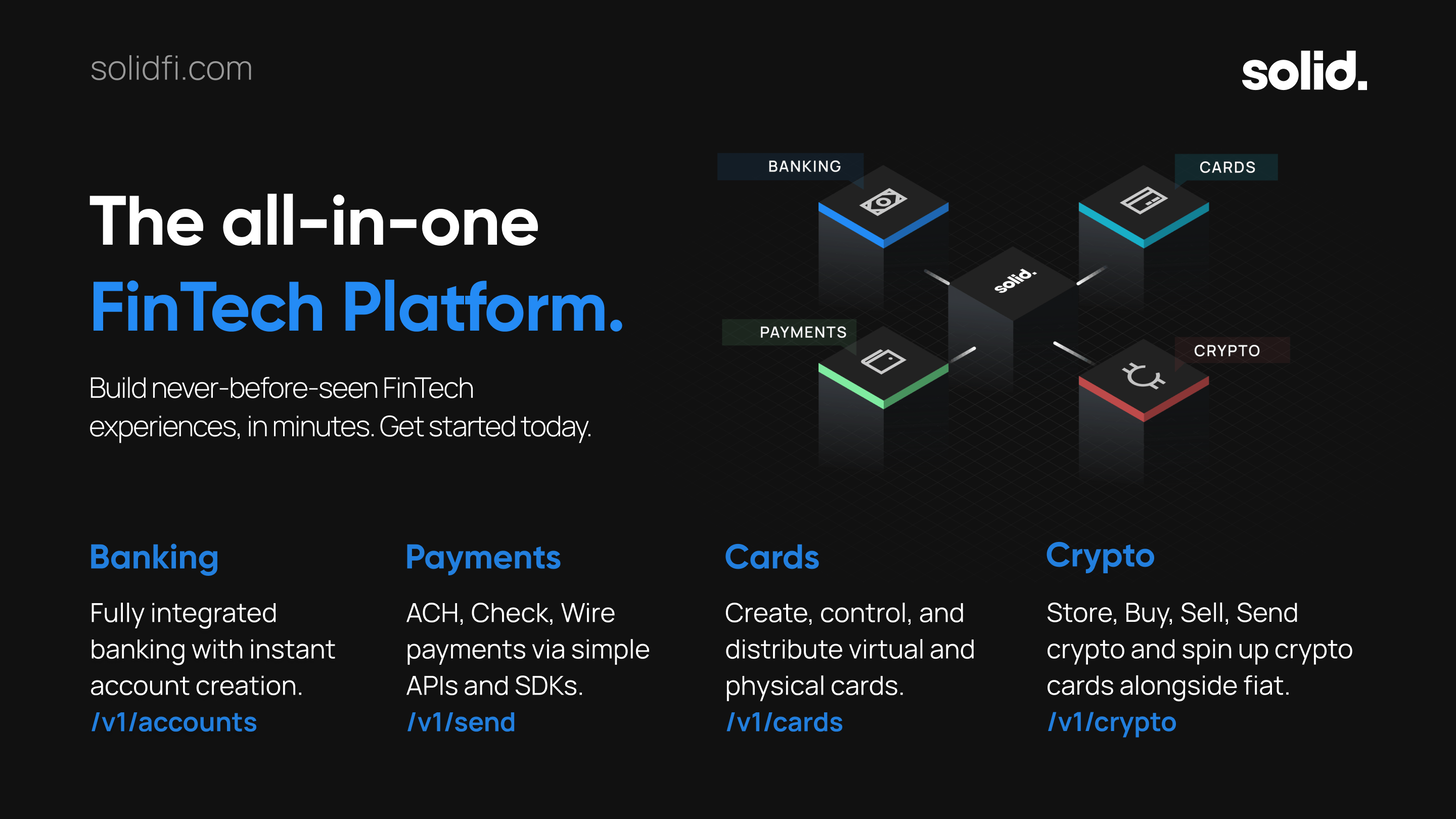 Want to sponsor a newsletter? See our sponsorship information here.
---
Come meet us in-person at www.fintechhappyhour.com.