This Week in Fintech (2/28)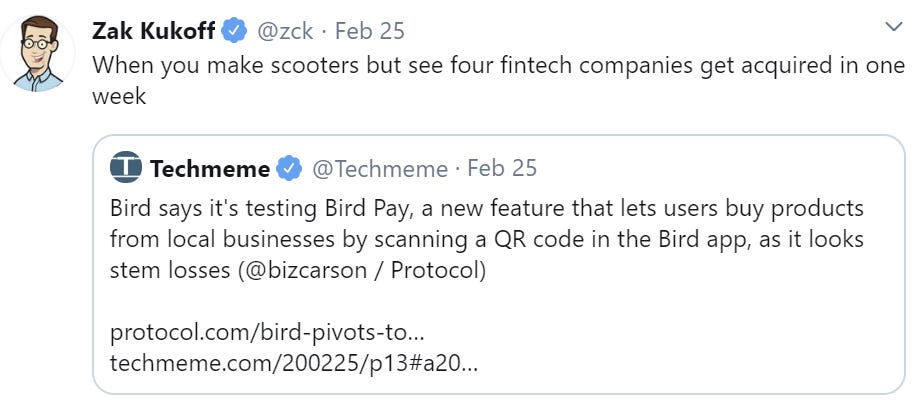 Hello Fintech Friends,

This tweet captures the fintech zeitgeist.
It feels like the industry is having its 'crypto 2017' moment, with fundraising, product launches, and acquisitions accelerating. This leaves many open questions: how much growth is sustainable? How many comparable products are markets willing to support? How do product prospects change in a (much-expected) market downturn? The answers remain to be seen.
Please find another exciting week of banking and fintech news below.
Quote of the week
"Cash may soon become an eccentric anachronism for the young."
Open role spotlight
The New York Department of Financial Services is looking to hire a Financial Technology Attorney in the Office of the General Counsel.
Read of the week
In his piece Is This A Fintech Bubble? hedge fund manager and fintech angel investor Howard Lindzon asks the burning question: are current fintechs overvalued? And will this be an issue in fundraising or will the spate of recent liquidity events prop up valuations?
Fintech Today relatedly summarizes the recent frenzied week of fintech M&A, in which even JPMC's Jamie Dimon boasted that the bank could make some fintech acquisitions. For those out of the loop, in the last two weeks, Lending Club acquired Radius Bank, Intuit acquired Credit Karma, Ally Financial bought Cardworks, and Morgan Stanley acquired E*Trade.
---
In banking and credit card news, JP Morgan Chase, which long bucked the trend of taking its retail banking business international, is in talks to expand consumer banking to the UK. This would follow in the footsteps of Goldman's Marcus bank, which has been rapidly growing into its UK footprint. It remains to be seen whether other competitive bulge-bracket banks expand across borders in search of market growth and cheaper customer acquisition.
Meanwhile, other UK banks continue to trim their branches. HSBCwill close another 27 British branches this year, in light of weak foot traffic. Metro Bank will repay £50 million to the RBS bailout fund after scaling back its plans to open branches in the next few years. And Lloyds will lay off another 780 of its branch staff this year.
Brazil is pushing ahead with an ambitious real-time payments rails proposal. The program, called PIX, will let individuals and companies make real-time payments at all times, via mobile, online, at ATMs, and using QR codes. The government expects to launch the program in November. Sweden, meanwhile, began testing the e-krona, which if launched would be the world's first central bank digital currency to market.
Commission-free trading, high volatility, and a continued bull market have combined in recent months to fuel rampant speculation in popular equities. The elimination of trading fees, pioneered by Robinhood and emulated by other online brokerages, could breed a new generation of retail traders - but heading into the tail-end of a 10+ year bull market, it could also be the prologue to significant losses.
FMR, the parent company of Fidelity, is spinning out Akoya, which provides a dashboard for consumers to choose which apps can access their financial data - a service that should become more valuable as Open Banking grows.
Ralph Hamers, the CEO of ING who developed the firm's Think Forward digital strategy, will be leaving the firm to take the CEO role at UBS bank. Mastercard, meanwhile, also announced a changing of the guard this week, with Chief Product Officer Michael Miebach taking over as CEO from Ajay Banga and announcing plans to expand further into fintech. Elsewhere in Mastercard, the firm plans to recruit 1,500 new employees to its new Dublin campus.
UK Sharia-compliant investing bank Al Rayan shut down its online banking experience, forcing customers to switch to mobile, on February 26th.
Bankers are starting to wonder whether an increased appetite for regulations will lead more 'big tech' firms (eg: Facebook) to get into financial services.
In a turn of events, the UK's Financial Conduct Authority has referred itself to the Information Commissioners Office after it discovered a breach of the personal information of 1,600 people who had lodged complaints in its systems.
---
In fintech news this week, Intuit will acquire Credit Karma for $7.1 billion in cash and stock. The acquisition will result in one of the largest consumer financial and credit data companies in the US. Credit Karma had previously been building out a free version of Intuit's golden goose, Turbotax (as Ben Thompson notes in Stratechery). It is likely that the merger will redirect consumers to Intuit's paid tax prep products.
Credit Karma's growth of monthly active users year-over-year posed a threat to Intuit: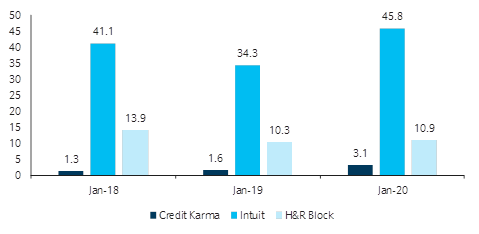 (from Similarweb)
Revolut successfully raised its $500 million round, in a deal valuing the company at $5.5 billion, as it prepares to launch in the US. However, like many neobanks, the company has yet to turn a profit during its breakneck growth and investor scrutiny on neobank profitability prospects is growing.
White-labeled credit card platform Deserve secured a $100 million credit facility for customer lending from bank Credit Suisse.
Electric scooter startup Bird is launching Bird Pay, which lets users make purchases from local merchants through the Bird app.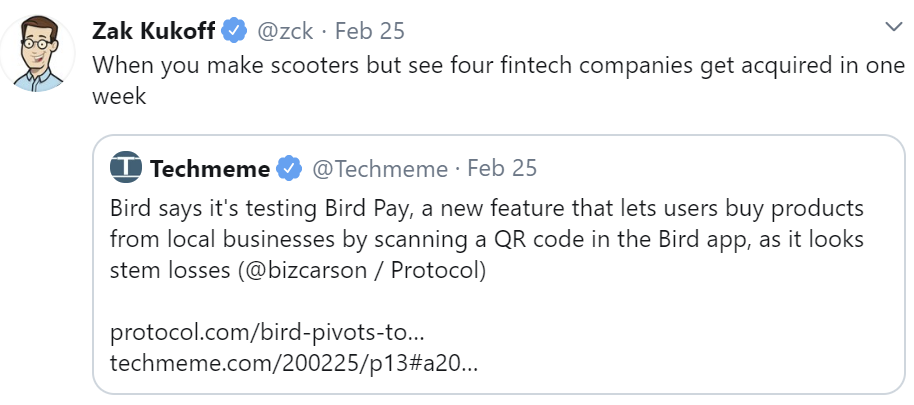 New German neobank Tomorrow launched a checking account that helps users offset their carbon footprint.
After months of high-profile member attrition, Facebook's Libra Association addedShopify as the newest member of the digital currency collective.
M1, which provides a combination neobank, roboadvisor, and lending platform, announced that it has reached $1 billion in assets under management.
Cross-border currency transfer fintech Azimo annouced it will use Ripple's On-Demand Liquidity service for faster money transfers. European payments processor UniCredit will partner with equensWorldline for multi-currency transactions in Austria and Germany. And Luxembourg financial infrastructure platform Banking Circle has secured a license from the country's regulator.
Carbon, a Nigerian fintech platform, launched a new $100,000 investment fund focused on insurance, health, and education tech startups. Meanwhile, fintech specialist venture capital firm QED raised $350 million for its sixth fund. And The Redsand Group is launching a fund to support fintech tackling sustainability across financial services.
Is competition for credit cards driving up customer acquisition costs? Techcrunch investigates but can find no evidence of increasing CACs.
Inc. profiles how Trueaccord is revolutionizing the collections industry.
Business Insider publishes Sable's Y Combinator pitch deck (paywall).
Glint will send you a Gold-backed Mastercard to let you make digital payments… in gold (?)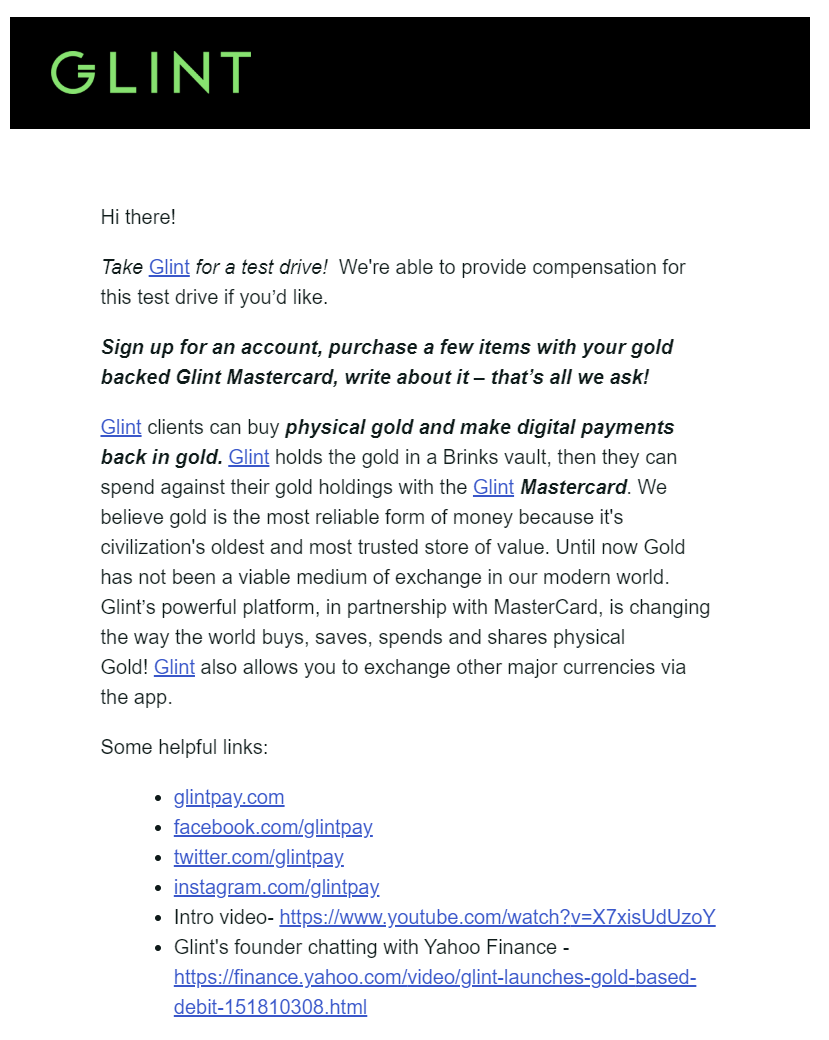 "To assess peoples' likelihood of having [coronavirus], Ant Financial is providing development support for a national health code system. Once it's launched, the color-code system will be operated by local governments and available on other platforms as well." (source: The Future of Finance)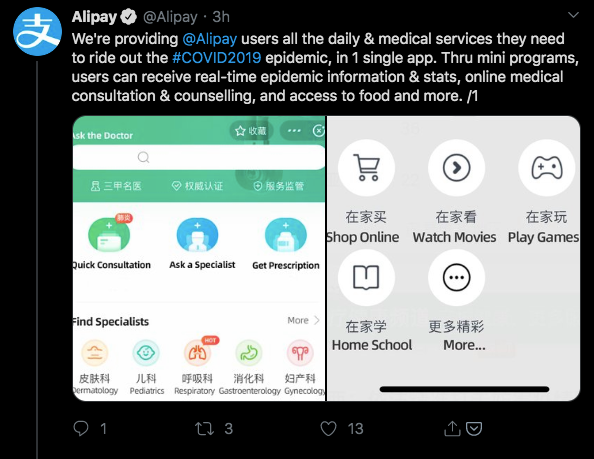 ---
Financings
Exits and M&A
---
Deeper Reads
Stripe Teardown: How The $35B Payments Company Plans To Supercharge Online Retail
Goldman Sachs decided to pass on E-Trade before Morgan Stanley snatched it up, sources say
German Savers Transform the Baltics Into a Fintech Vanguard
Behind the Curtain on LendingClub's acquisition of Radius Bank
How credit card companies reward the rich and punish the rest of us
ETrade's Sale Is the Death Knell for Discount Brokerages
How Fintech Startups Are Disrupting the Payments Industry
Reimagining sustainable financing through fintech
Alpha (fundraising) and Omega (exits)
DeFiance: billion-dollar finance, million-dollar hacks, and very little value
Magic fintech mirror, who is the fairest one of all in 2020?
The Plaid 'mafia' begins with John Whitfield joining student loan fintech startup Summer
Conducting Business With Banks: A Guide for Fintechs and Third Parties
Eight predictions about the future of banking
'Single, sassy' Timothy the hippo has big, big love for Fiona