This Week in Fintech (2/27)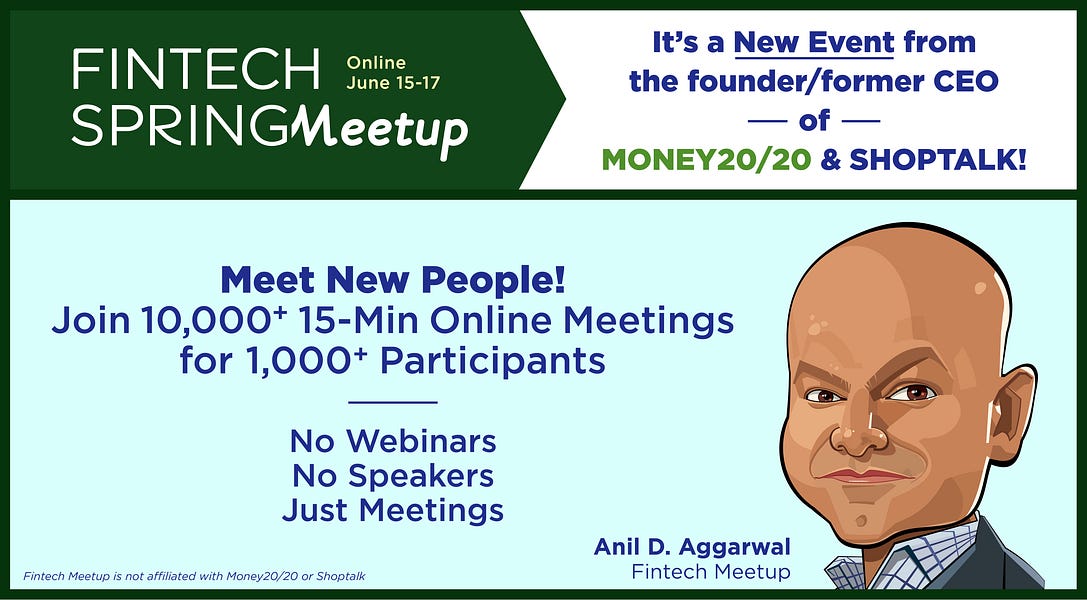 Hello Fintech Friends,
Last chance to request a date for the next round of deep-dives!
Please find another week of financings and transactions below.
---
Sponsored Content
Fintech Meetup is a new event from the founder/former CEO of Money20/20 and Shoptalk! We're scheduling 10,000+ 15-minute online meetings so you can meet new people. No webinars. No speakers. Just meetings. Get your ticket now to join 1,000+ others, June 15-17.
---
💸 Venture Financing
💵 Debt Financing
Petal raised a $127 million debt facility from Silicon Valley Bank and Trinity Capital to expand more credit to underserved consumers.
TerraPay entered a strategic partnership with Lendable and raised $20 million in debt for its payment network.
💰 Venture Funds
Oak HC / FT, a fintech specialist investor, announced its $1.4 billion Fund IV.
Avid Ventures raised $68 million for a female-run fintech fund.
☯️ Exits and M&A
💻 Fintech
🏦 Bank
💲 Investment Management
In its continued divestiture to meet its asset cap, US bank Wells Fargo will sell its asset management arm to private equity firms GTCR and Reverence Capital for $2.1 billion.
Investment managers IK Investment Partners and Intermediate Capital Group agreed to invest in Norway's wealth manager Formuesforvaltning.
📈 SPACs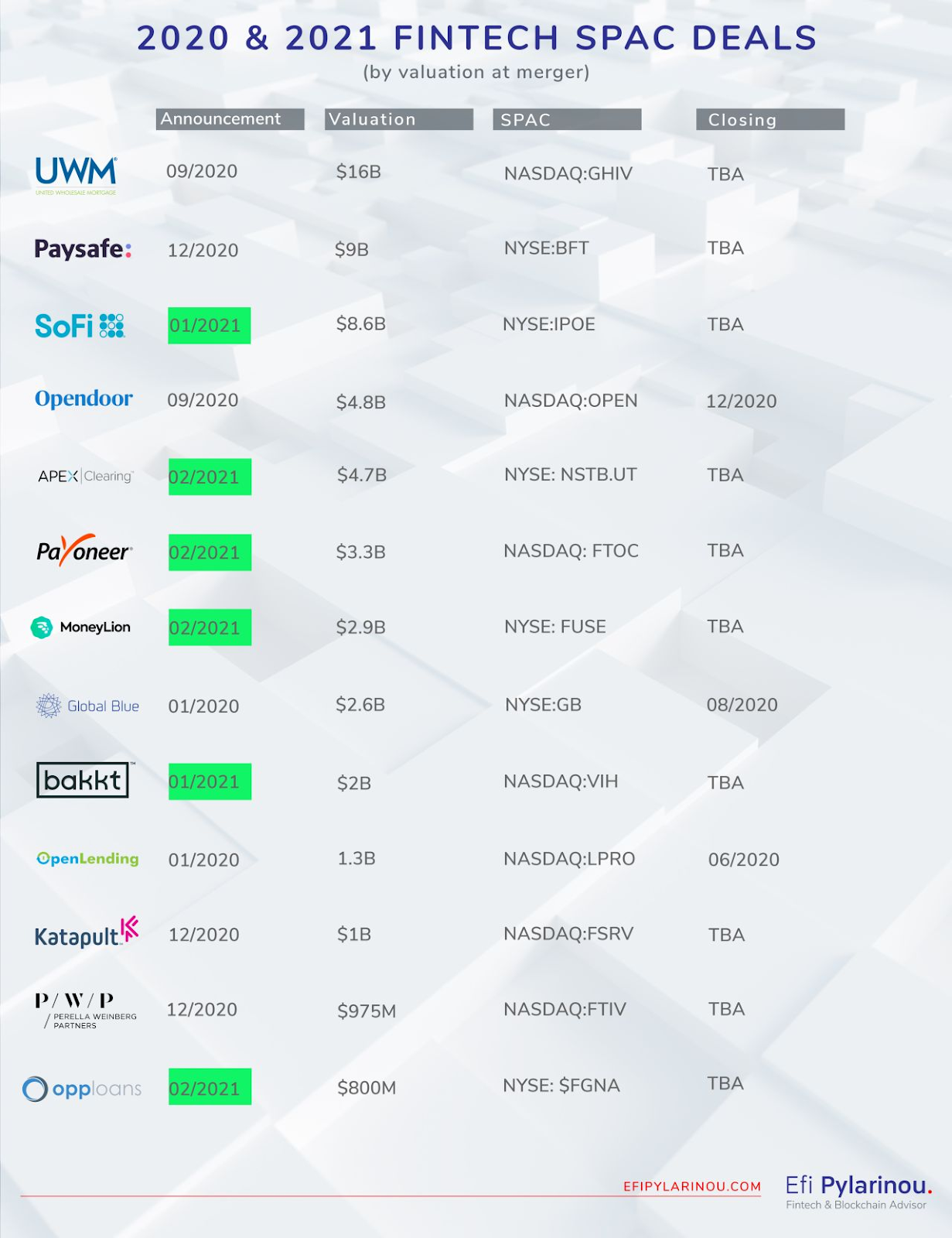 (Source)
---
🌎 International
Get your weekly fix of fintech in India and Asia with Osborne Saldanha's Fintech Inside. This week's edition includes:
One Big Thought: Deep dive into CRED's business model, products, challenges and future.
Top 3 News Items: 2 Indian fintechs are prepping for IPO in 2021 and 2022. Stock broking fintechs are chipping market share away from incumbents.
Featured Fintechs: Featuring Indian fintechs in Blue collar banking, neobanking and insurtech.
India and Asia Update.
---
🔎 Weekly Deep-Dive
Need a deeper dive? Check out Simon Taylor's Fintech Brain Food for more insight into the stories driving this week's news: That Citi $500m error, how did it happen and what's really going on?
A dive into core banking UX
Welcome to payment ops
And why bank procurement is a big part of the issue
Also: 4 Fintech companies you should see, a breakdown of the Marqeta IPO and the Brex Charter application 📯
---
📚 Deeper Reads
One finance app to rule them all
Fintech companies must balance the pursuit of profit against ethical data usage
New fintechs spring back into life
Why Are We Seeing a Fintech App Every Day?
How Are Fintech Companies Transforming the Sending of Remittances?
The Promise of Platforming the Platforms
As BNPL startups raise, a look at Klarna, Affirm and Afterpay earnings
Visa failed with Plaid. What's its fintech plan now?
15 Fastest-Growing Fintech Companies
Tinkoff and Russia's ecosystems
Kenya Is Becoming a Global Hub of FinTech Innovation
Competition heats up among Argentina's digital wallets
UP Fintech: A Fintech Investment Bank Serving the New Economy
Multiplayer fintech, and the muddled world of startup data
The Product Expansion Strategy of Marcus by Goldman Sachs
The rise of digital finance is the "real financial transformation story of the Covid-19 era," according to JPMorgan.