This Week in Fintech (2/14)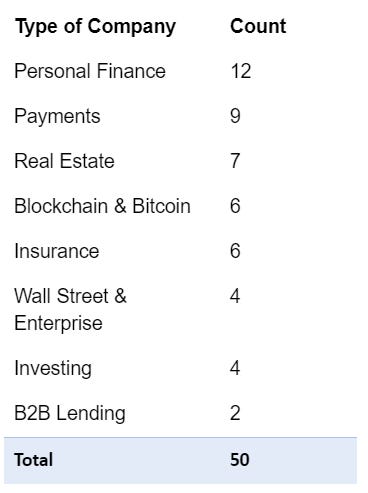 Hello Fintech Friends,
To paraphrase an up-and-coming UK music act: "money can't buy me love," but with the rate of innovation in fintech it's likely that there will soon be a killer app for that.
Please find another week of banking and fintech news below.
Quote of the week

"It's not hard to see the huge opportunity in building better financial services for low-income people."
- Hans Morris, NYCA Managing Partner (source)
Open role spotlight
From Olivia Benjamin's great Role Call newsletter, Stripe, Chime, Finix, and MANTL all have open fintech roles between SF and NYC.
Read of the week
Forbes this week released its Fintech 50 spotlight for the most innovative fintech companies in 2020. The 50 entries' products represent $14 billion in funding and cover a variety of fintech sectors. A quick count by sub-sector: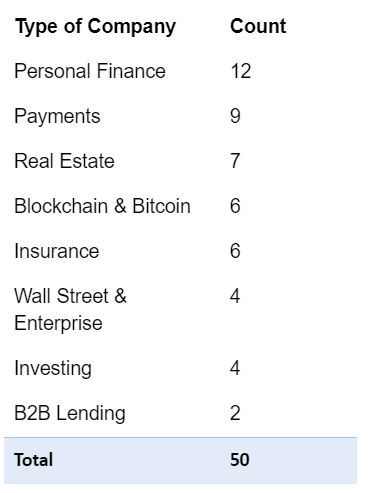 ---
In banking and credit card news, new surveys reveal that consumers with distressed financial situations are turning to their banks for advice, but are increasingly doing so through digital channels rather than branches. This comes as banks continue to cut branches and retail jobs - this week it's Unicredit in Italy, which will close 450 branches over the next three years. But what happens to offline consumers in the transition?
Visa is planning a major overhaul to its card interchange fees, including higher rates for online transactions and lower ones for services such as real estate and education (eg: so that landlords are incentivized to accept credit card payments). This could allay the high fees that premium cards have become notorious for charging - which contribute to Visa's ~50% profit margin.
In other Visa news, the company extended its partnership with Barclays Bank through a multi-year European agreement and held its annual investor day (presentation) - which focused, among other things, on fintech: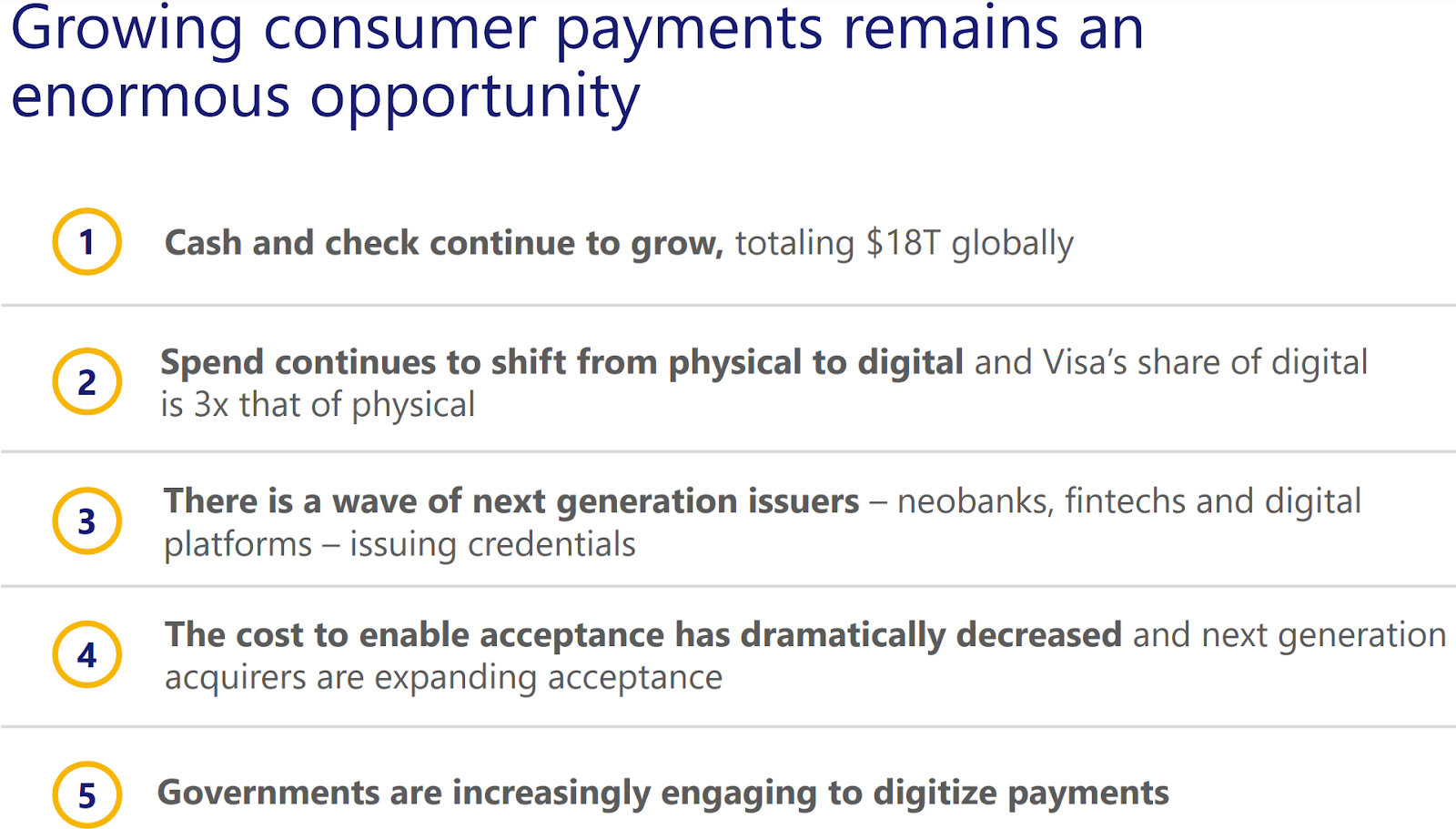 Mastercard, meanwhile, has won approval from the Chinese central bank to enter the $27 trillion payments market there by setting up a bankcard clearing institution.
Global bank Standard Chartered has partnered with Australia's Assembly Payments to set up a new joint-venture company in Singapore meant to handle transactions across multiple forms of payment (mobile, digital wallet, credit card, etc.) and across borders.
Bank of America is registering patents as fast as it can, with 418 new patents in the last year in areas like "programming technology, 61 in the information security category, 45  in online/mobile banking, and 40 in artificial intelligence and machine learning." Citibank, meanwhile, is adding a NLP virtual assistant to its US call centers.
DNB bank in Norway, which launched an open banking mobile app that allows users to link all accounts, is now adding account-to-account payment from any bank that users list in the app as  a feature.
Goldman Sachs plans to expand its Marcus retail bank aggressively in the UK in the next year, where it has built up £13 billion in AUM. Goldman and Citi also conducted their first successful equity swap transaction on a private blockchain built by the two banks. And NACHA, the US clearinghouse, is building a blockchain-based exchange called Phixius to facilitate business-to-business payment information exchange.
Deutsche Bank invited Amazon, Google, and Microsoft to bid for its €13 billion tech overhaul plan.
The US Federal Reserve, which oversees and regulates interbank payments, could be considering extending its oversight to non-bank (read: fintech, crypto) retail payment companies as well.
The US charged four high-ranking members of China's military over the Equifax data breach that compromised account information for 145 million consumers. The Justice Department alleges the breach was the result of a three-month campaign by the Chinese military.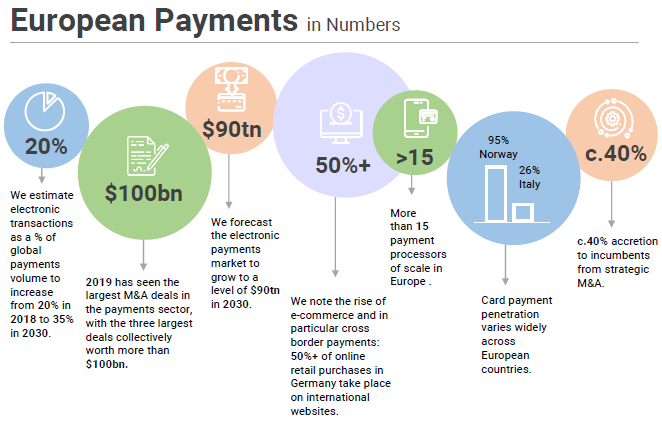 ---
In fintech news this week, Varo, an American neobank, was finally granted FDIC approval to become a nationally-chartered bank. This is a giant step forward in the legitimization of fintechs (and only the second such approval in the last 10+ years) as they look to move away from the partner bank model and stand on their own.
As reported by Quartz, Apple is beginning to eat up a massive share of the global payments market: "Apple Pay accounts for about 5% of global card transactions and is on pace to handle 1-in-10 such payments by 2025." This comes as the company works out some kinks with users of its tap-and-pay feature double-charging users.
In another sign of the transition to digital retail payments, gas stations Chevron and Texaco will now acceptVenmo payment at all of their locations.
To facilitate account onboarding, Revolut - which has 8 million accounts open worldwide - is beginning to automate much of its compliance workflow. This comes as the bank rolls out its open banking service - similar to DNB's above - to allow customers to access all their bank accounts in one app. This comes as rival neobank N26 announced this week it is leaving the UK - a move it blames on Brexit but some speculate is due to poor returns on its UK expansion.
Airbnb is moving into rewards (and possibly payments?) as per Alex Cohen and featured in Fintech Today.
Small business fintech Divvy is launching a new feature: Divvy Capital, to provide invoicing loans to its customers. This comes as Kabbageintroduces short-term small business loans that can be repaid in as few as three days.
Square secured a partnership with UPS to make its merchants' shipping and order fulfillment processes more streamlined, and to combat Amazon and Shopify, which have made inroads into the small business lending market.
Ramp, a new corporate card AmEx and Brex competitor, came out of stealth.
Financial management startup Zero landed a $100 million line of credit from Neuberger Berman to extend to its customers.
Uber Money is growing its India team, with 100 new employees at the Hyderabad Tech Centre.
Carta is launching its own venture studio, Carta Ventures, beginning with three 'problems to solve' for entrepreneurs.
Refinitiv is partnering with Google Cloud to power its equities market tick history database.
And lastly, h/t ti Chris Wu for this Instagram find. Are we at peak fintech?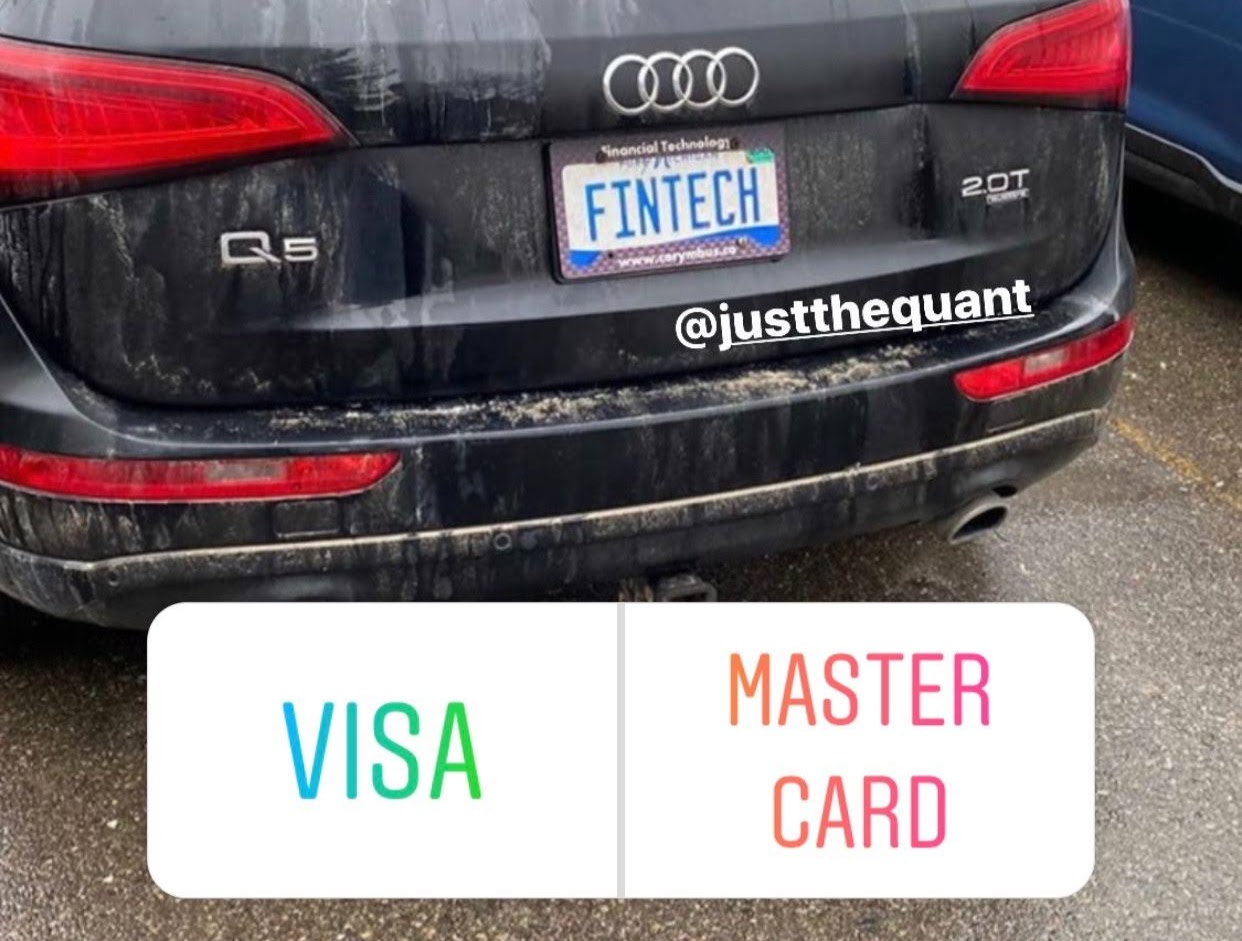 ---
Financings
Exits and M&A
---
Deeper Reads
Fintech has finally cracked the US banking sector
Tech Startups Are Flooding Kenya With Apps Offering High-Interest Loans
American Revolut-ion: European banking apps face crowded U.S. market
Big banks are set up to 'kill' change, says founder of $2.5 billion fintech firm Monzo
Square's Robinhood competitor and Robinhood's Square competitor are rented from API providers, delegating billions; plus 13 short takes on top developments
From A Simple, Boring Bank To Tanzanian Financial Apps
Chinese Hacking Is Alarming. So Are Data Brokers
All The Fintech - Or rather just about one this time, Ramp
Angola and the money laundering paradox
How banks are motivating customers to save up for big purchases
Top European fintech startups to follow in 2020
Banks, fintech startups clash over 'the new oil' — your data
What Visa's Swipe Fee Changes Mean For Your Wallet
Adorable 'cat burglar' named Culprit nabbed by police, was just 'kitten around'