This Week in Fintech (12/4)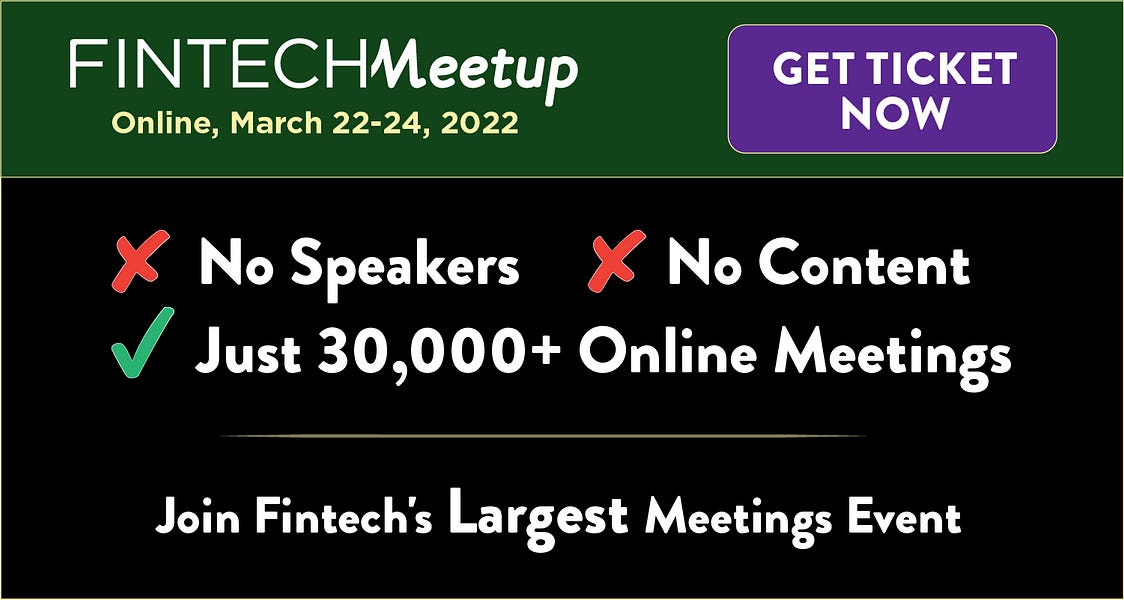 Hello Fintech Friends,
Come see us at our Miami Fintech Happy Hour in Brickell next Wednesday (12/8) at 5:30!
And a huge, huge thank you to our Fintech Formal sponsors for their amazing support these last couple weeks.
Please find another week of fintech financings and exits below.
---
Editor's Note: If you're an early-stage startup founder raising equity or debt, we may be able to help - please see our primer for more details and reach out to nik@thisweekinfintech.com.
---
Sponsored Content
Fintech Meetup Meetings Lead to Closed Deals! Meetings ⇨ Leads ⇨ Deals 🤝💰. Fintech Meetup has 30,000+ online meetings so you can easily fill your 2022 pipeline and close deals! Meet with 3,000+ participants from Fintechs, Banks, Credit Unions, Community Banks, Neobanks, Networks, Solution Providers, Tech cos, Retailers & Merchants, Investors and many others! Online, March 22-24. Get Ticket Now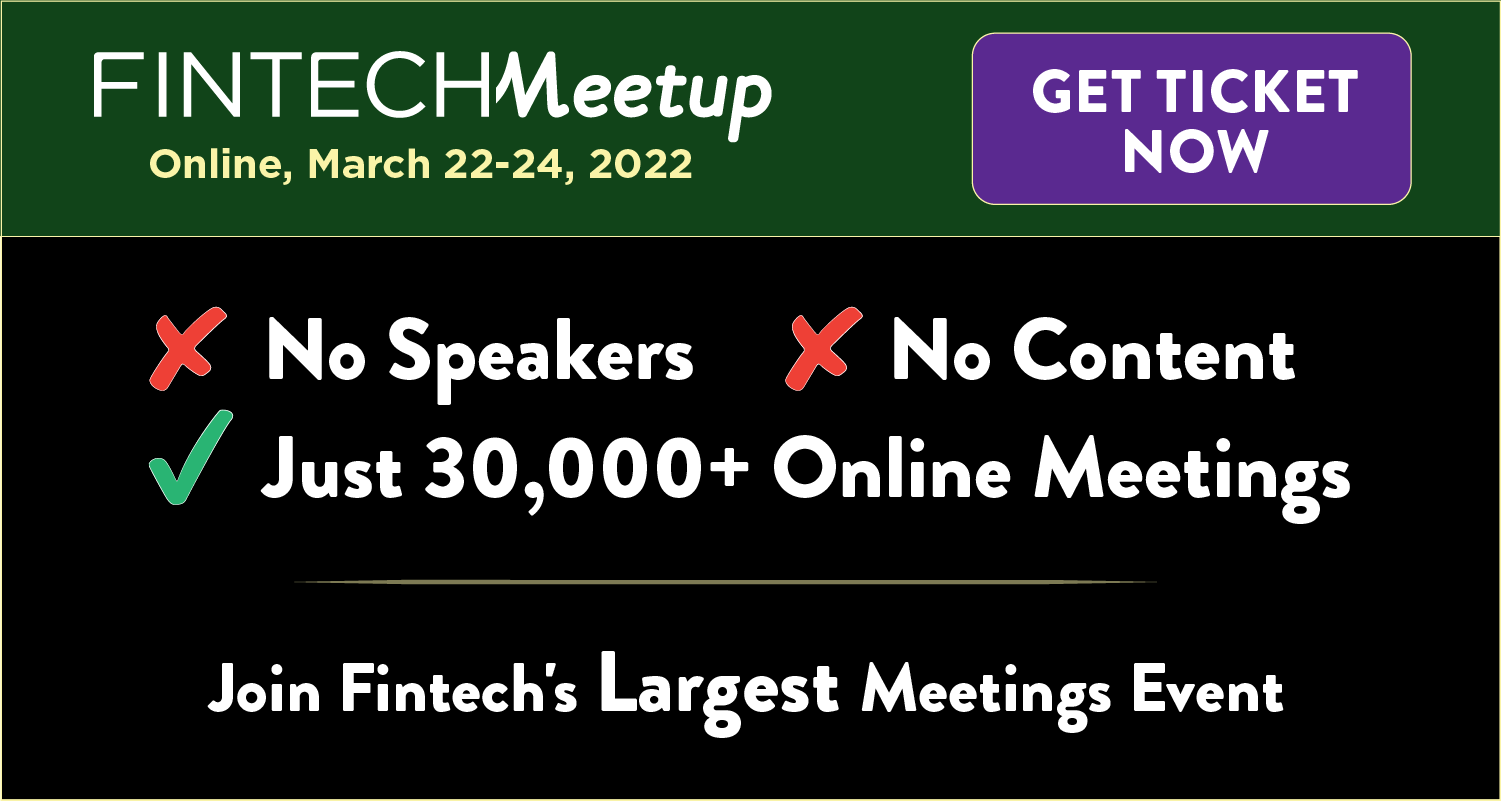 Want to sponsor a newsletter? See our sponsorship information here.
---
💼 Open Role Spotlight
Come find your place on the team at the most inspiring fintech startups! Browse open roles on This Week in Fintech's job board.
---
💸 Venture Financing
☯️ Exits
💻 IPOs
Nubank lowered its target IPO valuation to around $40 billion.
📈 SPACs
🤝 M&A - Fintech
🏦 M&A - Bank and FinServ
Capital One will acquire healthcare-focused investment bank TripleTree.
Private equity firm Apollo will acquire the wealth-distribution and asset-management businesses of alternative investor Griffin Capital.
---
Sponsored Content
Fintech Meetup is the easiest way to meet hundreds of Fintechs like Alviere, BitPay, BlockFi, Certa, MANTL, Nymbus, Signal Intent, Sila, Socure & Zero Hash (to name just a few!), Investors like Bain Capital, Commerce Ventures & Tribeca Ventures, Banks like Bank of America, Citi, J.P. Morgan & Wells Fargo, Neobanks like Dave, Revolut & Varo Bank, Credit Unions representing 13 million members and many, many others! Online, March 22-24. Get Ticket Now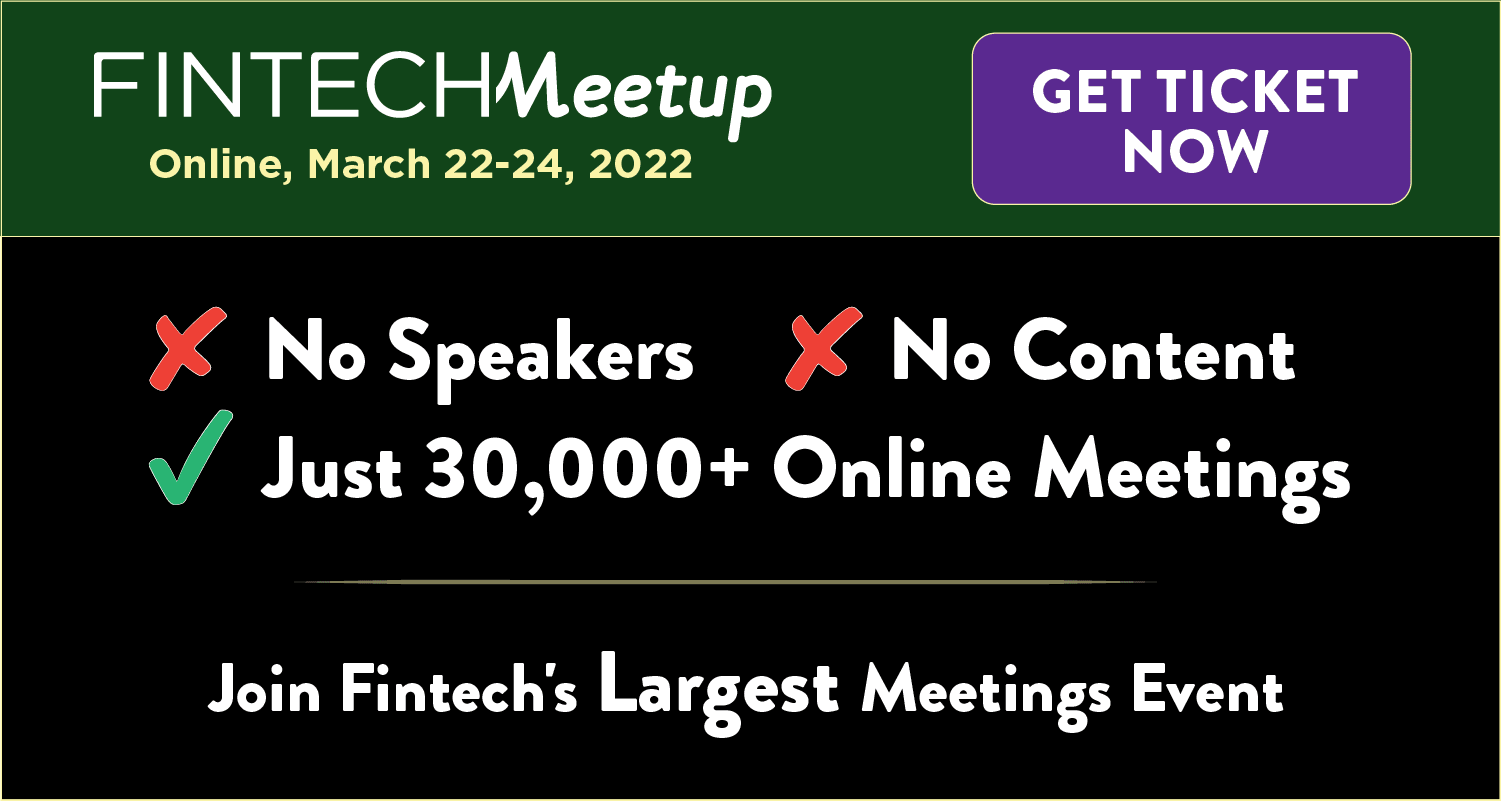 Want to sponsor a newsletter? See our sponsorship information here.
---
🌎 Fintech Around the World
Chipper Cash's Twitter integration may revolutionise Africa's creative hustle
Why the eNaira is not yet useful to Nigerians
With $3B expected in 2021, Singapore is becoming a fintech capital
With just 75 cents and a smartphone, you can now trade crypto in Indonesia
📚 Deeper Reads
The SEC Crackdown on DeFi is Imminent
From Fintech's Top Founders To Wall Street's Best Dealmakers: 30 Under 30 Finance 2022
Fintech's Fraud Problem: Why Some Merchants Are Shunning Digital Bank Cards
Three Ways Credit Unions Can Compete In Fintech Today
2021, The Year of Fintech Failure
DAOs as the future? Hard pass, thanks
No Credit Score? No Problem! Just Hand Over More Data.
Behind 'Buy Now, Pay Later' U.S. Boom, Federal Regulator Looms
Why New York Community Bank is minting stablecoins
Mercury CEO predicts the biggest 4 banks will be worth 'less than $100 billion' in 5 years
2021 Consumer Survey: Data Privacy and Financial App Usage
Zenit footballers entered the field carrying homeless puppies to encourage their adoption
---
Have a news item for us? Reach out to news@thisweekinfintech.com.