This Week in Fintech (12/3)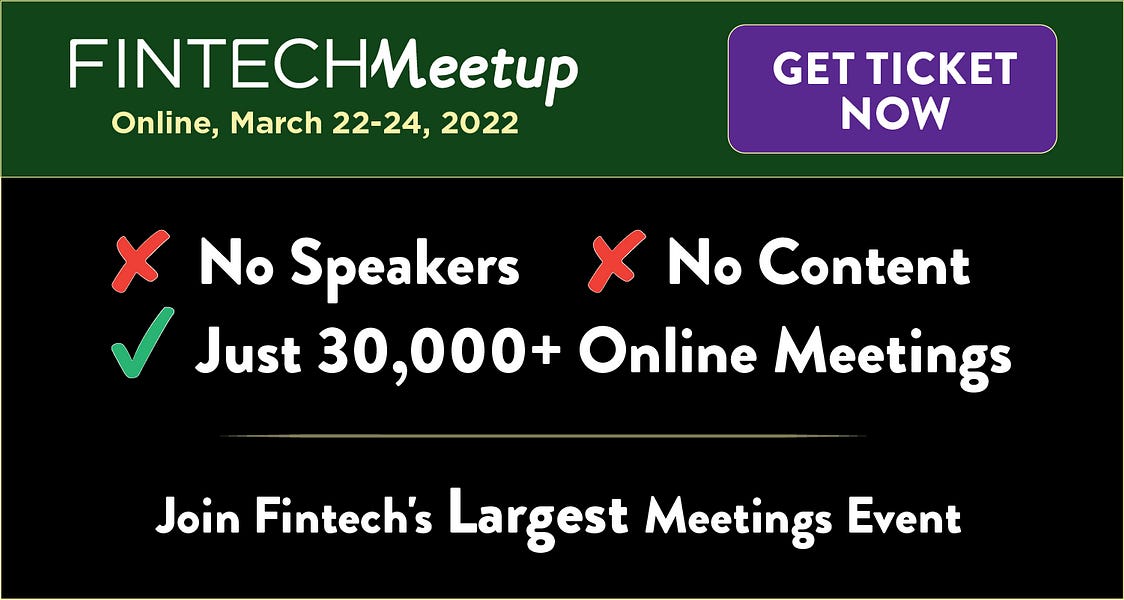 Hello Fintech Friends,
Last night was fun.
Please enjoy another week of fintech and banking news below.
---
💬 Quote of the Week
"Where we have seen most successful real time payment systems develop is where there is either: 1) a "greenfield" environment (India, China, Indonesia, …   2) Unique domestic market dynamic and V/MA card penetration was below average (Germany, Sweden, …etc) 3) recurring payments between trusted parties."
---
📖 Read of the Week
Everyone should take some time to read Writing In Public, Inside Your Company, a fantastic guide to the written decision-making process at Stripe and how it fosters alignment and productivity.
📊 Stat of the Week
"Traditional consumer loans were down 41% from 2019-2020 while online loans
over the same period increased almost 1,600% primarily driven by BNPL products." (TrueAccord: Buy Now, Pay Later, Consumer Preference and Collections Outlook)
---
Sponsored Content
Fill your sales pipeline! Close deals! Meet new partners! Find investors! Do it all at Fintech Meetup.  30,000+ double opt-in online meetings = 30,000+ opportunities to meet the people who'll help drive your business forward. Online, March 22-24. Don't wait to get your ticket--prices go up tonight! Get Ticket Now
Want to sponsor a newsletter? See our sponsorship information here.
---
💼 Open Role Spotlight
Vault is building next-generation startup and small business banking in Canada. They're hiring a Head of Engineering and a Senior Software Engineer.
Come find your place on the team at the most inspiring fintech startups! Browse open roles on This Week in Fintech's job board.
---
🏦 Financial Services & Banking
🚀 Product Launches
India's ICICI Bank launched an online platform for exporters and importers.
Monzo added a virtual contactless card as a buy-now-pay-later option.
The UK's AJ Bell launched a commission-free investment app.
Goldman Sachs launched the GS Financial Cloud for Data with Amazon's AWS.
📰 Other News
Capital One is getting rid of all consumer overdraft fees, eliminating a $150 million annual revenue line for the bank.
The Bank of London is preparing to enter the UK clearing market with a $1.1 billion valuation. US securities markets are planning to (finally) move to next-day settlement.
South Africa's Standard Bank and Korea's Shinhan Bank are testing a cross-border stablecoin. First National Bank of Omaha partnered with Marqeta on credit.
The People's Bank of China gave the green light to Ant Group to build a consumer credit score.
The Federal Reserve Bank of New York opened a new innovation center in partnership with the Bank for International Settlements.
American Express is in hot water for knowingly encouraging small businesses to under-report their taxable income.
Credit Suisse's neobank CSX passed 100,000 customers. The UK's TSB is closing 70 branches. Bank of Montreal purchased 1,000 tons of carbon offsets.
---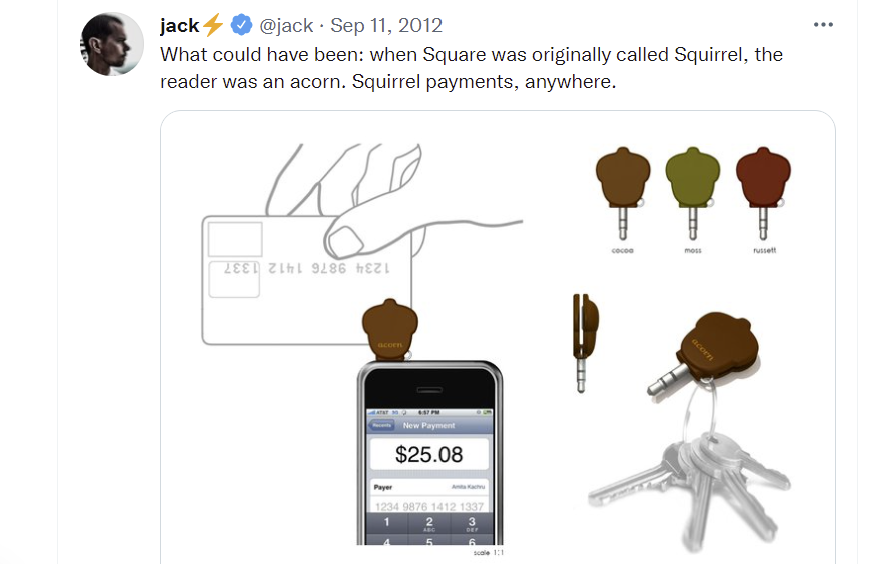 💻 Fintech
🚀 Product Launches
Funding Circle launched a small business embedded finance solution.
Nordigen, a European open banking provider, launched six new products to standardize financial data and a free open banking API.
Bitfinex launched its FIX gateway for high-speed crypto trading.
Defi incubator Dispersion launched a crypto investing platform.
Cross-border payments platform Wise launched a multi-currency card in Canada.
Accounting platform Xero launched bank reconciliation predictions.
UK payments provider Sokin launched a 10% cashback program.
Deloitte released a fintech upskilling app.
📰 Other News
Tribal launched its corporate card and lending solution in Peru, Chile, and Colombia.
Mono partnered with Flutterwave to power a pay-with-bank checkout option.
Stripe is powering tips on Tiktok. Regal Cinema and Flexa are partnering on digital currency payments in theaters.
Drivewealth and Hisa Technologies partnered to work on financial literacy in Kenya.
GDFA released a green fintech taxonomy. Carbon Zero plans to launch its Visa Credit Card in 2022.
Upstart is planning to help banks make small-dollar loans. Wise is planning to hire 150 people in the US.
Revolut grew 38% in 2021. UK neobank Redwood is now profitable. Stripe is happy to stay private. PayPal's buy-now-pay-later option jumped 400% in usage on Black Friday. Klarna losses they no good.
Bitcoin cashback platform Mode Global tanked after it was revealed its retail partners were not actually partnered with it.
David Marcus, Meta's founder of the Novi / Diem / Libra stablecoin, is leaving. Is Jack Dorsey going full laser eyes? Jack Dorsey is going full laser eyes.
---
Sponsored Content
500+ organizations are already signed up to Fintech Meetup 2022. Organizations like Argyle, Citi, Nium, Urban FT are doubling (or tripling) their 2021 participation. Ticket prices go up tonight. So what are you waiting for?! ⏰  Get Ticket Now
Want to sponsor a newsletter? See our sponsorship information here.
---
🇪🇺 Europe
Monzo Flex has begun to filter its way to customers who can check their eligibility via the Monzo app. It also comes with a virtual card.
The Deloitte UK Fast 50 winner was ClearBank with Airtime Rewards and Paysend rounding out the podium places. Zego and Fidel API were also in the top 5 of fintechs, a sector which made up nearly 25% of entries.
Klarna launched its Pay Now and Klarna Card in the US.
🌏 Asia
Slice, an Indian credit card startup, raised $220 million at valuation of more than $1 billion.
CRED acquired Happay, an expense management startup, for $150 million in cash and stock.
VISA has filed a complaint with the US authorities that the Indian governments promotion of homegrown network RuPay is hurting VISA's business in a key market.
---
Come meet us in-person at www.fintechhappyhour.com.