This Week in Fintech (12/11)
Hello Fintech Friends,
Please find another week of fintech and banking news below.
Quote of the week
"The timing of when you were born really has more influence today on what your expected wealth outcome will be."
Read of the week
NYC Fintech Women just published their 2020 list of Inspiring Fintech Females. While the intersection of finance x technology is traditionally pretty homogenous, each honoree on this list has broken out to establish something on her own terms. I feel fortunate to know a few of them and can confirm, they are inspiring.
---
Financial Services & Banking
Product Launches
Mastercard and TSYS partnered to launch a product that allows all virtual cards to be easily loaded into mobile wallets.
US Bank and Zelle launched holiday e-cards, which users can send when they make peer-to-peer Zelle payments in the US Bank mobile app.
Russian bank Sber released an AI model training platform. Singapore launched a public financial data exchange platform.
Other News
Capital One is pushing back against third-party point-of-sale lending and buy-now-pay-later loans. The bank said it will decline transactions on user credit cards from the installment lenders due to 'high risk.'
BBVA, Spain's second-largest bank by assets, is preparing to enter the cryptocurrency trading and custody space. Standard Chartered bank completed a blockchain bond issuance project with Union Bank of Philippines, partnered with Northern Trust on a crypto custody service,and launched a B2B marketplace for micro-enterprises in India out of its SC Ventures incubator.
Ant Group is in more hot water in China, as bank partners claim that they became dependant on the platform for loan issuance, but were then left to manage defaults on their own due to high-risk originations. The China Banking Regulatory Commissionhinted that more fintech regulation is yet to come.
French bank Société Générale will close 600 branches as it combines with subsidiary Credit du Nord.
---
Fintech
Product Launches
Revolut launched a payments acquiring solution that enables companies to quickly enable hosted checkout experiences and take card payments online. The bank also quietly broke even in November (the same time that competitor Starling turned a profit).
Mercury, the business-focused neobank, launched Mercury Treasury to help companies manage their cash in money market funds.
Everyone gets a wallet. 7-Eleven launched a mobile wallet for customers to pre-load funds, pay contactlessly, and earn rewards. Verizon, meanwhile, will launch mobile POS with Fiserv's Clover.
Swedish neobank Rocker is piloting a "contactless fingerprint biometric debit card."
PrimaHealth Credit debuted a buy-now-pay-later lending service for elective procedures.
Other News
Argentine mobile payments giant Ualá plans to expand into merchant services in 2021 with point-of-sale units and other in-person payments tools. In Colombia, BBVA and Telefónica have partnered to offer consumers and businesses loans. And in Mexico, Apple has said that it plans to launch its Apple Pay service shortly.
JD.com became the largest retailer to accept China's digital yuan as a form of payment. WeBull, a free trading rival to Robinhood, has been picking up users following outages at the former this year.
OneBanks, a fintech startup looking to bring full-service banking kiosks to places banks have abandoned, is looking to pilot in the Scottish town of Denny. Synctera came out of stealth to debut a fintech and community bank matchmaking platform.
Grab, Singtel, Sea, and Ant all won full digital banking licenses from Singapore. US low-income lender Oportun applied for a banking charter with the OCC.
Betterment CEO Jon Stein stepped down after 12 years. Lendup is under investigation for allegedly overcharging military borrowers. Dutch antitrust investigators are investigatingApple's restrictions on NFC payments on the iPhone.
More fintech-specific venture firms are piling into the space; the latest are Prudential's CVC PruVen ($300 million) and Ten Coves Capital ($325 million).
Google went to the Singapore Fintech Festival. Stash got a makeover.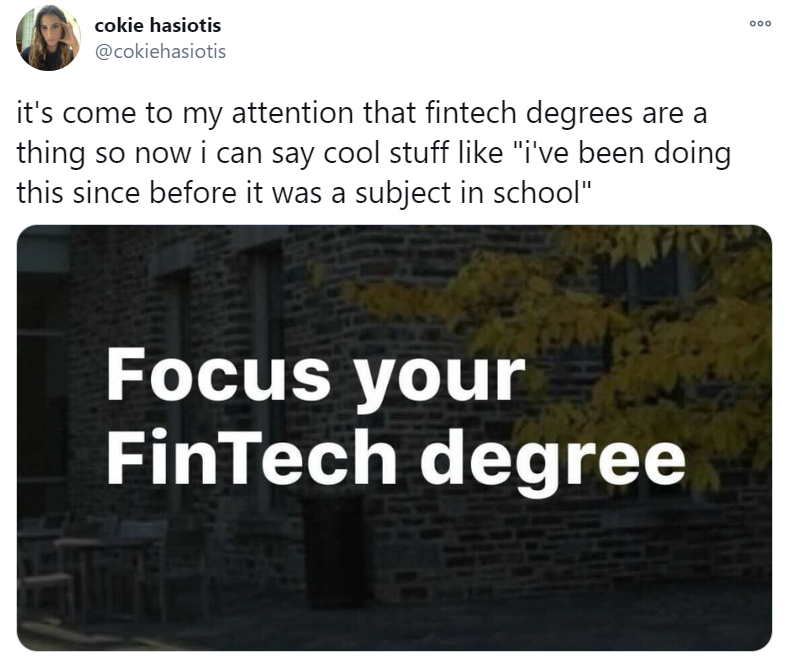 ---
Deeper Reads
Fintech users just can't get enough of traditional banks
African Borrowers Turn On Cell Phones for Covid-19 Financial Lifelines
Financial reconciliation when you're managing a ledger
Lessons From The Fintech Revolutions Of The Past
Why it would be a huge mistake to allow Big Tech firms to acquire banks
How Bill.com, The Boring Bookkeeper Of Fintech, Became One Of 2020's Hottest Stocks
Pandemic brings surge in business for Middle East's fintechs
Shopify, Stripe, etc.: It's APIs All the Way Down
Inside the Stripe Acquisition of Paystack
Sovereign digital currencies | The next frontier in fintech?
The Holy Grail of Social + Fintech
Why Klarna's millennial customers are losing faith
Is Stripe Treasury 'game over' for banking as a service?
The new challenger banks: 'A lot of these are going to fail'
Joint Trades Letter to OCC re: Figure Bank
Curious koala sneaks into Australian home and climbs Christmas tree