This Week in Fintech (11/8)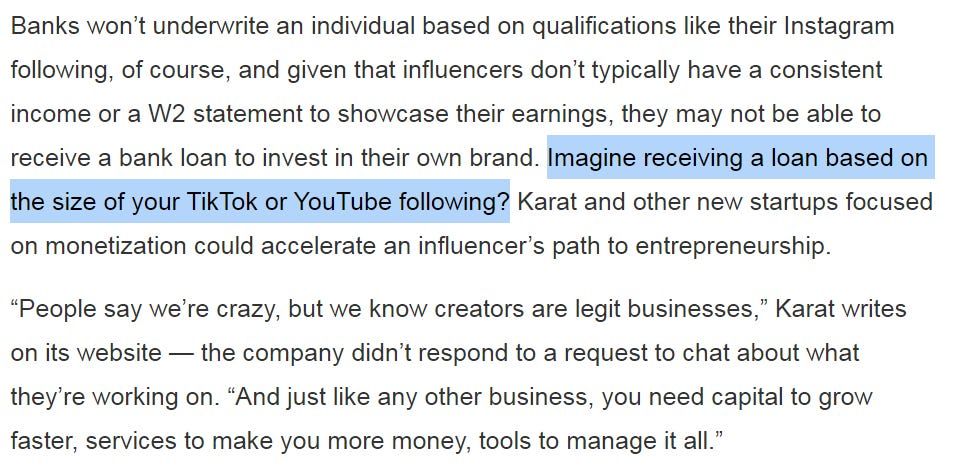 Hello Fintech Friends,
Every week I wrap up writing this out and get ready to hit 'send' Friday morning. And every week, on Friday morning, more fintech news breaks and I have to go back and edit.
Fintech moves swift as a coursing river, with all the strength of a great typhoon, which makes it all the more exciting.
Quote of the week

"Would you like to see it one more time? You may have blinked and missed it."
- Tim Cook, while launching Apple Pay

Open Role Spotlights
Prof. Fred Wherry passed along an interesting role working with the Brooklyn-based Financial Clinic as Assistant Director of FinTech Partnerships.
At Propel, Molly McGowan is hiring for a Business Development Analyst, Business Development Manager, and Product Design Lead (and more).
If you'd like any more information, let me know and I can put you in touch.
Read of the week
In Forbes, journalist Jeff Kauflin chronicles the Dawn Of The Neobank: The Fintechs Trying To Kill The Corner Bank and the current venture rush to fund a tech-enabled banking industry. It's worth reading as a comprehensive overview of how many banking verticals are currently being reinvented by fintechs parsing and rebundling financial services segments, and what the future may hold. More on that below in Deeper Reads. (h/t Matt Graves)
In banking and credit card news, conventional banking and payments systems get a lot of flack on all sides - from regulators, from customers, and (of course) from fintechs. This week, though, Ripple is in hot water for making repeated false claims about SWIFT money transfer error rates, which it claimed were 6% of all transactions. For fintech to win consumer trust, it's important to maintain integrity in the 'challenge' behind challenger solutions, while not overpromising too much on the technology.
JP Morgan Chase is offering an e-wallet to let the merchants and contractors of internet companies like Amazon and Airbnb accept payments, in lieu of a bank account. In exchange, the tech firms will have to let the bank handle all of their payment processing and cash movement.
Citigroup will get into the high-yield savings account game in 2020, opening up a co-branded high-APY account for American Airlines cardholders. The account will come with a 50k AA mileage signup bonus. Interestingly, "the digital service will only be available in areas where the bank does not have physical branches" an implementation that will be interesting to evaluate -- will the bank only allow customers from specific zipcodes?
Goldman Sachs and Apple extended $10 billion in new credit lines on the Apple card in the cards' first month, and Apple cardholders accrued $736 million in loan balances by the end of September. Meanwhile, "Goldman Sachs' upstart digital consumer bank, Marcus, will help boost the reputation of its parent company" one of its leaders told Yahoo Finance.
Singaporean multinational bank DBS is the latest bank launching a roboadvisor investment platform, available to its customers in Singapore. DigiPortfolio, as it is named, will target beginner retail investors.
Australian bank Westpac will be partnering with and making a strategic investment in fintech 10x Future Technologies to build out a white-labeled digital bank for the financial services company.
Visa has made a strategic investment in Lisnr, which allows merchants to accept ultrasonic (sound wave) data transmission as an alternative to NFC and QR code-based mobile payments.
According to a CreditCards.com survey, millennials are the generation most willing to go into debt for purchases during the holiday season.
And US Senators Jack Reed (D-RI) and Chris Van Hollen (D-MD) last week introduced the Consumer Credit Control Act to reform how credit bureaus store, use, and sell consumer credit data and give consumers more choice over how their data is used.
In fintech news this week, fintechs and non-bank financial institutions now account for 25% of the institutions offering payment services, according to research from the Bank for International Settlements. As the barriers to data aggregation (think Open Banking) and financial infrastructure (think as-a-service vendors) both drop, it's possible for more non-traditional institutions to service broader swathes of the market with tailored products.
China launched an Alipay-lite for visitors to the country to make in-person payments at local merchants. QR codes and mobile payments are ubiquitous in China, where many urban retailers won't accept cash or credit cards, and services like WeChat and Alipay dominate the market. But outside of China, in geographies like the US, mobile payments have struggled to take off. By facilitating foreign access to Alipay's platform, the company is building a baked-in userbase that it can easily use to gauge which new geographies have the most accessible user markets and 'turn on' those markets quickly in an international expansion.
UK credit card and bank account consolidation startup Curve has added Google Pay to its product, meaning Android users can pay with Curve on their phones anywhere Google Pay is accepted.
Robinhood retail traders discovered and exploited a glitch that gave them 'infinite leverage' in margin trading, with one Reddit user claiming to have made $1 million from a $4,000 deposit. However, margin works both ways - another user lost $50,000 on a $2,000 bet.
Chime's response to its Galileo processing outage shows the importance of fast, decisive real-time crisis control for fintech startups.
Revolut is running a November campaign on the Revolut Donations platform to fundraise for testicular cancer, prostate cancer, and suicide prevention.
GoCardless has selected TransferWise to help its business users collect cross-border recurring payments from customers without incurring significant foreign exchange fees.
In partnerships, SMB lender Kabbage is partnering with website builder GoDaddy to offer capital to entrepreneurs and businesses on its platform. Peer to peer lender Prosper and BBVA are partnering to launch a new HELOC platform for homebuyers. Business charge card startup Brex is teaming up with Bank of the West to roll out a co-branded business credit card.
Lending Club, a peer to peer lender, used higher fees to beat analyst estimates for Q3, sending shares up 4%. UK peer to peer lender Zopa, meanwhile, today launches its online savings account product. And Singaporean peer to peer lender Validus is launching in Vietnam, its third market.
Dutch fintech Move4Mobile released a mobile payments app to be deployed in Dutch-speaking Suriname by local bank Hakrinbank. It will be the first mobile payment app in South America's smallest country.
UK neobank Tandem is opening an early adopter presence in Hong Kong as it plans to expand overseas.
RollCall ran a great profile of FinRegLab, the regulatory group working on making cross-industry data available to evaluate the impact of fintechs (in which Petal is a participant).
And I will leave this excerpt - from an article on venture investment in influencers - here: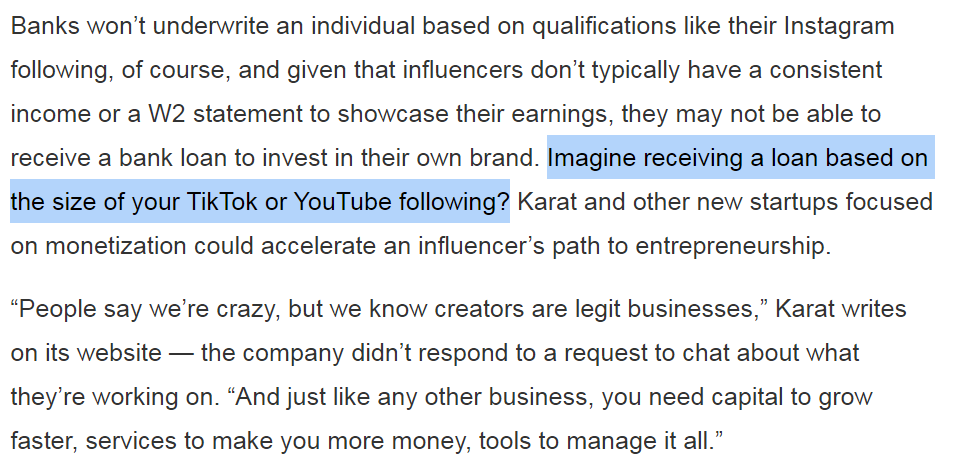 ---
Financings
---
Exits and M&A
France's state-owned lottery operator Française des Jeux will IPO at a valuation around $3.32 billion.
Digital payments systems provider Wirecard will acquire Chinese payments provider AllScore Payment Services for €109 million.
- XP Inc, a Brazilian financial services firm, plans to list on the Nasdaq, Reuters reports. General Atlantic backs the firm.
https://www.reuters.com/article/us-china-banks/postal-savings-bank-of-china-to-raise-up-to-4-67-billion-in-shanghai-listing-idUSKBN1XG00P
Fangdd Network Group, a Chinese online real estate trading platform, raised $78 million in its IPO.
Morningstar, a provider of independent investment research, is set to acquire AdviserLogic, an Australian financial advisory software firm. Terms were not disclosed.
Interac, a Canadian debit network, acquired digital ID platform 2Keys. Terms were not disclosed.
First Horizon National and Iberiabank merged this week to create one of the largest banks based in the southeast of the United States. First Horizon and Iberiabank stock ended 3.2% and 2.8% higher respectively on Monday.
Swiss fintech platform Avaloq is exploring a potential sale or IPO.
International investment platform eToro, which adds a social element to trading assets from stocks to cryptocurrency, acquired Delta, the crypto portfolio tracker app.
---
Deeper Reads
Why Is Every Startup A Bank These Days?
After 298 Investor Rejections, He Built A $3.5 Billion Business That Is Disrupting Banks (a profile of N26 founder Valentin Stalf)
Startups Weekly: Understanding Uber's latest fintech play
From PeerIQ: Money 2020 Highlights, Jobs Report, Markets Doubt Fed