This Week in Fintech (11/6)

Hello Fintech Friends,
This week has been a respite from the breathtaking pace of early-stage fintech financing that has marked 2020.
As funding slows down moving into the holiday season, I would love to connect with more fintech angel and seed investors to share notes and get a better understanding for peoples' theses in early-stage fintech. Please drop an email if that's you!
Please find another week of fintech and banking news below.
Quote of the week
"All banks are technology companies, but in any case technology can break. It's OK if a single computer crashes; it's not OK if a country's entire financial system goes down.
If a technology company is also a systemically important financial institution, then it needs to be regulated just as assiduously as any other financial-services giant."
Felix Salmon. Author, Capital (source)
Read of the week
Jennifer Tescher of the Financial Health Network wrote an interesting article this week arguing that market concentration in core banking platforms has slowed innovation, in-turn driving up costs to retail banks and their customers. This comes as a range of new fintechs are tackling elements of core banking, building lightweight services to provide banks (and fintechs) with flexibility and faster product speed-to-market. The net impact could be a significant consumer surplus: as banking and fintech infrastructure costs drop, they'll be able to offer their services at lower prices to consumers of financial products.
---
Sponsored Content
Privacy.com is a consumer and B2B payments platform that recently launched its card issuing API for developers, making it easier for businesses to issue their own virtual debit cards. Privacy's Card Issuing API solves the main challenges to issuing with transparent pricing and fast integrations, so you can start creating virtual cards in hours without needing to commit to any long-term contracts or navigating through lists of complex fees. Check out their API here.

Financial Services & Banking
Product Launches
BBVA is demonstrating the safety of its newly launched blank credit cards (similar to the Apple Card with no number on the plastic), by displaying the card issued to the bank's head of marketing on a billboard. The cards are available in Turkey and (soon) Spain.
Radius Bank, owned by Lending Club, partnered with Treasury Prime to launch a Commercial API Banking Platform to allow clients to release banking products.
Deutsche Kreditbank announced a 'robot credit checker' to approve online loans in minutes. New Zealand bank TSB partnered with Wealthify to offer customers roboadvisory investments (while the banks' website has been going down, leaving some customers stranded on their paydays).
HSBC is launching Global Money Account, a free mobile cross-border money transfer service to compete with platforms like Transferwise in 20 countries.
Other News
Bank-to-bank instant payment network Zelle announced that it processed $84 billion in transactions in Q3, up 18% from Q2, attributing its growth to covid. WhatsApp rolled out instant peer to peer payment functionality in India.
India's Icici Bank announced that its Amazon Pay co-branded credit card crossed 1 million users in the country. Danske Bank will phase out its current payment cards and replace them with cards made from 86% recycled plastic.
Barclays opened a 12-week accelerator for black-founded tech firms. The Hong Kong Monetary Authority outlined a spate of new initiatives to promote fintech. Ten Spanish banks are partnering to roll out a blockchain-based digital ID.
The Reserve Bank of India announced a ban on new mobile payment QR codes, in advance of plans to standardize QR codes in 2022. Bafin, the German regulator, and the entire country's financial regulatory regime are under fire following the massive Wirecard fraud that collapsed the marquee payments giant. Lloyd's announced it will cut 1,070 jobs; ING will cut 1,000.
A glitch in the European Central Bank's settlement system erased €400 billion of transactions. UK consumer group Which? is campaigning for banks to refund victims of fraud, who have lost £16 million in the last year. And scammers are already preying on unsuspecting Chinese users with counterfeit digital yuan wallets.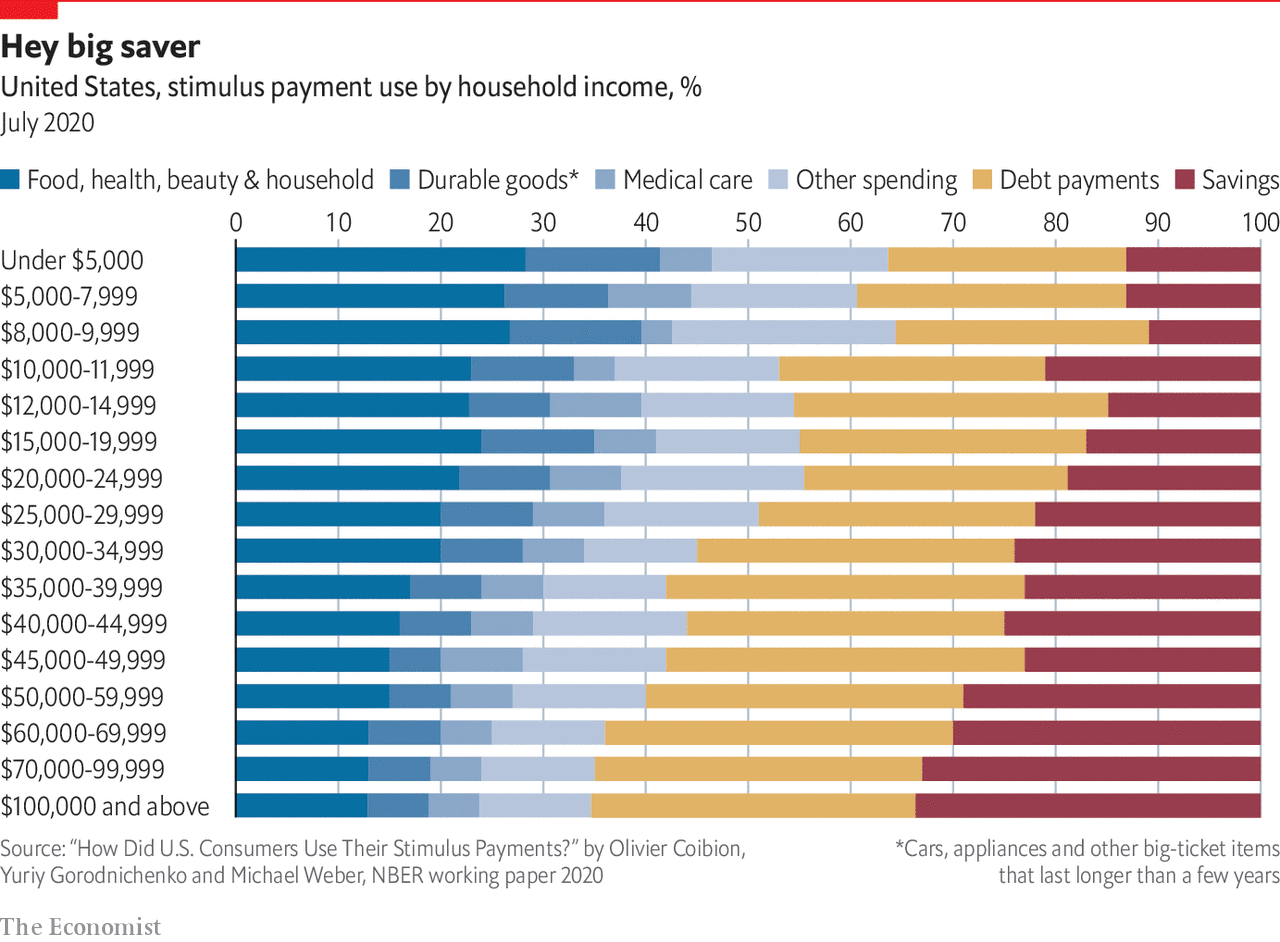 Source: The Economist (h/t Robert Dunnette)
---
Fintech
Product Launches
Upgrade, a consumer lender run by former Lending Club CEO Renaud Laplanche, launched a cashback program for its consumer credit card that is paid back when consumers make their monthly payments, to encourage paying down debt.
Ramp, the corporate card with an embedded spend management system, launched a vendor management tool to help businesses track, manage, and predict SaaS spend.
Canadian payments company Helcim rolled out QR codes for restaurants.
Other News
African money-transfer firms like Mukuru, Orange, Azimo, and WorldRemit are thriving as the pandemic (and resulting capital controls) drive up remittances. Early wage access startups like DailyPay, PayActiv, Dave, and Earnin have also seen sharp growth due to covid pressure on wages.
The SEC increased the limit of Reg CF from $1 to $5 million; this should allow startups and small businesses to raise significantly more capital from individual investors, including through platforms like Republic, Wefunder, and Seedinvest. This follows its expansion in August of the definition of accredited investors.
Wyoming digital bank Avanti was unanimously granted a charter to become a digital currency bank. Tide, a UK business bank partnered with ClearBank, responded to feedback by promising its customers multi-user account access.
PayPal released earnings, which focused heavily on Venmo's move into credit cards, PayPal's entry into cryptocurrencies, and its merging of online and offline payments. Shopify released earnings as well - doubling YoY and shattering record profitability - and partnered with TikTok on creating an embedded checkout in the app for Shopify merchants. Square reported over $1 billion - 80% of its Q3 Cash App revenue - from bitcoin. Revolut is looking for a Chief Commercial Officer as it aims for profitability.
A few new company features: Flex for splitting rents, the Real on Wealth community, and 500 Startups hosted its Latin American Demo Day, featuring:
Deeper Reads
How The US Could Achieve 100% Financial Inclusion Through Local Public Banking
Fintechs take on banks at their own game
The virus has crushed the challenger bank dream
Will Hippo Be The Next Fintech Unicorn To Exit Via The SPAC Door?
4 takeaways from fintech VC in Q3 2020
Ant IPO By the Numbers: It's Bigger Than Finland's GDP
What's the Catch? (Beam Financial)
Consumers have too little control over how their data is shared
A Look at the CFPB's Section 1033 Rulemaking to Provide Consumer Access to Financial Information
Robinhood: Investing for the Next Generation
How do BNPL players go-to-market?
FT's Monthly Payments & Transaction Processing Market Update
Could negative rates signal the end of free banking?
How BaaS is future-proofing banking business models
Will China be the world's first cashless society?
The 40 in 60/40 Portfolios Is Getting Wilder and Wilder
The 7 Hottest Fintech Trends in 2021
Puppies take over polling booths for (New Zealand's…) election day