This Week in Fintech (11/6)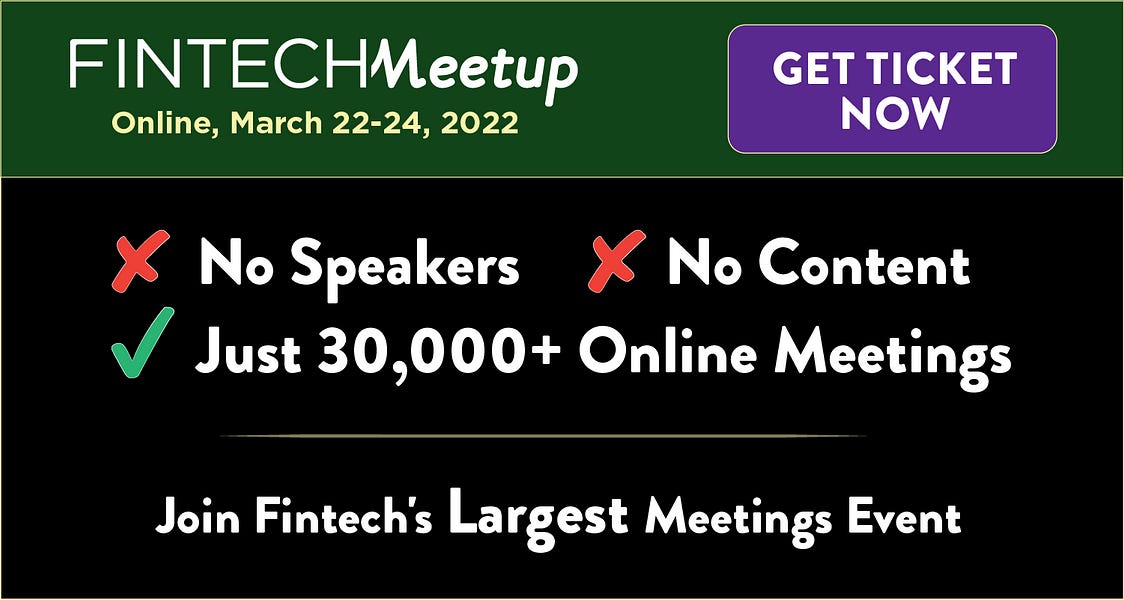 Hello Fintech Friends,
We're looking for someone who is passionate about fintech to run our social media. We need to shake up our Twitter, Instagram, and LinkedIn with real-time fintech news (and spicy takes), to give people updates as they happen - without waiting a week for the newsletter. If you'd be interested in joining us to do this part-time, let us know.
Please find another week of fintech financings and exits below.
---
Editor's Note: If you're an early-stage startup founder raising equity or debt, we may be able to help - please see our primer for more details and reach out to nik@thisweekinfintech.com.
---
Sponsored Content
No Speakers. No Content. Just 30,000+ online meetings so you can easily meet partners & customers! Join Fintech Meetup--it's the industry's next big event! Meet fintechs, investors, banks, neobanks, credit unions, networks, tech cos and more! Online, March 22-24, startup rate available for qualifying cos. Get Ticket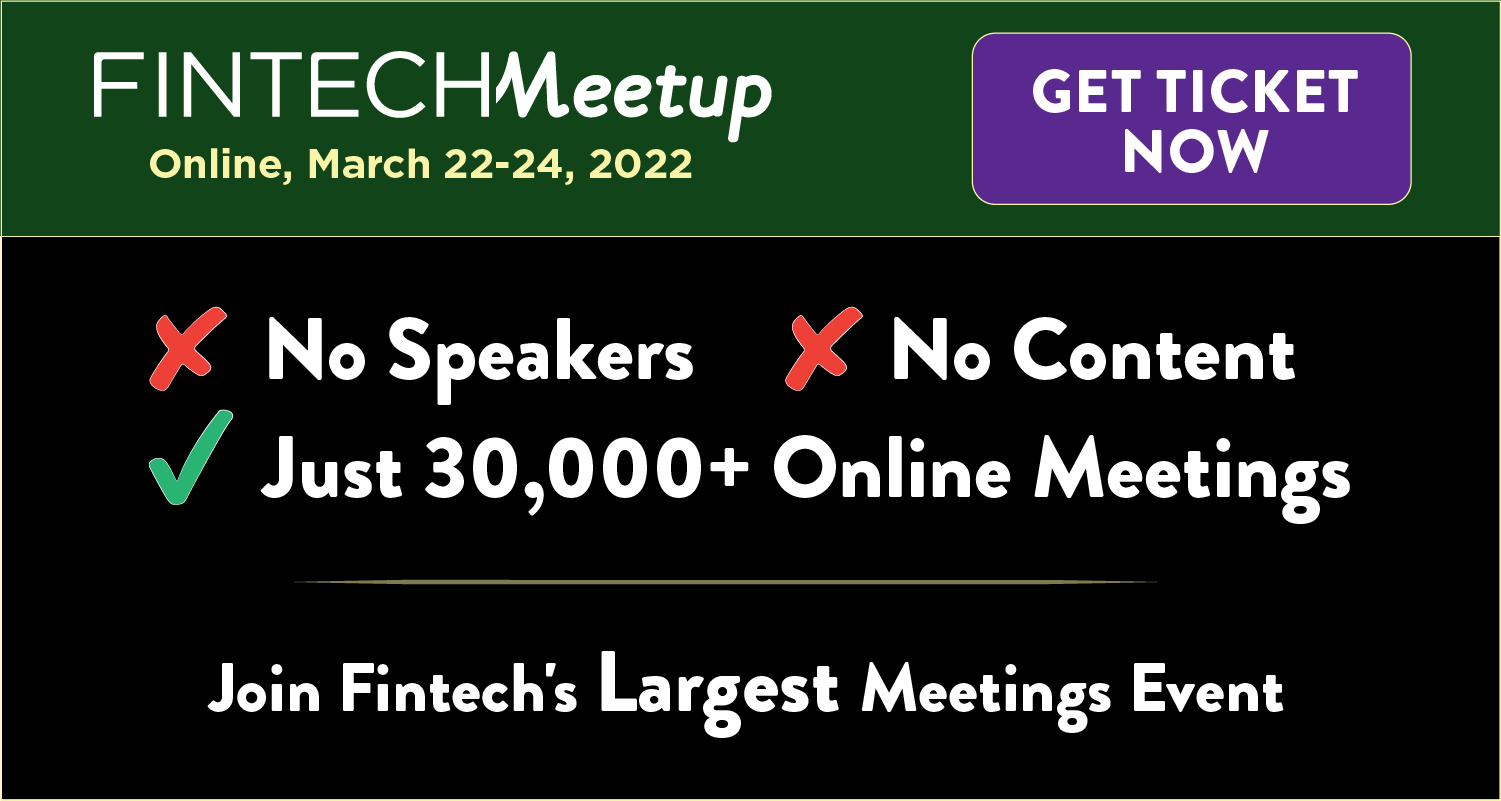 ---
💸 Venture Financing
☯️ Exits
💻 IPOs
📈 SPACs
🤝 M&A - Fintech
🏦 M&A - Bank and FinServ
---
Sponsored Content
Fintech Meetup is your most efficient way to create opportunities, leads, deals and partnerships in 2022! Meet banks including Bank of America, Citi, Dave, Federal Reserve, Goldman Sachs, HSBC, JP Morgan, Revolut, Santander, Varo Bank & Wells Fargo, investors including Bain Capital, General Atlantic, Mosaik Partners, Next Level, Point 72 & Vestigo plus hundreds of fintechs, credit unions, networks, tech cos and others! Online, March 22-24, startup rate available for qualifying cos. Get Ticket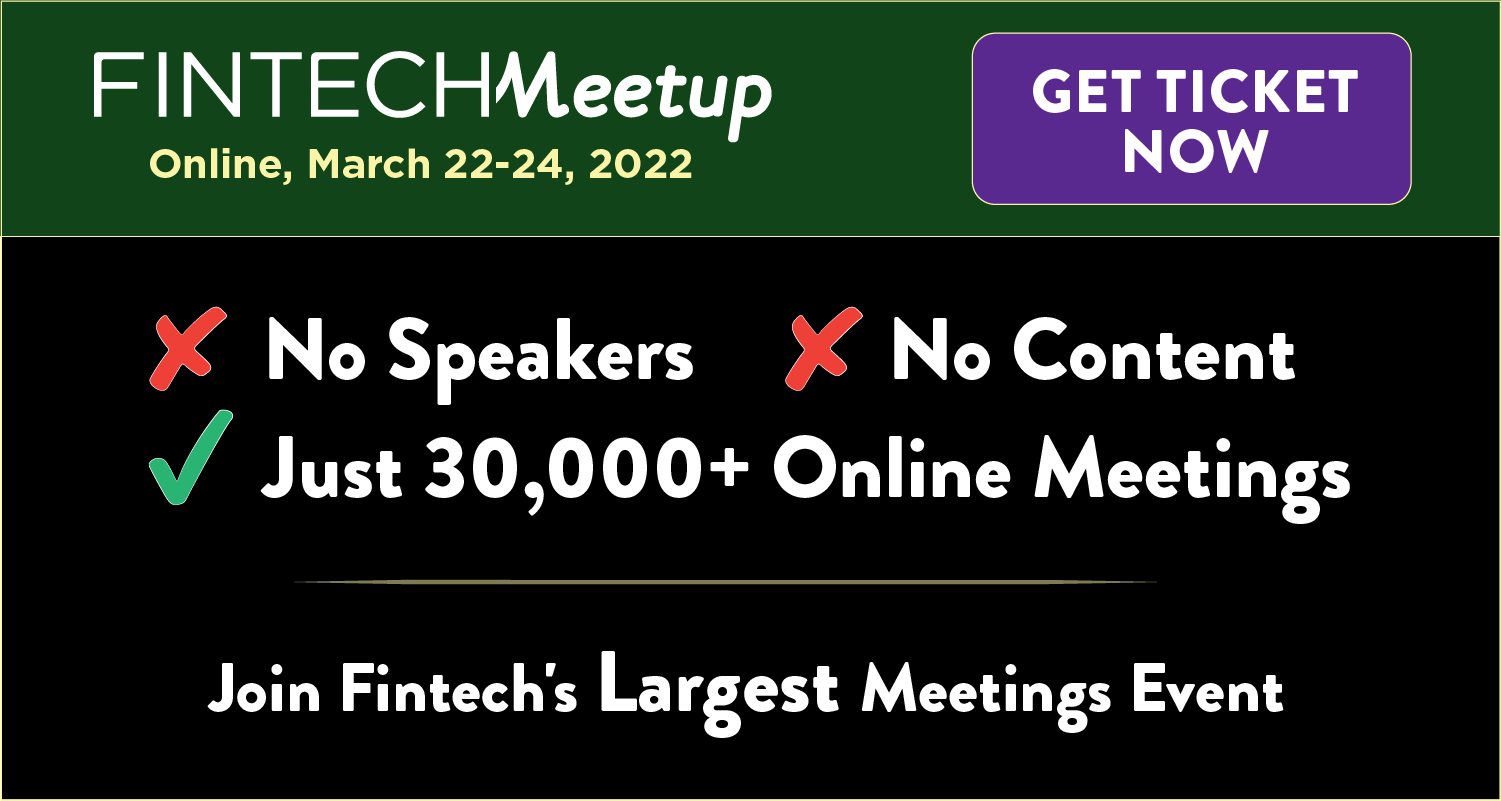 ---
🌎 Fintech Around the World
Three places that dream of becoming Africa's Singapore
Mauritius Government Ramp up Effort to Building up Fintech Ecosystem
Lemonade Finance is doing what PayPal has failed to do for Africa's diaspora
A South Africa-Nigeria fintech deal suggests agent banking can boost trade within Africa
How Brazil's Nubank became a $30bn fintech
📚 Deeper Reads
Meet Nerdwallet's other cofounder, who left the company in 2014 to focus on being a dad. He's now an investor and has his own VC firm. 😍
Fintech has a systemic gender diversity problem
Affirm Debit+ is REVOLUTIONARY
Visa vs Amazon – When Merchants Get Leverage
Chipper cash wants to do to money what WhatsApp did to texting
How Gaming Cryptos Became a Gateway for Gen Z to Fintech
Lawmakers agree on need to rein in fintech data sharing
A global, editable fintech list
New Decoupled Debit – Affirm/Plaid/Marqeta
Banks should revamp overdraft policies before Congress does it for them
Buy Now Pay Later, a New Payment Standard?
How our wallets will save the world
Financial Modernization is Coming, Are We Ready?
Policymakers must enable consumer data rights and protections in financial services
A Morgan Stanley MD left to set up a blockchain fintech
'We feel like people again' | A program at prisons trains service and support dogs