This Week in Fintech (1/15)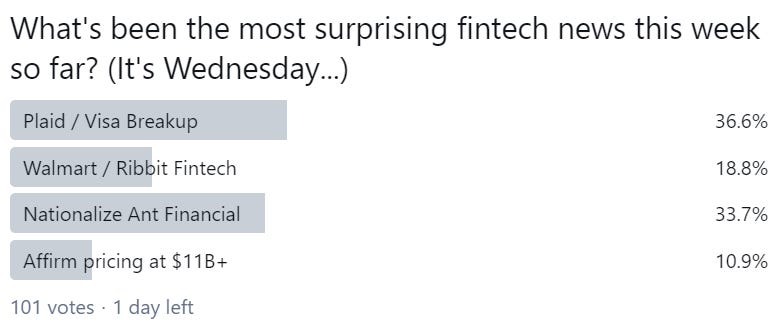 Hello Fintech Friends,
At this point, this week feels more like this year in fintech. Private fintechs raised $2.4 billion in venture capital mega-rounds (rounds of over $100 million) this week alone. There were major breaking stories from Ant Group, Walmart and Plaid. Affirm's share price popped over 100% in its market debut. We may need another newsletter just for headline events.
Please enjoy another week of fintech and banking news below.
Quote of the week
"When she heard that the federal government was working on a fresh stimulus package, Ms. Banke called Dupaco to ask whether it would waive the outstanding fees. If it did so, she hoped, she could tap the stimulus funds. Bank officials said no."
Emily Flitter, New York Times (source)
---
Read of the Week
This week in the Financial Times, OCC acting comptroller Brian Brooks opines that decentralized finance (DeFi) is paving the way for self-driving banks. I am a believer in the eventual promise of DeFi: the ability to program contractual terms into financial instruments, without depending on (and paying for) intermediaries, will create a massive paradigm shift that unlocks financial opportunity universally. The technology just needs to suffer its (significant) growing pains first. (In related news, the OCC this week approved Anchorage as the nation's first federal digital asset bank.
---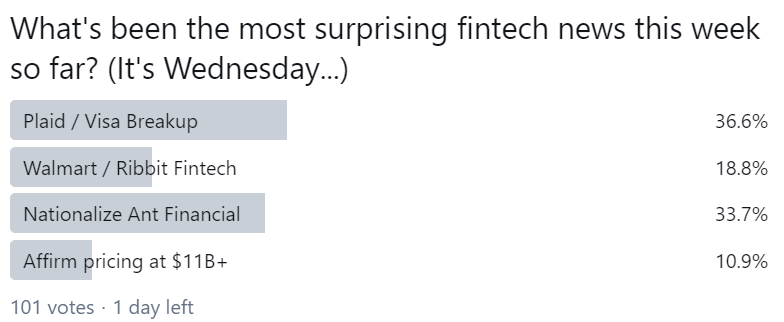 Financial Services & Banking
Product Launches
Standard Chartered bank went live on Cobalt's foreign exchange market infrastructure platform for its prime brokerage business.
Mastercard and Synchrony will launch a Walgreens credit card. Mastercard also unveiled its first point-of-sale acceptance technology.
The Pakistani government announced its new instant digital payments system.
Other News
Pimco, Man Group, IHS Markit, State Street, Microsoft and McKinsey are joining forces to build a new tech enterprise for the asset management industry. CME Group and IHS Markit combined their post-trade investor services into a new joint venture. Four Irish banks are collaborating to launch a joint multi-bank real-time payments app. Goldman Sachs and Marqeta are partnering to power Marcus' checking accounts.
Citibank and Grab expanded their in-app consumer lending partnership. The Agricultural Bank of China equipped its ATMs to withdraw the country's new digital currency.
Santander Bank wound down its SMB invoice and expense management app, Asto Digital. New Zealand's central bank said its data system was hacked, exposing potentially commercially sensitive information.
---
Fintech
Product Launches
Green Dot launched its own proprietary neobank, GO2bank, for financially underserved Americans. Updgrade launched a debit card with rewards.
Octobank, a Czech Republic neobank, is launching European banking services for e-commerce merchants.
Spruce launched a new tool for closing home sales.
Other News
In a story that has yet to be confirmed, but could fundamentally alter the landscape for financial technology in China, it is rumored that the Chinese Communist Party is planning to nationalize Ant Financial. This follows months of clampdowns on the operations of the financial super-startup, which was at one point imminently going public. Unlike the prior cull of the massive shadow-lending sector in China, this latest action appears to be more politically motivated, following criticism of China's regulators by Jack Ma, and top-down rather than bottoms-up.
Walmart is partnering with prolific fintech venture capital firm Ribbit Capital to co-create a fintech joint venture. It is unclear what products or services will be on offer.
Alchemy partnered with Sentilink on fighting synthetic fraud. Banking-as-a-service provider Moven is partnering with digital asset firm Nydig to enable crypto functionality. i2c and TAG are partnering to build Pakistan's first financial super-app.
Brits using buy-now-pay-later services racked up £2.3 billion in charges over the holiday season, according to Credit Karma. Crypto exchange Gemini is planning a credit card, similar to Blockfi's, with crypto rewards.
PhonePe, the Indian peer-to-peer payment app that spun off from Flipkart, grew revenues 74% in 2020 and is rumored to be considering an IPO. Apple Pay will likely launch in South Africa this year, with two new banking partners. Samsung Pay will no longer feature its card-present mimicking feature in new phones.
Intuit is planning to add insights, subscription tracking, and motivational features to its Mint iPhone app, after years of neglect.
Neobank N26 secured a banking license to expand its services into Brazil. Meanwhile, competitor Revolut has applied for a UK financial services license. And Starling Bank is in the market to buy a lender. American neobanks Chime, Varo and Current are winning customers over by processing stimulus payments more quickly than legacy banks.
Carta announced that the first private securities offering on its CartaX marketplace will be of its own stock, coming this month.
Latino-focused consumer lender Aura was forced to shut down, following pandemic stress on its loan book. Mexican consumers in the US, meanwhile, have sent record amounts of remittances across borders during the Covid-19 pandemic.
Fintech salaries. Square in Soho. New financing platform from Hustle Fund.
---
Policy
Courtesy of Ben White at Plaid.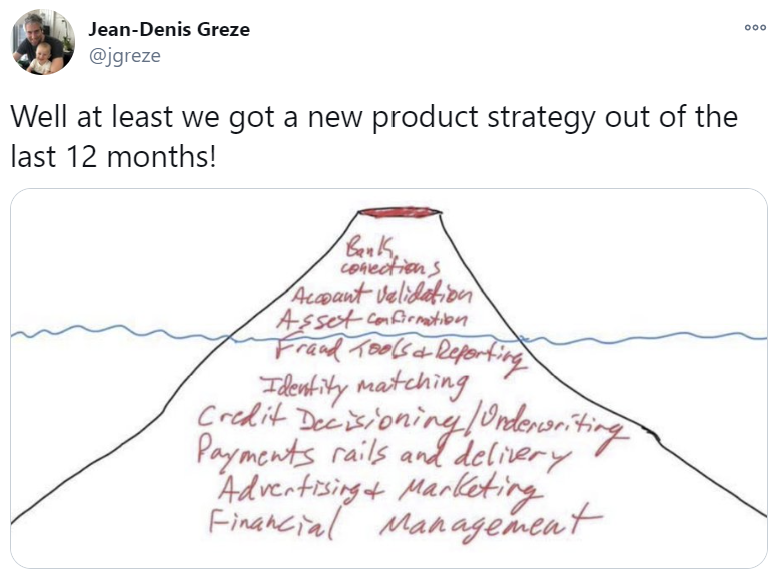 (Source)
---
Deeper Reads
Announcing the Open Employment Data Standards
Why Visa and Plaid called off their $5.3 billion fintech deal
Complex Mainframe Migration: A Premier US Auto Lender's Journey of Modernization
7 Indian Fintech Startups To Watch Out For In 2021
Reviewing SoFi's investor deck
How Flutterwave saved 2020 for its community
Why Fintech Innovation will Power Banking's Next Decade
Drivewealth's Quarterly Global Trends Report
Octopuses are ocean thugs that punch fish (h/t Matt Levine)