This Week in Fintech (11/5)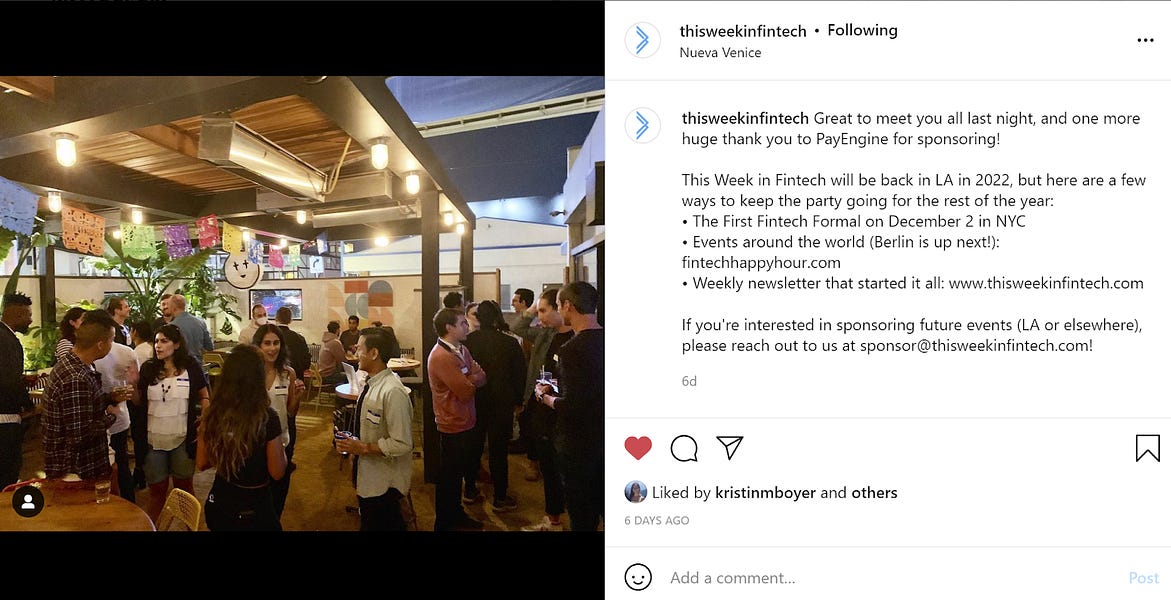 Hello Fintech Friends,
We're excited to meet more of our international readers this month, with upcoming fintech happy hours in Mexico City (11/11) and Berlin (11/23). Other than that, we're on hiatus until the Fintech Formal.
Speaking of which, we're excited to officially welcome Fiserv as our first sponsor for the formal! Watch them for a couple exciting announcements coming soon…
Lastly, it was great to celebrate fintech together in Lagos and Los Angeles last week.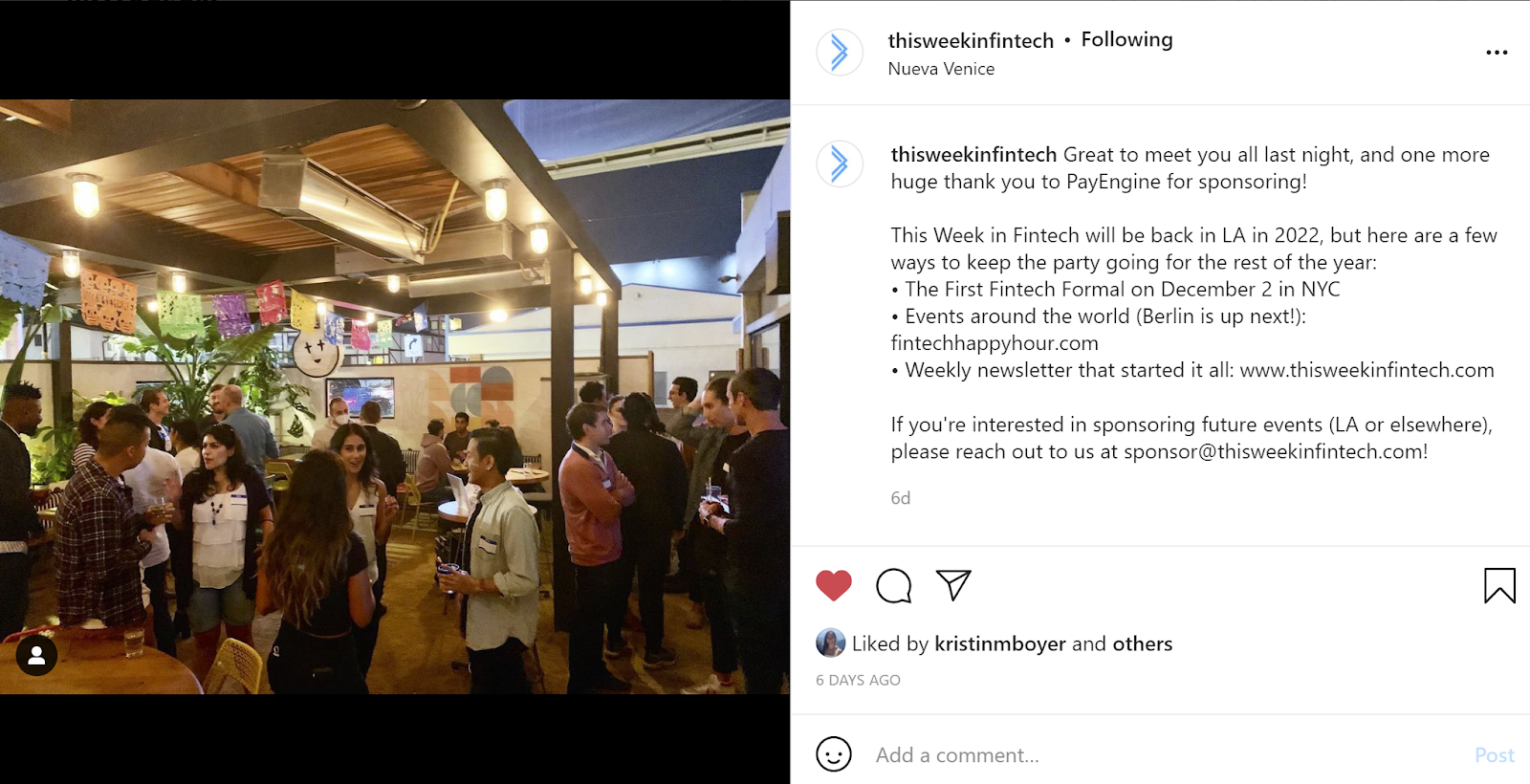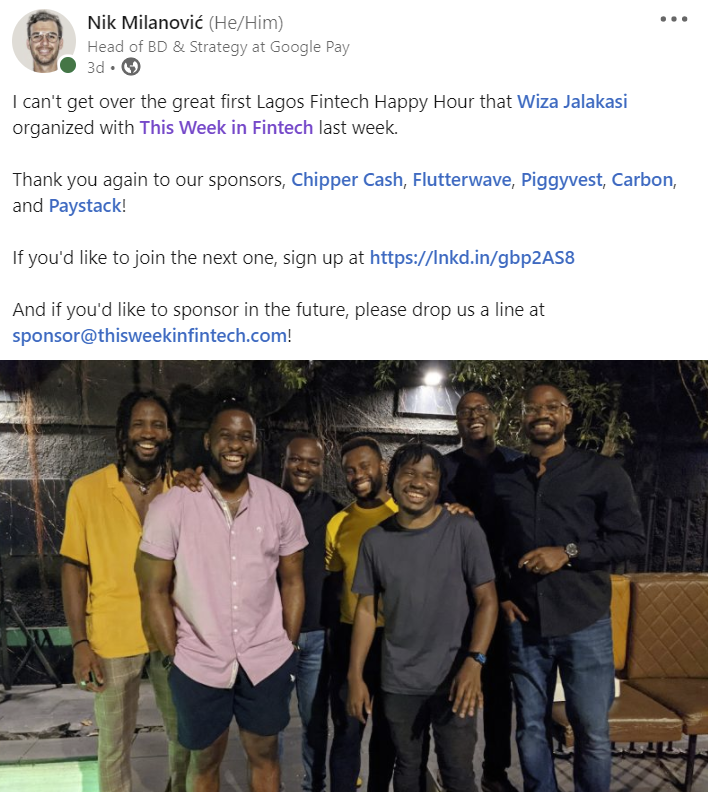 Please enjoy another week of fintech and banking news below.
---
💬 Quote of the Week
"In a time before networks, when strangers came to do business, they preferred to trust cold hard cash rather than each other. Today, they prefer to trust plastic card authorisation systems. In the future, neither of these will be necessary. If you can be sure of the ownership and price the assets, then you can just use the assets."
---
📖 Read of the Week
This week, RIABiz wrote up an interesting analysis of why the SEC's "green light" for bitcoin ETFs failed to convince Charles Schwab to make crypto trading available to its 32.5 million retail accounts. In a period where it feels like every investing platform and asset manager is red pilling headlong into crypto, financial regulators are still providing piecemeal guidance, or using inconsistent enforcement (what Lex Sokolin refers to as "the sacrificial-lamb approach") to govern crypto companies.
Could it be time for a dedicated federal crypto regulator to set the terms of engagement and allow platforms like Charles Schwab to enter the space?
📊 Stat of the Week
Global fintech funding in 2021 YTD (with two months to go) surpassed 2020 totals by 96%. (CB Insights' State Of Fintech Q3'21 Report)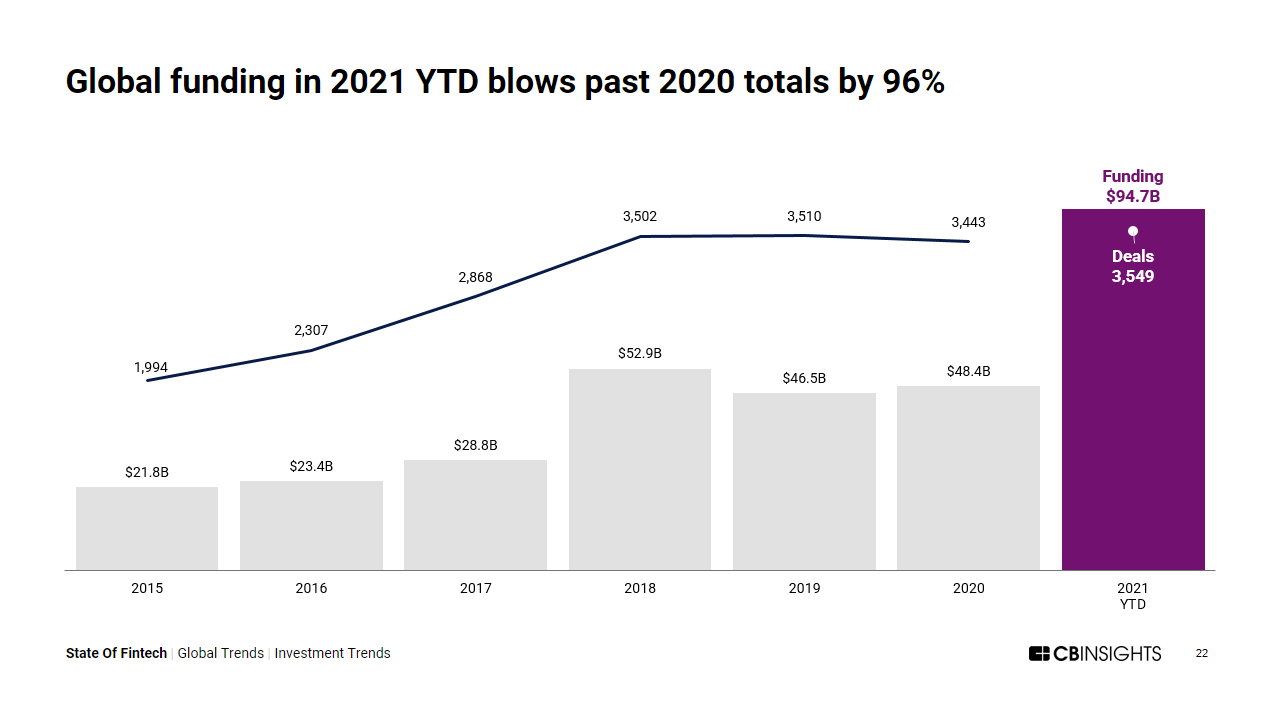 ---
Sponsored Content
No Speakers. No Content. Just 30,000+ online meetings so you can easily meet partners & customers! Join Fintech Meetup--it's the industry's next big event! Meet fintechs, investors, banks, neobanks, credit unions, networks, tech cos and more! Online, March 22-24, startup rate available for qualifying cos. Get Ticket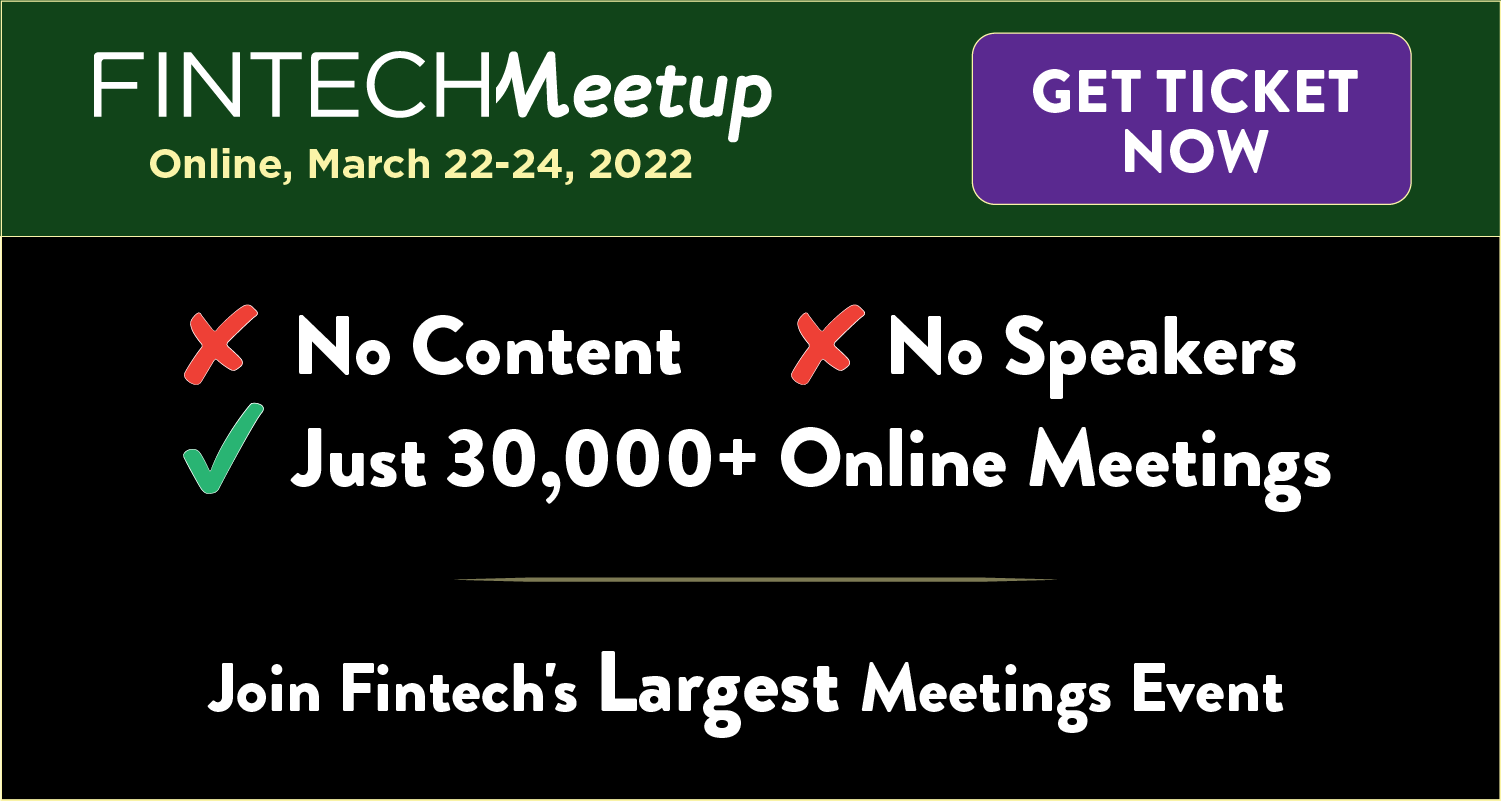 ---
💼 Open Role Spotlight
Plaid, the largest provider of open banking services and financial data access in the US, is hiring for an Enterprise Account Manager.
---
🏦 Financial Services & Banking
🚀 Product Launches
In a competitive move against Brex and Ramp, American Express opened business checking accounts.
Bank of America launched a fraud prevention service for corporate clients.
DBS Bank launched LiveBetter, a platform for eco-friendly shopping.
📰 Other News
American Express is expanding beyond its premium roots, with record new card acquisitions among Gen Z cardholders, small businesses, and more blue collar workers.
Standard Bank, Africa's largest bank, partnered with Flutterwave on digital payments for its customers. Goldman Sachs partnered with Digital Asset to build cross-asset trading infrastructure on the blockchain.
Silicon Valley Bank partnered with Colorintech, a non-profit focused on minority inclusion in financial services.
The People's Bank of China said users of its digital yuan have surged to 140 million and Hong Kong's faster payments system passed 700,000 transactions a day. The Central Bank of Sri Lanka completed a blockchain-based KYC proof of concept.
ING Bank will shut down Payvision, the international card acquirer that it purchased for €360 million 3 years ago.
Your coffee cup is now fintech.
---
💻 Fintech
🚀 Product Launches
Crypto on-ramp Ramp launched in Nigeria. Ribbon Finance launched Ribbon Treasury - a product to help DAO treasuries generate yield on their native assets.
Klarna is moving from shopping facilitator to e-commerce destination with the launch of its global one-stop shopping app.
Financial wellness platform Pocketnest launched an employee wellness tool.
German subscription platform Grover teamed up with Solarisbank and Visa to launch a new "circular economy debit card."
Neobank Starling launched a recurring bill manager for customers.
HighRadius launched an autonomous accounting feature to replace month-end book closes.
BlockBank launched a defi machine learning roboadvisor.
MX launched a more secure data-sharing tool, MXAccess.
📰 Other News
Zillow is exiting its massive homebuying and flipping business after racking up significant losses on property resales in an already overheated market.
Walmart will open 200 bitcoin ATMs throughout its US stores. NYDIG facilitated a US public pension fund's investment in bitcoin for the first time and partnered with Q2 to enable bitcoin trading at financial institutions. Paperchain is using music streaming data and defi to send royalty payments instantly to musicians. Coinbase is testing a no-fee subscription service.
A massive group of consumer fintechs joined Plaid's data network.
Groupon partnered with Google Pay (disclosure: where I work) to power group discounts and rewards in the Google Pay app.
Cross-border currency providers Nium and utu partnered to provide cash rewards to global shoppers.
Nubank is going to partner with Sequoia to invest in Latin American startups.
The FBI raided the offices of Chinese POS-maker PAX Technology.
Revolut is now letting customers sketch their own cards. Square's Cash App is now available to users 13 and over.
---
Sponsored Content
Fintech Meetup is your most efficient way to create opportunities, leads, deals and partnerships in 2022! Meet fintechs including Akoya, Alliance Data, Alloy, Alviere, Argyle, Autobooks, Azimuth, BitPay, BlockFi, Botdoc, Certa, Checkout.com, Circle, Dave, FISPAN, MANTL, Nuance, Nymbus, PPRO, Revolut, Ripple, Signal Intent, Sila, Socure, Synctera, Urban FT and many more! Online, March 22-24, startup rate available for qualifying cos. Get Ticket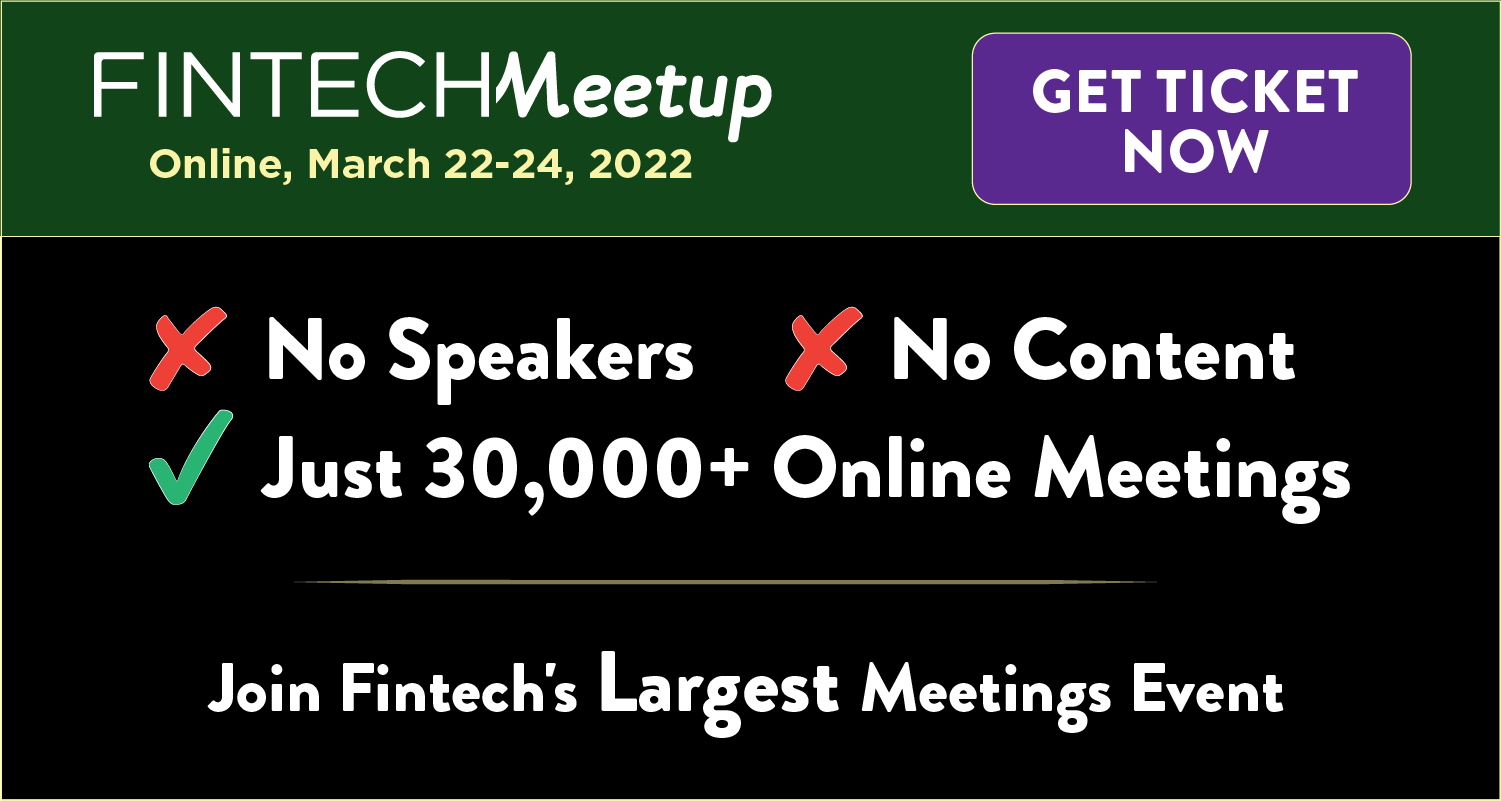 ---
🇪🇺 Europe
P2P lending services Zopa and Tesco are partnering to create a hire purchase loan for cars via ClearScore's marketplace.
Klarna has launched a strategic partnership with Stripe to distribute its BNPL products to the latter's customers.
Compliance provider ComplyAdvantage has added a new blockchain monitoring tool in partnership with UK blockchain compliance provider Elliptic.
🌏 Asia
UPI transactions crossed the $100 billion monthly transaction value in the month of Oct, 2021.
EpiFi, an Indian consumer neo banking startup, raised $50 million and Jupiter, an Indian consumer neo banking startup, is in talks to raise $100 million.
Mynt, a Filipino fintech super app, raised $300 million at a $2 billion valuation (the Philippines' first fintech unicorn).
Siam Commercial Bank (SCB), a Thai bank, acquired 51% of Bitkub, a Thai cryptocurrency exchange, valuing the exchange at ~$1bn.
---
📜 Policy
In collaboration with Ben White.
Want to be a This Week in Fintech Sponsor? Reach out to us at sponsor@thisweekinfintech.com.
Come meet us in-person at www.fintechhappyhour.com.