This Week in Fintech (1/10)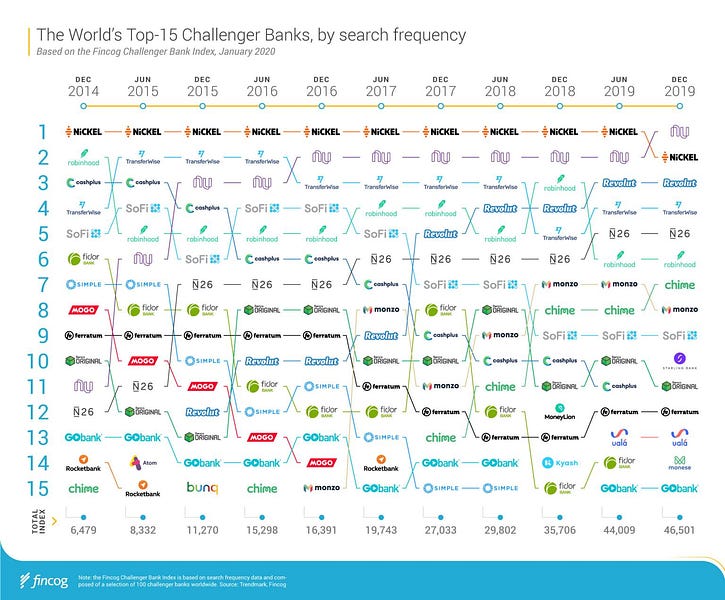 Hello Fintech Friends,
Happy 2020!
If you're one of the early readers of this newsletter, you'll notice a change in today's This Week in Fintech: it's now on Substack! This move will allow for more flexibility, ease of access, and reader control. TWiF normally hits inboxes early Friday AM (ET), but is a bit delayed today due to the transition.
Please enjoy a slightly longer digest below, following a two-week hiatus, with all the latest fintech and banking news.
And if you're a new reader, feedback, comments, and questions are always welcome at nik@thisweekinfintech.com.
Best,
Nik
Quote of the week

"This coming decade will see a *massive* compression of this profit pool for banks as "robo-advisors" for debt — possibly built into the digital wallet — automatically refinance consumer debt to the lowest possible rate. Inertia and friction have maintained this biz for too long."


- Alex Rampell, fintech entrepreneur and investor (source)
Open role spotlight
Nick Rockwell at CircleUp is hiring for a Head of Business Development, an Email Marketing Associate, and a Business Development Representative.
CircleUp is an investment fintech focused on opportunities in high growth, consumer packaged goods companies, with its own technology platform called Helio. Helio contains a dataset on 1M+ consumer brands and serves as the basis for investment decisions across both equity and credit strategies (the latter of which Nick runs).
Read(s) of the week
In The Rise of Challenger Banks, FT Partners provides an impressively comprehensive 200-slide overview of how the current state of consumer banking created an opportunity for neobanks to thrive. It would be hard to provide a pithy summary of the report - which covers everything from product to markets to deal activity - but it's a great introduction for anyone new to challenger banks.
And in The Struggle to Avoid Becoming the 'Dumb Utility', American Banker profiles how banks are responding to this competitive thread, and how that could lead to a permanent shift to digital banks.
---
In banking and credit card news, the FDIC and OCC's proposal to modernize the Community Reinvestment Act (CRA) came under fire this week from Federal Reserve Governor Lael Brainard. The CRA is federal law passed in 1977 to encourage banks to invest in perceived high-risk communities. Some of the proposed scoring changes, Gov. Brainard argues, could lead to closed branches and fewer loans. Meanwhile, Eric Weaver, the founder of California micro-lender Opportunity Fund (disclosure, where I once worked), explains why the CRA is so vital to fostering investment in low- to moderate-income neighborhoods.
JP Morgan is blocking fintech users from accessing their own passwords and passing data through aggregators from the bank into fintech services, in a bid for better user security but also a continued tug-of-war between fintechs and banks for user data. Its consumer branch Chase, meanwhile is adding Doordash benefits to some of its rewards cards.
Following Paypal, which secured the first foreign money transmitter license in China, AmEx is close to entering the massive market, with its application to start a bank card clearing business accepted by the People's Bank of China (China's central bank).
Mastercard, in an interesting set of moves, is adding an augmented reality app for cardholders to explore their benefits, and teaming up with Swedish singer Nadine Randle to produce a single that features its sonic brand…
Citibank struck a new partnership with digital wealth management platform Yieldstreet to make Citi's credit investments available to retail (unaccredited) investors.
Wells Fargo analyst Mike Mayo says that we are living in the 'golden decade' of banks and technology.
In the UK, a ransomware hack on cross-border currency service Travelex forced many banks to temporarily stop offering foreign currency services. Standard Chartered bank, meanwhile, created a portal for customers to monitor cross-border payments sent over the SWIFT network.
In a big step forward for Indian banks and fintechs, the country's central bank ruled that financial services providers can now vet and onboard customers remotely (ie: online), using a combination of video calls, PANs, and the Aadhar ID system. This will be a huge step forward for reducing banking overhead and fostering financial inclusion, as consumers will no longer need to visit branches to sign up for services.
The four largest Dutch banks, Belfius, BNP Paribas Fortis, ING, and KBC, are responding to the rise of mobile and digital payments by consolidating their ATM networks into one shared service.
Wirecutter profiles the best first credit cards for consumers and its suggested five-day credit card checkup to evaluate your true cost of credit. Separately, inflation-adjusted credit card late fees are expected to move from $35 to $40 this year, as consumer credit cards continue to strategize for originating late into the credit cycle.
As Japan's older population, which holds half of the country's $17 trillion in assets, continues to age, Japanese banks are investing in new technology to better serve and protect those clients.
And lastly, in a couple interesting personnel moves, the US Senate confirmed Jovita Carranza of the Treasury Department as the new administrator of the Small Business Administration, while Emily Barron of fintech Branch International joined Silicon Valley Bank as a co-head of warehouse credit solutions.
---
In fintech news this week, Robinhood now has more monthly active users than all the top legacy brokerages combined, and men continue to account for ~70% of the userbase of most fintech services.
In UK challenger banks, Monzo co-founder and deputy CEO Paul Rippon is stepping back from his role to focus on his family's alpaca farm. Meanwhile, Tandem, under pressure to increase revenues, will charge a monthly fee of £5.99 on its cashback card beginning in March. And Starling forecasts its first net-profitable year in 2021 and eyes an IPO within the next 3 years.
Qonto, a French challenger bank focused on business accounts, announced its expansion into Germany, following previous moves into Italy and Spain.
And in a sign of the global growth of neobanks, Tonik will launch the first digital bank in the Philippines, after getting its license approved by the country's central bank.
Challenger bank Moven this week announced that it had secured the first patent for a financial health and wellness tool, in a move that could stifle financial health competition in fintech.
Paypal is on a partnership tear, adding Latin American e-commerce site MercadoLibre as its latest integration.
Square this week announced an increase in the fees of its instant transfer service by 50%, from 1.0% to 1.5%, to boost revenues.
Sipree, a fintech that provides a solution for businesses to make payouts to their customers, rebranded as DigitalPay and added a set of new partnerships.
In Big Tech moves into fintech, Amazon will bring its Amazon Pay service to voice-enabled cars through Alexa, in a partnership with Fiserv and ExxonMobil. And Airbnb is possibly making a move into fintech, as spotted byFintech Today.
Chinese mega-fintech Ant Financial and gaming hardware developer Razer are two of the latest 'fintechs' to join the rush for a digital banking license in Singapore. The country has said it is seeing strong interest in the licenses, including from all-in-one app platforms like Grab.
The rise of open banking fintechs (which leverage consumer data permissioned from traditional bank accounts) is leading more consumers to take an interest in who owns their data, as reported by CNBC.
And lastly, Hudson Derencius of Fincog shared this interesting perspective on the relative search frequency of the 15 largest challenger banks, year-over-year since 2014: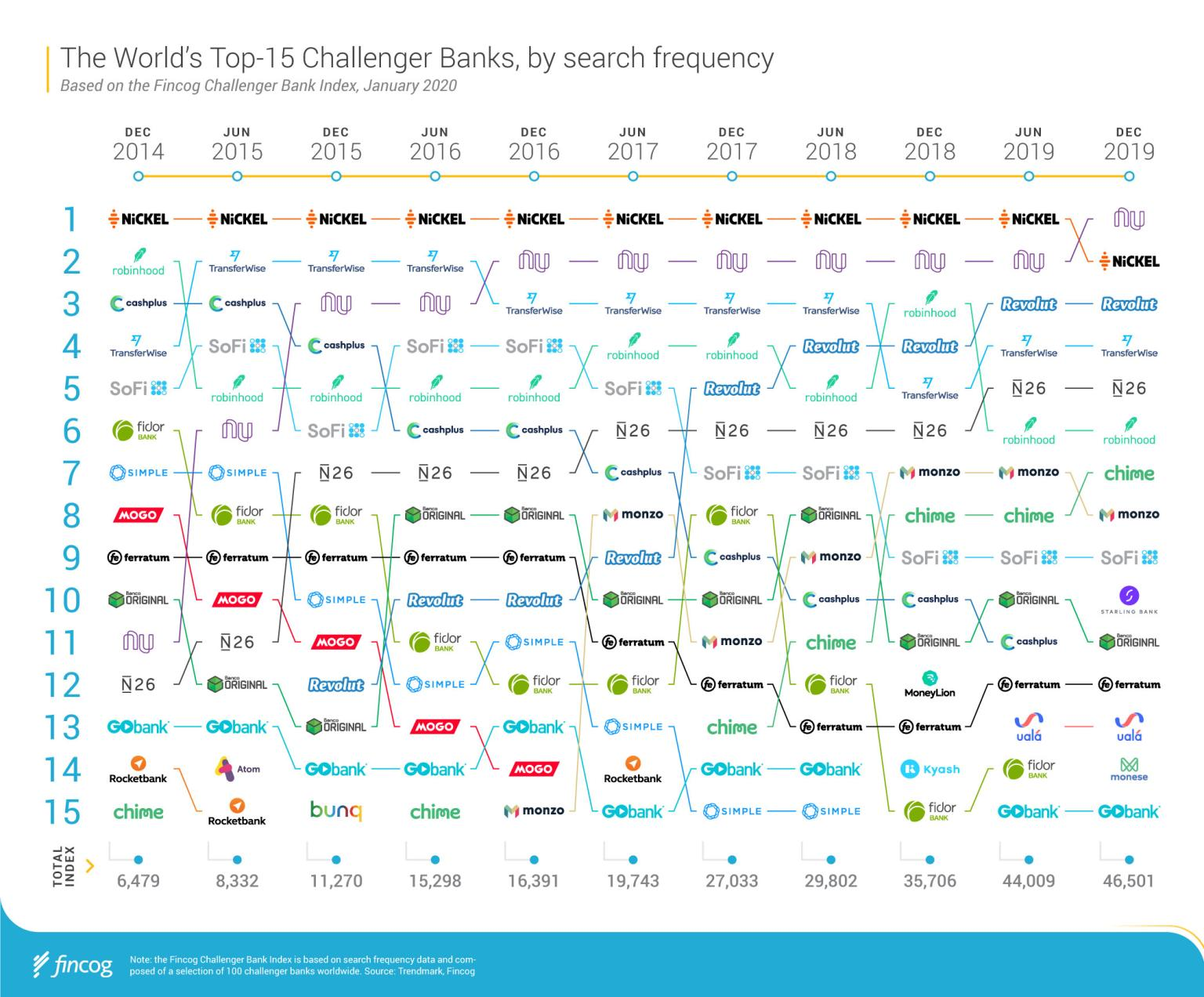 ---
Financings
HighRadius, a Texas cash and treasury management software, raised a $125 million Series B.
Practifi, a business management software and platform for financial advisors, raised a $16.3 million Series B.
Abaka, a UK-based digital retirement investment solution, raised a $6.5 million Series A to improve its technology.
Digital currency tax compliance software TaxBit raised a $5 million seed round to build its automation services.
NinjaTrader, which provides brokerage services and trading software to active traders, raised an undisclosed amount of funding.
Exits and M&A
---
Deeper Reads
China Has the Edge Over Silicon Valley to End Banking as We Know It
10 ways Africa's fintech sector boomed in 2019
Lookback on 2019 fintech predictions and 2020 US Fintech "Predictions"
Fintech in 2020, by Alex Cohen
4 Fintech Predictions for 2020, Explained
The Top 5 Fintech Trends Everyone Should Be Watching In 2020
Ten Years Of Fintech Megatrends For The Next Decade
Marqeta Digital Banking Survey 2019: The Shift to Digital-Only Banking is Intensifying
Nontraditional Credit Data Could Bring Loans to More Consumers
How Machine Learning is reducing loan defaults and easing debt recovery
Can Regulators Catch Up To Tech Changes?
5 Opportunities for Fintech Disruption in Latin America
Intersection Growth Partners' Fintech Focus — December 2019
Here's How Much Increasing Your Credit Score Can Save You On A Mortgage, A Credit Card And More
7 Innovative Startups to Watch in 2020
9 transformative fintech deals of 2019