This Week in Fintech (10/9)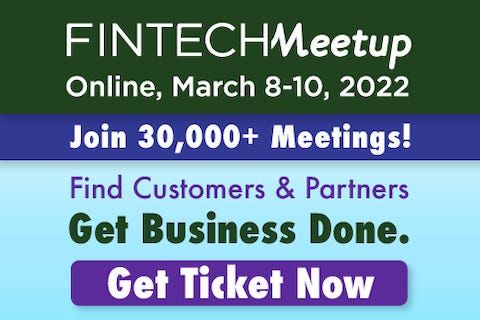 Hello Fintech Friends,
For anyone who tried to sign up for our Berlin event before, the invite link is working now (sorry) and we've found some pretty exciting collaborators :)
If you're in NYC, save the date on 12.2.21. Details coming soon.
Please find another week of fintech financings and exits below.
---
Editor's Note: If you're an early-stage startup founder raising equity or debt, I may be able to help - reach out to nik@thisweekinfintech.com.
---
Sponsored Content
Hundreds of organizations have already signed up for Fintech Meetup (online, March 8-10). Why? Because it's the easiest way to meet new partners and customers. No webinars, no content, no travel--just 30,000+ 1-1 meetings with hundreds of fintechs (including Alloy, Autobooks, Dave, MANTL, PPRO, Ripple, Sila, Socure & Synctera to name just a few) , banks (Bank of America, Citi, Goldman Sachs, JP Morgan, Wells Fargo and more!), investors (Bain Capital, General Atlantic, Point 72) and many more! Join Them & Get Ticket
---
💸 Venture Financing
💰 Venture Funds
SBI Group (Japan), Sygnum (Switzerland), and Azimut Group (Italy) partnered to launch a joint $75 million bank-led venture fund for digital asset companies.
☯️ Exits
💻 IPOs
North Carolina-based accounts payable software provider AvidXchange filed to raise $506 million at a $4.4 billion valuation.
Investment management software maker Allvue Systems moved from postponing its $275 million IPO to formally withdrawing it.
📈 SPACs
Early investors are dumping SPAC deals once they go public, leaving day traders to rush in. We broke down fintech SPAC activity starting in Q4 of last year, but net-net this isn't surprising: SPACs are generally the only path to liquidity for distressed tech companies.
Anthemis Digital Acquisitions I filed to raise $200 million for a digital financial services-focused SPAC.
ExcelFin Acquisition filed for a $200 million IPO to purchase a fintech.
🤝 M&A - Fintech
🏦 M&A - Bank
Bank mergers are on-track to hit their highest level since (ominously) the financial crisis.

---
Sponsored Content
Hundreds of fintechs have already signed up to Fintech Meetup, including Alliance Data, Alloy, Alviere, Argyle, Autobooks, Azimuth, Botdoc, Certa, Checkout.com, Dave, FISPAN, MANTL, Nuance, Nymbus, PPRO, Signal Intent, Sila, Synctera, Urban FT and many, many more! They're joining because they know that Fintech Meetup is the easiest way to find new partners and fill their pipelines. Join Them & Get Ticket
---
🌎 Fintech Around the World
A new payments platform for African currencies is a push for independence from the dollar
Africa's Top Fintech Hubs Are Also Its Most Regulated
Zimbabwe cracks down on currency dealers
Latin America's Fast-Evolving Fintech Regulatory Landscape
A report on the state of FinTech in Qatar
China's Central Bank Governor Vows More Fintech Crackdown
📚 Deeper Reads
Under the Hood: Open Banking Account Information for PFM
Reexamining Overdraft Programs A Guide for Financial Institutions
'Salomon Sisters' Is Coming to Wall Street
Rethinking Concentration Risk in B2B Fintech Infrastructure
What is the point of a stablecoin?
Open banking's unstoppable momentum
Inside the battle to be Europe's Robinhood
Did The President Of Robinhood Dump All His AMC Stock Right Before They Restricted Trading?
The Race To Build Data-Sharing Hubs For Banks — And End Screen Scraping
Gorilla dies in the arms of ranger who rescued her as an infant 14 years ago 😢
Golden Retriever's Joyous Reunion With Brother After Months Apart Goes Viral Online
---
Want to be a This Week in Fintech Sponsor? Reach out to us at sponsor@thisweekinfintech.com.

Have a news item for us? Reach out to news@thisweekinfintech.com.

Come meet us in-person at www.fintechhappyhour.com