This Week in Fintech (10/29)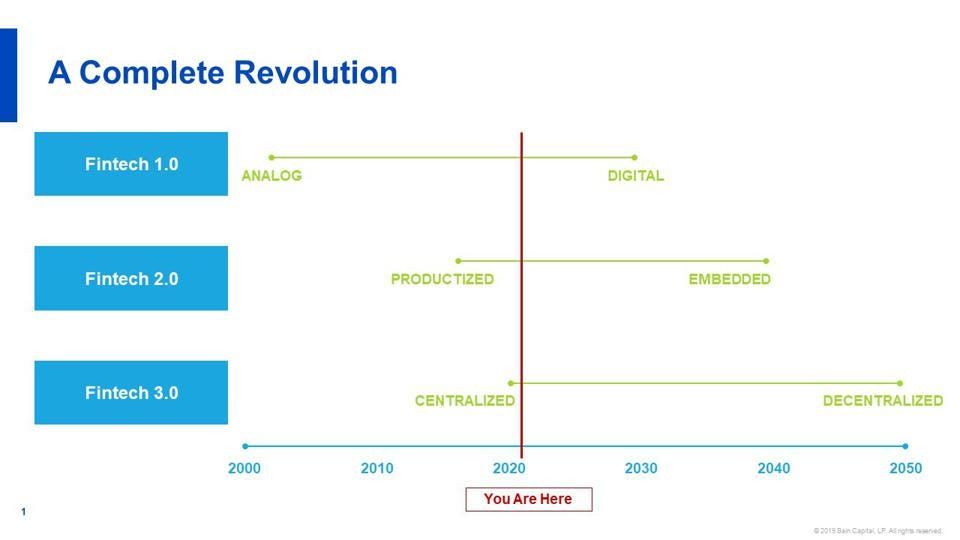 Hello Fintech Friends and Amig@s,
We're having our first Fintech Happy Hour in Mexico City on November 11th, hosted by Latin America Editor Christine Chang. Will we see you there? Let us know. 🐍🦅
Question for New Yorkers: what would you change about the city to make it more fintech-friendly? (Besides bringing a +1 to the Fintech Formal.)
Please enjoy another week of fintech and banking news below.
---
💬 Quote of the Week
"With the mainstreaming of crypto and Web3, the final piece of the puzzle has snapped into place: over the next 30 years, financial services will go from centralized to decentralized, completing the revolution."
Matt Harris, Bain Capital Ventures (Source)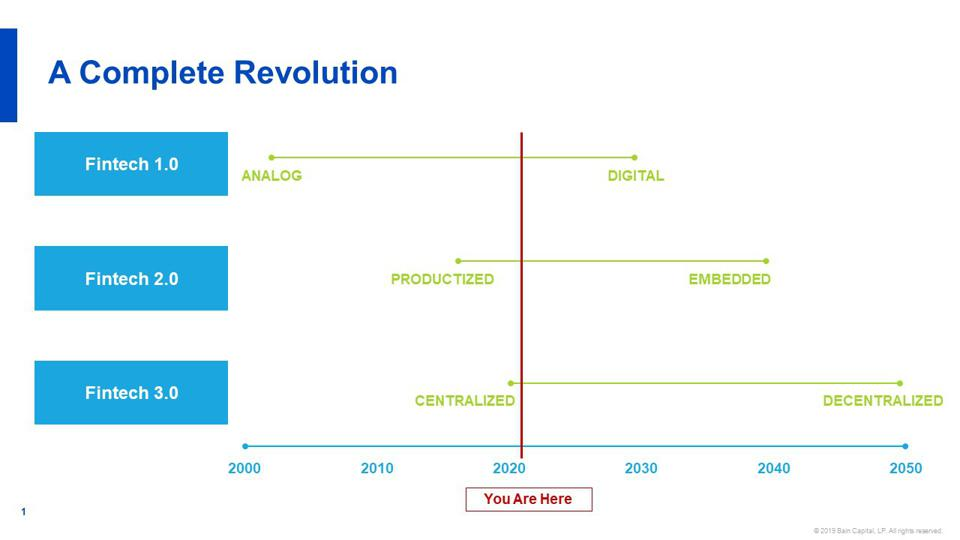 ---
📖 Read of the Week
Plaid published The Fintech Effect: Fintech's Mass Adoption Moment, detailing the rise of fintech adoption among consumers. The data (eg. that 88% of U.S. consumers now use fintech apps and services) are worth reading through.
📊 Stat of the Week
September marks the 4th month in a row with increasing delinquency rates. 30+ day past due rates showed a 7.95% increase month over month, with a 9.35% increase in delinquent balances. (Experian, via Ohad Samet)
---
Sponsored Content
Fintech Meetup is the industry's next can't-miss event! It's the easiest and most efficient way to find new solutions, partners and customers. No Content. No Speakers. Just 30,000+ online speed date meetings so you can meet fintechs, investors, banks, neobanks, credit unions, networks, tech cos and more! Online, March 22-24, startup rate available for qualifying cos. Get Ticket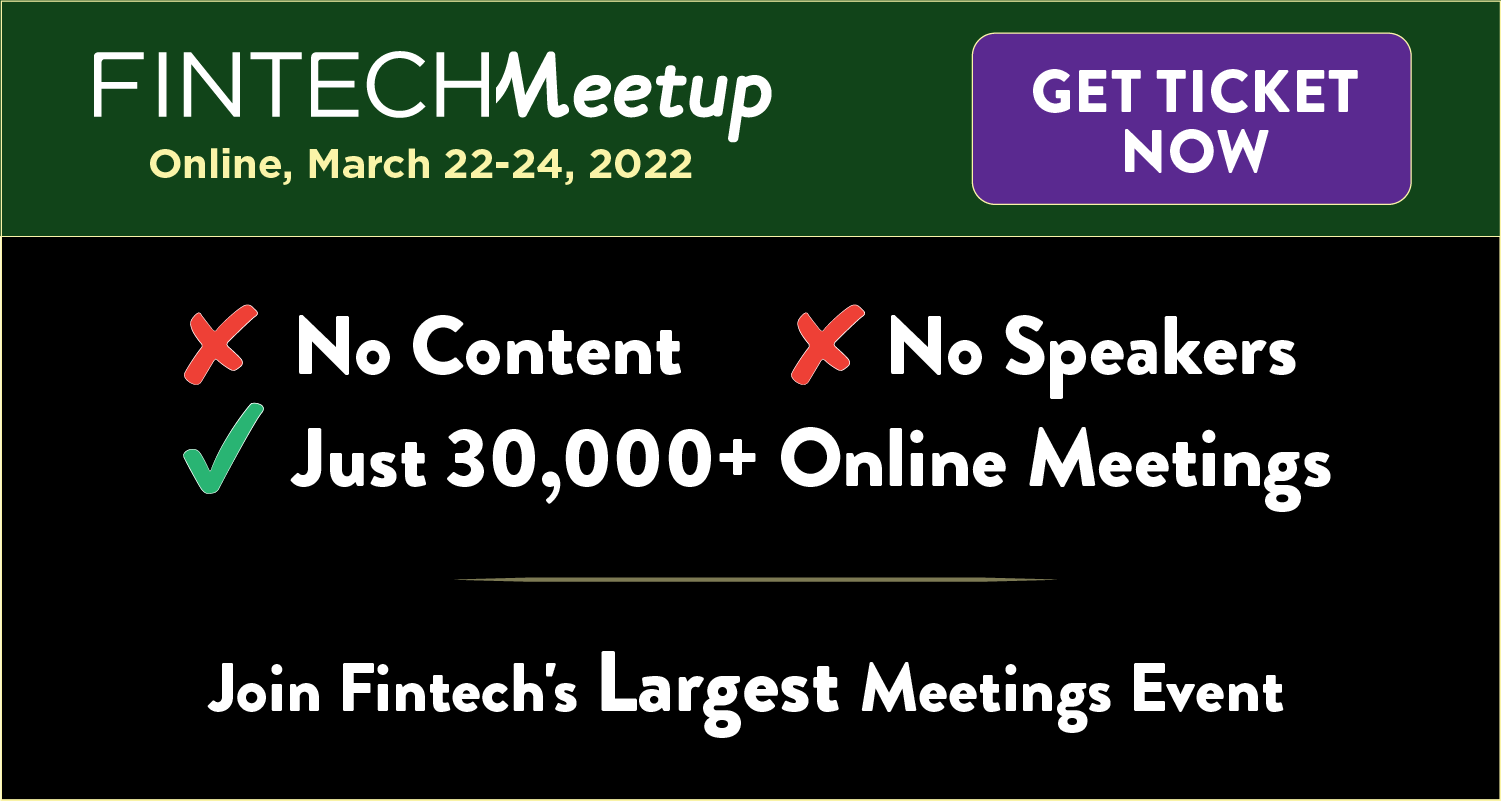 ---
🏦 Financial Services & Banking
🚀 Product Launches
Spanish bank BBVA launched its own neobank in Italy. Wells Fargo relaunched its mobile app with an assistant.
JP Morgan launched a digital proxy voting platform.
Fiserv launched a credit card issuing and management platform.
Citi launched real-time digital bill payments.
📰 Other News
Nigeria is rolling out its digital naira this week (with some speedbumps). Israel is building an ethereum-based digital shekel.
Deutsche Bank's electronic foreign exchange went live in Singapore.
Mastercard is soon going to make crypto services available for any bank or merchant on its network, and meanwhile introduced a card design for the visually-impaired. Visa claims its installment payment functionality is growing quickly around the world
CommBank research shows that well-timed and targeted 'digital nudges' can "significantly improve customer financial outcomes."
---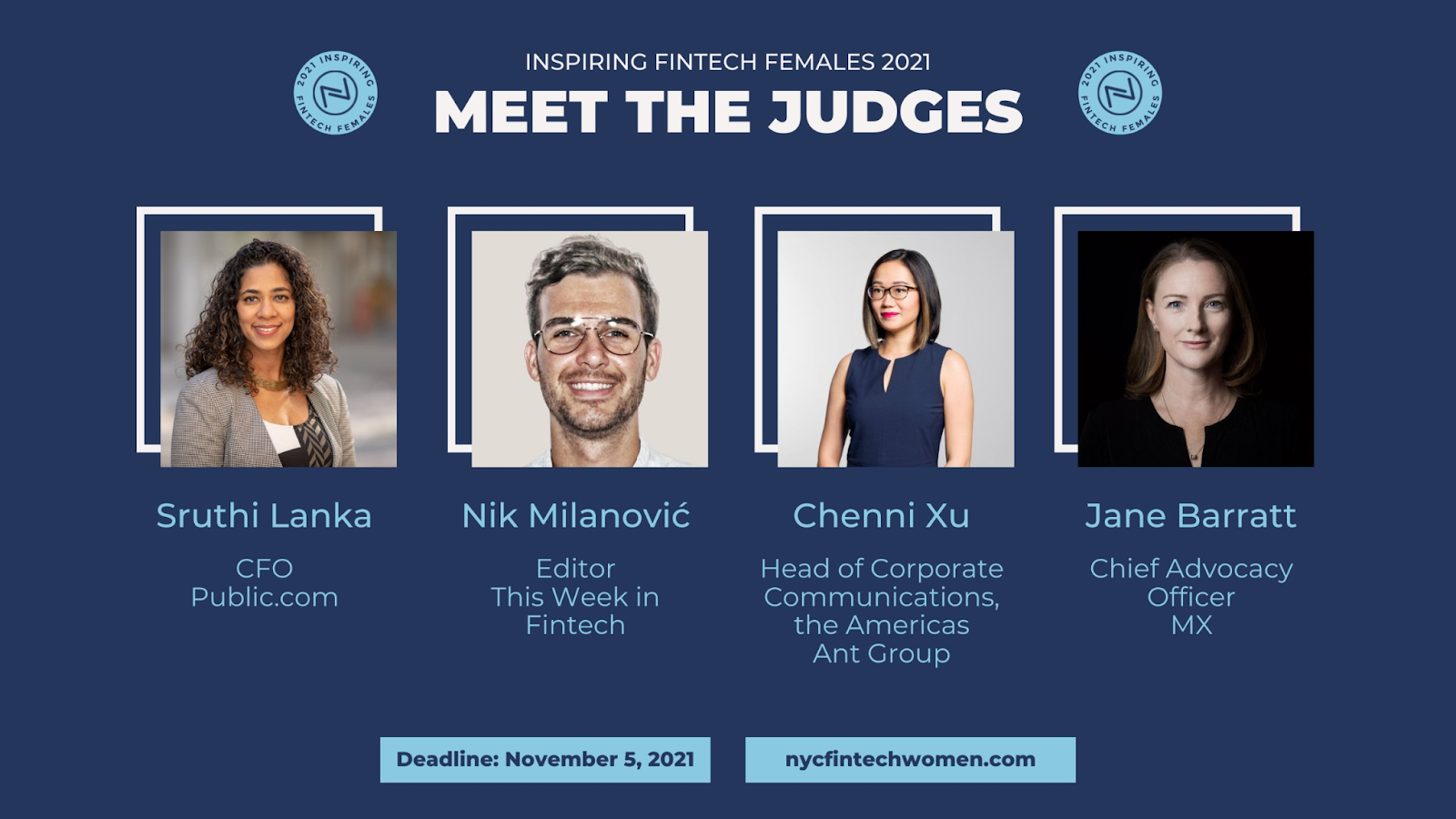 NYC Fintech Women is now open to submissions for the Inspiring Fintech Females 2021 list! The deadline to submit is November 5th. If you know an inspiring woman in fintech (I hope you do…) please nominate her!
💻 Fintech
🚀 Product Launches
It must be Money2020 week...
Nium launched crypto-as-a-service in the US.
In the business fintech world, Ramp launched free payments and invoice management software. MX launched a data and transaction platform for businesses. Modern Treasury launched virtual business accounts to streamline payment reconciliation. Mesh Payments launched spend intelligence and insights for subscription businesses.
Stripe launched a carbon removal marketplace. (And consultancy Accelar opened a Nature Finance Impact Hub.)
PayPal launched its new Zettle PoS terminal in the UK.
Payveris launched a real-time bill payment tool for financial institutions.
Dutch neobank Bunq launched multi-currency accounts. US neobank Marygold & Co. launched a personal finance tool.
📰 Other News
PayPal is….. not pursuing Pinterest?
Plaid and Checkout partnered to allow merchants to securely share payment account information to checkout without the business storing any payment data. (And Plaid overhauled its Plaid Link SDK.)
Flutterwave partnered with Stellar on Europe-Africa payments corridors. Meanwhile, Wise and The Orchard partnered on direct payouts to music artists and Wise embedded its remittances into Payfare to provide money transfer to gig workers.
Paysafe partnered with Bitrise to create faster digital wallet payments.
SoFi partnered with Trust & Will on an estate planning product. Investment app Chip partnered with banking-as-a-service provider ClearBank on deposit accounts.
Uber Freight partnered with Marqeta and Branch on fleet payment tools.
Blockfi partnered with asset manager Neurberger Berman to launch crypto ETFs. Greenlight wants to teach parents to invest too.
Corporate spend startup Jeeves launched in Canada.
Stripe and Klarna entered a strategic partnership to enable any merchants using Stripe to offer buy-now-pay-later.
Nigeria's Risevest had its accounts unfrozen after beating the country's central bank in court.
VALK crossed $4 billion in private placements on its platform. Step partnered with a Fortnite champion. Tesla may take crypto payments again. Wise shares are selling off as other firms get into remittances and Robinhood ARPU dropped.
---
Sponsored Content
Zero Hash enables developers and businesses to integrate digital assets natively within their own customer experience quickly and easily. Zero Hash provides the complete turnkey solution to integrate digital assets experiences, without any regulatory overhead and a light technical lift (a matter of API endpoints). Their turnkey solution handles the entire back-end complexity and regulatory licensing required to offer digital asset products. Zero Hash is defining the new FinTech vertical of digital-assets-as-a-service.
---
🌎 Latin America
Pomelo, the Argentinian infrastructure platform for financial services, raised a $35 million Series A led by Tiger Global Management.  The seven-month-old company boasts a long list of other notable institutional and angel investors.
Nubank, the Brazilian neobank, announced it has filed to go public.  The company, which is the largest digital bank in the world, filed both in the US with the SEC and the Comissão de Valores Mobiliários (CVM) in Brazil.
RecargaPay received its license from the Brazilian Central Bank to become a Direct Credit Society (DSS).
🇪🇺 Europe
Mastercard is pulling the plug on Maestro with no further issuance allowed across Europe.
N26 has had to reduce its customer growth due to a temporary cap by German regulator BaFin.
PensionBee has hit 100,000 pension users for their platform.
🌏 Asia
---
Want to be a This Week in Fintech Sponsor? Reach out to us at sponsor@thisweekinfintech.com.
Come meet us in-person at www.fintechhappyhour.com.