This Week in Fintech (10/22)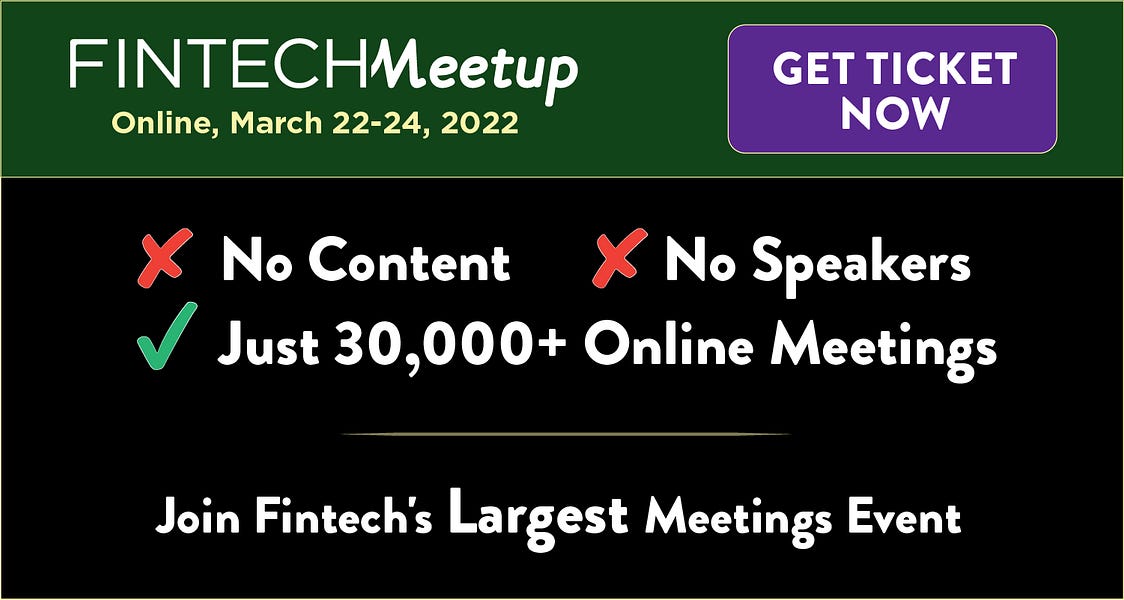 Hello Fintech Friends,
Please join us for the year-end Fintech Formal. 🤵

We've booked our biggest venue yet to open it up to the national fintech community and +1s. There will be views, food, drinks, prizes, dancing, and surprises (and when tickets are done, they're done.)
This is something we've been working on behind the scenes for a while, and we'll have many more announcements on it to share soon.
Please RSVP here, and if you'd like to sponsor, let us know.
Hope to see you there.
---
💬 Quote of the Week

"The majority of Black borrowers who received aid from the $800 billion relief program got their loan from a financial technology company, not a bank, according to an economic working paper released Monday. [...] It turned out that the automated loan vetting and processing systems used by the fintechs, as well as some of the nation's biggest banks, significantly improved approval rates for Black borrowers, the researchers found."
---
📖 Read of the Week
Last week, CB Insights published an interesting primer, Stripe, Hubspot, And JP Morgan Are Buying Audiences. This week, PayPal is reportedly in the final stages of exploring a Pinterest acquisition. This comes after Square famously took an ownership stake in music platform Tidal.
"Fintech is culture" has become a common refrain in the community, with more and more collaborations between high-profile fintech companies and celebrities, but not all collabs are created equal.
In PayPal's case, there is a real opportunity to own the full stack of consumer purchase behavior - ie. the job that Honey started, Pinterest will finish. Where PayPal's core checkout experience only gives insight where the transaction ends, Honey and Pinterest give insight into where it begins.
We're starting to see a stronger union between payments and advertising online. If a platform holds the data not just on what consumers are 'consuming' (clicking, watching, listening to) but also what they're paying for, you can create incredibly valuable profiles on what to sell them (in-turn driving up GMV and payments revenue…)
I would offer an alternative to the "fintech is culture" refrain: "payments is targeting."
📊 Stat of the Week
M-Pesa agents are up 43% over the last year, while the mobile money platform's number of users has grown 14%. Of the world's 1.2 billion mobile money accounts, 584 million are in Sub-Saharan Africa. (Source, source)
---
Sponsored Content
Fintech Meetup is the easiest and most efficient way to find new solutions, partners and customers! No Content. No Speakers. Just 30,000+ speed date meetings with hundreds of fintechs including Alloy, Autobooks, Dave, MANTL, PPRO, Ripple, Sila, Socure & Synctera (and many, many more!), networks including American Express, Discover, Mastercard & Visa, banks including Bank of America, Citi, Goldman Sachs, JP Morgan & Wells Fargo, investors like Bain Capital, General Atlantic & Point 72 Fintech Meetup, tech cos including Facebook and many others. Online, March 22-24, startup rate available for qualifying cos. Join Them & Get Ticket.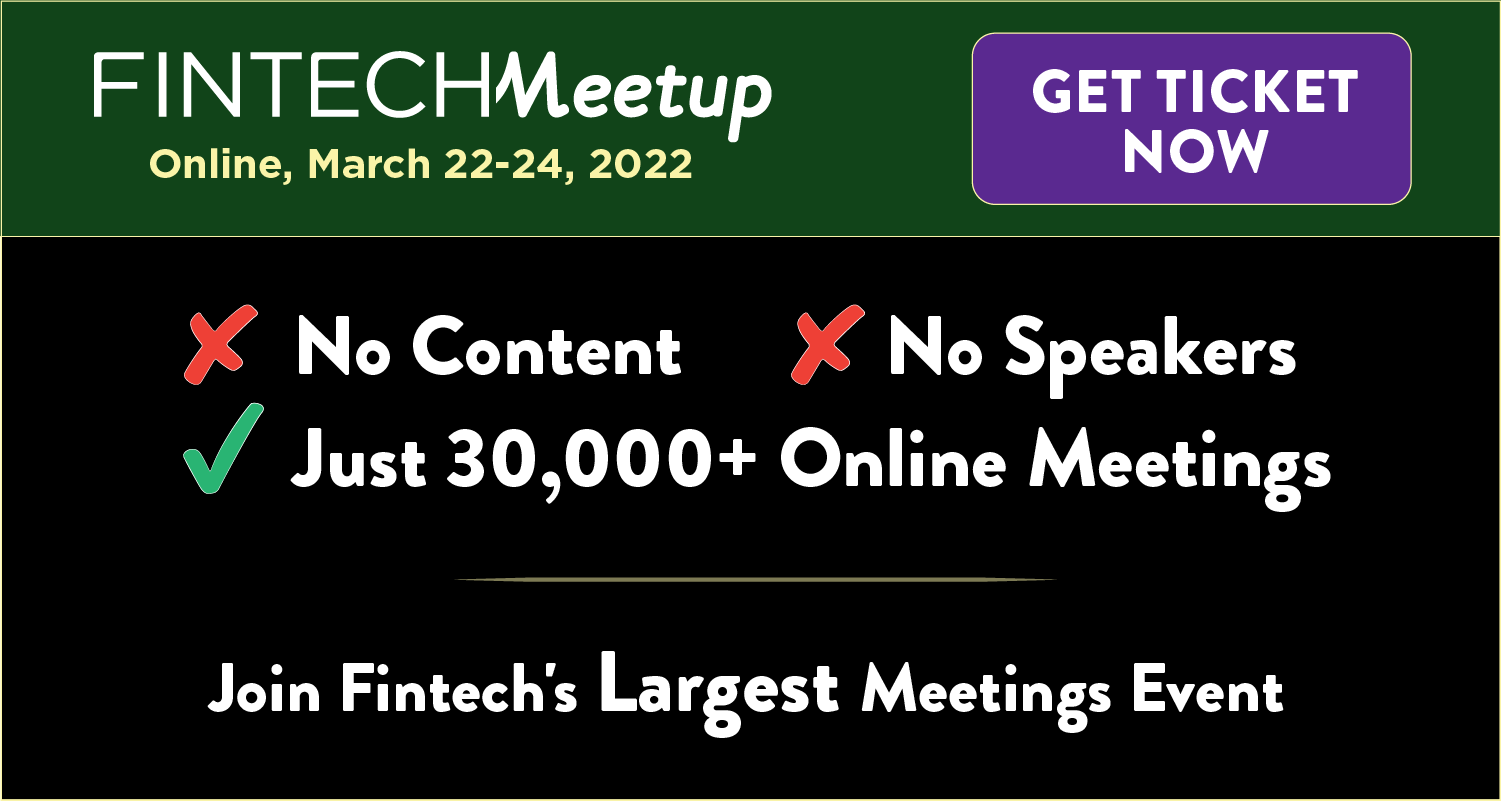 ---
💼 Open Role Spotlight
Earnin is a fintech reinventing payday by enabling millions of US employees to get paid as they work to avoid debt, help pay bills and save for a better future. They've provided $10bn in earnings and are hiring a Business Development Lead in Palo Alto, CA. For questions, please reach out to michael.burris@earnin.com.
---
🏦 Financial Services & Banking
🚀 Product Launches
HSBC is launching its own banking-as-a-service product and an open architecture post-trade marketplace for clients.
Piermont Bank launched BancFi, a credit platform for fintechs and their users.
CommBank is rolling out POS terminals and a Square-like reader.
📰 Other News
We're getting bitcoin ETFs.
Thailand's Kasikorn Bank launched a defi incubator and NFT marketplace, as the Bank of England is looking into mitigating defi risk.
Mastercard is working with the government of Pakistan to create the country's first cashless zone. Visa is partnering with fintech Bloom in Hong Kong to create a spending cashback app.
Goldman Sachs partnered with American Express to deploy a cloud-based payment service for large corporate clients. Wells Fargo partnered with multi-bank data aggregation API Trovata on cash reporting and forecasting. JP Morgan and Interactive Brokers are partnering on a request for payment service. Mastercard is adding working capital to Track Business Payments package via Demica.
Singaporean banks are backing a new carbon tracking tool for SMEs. France will test a CBDC treasury bond. The Chinese government is pressuring brands to accept its digital yuan in advance of the winter olympics.
Bank of America profits took off - up 58% on net interest income on assets.
Fresh off money laundering fines, NatWest allocated £100 billion towards green lending. Lloyds Bank in the UK will cut 48 more branches. Credit Suisse received a $475 million global fine from regulators for financial crime due diligence failings.
Now you can smell like Mastercard.
---
💻 Fintech
🚀 Product Launches
Wealth8 and WealthKernel partnered to launch an investment app in the UK focused on giving traditionally marginalized ethnic communities equal access to wealth management services.
Brex announced the release of its own API and Zapier partnership to automate payments and transactions.
Facebook rolled out a pilot of its cross-border no-fee instant payment functionality in the US-Guatemala corridor; currently, the Novi wallet transactions are enabled by Paxos and Coinbase white-labeling, rather than using its Diem stablecoin.
Alloy launched its own automated decision engine for credit underwriting. Banking-as-a-service platform Bond is expanding into embedded credit solutions.
Neobank Douugh partnered with Zero Hash to launch a crypto wallet and trading.
Credit Kudos launched Signal, an open banking-based credit score. Creditspring also launched Step, a credit-building product for near-prime UK consumers.
Square launched subscription tools for UK companies.
Stampli launched a new corporate card. X1 launched a credit card.
📰 Other News
Account-to-account payments (paying for something directly from your bank account) is one of the major promises of open banking, but has struggled for adoption in the US, where Real-Time Payments and FedNow are still in development and solutions like Venmo or Zelle are the only options for consumers. Plaid announced this week that it is moving beyond account aggregation to partner with Square, Stripe, Silicon Valley Bank, and Galileo to enable instant A2A payments in the US.
Synchrony partnered with Fiserv's Clover unit to move into buy-now-pay-later. Green Dot partnered with Temenos on cloud-based processing.
Coinbase is sponsoring the NBA. Hathor and Simplex are partnering on Visa crypto-to-fiat cards.
Klarna is adding stronger credit checks and the ability to make instant payments to its UK app. Pipe is opening up its platform to more types of investors.
Telco and mobile payments network MFS Africa expanded into Nigeria with its acquisition of agent network Baxi. South African payments startup Peach Payments is expanding to Mauritius.
Expensify added a free plan for SMBs. Truework became an authorized Fannie Mae Validation Service report supplier. Bling Card is partnering with Treezor on a prepaid pocket money card for kids in Germany.
Nubank posted a $14 million profit in the first half of 2021.
Telcos and mobile money providers in Africa are partnering with music streaming services to make it easier for people to pay for music.
Square may get into bitcoin mining. Point completed a residential home equity securitization.
---
Sponsored Content
The Big Transaction is a two-day, single track technical conference dedicated entirely to the art of payments engineering - join us virtually in November and learn the best strategies, architectures, tips, and tricks for building robust payment systems that work at scale! Featuring speakers from Stripe, Netflix, Shopify, Spreedly, and more! Tickets are only $29.99 and on sale now - get yours today!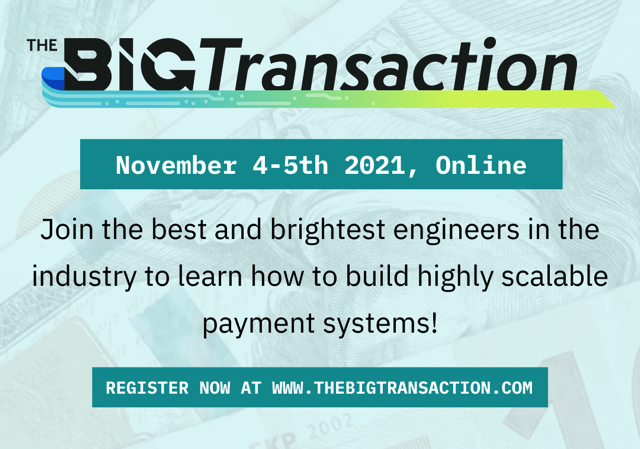 ---
🇪🇺 Europe
Monzo is making it easier for its business customers to get paid through a quick request payment link or invoice. It is also partnering with Freetrade to give its paying subscribers three free shares. Freetrade hit the 1m customer mark this past week.
Open finance platform mmob has added PensionBee, Upside and Glint Pay to its platform to become a "superapp-as-a-Service".
Berlin based Billie is focusing on BNPL (who isn't these days) and is teaming up with Klarna to offer its merchants the ability to integrate payments from Billie.
🌏 Asia
CRED, a credit card rewards and commerce startup, raised $251 million at a $4 billion valuation and Stripe acquired Recko, an Indian payments reconciliation startup.
Policybazaar, an Indian insurance distribution startup, received regulatory approval to float its IPO.
Kasikorn Bank, a Thai bank, launched Kasikorn X (KX), a DeFi Incubator, and Coral, an NFT Marketplace.
---
📜 Policy
In collaboration with Ben White.
New York Attorney General Letitia James is investigating crypto lending platforms and sent a cease and desist letters to two firms.
The CFPB sent a request for information to large tech companies to better understand how they are using financial data.
The SEC published a 45-page report analyzing the January 2021 GameStop market surge and urging regulators to more deeply scrutinize "game-like" trading platforms.
Coinbase published a whitepaper proposing an entirely policy framework for digital assets, including a novel regulator.
The CFTC fined Tether and Bitfinex for separate transparency-related charges.
DC Fintech Week hosted panels featuring the heads of the FDIC, OCC, SEC, and FinCEN.
SEC Commissioner Allison Herren Lee gave a speech about the rise of private markets.
The State of North Carolina is launching a fintech regulatory sandbox.
The Digital Pound Foundation, an independent group, launched to push for the UK to adopt a Central Bank Digital Currency.
Senior officials at the Bank of England warned that cryptocurrency poses a bigger threat to financial stability than subprime mortgages did prior to '08 crisis.
China's new data privacy rules could impact online broker Futu.
Australia's Parliament released an overview of how it plans to treat stablecoins.
Want to be a This Week in Fintech Sponsor? Reach out to us at sponsor@thisweekinfintech.com.
Come meet us in-person at www.fintechhappyhour.com.