This Week in Fintech (10/16)
Quote and read of the week, financial services, and fintech news

Hello Fintech Friends,
This does more or less sum up my year…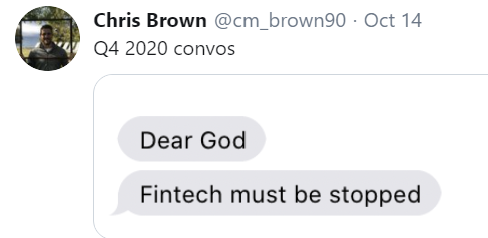 We also published our second Q3 Signals this week, analyzing bank and fintech exits and M&A over the last quarter.
Please find another week of fintech and banking news below.
Quote of the week
"The very earliest example of lending dates back to over 4,000 years ago in Mesopotamia, 2,000 BCE, where farmers bought seeds on credit and repaid the debt after the harvest."
Rohit Sharma, A look at the Buy Now Pay Later (BNPL) players (source)
Read of the week
In Banking as a Service: the future of financial services, 11:FS' Simon Taylor provides a great investigation into what it means for the provision of banking services to move from banks into embedded products on other platforms. It's true, traditional bank revenue sources (NIM) have increasingly been under pressure, while fixed costs (branches) are only now being cut. It will be interesting to see whether legacy banks choose to go where their customers are and embed their services in other platforms.
---
Sponsored Content
SentiLink has built the only comprehensive solution for stopping synthetic fraud. Designed by former Affirm risk professionals from a lender's perspective, SentiLink categorizes synthetic fraud into 1st party and 3rd party to enable risk teams to optimize treatment strategies and automate detection with low false positive rate.  Please contact Max Blumenfeld at max@sentilink.com for more details.

---
Financial Services & Banking
Product Launches
Garanti BBVA, the Turkish bank subsidiary, launched Bonus Diji, a rewards-based credit card that stores card numbers, expiration dates and CVV codes on its companion mobile app rather than the card.
Bank of America is on a roll. After last week's launch of Life Plan, its PFM, the bank introduced micro-loans of up to $500 in increments of $100 for a flat $5 fee through its customer Balance Assist feature and three new APIs to support real-time data access in corporate treasury.
Chase launched Chase First Banking, a feeless checking account for kids and teens that can be co-managed by parents.
Other News
JP Morgan pledged a $30 billion investment over the next 5 years to fight the racial wealth gap in the US.
The People's Bank of China is beginning to distribute the country's new digital currency, starting with a lottery of 10 million yuan ($1.5 million) to 50,000 recipients in Shenzhen.
Commonwealth Bank of Australia integrated fintech Credit Savvy's credit scoring functionality into its mobile app. Deutsche Bank will partner with fintech Elastic to provide an early warning system for customer transaction settlement delays, and will also become the first European bank approved for China's Pilot Scheme for Facilitation of Foreign Exchange Receipts and Payments for Trade.
The Financial Stability Board published a roadmap to improving slow cross-border payments. The Justice Department is revisiting its bank merger guidance to factor in online lenders, in light of the growth of fintech. The Federal Reserve is looking for participants to pilot its FedNow real-time payments network, a rival to The ClearingHouse's RTP. The Monetary Authority of Singapore is establishing a Green Finance Centre.
Wells Fargo fired over 100 employees accused of improperly collecting coronavirus relief funds for themselves… The US continues to look into banning Ant Group and Tencent payment system usage in the country. The OCC fined Morgan Stanley $60 million for failing to properly decommission two wealth management data centers. European ATM losses from its 'black box' fraud, in which a device can trigger dispense commands, have passed €1 million.
---
Fintech
Product Launches
Clearbanc launched a new inventory financing feature so that e-commerce companies can only pay for inventory upon delivery to customers. PayPal launched a new three-month interest-free installment loan product in the UK to compete with Klarna.
SoFi debuted an ETF that provides a weekly distribution every Friday.
German search engine Ecosia partnered with British fintech Treecard to launch a debit card. Designer Philippe Starck designed a "smart ring" for storing and making payments.
Other News
French fintech superapp Lydia partnered with Tink to enable its open banking features. Neobank Revolut is planning to apply for a US bank charter with the Federal Reserve Bank of San Francisco. Greenwood, the black-owned challenger bank for the black and latinx community, passed 100k sign-ups in its first week. Pennyworth, a neobank founded by ex-Barclays employees, filed to become an authorized UK bank.
Rapyd and InComm Payments partnered to allow billers to accept cash payments.
The Wirecard fire sale continues: Bulgarian fintech Paynetics acquired the company's corporate payout card portfolio in the UK and Ireland.
Frustrated Robinhood customers are being targeted by criminals who drain their accounts, and struggle to reach customer service in time to stop it. The company estimates hackers infiltrated over 2,000 accounts. Fraud rates and theft are surging on consumer payment apps generally, as faster funds access creates an opportunity for fraudsters. TD Bank ramped up its ongoing disputes with Plaid, suing the aggregator for mimicking its website brand in its bank login screens.
Nigerian lending fintechs are bearing the brunt of the pandemic, as they begin to experience high default rates, and a hack of mobile money solution Pegasus Technologies in Uganda has led to losses of at least $3.2 million as local banks deal with the fallout, leading to a nationwide police chase.
A fintech green accelerator launched. Mojo Mortgages, Moneybox, Plum, and Wagestream won Nesta's £1.5 million open banking competition.