Hello Fintech Friends,

I'm not sure whether I'm the only one feeling this way, but my default expectation with many products today (airlines, banking, Quickbooks, etc.) is that they won't work as planned. Delays, accidental charges, bugs - which can only be resolved through byzantine customer service flows - seem to be the default setting, with little incentive to prioritize quality because competitive products are just as error-prone.
It makes it that much more exciting when I do encounter products in the wild that create small positive surprises or moments of delight.
I wish more companies internalized omotenashi, rather than shipping MVPs and moving on:
"Of course, there's more to omotenashi than direct customer service. If you've ever found a toothpick packaged along with the disposable wooden chopsticks you received at a convenience store, that is part of it. Have you ever watched a bakery worker slipping an ice-pack into a box beside the cake slice you'll be carrying home? That's more than a good service. When you receive a wet towel to wipe your hands with before ordering at a restaurant, then you'll know that fantastic hospitality is included in almost every aspect of Japanese life."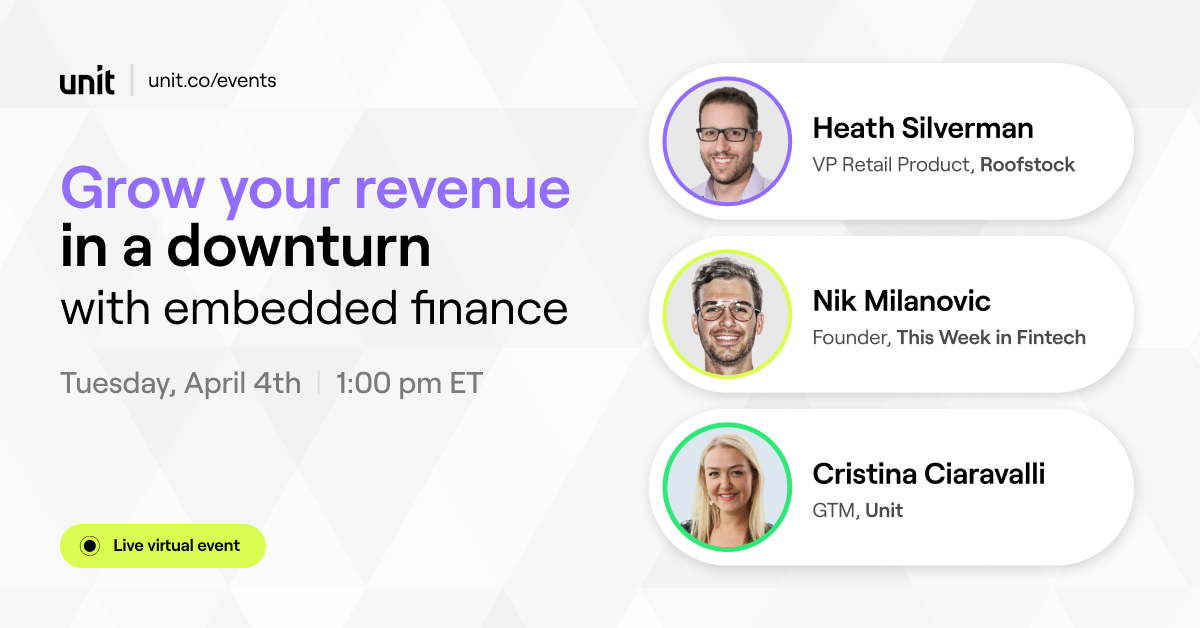 Elsewhere, I hope you'll join me and the Unit team for a conversation on growing startup revenue via embedded finance on April 4th.
👍👎 Have feedback for us? Let us know!
Please find another week of fintech exits and deep reads below.
---
Rutter takes the complexity out of building integrations for business financial data and workflows. Our Universal Accounting & Commerce API allows companies to read and write data from multiple e-commerce platforms, accounting systems, and payment processors like Amazon, Shopify, Quickbooks, NetSuite, Walmart, Stripe, and more. Rutter has raised $27M from leading investors like a16z.
Join us for a discussion, Future of Spend Management Software w/ Airbase's Catherine Gacad on Thursday, March 16, 2023, at 10 AM PT. Learn More
Want to sponsor a newsletter? See our sponsorship information here.
---
☯️ Exits
💻 IPOs & SPACs
Fintech SPAC Aurora Acquisition Corp. extended the deadline to complete its merger with struggling digital mortgage lender Better for the third time, to September.
🤝 M&A - Fintech
Indian fintech unicorn Slice acquired a 5% stake in Indian bank North East Small Finance for $3.42 million.
Indian payments and API banking company Cashfree Payments, announced its strategic acquisition of Zecpe, a one-click checkout company.
Coinbase acquired institutional crypto asset manager One River to expand further into non-retail investing.
Weavr, an embedded finance orchestration provider, acquired open banking platform Comma Payments.
Italian buy-now-pay-later unicorn Scalapay acquired payment institution Cabel IP.
Global payments platform Airwallex was able to expand into the Chinese market via its acquisition of Guangzhou Shang Wu Tong Network Technology, an online payments company.
Binance US was cleared by a judge to purchase the assets of distressed crypto lender Voyager, despite the complaints of an ornery SEC that future regulatory action may be pending.
Australian financier ColCap acquired an 80% stake in UK digital mortgage lender Molo.
Orion Innovation acquired London-based banking implementation company for financial institutions Banktech Software Services.
UK embedded banking platform Railsr is reportedly closing in on a sale and will go into bankruptcy proceedings.
🏦 M&A - Bank and FinServ
Fifth Third Bank announced its acquisition of national health system payments firm Big Data Healthcare.
Mortgage origination platform Black Knight and prospective acquirer Intercontinental Exchange agreed to sell Black Knight's Empower loan unit to avoid antitrust concerns.
Accounting firm EY is going through internal infighting over spinning out its tax business.
---
🌎 Fintech Around the World
Looking at the future of LatAm digital payments through the lessons of China
Who are the women leading Nordic banks?
Kenya is running out of US dollars
What I learned from collecting and analyzing 200 African start-up valuations
Internet Access and its Impact on Financial Inclusion in Africa: Challenges and Opportunities
📚 Deeper Reads & Features
How Fintech Boosts Economic Equity For Women Worldwide
Celebrating the women shaping the fintech sector
A Tangled Tale of Gun Parts, Identity Theft and the Ease of Buy Now, Pay Later
FT Partners' Women in Fintech - Rising Stars
Fintech and the Future of Finance: Market and Policy Implications
7 investors reveal what's hot in fintech in Q1 2023
Fiserv: the Steady Eddy that processes America's readies
A Floundering Fintech's Risky Reboot
Tornado Cash Contributor Builds New Privacy Tool—And Hopes It Won't Trigger the Feds
Central banks going crypto. Is it a good idea?
Why Fintech Should Keep Its Faith in Blockchain
How the SEC is wrong about the Internet and the Bitcoin ETF
Fintech firms may struggle to find investor love in rebounding U.S. IPO market
HerVest expands offerings to deepen financial inclusion across women demographics
2023 Fintech Predictions with Zach Perret
132 years is too long to close the gender gap. How can we accelerate financial inclusion?
Can any foreign adventurer make it in US retail banking?
Puppy experiences rain for the first time
---
Have a news item for us? Reach out to news@thisweekinfintech.com