Latin America
TWIF Latam 07 Mar - Evertec acquires PaySmart, Bitso launches debit card in 🇲🇽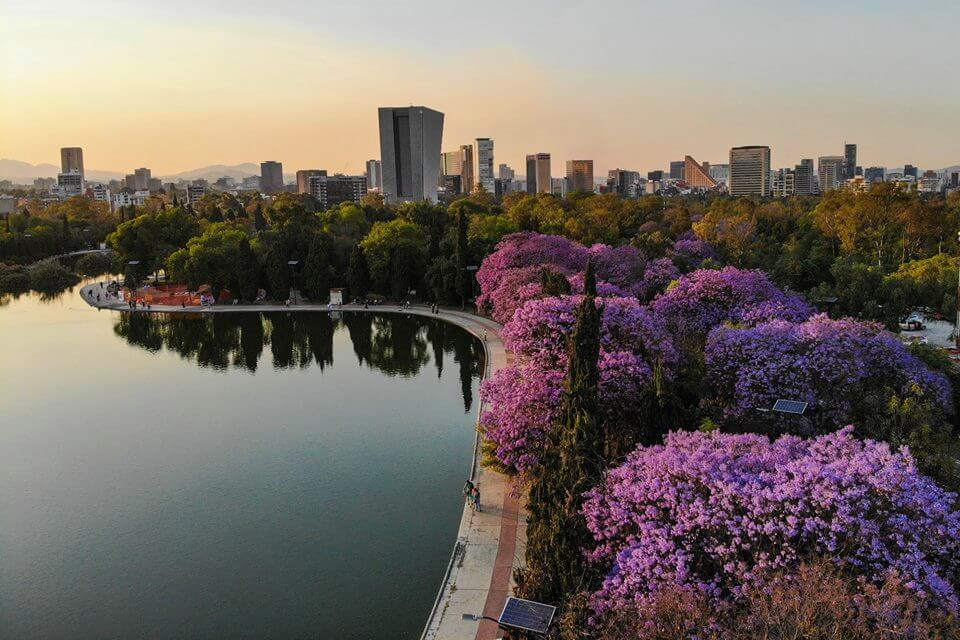 $272.3 million in fintech funding (equity and debt)
---
Hola amig@s fintech,
Spring is just around the corner, and Mexico City is already ablaze with beautiful shades of purple! If you happen to be in the city, make sure to take a leisurely stroll along Reforma and marvel at the breathtaking sight of the jacaranda trees, which were first introduced by visiting Japanese imperial gardener Matsumoto. These trees have become an iconic and beloved symbol of the city during the spring season.
💛 Until next weekend. Até a próxima! - Andrea
📬
Feedback? Reach out to us anytime! This week we're Andrea on stat, quote, read, tweet, funding, exits, and editing. Daniela on other news, product launches, and deeper reads, Lorena on policy and Elena with the spotlight feature.
---
Sponsored Content
Want to sponsor a newsletter? See our sponsorship information here.  Want to sponsor an event with the TWIF Latam community?  Check out the FAQ here and send us your info via this form.
---
📊 Stat of the Week
💬  Quote of the Week
"The markets you thought were too small often have much more depth and are much larger than you thought. TAM is a trap in many cases."  - Harry Stebbings, Founder @20VC
📖  Read of the Week
The 2022 update of the Venture Capital & Growth Equity landscape in Latin America by Glisco Partners and Endeavor. ​​The report notes a change in investment patterns from the previous year, with a shift in investor focus towards profitability, unit economics, and long-term vision.
🦉 Tweet of the Week
---
💸 Funding
There were 5 deals in the fintech space across Latam since the last post, with a total investment of $272.3 million.
💸Equity
🇧🇷 Dattos, the data analytics solution, raised a $3.8 million series A led by Igah Ventures, with the participation of ABSeed and current investors Investtech and GR8 Ventures. Dattos streamlines financial processes for companies by automating reports, consolidating spreadsheets, and projecting cash flow.
💵 Debt
🇲🇽 Mattilda, the financial solutions platform for schools, raised a $10 million credit line from Addem Capital. The platform allows school administrators to collect tuition through digital rails while offering financing options.
🇨🇴 Avista,  the pension advance platform, raised a $22.5 million credit facility from Accial Capital. The company disclosed having a $160 million portfolio, focused on the silver economy segment.
🇲🇽 Konfío, the digital business solutions platform, raised an extension of $27.8 million to its credit line from Goldman Sachs and Gramercy. This extension is part of an earlier pledge of $200 million.
🌐 Marco, the Miami-based trade finance platform for SMBs, raised a $200 million credit line from MidCap Financial and Castlelake, together with an $8.2 million equity round led by Arcadia Funds. The firm provides financing to exporters across Latam, lent $100 million to companies in the region last year, and financed $275m across 25,000 invoices since launching in 2020.
---
☯️ Exits
🏦 M&A - Bank and FinServ
🇧🇷 Evertec Group (NYSE: EVTC), the Puerto Rican transaction processing company, acquired for $25 million 100% of PaySmart, the Brazilian payment issuer platform with BIN sponsorship services.
---
🚀 Product Launches & Partnerships
💻 Fintech
🇲🇽 Bitso, the Mexican cryptocurrency exchange, launched a new debit card in Mexico, which will allow users to spend their digital assets in millions of stores across the country. The card is linked to a user's Bitso account and can be used for cash withdrawals and purchases at any store that accepts Mastercard.
🇧🇷 Belvo, the Spanish open banking platform, announced the launch of payment initiation services in Brazil, enabling users to pay bills and make transfers in third-party apps, without having to switch to a bank's app. The service will leverage Brazil's instant payment system PIX and is expected to streamline payments and reduce costs for users and businesses.
🇧🇷 Nubank launched its own digital currency, dubbed Nubank Coin, which will allow customers to earn rewards and discounts on Nubank's products and services. The digital currency is built on blockchain and will be available for customers to purchase and trade through Nubank's app.
🇧🇷 Nox Bitcoin, the Brazilian fintech, announced the launch of a new platform called Open Finance Connect. The platform aims to enable financial institutions to connect with the Ethereum blockchain network, allowing for more streamlined and secure financial transactions. Open Finance Connect will also provide tools for developers to build DeFi)applications.
🇦🇷 Ripio, the Argentinian bitcoin and digital payments provider, announced a partnership with Polygon Labs to bring crypto to more users in Latam. The collaboration aims to offer greater accessibility and better payment processing, expanding the reach of Ripio's cryptocurrency platform.
🇨🇱 Tapp, the Chilean pay tech platform, announced a partnership with Minsait Payments, the Spanish fintech company, to expand its presence in Latam.
🇦🇷 Geopagos, the company focused on scaling payment acceptance for businesses in Latam, launched Tienda Geo, a white-label e-commerce platform that enables players in the payments market to offer businesses, entrepreneurs, and independent professionals a customizable virtual store quickly and easily. Tienda Geo aims to enhance the acceptance of digital payments in the region, and banks, fintech, and retailers can use it to create or grow their payment acceptance business
🏦 Financial Services & Banking
🇧🇷 The Brazilian Securities and Exchange Commission (CVM) and the Brazilian Service of Support for Micro and Small Enterprises (SEBRAE) announced a partnership to provide acceleration programs for startups focused on innovation in the financial and capital markets.
---
📜 Policy
🇧🇷 The Brazilian Central Bank has exempted certain institutions from mandatory participation in open finance starting in April. This includes entities that offer account services but do not authorize electronic transactions and those that solely have large companies as clients.
🇧🇷 The Brazilian Central Bank's president, Campos Neto, has been in discussions with authorities from other South American countries regarding the potential adoption of Pix as a regional integration mechanism. Talks have reportedly included discussions on a common currency between Brazil and Argentina, and other countries such as Uruguay, Colombia, Peru, and Ecuador have also shown interest in Pix integration.
🇧🇷 Brazil's Open Insurance enters its second phase from March to July, enabling consumers to share personal data with explicit consent. The third phase will focus on launching services within the ecosystem.
🇨🇴Colombia's new National Development Plan includes open finance and mandates sharing financial data to promote competition, innovation, financial inclusion, and empower consumers.
🇲🇽 The National Banking and Securities Commission (CNBV) authorized Sí Vale Fintech, Edenred, and Catering Merci (Klar) under the Fintech Law, as Electronic Payment Fund Institutions (IFPE).
🇲🇽 The Mexican Central Bank and financial institutions are developing DiMo, a digital platform for transfers to reduce cash use. DiMo is being tested as a replacement for CoDi, which has not been widely adopted.
---
📰 Other News
🇨🇴 Bloom crowdfunding, a collaborative investment fintech, announced it has started operations in Colombia. The platform aims to allow users to invest in real estate projects with minimum investment amounts as low as $0.25 and without any commission fees. The company plans to launch its platform in Mexico and Peru in the coming months.
🌐 SoftBank announced it will reinvest in its Latam portfolio companies to help them raise money for M&As (Mergers and Acquisitions). So far, the company has committed $7.6 billion of capital in the region with a current fair value of $6.4 billion, according to the group.
🇲🇽 Tesla announced it will build Gigafactory Mexico in the northern state of Nuevo Leon. The factory would produce electric vehicles and other components and could create up to 10,000 jobs in the region.
🇬🇧 Revolut, the UK-based neo bank with operations in Mexico and Brazil, reported its first-ever annual profit of $50 million in 2021, compared to a loss of $168 million the previous year. The company's revenue also doubled to $440 million in 2021. However, the company's auditor KPMG has raised concerns about the company's ability to continue as a going concern due to the uncertainty of future fundraising and the potential impact of regulatory changes.
---
📚 Deeper Reads
Emerging markets bring payment opportunities…if done right
The International Monetary Fund prefers to regulate cryptocurrencies rather than outright ban them (ES)
Latam crypto firms to face tough 2023, focus on rebuilding trust
Colombia ranks as the third largest FinTech ecosystem in Latam (ES)
5 challenges facing traditional banking in Mexico in 2023 (ES)
---
🔦Spotlight on Karina Castillo, Head of Innovation at Visa Latam
Q. Three words to describe yourself? A. Analytical, inventive, and playful
Q. What are you most excited about fintech entrepreneurship in Latam right now? A. While the "burst" effect is still around, I am optimistic this signals the ecosystem is getting to a more mature stage, which will also lead to more innovation and disruption.
Q. What do you consider to be the main challenge for big companies regarding financial innovation? A. I think a big one is being able to move fast and be bold; timely recognizing the signals of change and being willing to test and learn quickly.
Q. What advice do you give women to venture into corporate innovation? A. Share, question, and challenge, but be mindful not to come off as someone who works on your terms. Empathize with the team and corporate culture, listen, and foster collaboration. Build a vision every team is excited about.
Q. A resource that you would recommend for those interested in learning more about fintech innovation? A. This Week in Fintech! 💙
---
Made in Latam with 💛 by Elena, Daniela, Lorena, and Andrea
👍👎 Did you like this edition of TWIF Latam?  Take a 1-minute anonymous survey here.
Come meet us in person at www.thisweekinfintech.com/events. You can also join our global community on Twitter, LinkedIn, and Instagram.