Hey Fintech Friends
Hey Fintech Friends #10 ft Kurt Lin
Helen Femi Williams looks at the latest fintech news, discusses serious and non-serious fintech matters, and shares some of our most recent "Signals" article. This week's friend is Kurt Lin!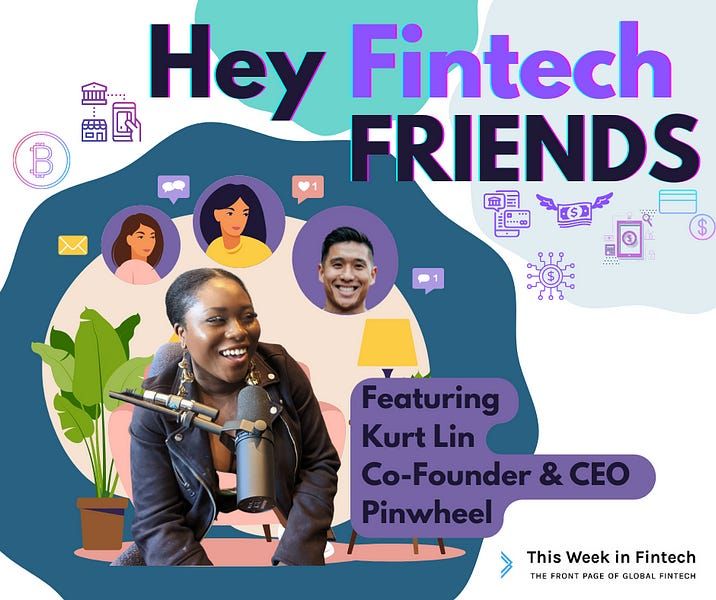 Available on Spotify, Apple, and anywhere else you listen to podcasts!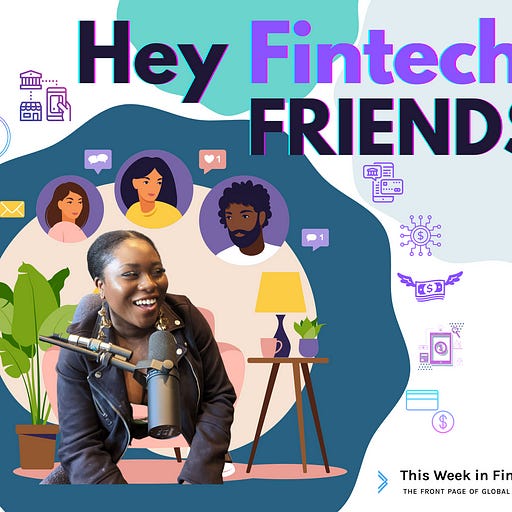 Hey Fintech Friends #10 ft Kurt Lin
Timestamps:
Intro
'Fin-techionary' of the Week: API (0.52)
News (1.50)
Quick Fire Questions with Kurt (33.01)
Signals: Business financial management intensifies (41.20)
Upcoming Events (43:07)
Transcript:
Hey FinTech friends!
My name is Helen Femi Williams, and I'm your host of the Hey Fintech friends podcast, brought to you by This Week In Fintech.
So let's talk about the structure of this podcast.
First, we're gonna go through the news. And if you subscribe to The This Week in Fintech newsletter, you're in luck because this is the audio version.
Secondly, we'll go through the fintechtionary, then we're going to have a chat with this week's friend Kurt
And lastly, I'll tell you a bit about the latest Signals article.
Oh, and before we move on, how can I not mention events!
I'm going to go through some of the global fintech events, conferences, and places that you need to know about that are happening in the next two weeks. So listen up for that too!
Fin-techionary
According to IBM, An application programming interface, or API, enables companies to open up their applications' data and functionality to external third-party developers and business partners, or to departments within their companies.
This allows services and products to communicate with each other and leverage each other's data and functionality through a documented interface. Programmers don't need to know how an API is implemented; they simply use the interface to communicate with other products and services.
API use has surged over the past decade so many of the most popular web applications today would not be possible without APIs.
But first this week in Fintech
🏦 Financial Services & Banking
🚀 Product Launches
The Commonwealth Bank of Australia launched an app for charities to take digital, contactless donations.
📰 Other News
JP Morgan's Jamie Dimon is slowly changing his tune on digital currencies, calling blockchain 'real' as the bank prepares to launch blockchain euro deposits and potentially get into NFTs? Meanwhile, Fidelity is rolling out ethereum to institutions next week, as the US' first bitcoin ETF lost 70% in the last year.
NatWest is busy signing up partnerships with fintechs like Token, Tink, Yapily, TrueLayer, GoCardless and Crezco, to build variable recurring payments. Dutch bank ABN Amro merged its PFM app Grip into its mobile banking app.
Banks are competing to offer customers higher-yield products via brokerages, in a rising rate environment.
Payments Europe is pushing back on Europe's timeline for instant credit payments, while Singapore released new legislation on digital currencies and the Hong Kong Monetary Authority released a study stating CBDCs can work with private stablecoins just fine.
The UK's Financial Conduct Authority is studying Big Tech's entry into financial services.
---
💻 Fintech

🚀 Product Launches
Let me know if I missed any.
Dutch payments giant Adyen launched a suite of embedded financial products, card issuing platform Marqeta expanded its product set to include new banking capabilities, and banking-as-a-service provider Synctera launched support for charge cards and a white-label app.
Card-as-a-service provider GoCardless launched its own fraud protection suite, and Point Predictive launched a consumer identity, income employment, and risk history tool.
PayFac Finix rolled out new APIs and SDKs for its in-person payment offering, going head-to-head with Stripe.
Crypto custodian Anchorage Bank launched a full-stack infrastructure offering that facilitates crypto payment gateways, structured financial products, and crypto investing. Competitor Fireblocks launched a payment engine to allow merchants to access funds from sales through instant fiat-to-stablecoin conversion.
Crypto tax platform TaxBit launched an automated solution to compliance and reporting challenges across cryptocurrency and digital assets.
Blockchain.com debuted its Marqeta-powered crypto Visa card.
Benefits software Rippling is getting into payroll, one month after launching spend management. Ramp launched a set of new tools for employee and vendor payment.
Biz2X launched a business lending platform for banks and credit unions. Veritran launched a digital wallet for small business owners to manage personal and business finances in one place. Sage launched an SMB accounting tool.
Buy-now-pay-later provider Zip launched its own card.
Bill Harris (formerly of PayPal, Personal Capital, and Intuit) launched Nirvana Money, an "accessible credit card product to radically simplify money for middle-income earners."
Market data provider Refinitiv launched a new onboarding tool.
📰 Other News
JP Morgan will now let users pay with Meta, while Amazon will let users make payments through Venmo and Apple issued new rules for app store crypto and NFT purchases.
Gr4vy partnered with giant retailer Woolworth's to enable all online payments.
Remittances provider Wise will bring investing products to Europe. Cross-border payments firm Thunes integrated with Visa Direct. Consumer neobank Current migrated to Visa's DPS Forward Platform.
SMB finance provider Paystand will enable card users to get next-day-revenue. Peach Payments partnered with API provider Stitch* to bring instant checkout to merchants.
Ripple is working on bringing NFTs to its XRP ledger. Tether's USDT will be available at 24,000 ATMs across Brazil. And YellowCard received its first African crypto license.
Stripe came to Thailand.
Nigeria's Kloud Commerce shut down, leaving investors to seek legal recourse. LatAm SMB commerce builder Neta also shut down.
The UK's Institute of Directors launched a special interest group designed to boost the UK's fintech sector.
---
And now for our friendly chat with this week's friend Kurt!
Kurt Lin is co-founder & CEO of Pinwheel, the leading payroll connectivity API. The son of two immigrant parents, Kurt saw how the lack of credit history created a greater struggle for them to access and secure financial products. This experience became a driving force for him and his co-founders to create Pinwheel. Kurt has been involved in multiple startup acquisitions, first with Idean and later with Luxe.
Following Luxe's acquisition by Volvo, he received an HSA and experienced similar challenges to those of his parents. He realized if you didn't have money to pre-fund an account - which most Americans don't - opening an HSA Health Savings Account was basically impossible. Kurt and his co-founders set out to create a more automated HSA process and soon realized the key problem was actually inaccessibility to the data and controls in payroll systems. Thus, Pinwheel was born with the mission to build a fairer financial system.
---
To read the full conversation, please listen to the podcast!
Available on Spotify, Apple, and anywhere else you listen to podcasts!
To read more about Pinwheel's survey covered in this conversation surrounding the company's genesis, coming from Kurt's own family experiencing being underserved by the financial system, you can find the release and the blog.
---
Signals
Signals is our subscribers only read and Im going to read you a snippet from our latest article by Sophie Vo.
When times are good, you can profitably offer a variety of financial services to businesses as standalone solutions, like payroll or pseudo-AI bookkeeping. A lot of B2B fintech startups have been really successful in doing so!
Now, times are Less Good™– soaring interest rates and high inflation dampening consumer demand for goods, stock market volatility weakening retail investors' appetite for trading, once-in-a-generation dollar strength impairing businesses outside the US, crypto doing this and whatnot– causing a shift in businesses' financial needs.
This new set of financial needs is putting pressure on a number of B2B fintech concepts, and fintechs who've historically offered a niche set of products are having to adapt by diversifying out of their swim lanes. We're already seeing equity fundraising platforms start to expand out– Party Round, a fundraising tool for startups, rebranded to "Capital" and launched business banking in a move to let founders manage the funds they've raised directly from the platform.
As businesses fintechs batten down the hatches for Less Good Times, an interesting convergence is happening across B2B fintech products. It's no longer enough to serve a niche set of businesses' needs; the race is on to offer businesses all the financial features.
To read the rest of this article please subscribe to the This Week In Fintech newsletter.
Events
(in the next two weeks)
EPAY summit GCC is happening on the first of November in Dubai.
Other things happening on the first of November include FinTech and InsurTech live happening in London and Web Summit happening in Lisbon.
And Singapore FinTech festival is happening on the second of November to the fourth
And This week in FinTech is having a meetup in Cape Town on the 10th of November, you can actually get tickets on our website.
The financial brand forum is happening on the 13th to the 16th in Las Vegas and fintech talents festival is happening in London on the 14th financial brand forum is also on the 14th and lastly, the FTT building societies is happening in London, also on the 14th.
See you next week besties!!