Hey Fintech Friends
Hey Fintech Friends #8 ft Christina Melas Kyriazi
Helen Femi Williams looks at the latest fintech news, discusses serious and non-serious fintech matters, and shares some of our most recent "Signals" article. This week's friend is Christina!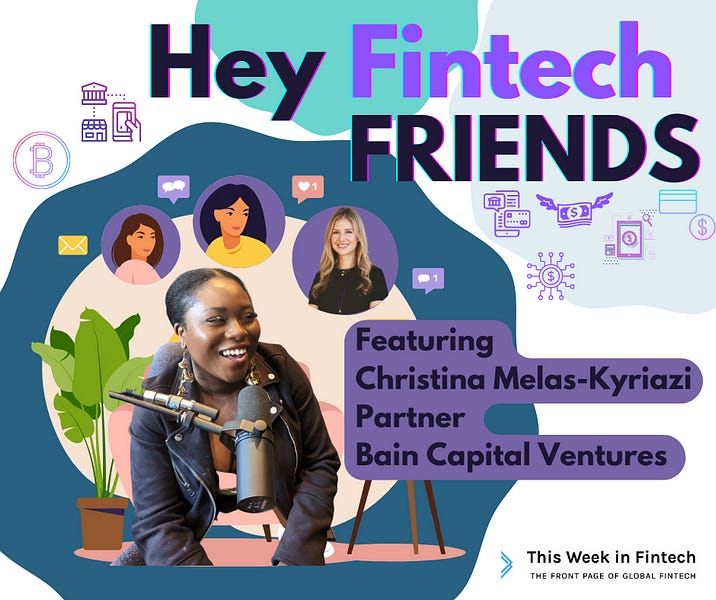 Available on Spotify, Apple, and anywhere else you listen to podcasts!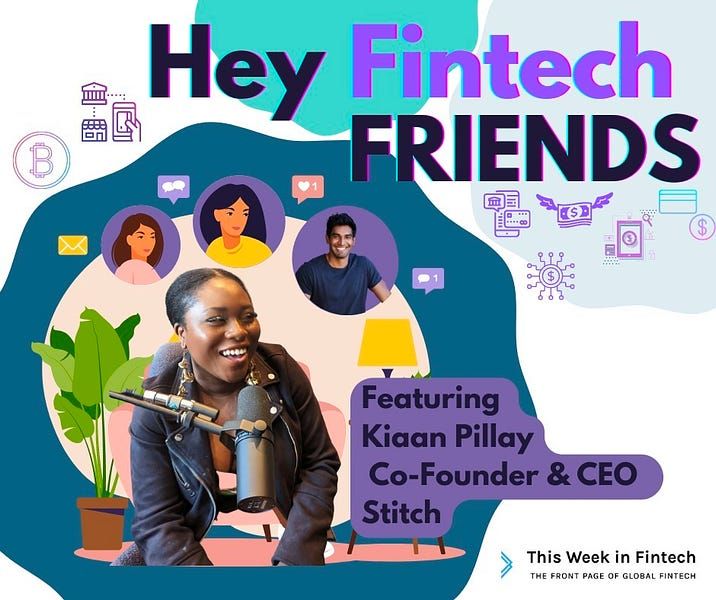 Hey Fintech Friends #8 ft Christina Melas Kyriazi
Timestamps:
Intro
'Fin-techionary' of the Week: Alternative Assets  (1.00)
News (1.57)
Interview with Christina about their experience and current work at Bain Capital (4.18)
Quick Fire Questions with Christina (40.00)
Signals: Skip the Teller (45.01)
Upcoming Events (46:12)
Transcript:
Hey FinTech friends!
My name is Helen Femi Williams, and I'm your host of the Hey Fintech friends podcast, brought to you by This Week In Fintech.
So let's talk about the structure of this podcast.
First, we're gonna go through the news. And if you subscribe to The This Week in Fintech newsletter, you're in luck because this is the audio version.
Secondly, we'll go through the fintechtionary, then we're going to have a chat with this week's friend Christina.
And lastly, I'll tell you a bit about the latest Signals article.
Oh, and before we move on, how can I not mention events!
I'm going to go through some of the global fintech events, conferences, and places that you need to know about that are happening in the next two weeks. So listen up for that, too.
Fin-techionary
This weeks, 'fintechtionary', which is our dictionary definition of a fintechy word is:
An alternative investment is a financial asset that does not fall into one of the conventional investment categories. Conventional categories include stocks, bonds, and cash. Alternative investments can include private equity or venture capital, hedge funds, managed futures, art and antiques, commodities, and derivatives contracts. Real estate is also often classified as an alternative investment.
But first this week in Fintech
Product Launches
Singapore's DBS Bank launched an API for corporate treasurers with Finlync and opened a crypto exchange for high net worth clients.
Mobile manufacturer Samsung launched two new credit cards in India with Axis Bank.
Chase and Doordash launched a co-branded card.
Hong Kong is launching its own digital currency.
📰 Other News
Finastra and Visa are partnering to develop a banking-as-a-service platform to enable financial institutions to offer faster cross-border payouts for their customers via Visa Direct.
Colorado will now let residents pay state taxes with crypto.
Mastercard, Visa, Wise, TransferGo and other financial institutions committed to lowering remittance fees to Ukraine.
Chase reached 1 million UK customers, as Citibank announced plans to exit the UK retail market.
Barclays is pivoting its Rise incubator to focus on laid-off fintech talent.
The Bank of England says paper banknotes will only be good for one more week before they are replaced by their polymer counterparts; £11 billion of paper notes remain in circulation. The UK government is also cracking down on high rates of fraud and money laundering.
16 Wall Street banks were fined $1.1 billion by the SEC and CFTC for using personal communication accounts like WhatsApp for work messages. The CFTC is also pursuing its first case against a DAO, fining bZeroX DAO for unlawful margined transactions.
---
💻 Fintech

🚀 Product Launches
Stackwell, an investment platform for the black community, released a roboadvisor app aimed at closing the wealth gap.
African cross-border payments app Chipper Cash partnered with card issuance platform Highnote to release a US Chipper card tied to digital wallet balances.
European payments app Mollie launched Mollie Capital to lend to small businesses.
Banking-as-a-service provider Railsr partnered with equipment financer DND Finance to release the Score Credit Mastercard.
Singapore's Cake DeFi launched EARN, a 'conservative' crypto earning account meant to protect users against market volatility. Crypto exchange hi announced debit cards customized with NFTs.
Business banking provider Rho launched its Prime Treasury management solution.
Equity planning platform Secfi launched Secfi Wealth, an RIA for startup employees.
LatAm cryptocurrency exchange Bitso launched QR code payments in Argentina.
And now for our friendly chat with this week's friend Christina
Christina joined Bain Capital Ventures in 2021, where she focuses on early-stage investments in fintech and commerce.
Christina was previously Head of Product for Consumer Foundations at Affirm, where she led a team of product managers to enable a delightful, frictionless customer experience from account creation to loan servicing. Before Affirm, Christina was a Senior Product Manager at GoFundMe, where she worked on growth and new product areas. Earlier in her career, Christina also spent time in business operations at LinkedIn and as an investment banker at Goldman Sachs.
Christina is an active angel investor and an advisor to early-stage companies. She has an MBA from Harvard Business School and a BA in Economics from Stanford University.
Christina grew up in Los Angeles, CA and now lives in San Francisco with her husband John and son Theo. She loves running and skiing, which funnily enough we do spend some time talking about, more spedically me skiing in Christina's parents home country of Bulgaria and just how bad I am at it!
Hope you enjoy our chat!
---
Please listen to the conversation on Apple, Spotify or Any other platform for the full conversation with Christina!
Signals
Signals is our subscriber only reads, and Im gonna read you a snippet from our latest article.
Skip the teller- Digital banking in emerging markets by Sophie Vo
For the 1.4 billion unbanked adults around the world, the path to accessing financial services starts with a cell phone. Mobile money has expanded financial access to over a billion people in emerging markets over the past decade by letting users access banking without having to get to a physical branch. As mobile money expands to serve new populations, it's important that these programs consider other building blocks, like the feasibility of digital KYC or the national government's appetite to experiment with new regulatory frameworks in real-time.
To read the rest of this article subscribe to This Week in Fintech Newsletter
Events
(in the next two weeks)