Hey Fintech Friends
Hey Fintech Friends #7 ft Sasha Pilch
Helen Femi Williams looks at the latest fintech news, discusses serious and non-serious fintech matters, and shares some of our most recent "Signals" article. This week's friend is Sasha Pilch!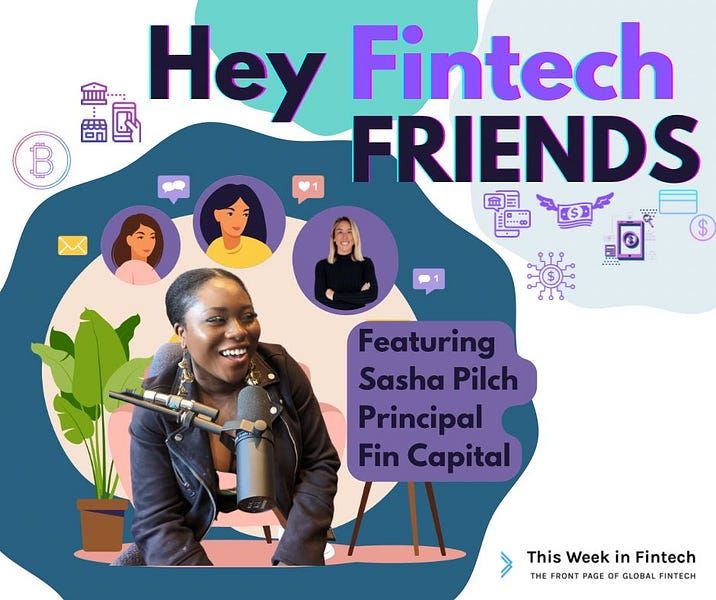 Available on Spotify, Apple, and anywhere else you listen to podcasts!
Hey Fintech Friends #7 ft Sasha Pilch
Timestamps:
Intro
'Fin-techionary' of the Week: Venture Capital (1.14)
News (1.56)
Interview with Sasha Pilch about their experience and current work at Fin Capital (4.30)
Quick Fire Questions with Sasha (31.28)
Upcoming Events (40:52)
Transcript:
Hey FinTech friends!
My name is Helen Femi Williams, and I'm your host of the Hey Fintech friends podcast, brought to you by This Week In Fintech.
So let's talk about the structure of this podcast.
First, we're gonna go through the news. And if you subscribe to The This Week in Fintech newsletter, you're in luck because this is the audio version.
Secondly, we'll go through the fintechtionary, then we're going to have a chat with this week's friend Sasha Pilch.
And lastly, I'll tell you a bit about the signals article who gets to regulate crypto by Sophie
Oh, and before we move on, how can I not mention events!
I'm going to go through some of the global fintech events, conferences, and places that you need to know about that happening in the next two weeks. So listen up for that, too.
Fin-techionary
This weeks, 'fintechtionary', which is our dictionary definition of a fintechy word is:
Venture Capital
According to Investopedia  Venture capital (VC) is a form of private equity and a type of financing that investors provide to startup companies and small businesses that are believed to have long-term growth potential. Venture capital generally comes from well-off investors, investment banks, and any other financial institutions.
However, it does not always take a monetary form; it can also be provided in the form of technical or managerial expertise. Venture capital is typically allocated to small companies with exceptional growth potential or to companies that have grown quickly and appear poised to continue to expand.
But first this week in Fintech
🚀 Product Launches
The Central Bank of Kenya launched a framework for complete interoperability between mobile money services in the country.
📰 Other News
Goldman Sachs' Apple Card program - thought to be a prime customer segment program - revealed that its loss rate is above the worst among big US issues: at 2.93% (higher than subprime). Elsewhere, Goldman and Modern Treasury are partnering on embedded payments.
The Empire Strikes Back: Charles Schwab, Fidelity Digital Assets, Paradigm, Sequoia Capital, Citadel Securities and Virtu Financial are building their own cryptocurrency exchange, EDX Markets. Franklin Templeton will also offer digital asset strategies to wealth managers.
Commonwealth Bank of Australia became the first bank in the country to let customers authorize recurring payments from within their banking app. Standard Chartered is testing a solution to mitigate duplicate trade finance fraud.
Swift is running an inter-bank pilot to host corporate actions data on its blockchain. Six Nordic countries and their banks are also creating a consortium to standardize EU-wide digital IDs.
Visa, AmEx, and Mastercard will apply a new merchant code to identify firearm sales.
The Federal Reserve continued to ring warning bells regarding the threat of bank-fintech partnerships and stablecoins to US financial system stability. Former OCC Comptroller Eugene Ludwig also warned fintechs and crypto could pose threats to stability.
Meanwhile, Danske Bank was fined €1,820,000 for AML failures.
Bank of America set a company record for patents granted in the first half of the year and Singaporean bank DBS opened an office in the ⭐metaverse⭐.
A consortium of civil rights organizations and consumer advocates launched an initiative to improve access to affordable credit. Funding Circle* also partnered with Affinity Plus Federal Credit Union to improve small business credit access.
Walmart is progressively expanding into more financial services through its One entity, while Apple builds an aggregator for identity.
Neobank Aion Bank partnered with ETFmatic to offer ETF portfolios to 32 countries in Europe. AXA Investment also launched an ETF Fund.
Zip integrated its Australian buy-now-pay-later loans into PPRO.
Crypto exchange BitPanda added commodities trading.
Arrived Homes added vacation home investment properties to its portfolio.
Fintech Abbove partnered with Quintet Private Bank to offer digital wealth planning in Belgium.
Crypto custody provider Anchorage Digital offered a Japanese yen stablecoin. Coinbase, meanwhile, is looking to acquire $1.6 billion of stablecoin USDC.
European spend management platform Payhawk is entering the US after a year in which revenue rose 520%.
Virtual card and spend management provider Extend is partnered with the Jacksonville Jaguars.
Student loan refinancer Commonbond announced that, after 10 years, it will shut down. The two founders of Egyptian B2B commerce and payments startup Capiter were fired for fraud and mismanagement of capital.
And now for our friendly chat with this week's friend Sasha Pilch
Sasha is a Principal at Fin Capital, where she is responsible for sourcing investments, maintaining board responsibilities, and adding operating value to portfolio companies.
Before Fin Capital, she was Sales Lead at Pinwheel, a venture-backed payroll connectivity API fintech company, and she also co-founded New York City Fintech Women, an organization with over 8,000 members and the mission to connect, promote and empower women to advance their careers.
Sasha was previously the first sales hire at Ramp, a corporate card fintech. She also worked at PLAD Plaid (and Quovo before it was acquired by PLAD Plaid for $200M in 2019). Before jumping into fintech, Sasha spent a decade working for large banks, including Citi & RBS in London and Westpac & CBA in Sydney.
Hope you enjoy our friendly chat!
---
It's nice to meet you. So where are you right now?
So at this very moment, I'm in a beta. I'm doing a yoga retreat because my firm has shut down for vacation. But normally, I'm based in New York City.
How has the yoga retreat been? Oh, it's been incredible. I've been doing like four hours of yoga a day, Iyengar style, and swimming on the beach, and reading books just what I needed.
That's so funny because I feel so I've never been to Ibiza. But I just feel like when people talk about going to Ibiza, yoga isn't the first thing that comes to mind.
Yeah, usually it's like nightclubs. But I'm definitely too old for that now. And there's so much of this island, that's just very pure beaches and a lot of wellness. So I'm doing that kind of holiday this time.
Yeah, I definitely have to see it. Maybe I'll try and do both. If I like, do the partying first. And then yes, I'm done. I'd be li" Okay, now it's time to do some yoga. Exactly. That's cool. That's very cool that you've you're doing that.
How long does the yoga retreat last?
It's week. So I return to New York after this, refreshed and ready to work again. So that'll be good. Awesome.
And are you originally? I mean, just because you have an accent? It sounds like you're not from New York? No, where? Where are you from?
So I was born in Sydney, Australia. And I lived and worked in London.
And I've been in New York now for five years. Awesome. And out of all those cities, which is the best,
New York,
New York really?
I mean, they're all good for different reasons. Yeah. So you can't compare. Yeah, they're very different.
But equally, I did. I feel like New York is like a more extreme London. That's how I feel about it. Like everything good about London is even better in New York. But everything bad about London is like, to some extent, worse than New York. So it's a very extreme city.
I've been in London for two weeks working from the firm here. And from our office here. And it. I forgot how spread out everything is it takes a long time to travel from east to west and north just out in London. Yeah, it can be, and yeah, we've had a lot of like strikes and stuff recently, which makes it even worse. Yeah.
But talking about your firm that that's a good place to like circle back. So I think that's a good place to kind of start. So where do you work? And how do you explain what you do? How do you explain what you do to non to your non FinTech friends?
Yeah. So I am in a very new role. I'm a principal at a VC firm called Fin capital. But I think it would be helpful just to give a quick overview of how I got into this role. So straight out of uni, I joined the biggest bank in Australia, Westpac, and I was there for four and a half years. I then moved over to London, I worked for Citibank, I worked for Royal Bank of Scotland. I returned to Australia and worked for the Commonwealth Bank of Australia CBA. So over that time, I got exposure to every type of traditional financial services product. So from a consumer banking perspective, credit cards, home loans, mortgages, checking accounts, from a small business perspective, business, credit cards, corporate cards, then from an enterprise corporate banking perspective, I did all of those products as well. And then, in my ninth year of working for a large bank, I was at Commonwealth Bank, and Helen was actually in, I think, a similar role to you at Lloyds, I saw that you were in the Lloyds innovation lab. So I was in the CBA Innovation Lab, and it's getting a lot of exposure to fintechs that We either wanted to partner with or acquire. And there was really like a rise of FinTech in the media, and I was reading a lot about it and getting excited. So  still working at Commonwealth Bank, but I knew that I wanted to leave work, as you know, large, archaic slow-moving, not tech-forward, big banks.I didn't know exactly what I was going to do. And I went on a vacation and ended up extending and going to New York. And after going to one meet-up, I realized that there was so much opportunity in FinTech, so I quit my job
And I stayed in New York. And I ended up getting a role at Cuomo worked there for a year and a half. It was then acquired by our head-to-head competitor, which was Plaid. I worked for plaid for a year. And then definitely wanted to go back to building something from the start again. So I joined the founding team of Ramp, the corporate cod startup, then joined pinwheel as the first salesperson. And then, two months ago, I joined Fin capital. So I've made a pretty big transition in my career, from leading sales to being in VC. And I'm responsible for sourcing FinTech companies that we want to invest in and then managing those portfolio companies. So helping them with sales, helping them with hiring, so that they can succeed and we can graduate them to the next level and do their subsequent rounds.
Oh my gosh, Sasha, you have so much experience in so many different fields. And it's so interesting how you made that pivot when it wasn't feeling right. And I definitely kind of, like I know exactly how it feels when you're, when you're working in such a, like, massive organization. And that just comes I feel like a lot of people in FinTech have that story, whether they're working in those sorts of, yeah, let's say like archaic organizations, and you make this pivot, and then even so, even within FinTech, you've pivoted quite a lot into like different fields.
Yeah, exactly. I'm very curious by nature. So I love learning. And yeah, I think my career shows that. Yeah. But that's, I think that's great. Because it's just like when it feels when you when, I get what you mean, because it's like, when you have this like curiosity, sometimes you just need to problem solve for yourself. And if that creates, if that means, like, you move, then it means that you move, I feel like I've lived, I've leaned into that more and more. And it's, and I don't know, feels right when you start to Yeah, exactly.
So you said you've recently gotten into VC and stuff, which can be quite tough, especially for women. Like when you look at, like, I don't know, I've been reading a lot of stats regarding women in and a just venture like VC in general.
What do you think is kind of like a challenge you faced, it doesn't necessarily have to be about being a woman within the field. Is there anything that's particular that you've seen within? Like working there?
Yeah, absolutely. So when I first moved to New York, it was actually also my first role in sales. And I knew that I needed to build a network quickly. And after working for large banks for 10 years, I was pretty frustrated with seeing a lot of my male counterparts get a promotion because of the conversation they may have had on the golf course or in some environment that I was excluded from finding out that my male colleagues were being paid more than me when I was delivering better results. And because of that, 10 years of experiencing that, when I came into FinTech and saw that the same gender disparity existed, considering it is the intersection of both finance and tech. I wanted to do something about it and not just be complaining to a woman in the corner. So I decided, with my co-founder, Michelle Tran, to start this organisation called NYC FinTech women. Our mission is to connect, promote, and empower women to advance their careers. And we started with just 16 Women at a bar. And then, from there, it grew exponentially. So we had a lot of CEOs asking us to host events in their office to get a whole bunch of talented women in one room to potentially lead to them recruiting those people and having more diverse teams. So I was I've been doing that alongside my permanent roles at Plaid, Ramp, and Pinwheel. So we've now done 89 events with top FinTech companies and traditional companies. We rang the bell at NASDAQ, did a big event at Google, a Christmas event, and a holiday event on the New York Stock Exchange floor in December. So it's been going well, and it's definitely helped me meet many people in the industry. A lot of the female VC-backed entrepreneurs, and unfortunately, there aren't just aren't that many of them. Like To your point, Helen, about stats that used to be 3% of VC-backed fintechs were female founded in the UK, that's actually gone down a point recently, which is unfortunate to see, but as the market has turned, it's, it's seen as a more high-risk investment.
So after experiencing all of that, I was asked to do the opening remarks of the FinTech retreat that Alex Pelin puts on every year in San Francisco. And in my opening remarks, I talked about one of the core reasons that we have this lack of gender diversity in our industry: pretty much all of the VCs are male. And then they'll consciously or unconsciously fund male founders, who will put male execs in their senior leadership teams and put males on their boards. And so it continues. So if we are ever going to have real gender diversity in our industry, we need more female VCs. And after making that, you know, quite passionate speech, I had several VCs interested in interviewing. So that was like a very happy moment for me in my career. And then, fortunately, I did get the job at Fin Capital. So now I have moved over to their investment team, which is pretty exciting. That is very exciting. And this question might lead to what I feel leads on quite nicely to what you've been talking about. But what do you see as your biggest dream or vision for fintech? Do you think the sort of gender diversity is the number one thing? I mean, I know there are a lot of things that could change, but like, what do you see? How do you see that? Yeah, I mean, there are so many things that can change. And like there's various types of diversity, I think, just what I've spent most of my time on, and my passion is empowering females. So my ultimate goal would be that 50% of founders are female. Yeah, big goal to achieve considering where we are now. But I think that we can do it if we all work together.
Yeah, it's a big goal. But it's not unachievable. Like exactly, things can change. So I mean, I think that's a great aim. And I don't think like, like, I think it's definitely achievable. I think there's, I think there are so many levels to it, because I think it starts at young with, like financial inclusion, or even I don't know how to explain it, but a lot of like, the narrative around FinTech sometimes and like, kind of like mansplaining. Well, yeah, I don't know. Yeah, there's like a sort of, like an overall mansplaining thing that happens around the industry, not necessarily in every corner, but I don't know, it also starts like, even younger, like in primary school age or grade school. It's very encouraging for men to do maths and science and for women to do other types of subjects. And so it's great to see that at a young age, there are all of these STEM programs to help get more young ladies into coding and into the right subjects that will lead them on to do a degree in computer science, or, you know, those degrees that are very male-dominated right now.
Yeah. It's interesting, even that question of like when you ask a 10-year-old, what do you want to do these days? Because I think even you are a testament of like, you start doing one thing. And then like, 10 years later, you pivot. So even that question, I've started to question whether that even makes sense because it's a very normal question. But it's just like, adults, ask kids those questions. And like, we, we don't do it ourselves. Like, it's not like, Yeah, I think that's a great point. Like, it doesn't have to be, you know, you become an adult, and then you do one thing for the rest of your life. And so maybe the question should be, you know, five things you want to do throughout your life? Or? Yeah, like that? I might ask my niece. Yeah.
That's a great question. So if we circle back to you in your career,
What was your 'Oh Shit' moment? So actually, actually, before we've talked about that, what were your eureka moments? Like? What's the moment in your career where you just thought, Everything makes sense now? Or like you solve something? Does that make sense? Yeah.
I think it was when I did make that jump to move to New York City.
You know, there were so many people in my dad included saying like, don't do that, you're definitely going to have to like coming home with the tails between your legs type thing. But even he came around and was like, very brave. Go for it. You'll, you'll figure it out. And I almost didn't like interviewing with so many companies that tried to convince them to sponsor me because I needed a visa. I didn't have any FinTech experience. It wasn't an uphill battle. I have a mortgage in Australia, so I had a cash flow issue. And I ended up having to go to the diamond district. In New York and sell my diamond necklace that I had won, like in a raffle to buy cans of beans to continue living in New York. But then, you know, luckily, Lauren Crossett, who has been my manager twice in my career, took a chance on me. And I got the job. So I was able to stay in America. And
I think that was like a pivotal moment of like, okay, great. Like, I did it. And getting, you know, the first few paychecks, especially in sales, my first time in a variable comp role, I kind of felt very entrepreneurial in that, like, I was getting paid for what I brought in, as opposed to working for the large banks where everyone was being paid the same, even if I was working a lot harder. Yeah. That's crazy.
Yeah, is that true? Like you actually had to sell your necklace for food and stuff.
Yeah, I like had completely run out of money. I'd sold everything that was liquid. But I didn't want to like, you know, lose the property in Australia, I got in pretty early.
It was one of the only perks of working at a big bank. All of my friends were getting cool clothes and $400 dresses because they worked in fashion. I was like, there must be some kind of perk that I can get for working for these big banks.  And I didn't want to sell it to move to New York. So I did everything I could, including selling my diamond necklace, and got the best price, which was 350 bucks.
Bought beans.No beans.
I guess it had more sentimental value than anything. So yeah.
But did you get back? Did you manage to get about
No, but it was okay. Like, you know, it got me to New York, and I'm so happy living here. And my career has just really, like, taken off compared to how it would have had I stayed in Australia. So grateful. Yeah, yeah, exactly. So that does that.
So yeah, it was like a sacrifice that you had to make. And it seemed as though even though you didn't have a full plan of like, knowing what you you were doing, does seem like there was a real gut instinct like you knew you knew. But you didn't know if that makes sense. You knew you were on the right path. You just didn't know what you were doing exactly. Yeah, exactly. Like I knew that FinTech was definitely going to happen. I remember hearing about it in 2008 when some people from Westpac had been sent to South by Southwest, and they came back and did a presentation. And they were laughing and saying, apparently, there will be new companies that are their banks, and it will be gamified. And everyone in the room was laughing and, 10 years later, it is actually the reality. So I'm happy that I believed in it and that I made the jump to get right into it.
Yeah, it's quite funny with some of these things, I think, especially in the kind of like FinTech or like Web3, because a lot of it does feel.
I don't know like it's not real. Yeah, like it is. But it feels like you're talking, and if this happens, what like it's a lot of conditional verbs that you that that are used. And especially sometimes when you're speaking to people who aren't and who don't work in like FinTech it, like, you know, you kind of know is all about we like it.
Yeah, I get where there is this kind of like, yeah, I guess educational. And I don't even know if it's educational. It's just sort of like, a lot of unknown. So you have to kind of like take a leap in things that you think makes sense. But yeah, and also be like, you know, understanding of the fact that it is the early stages, especially when we're talking about things like web3 like it's at the very, very beginning.
And yes, there are many unknowns, but who knows what will happen over the next few decades. It's pretty exciting.
Yeah, of course, I think it's pretty exciting, rather than anything
Yeah. It's a hard concept. But then you're like, it shouldn't be that hard, I guess like, yeah, I guess it shouldn't. But then I guess that's the evolution of these types of things.
Exactly.
And another question that one of our guests asked was kind of, like from a previous guest, what keeps you up at night, professionally and perhaps personally?
So much keeps me up at night; the main thing for me is that I feel extremely grateful that I have been given this opportunity to be a female VC, and I want to do the best job possible. It is the pressure that I put on myself. But I want to do that not only for myself but for every woman in our industry and the women that will eventually move into our industry because the barriers come down. Yeah. And what market or thing I feel like I already know.
But like, what market or thing are you excited about when it comes to fintech?
So, when I first started reading about FinTech in Australia, I did interviews with a few companies, but to be honest, nothing was that exciting because the banking system isn't that broken.
Yeah, having we're pretty new country, 200 years old, there's big four, and there are a few other banks, but it's nothing like, you know, there are legacy systems that exist in the US with 14,000 banks and credit unions have different systems that, you know, even transferring money to each other so much more difficult than it is bank to bank in Australia, hence the success of Venmo and Cash App. So when I came to America and started to learn more about what it's like to live here if you are of lower socioeconomic status, it made me realize how important the fintechs are. So, for example, learning that even to have a normal bank account with Chase, or Wells, etc. If you didn't meet the minimum deposit every fortnight or every two weeks, every time you get paid, then it would be expensive, or how huge the nonsufficient fund fees were. And The other thing that was quite alarming was that I couldn't do anything when I first got here because I didn't have credit. And so, even to get an apartment, I had to pay the guarantors, another $6,000, so they could guarantor. So it's great to see that so many fintechs are now helping people understand and build credit. And I think it's especially important from like a lending use case. So. So it was shocking to learn that some people with no credit would have to take out a loan with a loan shark with an insane interest rate just to get a loan for a medical procedure. So it's great to see now that there are lenders that are looking at nontraditional ways of underwriting, using transaction data from Plaid or income and employment data from pinwheel so that people can get a fair loan.
Even if they don't have credit. Yeah, that's really like, obviously, I know most about the UK system when it comes to being able to like rent a property. But it feels like, all the things you said, it seems like a policy issue that fintechs are finding ways around. Because a lot of that stuff seems like, Well, why would you need $6,000 to rent and like to guarantee an as a guarantor of an apartment, right? Like it feels like there's a question before the issue. Yeah, but because of the system like fintechs Exactly. Get creative. 100% Yeah, when I got my apartment in the UK, I had to show my income. And yeah, doesn't work like that in the US.
Which was I'm like, yeah, that seems like that makes sense. Like, show that you can pay.
So he was talking about, for instance, if you have a criminal record, it's very hard to do anything like open bank accounts and rent apartments and these types of things. And, and a lot of that
just seems quite outdated. Exactly all.
Yeah, just a lot of discrimination that kind of serves no one or no purpose. But yeah, it's good because it's like, either a government does, like changes these things, or as a society, we say, oh, there's a problem. And like fintechs have kind of like taken that on. Yeah, to solve the problem. And there are some fintechs that are specifically focused on helping people get loans that are discriminated against.
Quick Fire 🔥
What chore? Do you secretly take pride in?
I make my bed every day.
apartment or house?
apartment
podcasts or TV?
Podcasts
What's something new happening in your life right now?
My job
Trash TV or educational documentaries?
Depends.
On if I can have any room left in my brain to keep learning that day?
Yeah, yeah. I would like to say education documentaries. But by the end of the day, it's like, give me some trash
What's the best kind of cake?
Cheesecake
If you could be fluent in any other language?
Spanish.
What's your favorite pizza topping?
Pepperoni.
What's the best musician you've ever seen live?
Elton John. Front row.
What is top of your bucket list?
Doing yoga in India? Okay, nice. Yeah, very cool. Do you like to go on like loads of different yoga retreats?
Yeah, I love it.
Where's the best place for a yoga?
Costa Rica.
And if you weren't in FinTech and in VC like what would you be doing?
Teaching yoga. All around the world.
---
What's your favorite type of yoga? Or do you have a favorite? Yeah, used to be vinyasa. Now it's Iyengar. You use a lot of props, like robes or blocks, and then you hold the poses for a long time, and you focus very much on the form and just really  very effective,
Yeah, sounds like quite like it goes quite deep because you're sort of like concentrating on Yeah, hos for a very long time. Okay, I have to try it. If I'm with like my mum, then we'll do yin.
Yes, I love yin.
But yeah. Okay, cool. And my last sort of question, I guess, is, what movie book or TV do you feel has made a real impact on your life? Or do you have one soon? Yeah, so
when I was living in London, I was like traveling a lot, and I've never been stopped so much on a plane.
Other than when I was reading The castle by Kafka. So many people were like, well, you're gonna love this book and I did. And it was like one of the reasons that I realised that there are so many people in the world who like doing things, and we don't know why we're doing them, or it's inefficient. And reading it reminded me of like working for the government or working for a large bank. And it was one of the reasons I wanted tobreak out of that hierarchical bureaucracy that sometimes doesn't make a lot of sense and do something from the start. Awesome. I'm gonna definitely have to give it a read.
That sounds really interesting. Yeah, very ahead of its time. Yeah.
When was it written?
Like, 1920?
That's, sounds quite, quite interesting, but still relevant today. Yeah, it sounds like it, especially if you were kind of reading it, then. And it kind of made you kind of make that pivot. And who's a friend of yours that you think we should highlight, which we should be looking for?
Oh, so many people. I wish that I knew that question was coming, I would have, I would have thought more into it. But I think the woman that just jumps to mind immediately is Elsie Russell Brown. She is like very incredible. She's technical, but she's also a great product leader. She's worked at the likes of Blackstone, and more recently, she's moved to a digital currency Group company called Grayscale. She has been heavily involved with FinTech women, building our website and all of our tech. So she's nine months pregnant right now, she's still speaking on panels about crypto. And I just think she's brilliant. ?
I mean, you can say more than one if you feel like there are other people that you think.
Definitely Michelle Tran, my co-founder for FinTech women. She has four kids and has led Business Development at Blackrock across both Hong Kong and the US. She led Apex, and now she's at vest well, one of the capital portfolio companies. She's Superwoman. Sounds like it definitely sounds like she's a superwoman. That's awesome.
And last but not least, as my last question to you, what question do you think we should ask the next friend of the show?
If they know any good female founders? And if so, can intro me?
That's a good question. All right, that sounds good.
Thank you so much for your time. Sasha, I'm sorry to disturb your retreat.
Not at all. I'm going to the beach now with one of my other friends on the retreat. She just finished her massage.
Yeah, that sounds like an awesome day, actually.
Yeah, unfortunately, there's no beach in London. So we'll be doing that.
But you've come at a good time, because it's not that cold this week. It's actually been pretty all right. That's great.
When you're in London, yeah. The weather should be beautiful. Right. It's the best place for summer for best. Yeah, everyone's so happy. I think because we don't have sun. We appreciate it. Yeah. appreciate it so much. Yeah, totally. Yeah. Because we understand the sun. We're literally like, wow, so deprived. This is amazing.
We have a better appreciation for the sun for sure. Because we don't get it.
But yeah, thanks so much, Sasha. Enjoy the beach. Enjoy the rest of your yoga retreat. And yeah, hope to hear from you soon.
Thank you so much for having me, Helen.
Signals
Signals the This Week In Fintech paid subscriber read, and I'm going to read you a snippet from one of our articles
Signals: Who gets to regulate crypto? by Sophie Vo
US lawmakers think it's about time for the crypto market to become officially regulated. This feels right given how many of us have gotten scammed, robbed in a hack, or just bought Bitcoin in the hopes of making a quick return and instead ended up strapped into the emotional roller coaster that is Owning Crypto.
The SEC, Treasury Department, and Commodity Futures Trading Commission are all pushing for regulatory authority over the cryptoassets they argue are most similar to the financial instruments that they regulate today. It isn't clear which regulatory body will get oversight of what, which begs the question... legally speaking, what is crypto?
"A pretty major f***ing risk to the US economy."
... to paraphrase a report that the Treasury published on stablecoins at the end of 2021. Stablecoins have emerged as a powerful tool for facilitating transactions by standing in for an underlying asset, usually the US dollar. Stablecoin issuers peg the value of these coins to USD by either holding an equivalent amount of fiat USD in reserves (fiat-collateralized), or creating an algorithm that ties the stablecoin's value to other coin(s), incentivizing traders to keep its value in line with USD by minting or burning stablecoin as the value of USD fluctuates (algorithmic).
The market for stablecoins is blowing up:
Events
(in the next two weeks)