Hey Fintech Friends
Hey Fintech Friends #4 ft Swati Chaturvedi
Helen Femi Williams looks at the latest fintech news, discusses serious and non-serious fintech matters, and shares some of our most recent "Signals" article. This week's friend is Swati Chaturvedi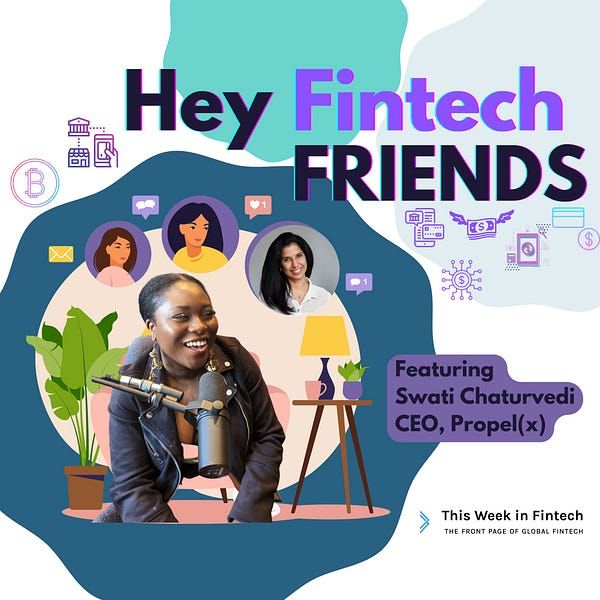 Available on Spotify, Apple, and anywhere else you listen to podcasts!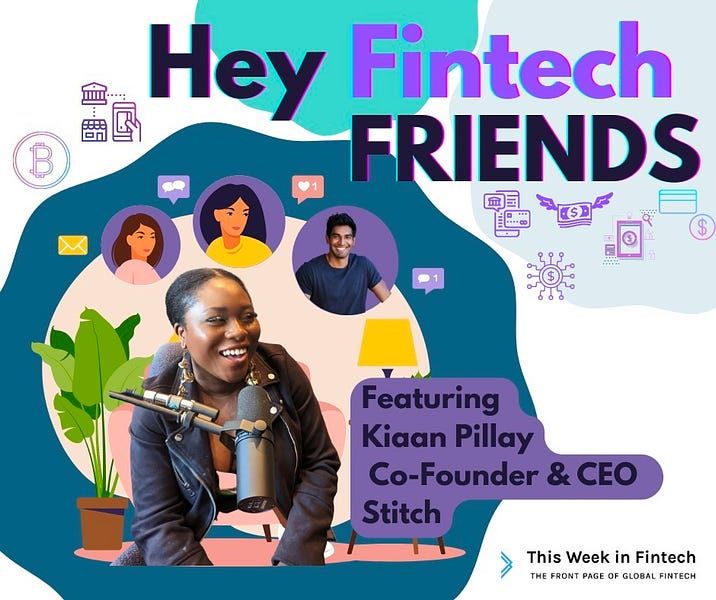 Hey Fintech Friends #4 ft Swati Chaturvedi
Timestamps:
Intro
'Fin-techionary' of the Week: Investment Platforms (1.25)
News (2.19)
Interview with Swati about her experience and current work at Propel(x) (5.47)
Quick Fire Questions with Swati and friendly questions(30.00)
Signals Q2'22: You mean a *payment* crossed this border? (40.20)
Transcript:
Hey FinTech friends. Hey FinTech friends. My name is Helen Femi Williams, and I'm your host of this new podcast. Hey FinTech friends!
This podcast is brought to you by This Week in FinTech, which is on the front page of global FinTech news, fostering the largest FinTech community through newsletters, thought leadership, and events. Oh, and now podcasting. And what's quite cool about this community is the creativity, the intelligence, and also understanding that those who work in the field are just regular people who've decided to devote themselves to solving a particular problem. And with that comes a unique mix of finance, technology, and fun, which is exactly what this podcast wants to explore. So expect this content to be informative? Yes. But we're also keen to get to know our founders and ask them questions you didn't know you needed answering.
So let's talk about the structure of this podcast.
First, we're gonna go through the news. And if you're a subscriber to this week in FinTech newsletter, you're in luck because this is the audio version.
Then we're going to chat with this week's friend, which is Swati Chaturvedi
CEO of Propel(x)
And lastly, I'll tell you a bit about the latest signal article. 'Q2'22: You mean a *payment* crossed this border?' written by Sophie Vo.
Fin-techionary
This weeks, 'fintechtionary' which is our dictionary definition of a fintechy word is:
Investment platform
According to which.co.uk, An investment platform, sometimes called a fund supermarket, allows investors to buy and hold a range of investments in one place online, and sometimes with a smartphone app.
Investment platforms often provide extensive research and information, such as investment news, historical and recent performance figures, and analysis of the investment styles adopted by fund managers.
The crucial point is that investment platforms are designed for people who are making their own investment decisions. This is referred to as 'execution only'.
But first this week in Fintech
American Express launched a cross-border payments product for US businesses.
Asset manager Charles Schwab is launching a crypto-themed (...) ETF next week.
📰 Other News
Goldman Sachs continues to push into retail banking through new products and partnerships. Meanwhile, as travel becomes one of the largest and most important consumer spend purchase categories, banking giant JP Morgan is building a full-scale travel agency and software suite.
Blackrock is partnering with Coinbase Prime for institutional crypto access.
RBI, India's central bank, continues to push to ban all cryptocurrencies in the world's largest market. The CFPB in the US, meanwhile, is looking into big tech's involvement in lending.
Japanese messaging superapp Viber launched Payments, a mobile digital wallet for paying bills and transferring money.
Up Bank, an Australian neobank, launched Maybuy, a savings alternative to buy-now-pay-later.
Crypto giant FTX launched stock trading, and will go into options trading next.
Warranty provider Extend launched shipping protection for purchases.
Binance launched its crypto card in Argentina.
Yapily launched a variable recurring payments product and signed Volume as its first customer.
Banking-as-a-service provider Synctera debuted a compliance suite.
A Chinese consortium launched a Swiss stock exchange connection.
In a continued escalation of the African regulatory pressure on large fintechs, the Central Bank of Kenya directed all banks to stop working with Chipper Cash and Flutterwave. The Bank of Ghana is probing Flutterwave as well.
Alloy expanded its fraud and risk decision platform to 40 countries across North America, EMEA, LatAm, and APAC. Revolut added trading in 22 new crypto tokens.
Investor Andreessen Horowitz wants to launch a wealth management service for the founders it backs.
Chinese billionaire Jack Ma will reportedly give up control of Ant Group, the multibillion financial firm he founded which has found itself in the crosshairs of the country's regulators.
Italian payments giant Nexi will partner with Microsoft to build cloud-based payment services across Europe. Moov became a Discover issuer-processor and partnered with Metabank and Visa to become an acquirer-processor.
Brex will transition its small business customers to neobank Oxygen.
Cardless is building an AmEx card.
The founder of Paytm in India promised $1 billion in revenue. British small business neobank Redwood Bank posted its first full-year profit.
LendUp is quietly winding down its product, while it's unclear what will happen with its neobank Ahead, which appears to have transferred users to Kinly.
Robinhood laid off almost a quarter of its workforce, months after a 9% staff cut. Clearco, the Canadian revenue-based financing provider, cut 125 jobs - 25% of its workforce.
Crypto firm Babel Finance lost over $280 million in customer funds from prop trading.
Zillow faces shareholder lawsuits due to its failed house-flipping business.
The New York Department of Financial Services fined Robinhood $30 million for crypto anti-money laundering failures.
And now for our friendly chat with this week's friend, Swati
Swati Chaturvedi is the co-founder and CEO of Propel(x) – an investment platform that enables accredited investors worldwide to invest in startups and venture capital funds. Ms. Chaturvedi has a long history of working in the alternative investments space and is the founder of the MIT Alumni Angel Investors group. She founded and led the group from 2013–2015 and continues to be on the screening committee. Before starting Propel(x), Swati worked as an investment professional at a range of firms. She has also been a management consultant working across a variety of industries.  Ms. Chaturvedi holds an MBA degree from MIT Sloan School of Management, an M.S. degree from MIT, an M.S. degree from UC Berkeley, and a Bachelor's degree from the Indian Institute of Technology, Roorkee.
Hope you enjoy our friendly chat!
[To listen to our guest interview please play the podcast]
Signals
Each Signals rounds up explores the news and dives into what's been happening in fintech over the last quarter. Signals' round-up for Q2 explores which concepts are getting funded, which firms are funding them, what products are being launched, and where exits and M&A are concentrating. The latest edition also takes a deep dive on one of the hottest areas seeing funding right now, but is still fundamentally broken: Cross-border payments. To read this please subscribe to the This Week in Fintech Newsletter. See you next time besties!