Hey Fintech Friends
Hey Fintech Friends #12 ft Adaeze 'Dezzy' Onwumere
Helen Femi Williams looks at the latest fintech news, discusses serious and non-serious fintech matters, and shares some of our most recent "Signals" article. This week's friend is Dezzy!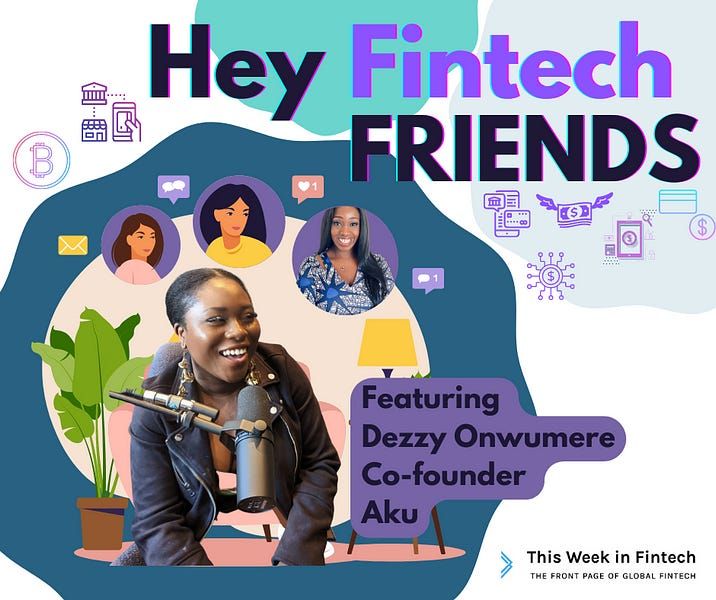 Available on Spotify, Apple, and anywhere else you listen to podcasts!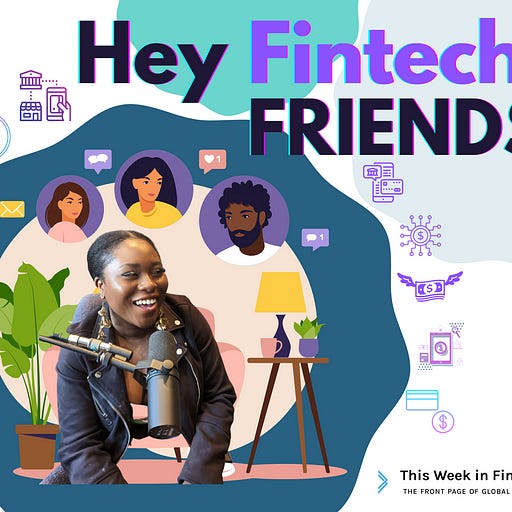 Hey Fintech Friends #12 ft Adaeze Dezzy Onwumere
Timestamps:
Intro
'Fin-techionary' of the Week: Contagion (0.50)
News (1.47)
Quick Fire Questions with Dezzy (35.36)
Signals Fintech Founders: Vergo's Rich Kane on fintech competition & entrepreneurship (38.08)
Upcoming Events (47.10)
Transcript:
Hey FinTech friends!
My name is Helen Femi Williams, and I'm your host of the Hey Fintech friends podcast, brought to you by This Week In Fintech.
So let's talk about the structure of this podcast.
First, we're gonna go through the news. And if you subscribe to The This Week in Fintech newsletter, you're in luck because this is the audio version.
Secondly, we'll go through the fintechtionary, then we're going to have a chat with this week's friend Dezzy
And lastly, I'll tell you a bit about the latest Signals article.
Oh, and before we move on, how can I not mention events!
I'm going to go through some of the global fintech events, conferences, and places that you need to know about that are happening in the next two weeks. So listen up for that too!
Also, friends, I did want to say I'm so happy about the number of people who've reached out if you've listened to this podcast, who've engaged in it, and I did want to let you guys know that from December onwards, we're going to be looking at the guests for 2023. So if you know someone interesting, or you think you would be great for this podcast, please do feel free to reach out to us.
Fintechionary: Contagion
According to Investopedia, contagion is the spread of an economic crisis from one market or region to another and can occur at both a domestic or international level. Contagion can occur because many of the same goods and services, especially labor and capital goods, can be used across many different markets and because virtually all markets are connected through monetary and financial systems.
The real and nominal interconnections of markets can act as a buffer for the economy against economic shocks, or as a mechanism to propagate and even magnify shocks. The latter case is typically what economists and other commentators refer to as contagion, with a negative connotation likening the effect to the spread of a disease.
News
🚀 Product Launches
Royal Bank of Canada rolled out Swift Go, enabling businesses to send real-time low-value cross-border payments.
📰 Other News
Small businesses are increasingly turning to Zelle for payments, to exploit a tax loophole in which Zelle banks say they don't have to disclose transactions to the IRS.
Visa is providing pay-by-face technology and animated virtual credit cards to this year's World Cup, while Italy's Sella Group is piloting a biometric recognition credit card that lets people make payments using their fingerprint.
Experian was tapped to run Singapore's buy-now-pay-later credit bureau.
The Australian Stock Exchange is writing down A$250 million in its shuttered project to replace market infrastructure with a blockchain.
The Bank of Japan, meanwhile, is partnering with top Japanese banks to launch a digital yen next year.
India's Bank of Baroda will provide collateral-free loans to small businesses who install solar panels.
Goldman Sachs paid a $4 million fine for mis-labeling ESG products.
It's not just startups: FIS will cut 1,000s of jobs from its workforce of 65,000 to trim costs.
---
💻 Fintech
🚀 Product Launches
Klarna launched an open banking product to let startups access open banking services at 15,000+ partner banks.
Plaid launched an ML-based transaction fraud and risk engine named Signal.
Pan-African payments firm Flutterwave launched $endmobile, a remittance payment app for the diaspora.
B2B payment app Balance launched a Shopify integration to let merchants add self-service B2B payments.
Enterprise cash management platform Trovata launched a free version of its cash management platform, used by companies like Square, Eventbrite, and Krispy Kreme.
Nomi Health launched a real-time healthcare payment app.
Remittances provider Wise issued a plastic-substitute eco card.
Bump partnered with Mastercard and cards-as-a-service firm Highnote to launch the Bump Creator Card for creators, which along with routine benefits like no monthly fees or credit checks, takes web3 assets into account.
📰 Other News
Pipe, the buzzy revenue-based-financing marketplace for software businesses, announced that the leadership team is stepping down as the company looks for successors.
TrueLayer will power Coinbase's open banking payments product, and is looking at stablecoin interoperability. Meanwhile, Coinbase Wallet released a new safety feature informing users of what the impact on their balances will be when they make a transaction, to prevent currency scams, and Uniswap overtook Coinbase as the second-largest exchange trading ethereum, after only Binance. Are DEXs finally replacing CEXs?
Binance, for its part, started a recovery fund for exchanges with distressed assets, while digital currency trading firm Genesis is shuttering entirely.
Elsewhere in stablecoins, you can now pay with USDC via Apple Pay (!) and Cardano's regulated stablecoin, USDA, is planned to hit the market next year.
UK banking-as-a-service provider Griffin* moved its sandbox out of beta and the US' Varo Bank became the first neobank to join the Zelle payments network.
Payments provider MoneyGram partnered with Bahranian superapp Beyon on real-time payments. Iceland's largest telecom Síminn expanded into payments by using Enfuce's card-as-a-service.
Google is removing all unlicensed Nigerian lending apps from the Play Store by January.
Fintech partner bank Evolve re-stressed to customers that deposits are safe, regardless of its FTX relationship.
NuBank parent Nu Holdings reported a $7.8 million net profit for Q3. Revolut hit 25 million customers.Credit-building app StellarFi crossed $1 million ARR and launched from stealth.
Fintech banking app Dave wants you to know that it is not bankrupt.
Swedish neobank Juni laid off ⅓ of all staff and Indonesia's GoTo Group laid off 12% of all staff.
Recently-launched accessible credit app Nirvana Money is now shutting down. Immigrant banking-focused providers Stilt and related embedded banking provider Onbo have shut down. And, in an upset that nobody could have seen coming, right after raising $50 million, anti-woke neobank Glorifi is shutting down.
And now for our friendly chat with this week's friend Dezzy!
Adaeze 'Dezzy' Onwumere is CEO and Co-founder of Aku, a payments-led digital bank based in Lagos, Nigeria. Aku currently serves over 70,000 micro merchants, and is on a mission to build wealth at the base of the pyramid.
Prior to co-founding Aku, Dezzy worked for the Econet Group, where she spearheaded their pan-African payments strategy, integrating payment partners across 18 African markets. Before leaving the Econet Group, she oversaw product development, commercial strategy and operations at Sasai Fintech (formerly Cassava Fintech), Econet's fintech subsidiary. As Chief Operating Officer, she was responsible for the development and launch of the Sasai social payments platform.
Dezzy has a bachelor's degree from Yale University and an MBA from Harvard Business School.
---
Helen 06:05
I feel very honored that you would spend your birthday talking to me about FinTech on a podcast. That's amazing. That really shows your commitment and your dedication to the industry. Absolutely.
Dezzy 06:18
I'm very happy to be here.
Helen 06:20
We're very happy to have you. And I think the best place to start is just to know a little bit about you, like who are you? Where are you from? What is your story? What is your story,
Dezzy 06:31
Boston, thank you so much for having me. I'm super excited to be here. My name is Dezzy. I am co-founder of Aku a Nigeria-based payments lead digital bank. And in terms of my story and how I got here, it's a very, very convoluted story, but I'm from South London. I'm Nigerian, actually Nigerian, raised in South London. So I was raised in Croydon. I went to live in the UK up until I was 18. And then went to university in the US did university in the US. After graduating, I moved to South Africa. And I worked with a company called the eConnect group and spent almost seven years doing FinTech before FinTech was sexy. And the FinTech I was doing was very unsexy. FinTech, it was mobile money. I was hired by the chairman and founder of the eConnect group as a gentleman He's fantastic. And as a mentor, he used to make me do very uncomfortable things. He used to say, impossible for you to get sand in your boots. And he shipped me off to Zimbabwe for months. And I would just like to stay in Zimbabwe. I call in, in like, like, informal retailers learning how, you know, people can use mobile money how to scale mobile money, how to scale agent networks. And that was really my, foundation, I spent the early part of my career in South Africa. And Zimbabwe, really learning the inner workings of mobile money payments in Africa. And I rose to the ranks and became CEO of their social payments business. I did that for a while. And then met my co-founder.
Actually, I met my co-founder on Tinder but he wasn't. He was actually just trying to start a business. convincing me to move that's Nigeria to do this. He was like, frequently calling me to pitch this idea. And I just, I was I was, I was being challenged. I really enjoyed what I was doing. And, I always wanted to move back to Nigeria. But I was very happy where it was. And I was growing. But then I got to a point in my career where I started at a business school. So I, I, when I got into business school, I applied with the rounds. I played one, one. And so I got in pretty early. And I had a lot of time between almost a year between the time when I would start business school. And the time when I got in, I decided that was a really perfect window to do something a bit riskier. And so, I quit my job and moved back to Lagos. And I decided to do this wild thing with this crazy guy that I met on Tinder.We found ourselves in The Office of the Central Bank of the governor of the Central Bank of Nigeria, and we pitched him a software solution. And he said, fantastic. So he said, fantastic, solve my problems. And that was kind of that, was it. And it was literally me. And one person we hired, a lawyer, and then it's diskless, she's fantastic. She's still with us. And we didn't have a single engineer, anyone and we, and we started that way. And we built out a dev shop. And we did that for a couple of years while I was in business school. And then in 2021,, we shut everything down and decided that we were going to focus on building a bank. And that's what we did. We applied for a banking license in May of 2021. And we got our final approval in May of this year. So that's how I got here. And it's, it's not I guess, far from glamorous, but it's been. It's been. It's been challenging. It's been interesting. It's, it's been, it's been a very, very edifying experience, I would say, Oh, my
Helen 11:19
God, I think that might be the best kind of sound or origin story that I've ever heard. met on
Did you guys at least got a date?
D
Dezzy 11:28
No, no. So we met on Tinder. And then he was working for a big technology company with a regional role across Africa. So he comes to Johannesburg. And we had swiped me whilst he was in Johannesburg. And I wasn't on Tinder at that time. And then I remember this literally the day before my bed. I was like, Oh, it's my birthday. And I'm setting goals. And I swiped him. But by the time I told him, he was not in he was no longer in South Africa. And so we just started talking the phone and it was like, but look like twist. Ended up getting married. In. I know, we ended up getting married during the during the pandemic in 2020. And October 2020.
Helen 12:24
. Congratulations
Dezzy 12:27
yeah. So one of my cofounders is my husband. Wait.
Helen 12:32
I'm trying to keep up. I'm trying to keep up. You didn't get married to your co-founder. But one of your co-founders is your husband. Now?
Dezzy 12:38
got married to my co founder. The one that I met on Tinder.
Helen 12:48
the story is just got way better. This is incredible. So you met on? Oh my gosh, wow. I don't know how Tinder is not sponsoring Aku. Not only that was that what not only did you guys get married, but you also started a bank at a whole bank. That's incredible.
Dezzy 13:12
And then our other co founders, a longtime friend of mine, we were friends. We were friends whilst we were in South Africa together. He was working. He's a senior software engineer who is working for another of the big tech companies in Johannesburg. And then we have been friends for the time he joined us. We've been friends for almost 10 years. So it's like it's a solid partnership.
Helen 13:41
t's great to speak to someone from Nigeria, but I'm thinking about like. But I'm just thinking about, like, as someone when I was younger,, navigating just the system itself is like, is mental. And I can't even remember how I navigated money. And the money looks so old. , the money it's like 100 years. So I guess I I guess I kind of have a question about that. Like, how did you navigate creating a bank? In a country I know from, you know, even personal stories can be quite difficult to navigate. You'd need to know so much just to even work out what's going on. And sometimes things aren't going on, and you're just running with it. You just have to go with it. So yeah, like, how did you do that? Or are you still doing it?
Dezzy 14:45
I'm definitely still doing it. There are so many things that are confounding to me every day, about the experience of the everyday Nigerian, The things that make life difficult, the things that ought to make life easier but don't necessarily. Yesterday we had we had training for. So our business works because we have field agents who go out into the markets and open bank accounts to the agents. They're calling on putting our registration agents, just understanding things that I knew but didn't know the extent of so. Literacy. Yeah. Literacy, the big a big issue in this market. And I know that I was supposed to prepare hot take or that this is the thing that I actually wanted to, to share. I what we've been told in Nigeria was about why in other African markets, mobile money, financial inclusion rates are actually much higher than they are in Nigeria, in a market like Kenya and, PESA is huge. In Zimbabwe, you have ecocash. Even in a country like Ghana, which is just next door close, you have MTN Momo, and those mobile money solutions have caused financial inclusion rates to grow astronomically in Nigeria. We haven't really had that level of success. And then people think that the reason for that is because of regulation. Previously, the telcos were not allowed to participate in mobile money or financial services at all. That changed earlier this year. . And nothing much has changed. And if I were to offer heartache, I would read I would say that the biggest barrier to financial inclusion and to tech adoption in Nigeria is not regulation. But it's actually facts literacy. Literacy our official literacy rate is around 60%. But on the ground, you will find that it's much lower than that. And so in terms of how we approach products development, that's always something that's top of mind for us, how do we serve a people for whom literacy puts the challenge huge. But then, to your point, I was in this training session like yesterday. And I realised that even for the people who are supposed to be more tech-savvy, who are supposed to be people who are creating accounts for people using smartphones, it's still an issue, still an issue for a lot of Nigerians. And so in addition to just being like, very, very crazy place to navigate in terms of Lagos is crazy. Super congested. So many people, everybody's hustling. They're also just like certain, like fundamental things that make during tech here. And there on a mass level, very challenging. Things that people take for granted being able to read menu options. Being ableto navigate your way through a smartphone or a registration process cannot be taken for granted in our market. And it creates a the need to be very, very creative and empathetic in product development and problem-solving. So it's been a it's been wild, but it's
Helen 18:15
no I can imagine. And like when I think of that, it's funny with literacy or like, language, I always find like language, specifically Nigeria is so interesting because English is officially the official language, but the reality is like on the ground. I mean, if you want to call that English , if you want to call pidgin English sure like you can, but you know, no one's speaking English the way like, you know, English isn't the Oxford Dictionary language.
Dezzy 18:45
You're looking to serve a population as speaking. Nigeria has like, over 350 different languages, right? Yeah, exactly. Do you have to get down to that? is a natural level. So we do English we do Pidgin. We do Elsa, Yoruba. We're big in, in a quiet bomb is one of our big markets now EBO as well, of course, as well. But in a quiet room is one of our big markets. So you have people who speak in local languages there. And, like you, you absolutely have to, I think that also to your point, just adds another layer of complexity.
Helen 19:26
Yeah. So it's funny, it's like, it's like, it's hard to kind of look at literacy, because there are like, over 300 languages spoken, and are still spoken, because it's like, I mean, I don't even necessarily like I honestly don't even know if they're all like if all of them are written languages, or if some are just overall, because, you know, like, historically, that's kind of how they were created. And so, it must be quite challenging trying to kind of navigate you've got, you've got English, you've got Pidgin, then you've got like, the main, you know, you've got the languages that the majority of the population to speak, and then you've got a lot of like other languages that other people speak. And then there's dialect and region and stuff like that. So I guess then, how do you sort of, like if we, if we were to look at, like IQ in like 5 years, like how do you kind of see that kind of onboarding process or getting people into the FinTech financial revolution in such a complex country?
Dezzy 20:24
So one thing I think, for us from an onboarding perspective, the human element is critical still, right? Which is unfortunate when you think about tech, because you really want tech to like scale, by itself. But for us, because of the barrier. We do need human beings to assist, at least in the onboarding process, and then we can scale up to that to some degree. So I, until we have this fundamental shift, which is really interesting, because if you look at Nigeria, there are FinTech businesses that are pretty successful, that are super lucrative businesses that I don't know if it will say names, but businesses that basically offer a form of assistance, Assistant transactions, right, Agent banking businesses. And what these businesses do is they have human beings who facilitate cash in cash outs, who do bank transfers on behalf of users who pay billson behalf of users in a market like Kenya, that kind of business is kind of unheard of, right? Because everybody has a smartphone, feature phone or smartphone. And everybody initiates their transactions autonomously on their devices, as well as to Nigeria. Until we fix the the structural problem of education, we're not gonna, we're not going to be able to eradicate human touch, at least on putting points until we get to the level of a Kenya that has an 80% literacy rate, or Zimbabwe, that has an over 90% literacy rate, or even a Ghana that has also illiteracy rate of 80. Nigeria is just not any of those countries. But I also I mean, we absolutely have kind of ambitions. And so I think, to me, having worked in I worked in Zimbabwe, I also oversaw product development for Burundi, less to two and I think something that I understand very clearly is that there's nothing like homogeneity in Africa, like no two countries have the same, and that's very helpful is helped us helped us in how we think about credit in Nigeria. And I, I hope that it will also help us as we look to expand to other countries in the future.
Helen 22:33
Yeah, yeah, exactly. It's like, no country is the same. But even within one country, it's so it's not homogenous, even within the country. So you have to be you have to customise everything you're doing. So specifically, but yeah, I mean, I'm gonna kind of like ask you some questions, a little bit more about you. And things you've done, I'm actually going to ask you questions that our previous guests have put up. So there are a lot here. So I'll just ask,
What was kind of like your oh shit moment in your career? So you can take that either way. Somebody will take it as like, what was this eureka moment where you were like, this is the thing that I want to start, this is what I want to do, the problem that I will solve, or you can take it as a time in which you messed up, and then you're like, oh, shit, and it was like huge.I'll let you decide how you want to take the question.
Dezzy 23:36
I think I had, I had two ownership moments. I had one ownership moment when I was working as econect group. And I had one doing staff stuff. And I did that when I was working, extending into fintech. I didn't it was nothing intentional. I was in a grad scheme. It was rotational. I did. I was working at a telco and somehow found my way in FinTech and just kind of like, okay, at the time, I'm, I don't want to date myself, but that was like 2012. And, like, it wasn't. It wasn't really like an aspirational thing. At the time. I didn't even know that the term FinTech had fully had Sulli proliferated at that at that time. But I started into it. And I just kept, I was really interested and just kept growing. And there was a day when I was running something. A payment gateway was a Pan African payment gateway product. And we didn't have a product owner. And somehow, I fell into this work. And as I was building out a niche, I had this mammoth task of onboarding payments, payment partners onto the gateway. I call Estate Team African markets, it felt like a task that was that was impossible, I think, impossible for the team that we have a team working with very small team. And somehow, I think just out of like sheer zeal and just like a passion for this payments thing, I was able to do it in a really short amount of time. And I think my I think my team also surprised that how quickly I was able to mobilise all of these partners, big partners like M PESA. Big banks, across the continent, other telcos, I was like, very effectively able to negotiate deals. And at some point, when people will really like, You did all of that in such a short amount of time. After that, oh, shit, like, I really like this. So all along, I have been doing this FinTech thing because I've fallen into it. But at some point, I realised like, I really actually love this space, and you're going to manage on board everyone so quickly. Yeah. And I was I was having the time of my life, actually, to be honest. Fantastic time. And I love this. And then the second or ship moment I had was when I had gone to a concert event. And I like I'm very, I'm actually a very private, very introverted founder. So like, coming out of myself, and my shell is something that I'm increasingly doing. Interestingly, I'm not an American, an introverted person. I'm just an introvert and just found I'm actually a big extrovert.
Helen 26:36
That's interesting. Why do you think that is?
Dezzy 26:38
I think, I've been told that kind of this is that agenda theme? Yeah, of course. Yeah. Yeah. I'm not really interested in productizing. Myself, you know, or like, making myself a personal brand, like a brand. I'm not really interested in being a brand, personally. But I am just aware that like, in the space that we're in, as founders, oftentimes just kind of, kind of, it's almost like expected. A
Helen 27:08
I don't know, I was at this like workshop a couple of weeks ago. And to be honest, it seems all very obvious. But it was like, I just, you know, when you actually think about it, and you're like, Oh, this is actually very true. And then it was Google, like, I am remarkable workshops. It was like about women. And they were saying like the way women talk about their careers. For instance, they'll always be like, well, I fell into it. And then this, this happened, and this happened. Like it's never like, I intentionally, set out to do this. It's always like, oh, you know what, it was a group effort, like, and even within our conversation, when you asked me about what I did, I was sort of like, oh, yeah, I like I literally did what I said, like, and I recognised it. Yeah. It's never like conscious. It's never like, Yeah, I did this thing because you want to seem and make it seem like it was a group effort. And like you are that remarkable in like what you did it? And, and I think it goes the same with like you talking about, like, the things that you do IQ and stuff like, you're like, I sit behind this brands because that's kind of how we're trained to think. And we don't want to seem like we're bragging. But then equally, it's like, if you brag, like, who dies, do you not mean, like, you should just say
D
Dezzy 28:18
that's actually true. And I also got it. Yeah, you're right. And I'm like, I'm growing into that I almost the more I have conversations with my team, they're like, listen, you're doing us a disservice by not putting yourself out there. And so I'm like, Okay, I'm trying. But the oshiete moment that I had was I had gone to an event. And there was a was it was not a startup event. It was an alumni event to my business school. And I met, I met a woman who was a, who was an investor. And I like, because I'm like, not that person. I won't immediately launch into a pitch when I see an investor because it's not really my sorry, my, my vibe. And so she asked me, what do you do? And I said, Oh, you know, I'm a startup founder. And then she said, he said, I don't really, I'm not currently, I'm not currently actively investing. And I was like, Okay, I wasn't going to pitch though. I was I didn't feel bad, but what do you do? And I told her, and then I showed her a product and I, and that she was like, Oh, I would like to invest in that. Oh, have you waited? Oh, I just, you know, I just met you. And she was like, I would like to invest in that. And that was like early on. And what was interesting about that was there are different kinds of investors. But this is somebody who one initially told me that we're not actively investing I guess, maybe, maybe they weren't, maybe they were. But also somebody's like on the ground too. understands the space here in Lagos, I found it so compelling after seeing seeing a demo seeing the product. And I was like, somebody who told me they were not interested, is now telling me very, very passionately, how interested they are. And I wasn't even pitching for me was like, Oh, shit, like, like we're doing something. We're doing something right here. And so from an entrepreneur's real journey perspective, that was, that was a big moment. For me, it was something small, right? Obviously, we've done fundraising and tipping like big wins. But like, startup life is like, kind of the ghetto, like, so hard. And small things like that. I just like reminders that you need on the journey that you're, you're actually doing something that makes sense. And so that was that was also a very, very big but small ship moment for me.
Helen 31:01
No, I love that because it wasn't like it just happened so seamlessly. And someone basically saying like, yeah, we can see the meat of the product. There you go. And if you're I mean, you weren't like pitching. So that makes a lot of sense. That's cool. And yeah, and it's not like you didn't put in the work to do that. It's just like you naturally kind of got it across without essentially being like, this is our stats, and this is what we're creating.
Dezzy 31:26
And I'm still learning how to be that founder.
Helen 31:30
Okay, another question I had, this is a question that I asked the previous guests who just came on the podcast. And that's the question that he's put up to the next guest. And it was if you were to start a startup in another industry, that's not fintech. What would it be?
Dezzy 31:53
H
It would be? I mean, I've never thought about this. But I have a very strong feeling because I always think about, okay, you know, when I'm done with this when I'm done with FinTech, like, what is my retirement life look like? And I think I would like to do something in the world, something that really, really left in the hospitality space. I really, like I mentioned, I'm actually not in my natural state. I'm like a big extrovert, but I love hosting. I love having conversations with people about things that people don't typically talk about hate small talk. And like, I like delving deep into, like, the big existential questions of why. And so I used to host these things that we used to call salons, where we're just talking about all kinds of things, relationships, mental health, awesome. And I would like to probably do something that combines that kind of like, deep dive in terms of interpersonal relations and hospitality, just like hosting something in that space. That would definitely be something that would align with my personal passions. Yeah, very random. Can I ask you?
Helen 33:06
Oh, well, I would do. I don't even know what I'm doing now. So I'm not sure what I was gonna be. I don't know. I've been pondering around like, like, politics and tech, and like, what the future of like, in every country, like there's extremism on both ways, and like, there's a lack of middle ground because I don't think the middle ground makes a lot of sense anymore. In short, so I've just been thinking a lot about, like, the way like politics is like, affected. Sorry, technology has affected politics and like, what technical? What politics looks like in web three, basically, for what that means and what that is, I don't know. It's just stuff I've been like thinking about recently, because if we're moving to this, like, very decentralized world, like that means everything's decentralised. So how do we navigate that is where I've been thinking, but to your salons thing, like, something I do outside of FinTech is host these kind of that, I mean, they went online during the pandemic, and we've not done them in person since then. But I do work with like charities and organisations, and basically, help them understand like intersectionality over l a starter main courts and dinner. It's kind of similar to the vibe of what you've just said, actually.
Dezzy 34:27
what what kind of people do you do that with?
Helen 34:29
We've done both. So we've done corporates, we've done charities, we've jumped Yeah, we've done a whole different range of and it's very interesting, actually, because depending on the sector of the show, it sounds incredibly interesting. Yeah, you get some really, like, yeah, depending on who you're talking to what sex and all these things. The answer is different. But we don't do more than like eight people, even that as pushing a little bit. Because you want to be able to have a conversation you want people to be able to feel open. But the last one we did we did it with charity, it was like a, it was like researchers is a kid's charity, but it was with their researchers who kind of help a lot with different people in foster care and stuff. But their researchers wanted kind of like a better idea of, I guess, just understanding different identities and stuff. And that was incredible is really good in a lot of people kind of like we, you know, thought about their own spaces.
QuickFire
Helen 35:27
um, but I'm gonna move on to our quickfire session now, actually, so I'm gonna ask you 10 questions. I'm actually gonna ask you 11 Because I'm really curious about what the questions. I'm adding a question in, basically. So, yeah. Are you ready? Yes. So it's asking you 10,000 bananas, and you're not allowed to sell them? Or eat them? Or give them away? What would you do with them?
Dezzy 35:53
Maybe turn them into a desk
Helen 35:56
into a desk?
Dezzy
.Maybe I try and try them out and maybe see if I can use them to build something. Okay, sure. Yeah. All right.
Helen
Um, what is your favourite type of cheese?
Dezzy
Brie
Helen
Would you rather live your entire life in virtual reality where all your wishes are granted? Or just live your normal real world life? Or more
Dezzy 36:27
real world? Can I explain? Because I realised something about life. If things are always going your way, and everything is always happy, you actually don't appreciate it. And in as much as like, the down seasons of life feel painful. They actually help us to appreciate the goodness. Without that kind of like the oscillations, you don't really have an appreciation when good things happen. They would definitely choose normal life.
Helen 37:00
That's such a nice answer. Would you rather have one wish granted today? Or 10? wishes granted? 20 years from now?
Dezzy
10,000
Helen
Would you rather have a pet goat or a pet chicken?
Dezzy
Goat
Helen 37:19
Would you rather take a pill a day for nutrients and feel full. But never eat anything again? Or eat whatever you want, but never really feel full.
Dezzy 37:45
Oh, God, this is really hard. Actually, this one I really liked food. I love food. I love food so much. That I guess I would I guess I would eat whatever I want. Without never so cool. What would you do?
Helen 38:06
I think I would do the same because I like food. And I really like cooking. But it would be very irritating to always kind of be a little bit hungry.
Dezzy 38:14
I know it really would be but then it will also be like tragic not to eat food.
Helen 38:19
Yeah, just eat a pill like that. Yeah, so yeah, I think I would just be hungry or
Helen
what would be title of your autobiography?
Dezzy 38:28 I was here.
I've been asked this question before when I was in university and think about it, and there's a song by Beyonce called I was here. And there's a line somewhere. I live my life so that they will know I was here when I leave. So that like living a life basically of impact that touches the lives of other people. Even if it's only one person, just let one person know that I was here. Let my life have an impact for this one person. So that somebody knows when I'm gone that I was here.
Helen 39:13
I think that's so nice. You're very like philosophy. Okay, but would you rather travel the world for a year on a shoestring budget will stay in only one country for a year but live in luxury?
Dezzy 39:37
Yeah, I would choose our shoot the lesser, actually because I'm like that very annoying person. My sister calls me a killjoy actually really don't like tourism. I really like people. And so no matter where I am, I can like have the time of my life. As long as I can always talk to new people just ask them questions and just like find out what they're up. Yeah, that's my fear. So I think initially, if I think it's like, very comfortable and happy, I would be happy to explore one person one place. And just know that I could just like delve deep into different people. Yeah,
Helen 40:12
well, but it's like, Iceland, like gets like really? Like, the domain not have something like that. Really hard. Like I follow this girl on Tik Tok, who lives in Iceland and actually, it looks great. I mean, but yeah, like, literally is pitch black. thing is I'm saying that and I live in England like it's literally getting caught up right now. It's three is nearly 50 PM. So yeah, but there are times
Dezzy 40:39
when it's 11pm. And it's later you know, you know, yeah.
Helen 40:49
Okay, fine. Yeah, I'll let you have it. Yeah. Live in a country free? Would you rather be able to teleport or to read minds?
Dezzy
Read minds
Helen
Would you rather have a personal chef or a personal trainer?
Dezzy 41:42
You know, I think I'd take the personal trainer.
---
Dezzy 42:47
that was wild. It's really interesting, because I remember when I was I was in bank because uni. There was a put on question got Oxbridge preparation. The interview. Just looks like a question. To me. I can't remember. What is like, what does it mean to be a banana or something weird? Yeah. So I have PTSD from that.
Helen 43:20
Fair enough. Okay. Sorry. PTSD from strange banana questions. It makes a lot of sense. Yeah. I mean, my thing was that I would create like an exhibition. And like, the exhibition would like outlive bananas. They would either be about like,
Dezzy 43:35
actually brilliant. That's brilliant. You can even do like performance arts with the predominance
like, oh, that sounds like women is
Helen 43:45
when it gets sling on everyone. Some Yeah. Yeah, I did. I think the exhibition would be on like, either on evolution or about, like, a, like a conversation about like how much food we waste
Dezzy 44:02
So that's definitely a much better use of the banana.
Helen 44:05
Yeah, do you know what I actually put it on my dating profile?
I downloaded hinge and I thought I'm gonna ask people about this banana question. But what I got such a thin tacky answer. So this is this is relevant to this podcast. And someone said I would issue a banana coin on a DLT ledger backed by bananas as collateral, then open a central banana bank, banana tokens with Dena repeat redeemable for frozen bananas, banana tokens used for governance of the ecosystem, and also can be wrapped as an EC C 20. token to generate trails in perpetual pools with power leverage utilising the traces five protocol.
Helen 45:36
Who is the fintech friends we should be on the look out for?
Dezzy 45:40
Helen 46:49
awesome. We're gonna I'm after this I'm definitely gonna get their details. That is amazing. Thank you so much Dezzy  for coming on. They're a fin tech fans podcast. This has been a riot. I had so much fun speaking to you, especially on your birthday. Like what a treat for me.
Dezzy 47:05
been lovely talking to you.
Signals
Signals as our paid subscriber reads, and I'm going to read you a snippet from one of the latest articles written by Dez Flemming.
today we're talking with Richard Kane, CEO and founder of Vergo. Vergo, as Rich tells it, is "a financial platform for businesses in the construction industry to run their finances," Rich wants to ensure that the construction industry, a ~$2T market in the US, is is armed to the teeth with software that helps their businesses save time, reduces complexity, and creates more efficient money movement in a highly capital-consumptive industry. I am super excited to share this article with all of you, and Rich has a phenomenal founding story so let's dive right in.
To read the rest of this article please subscribe to TWIF
See you next week besties