Banks are launching more fintech products than fintechs (10/21)
In other news: Would you spend a Nubank Coin? And what got into the water at Plaid?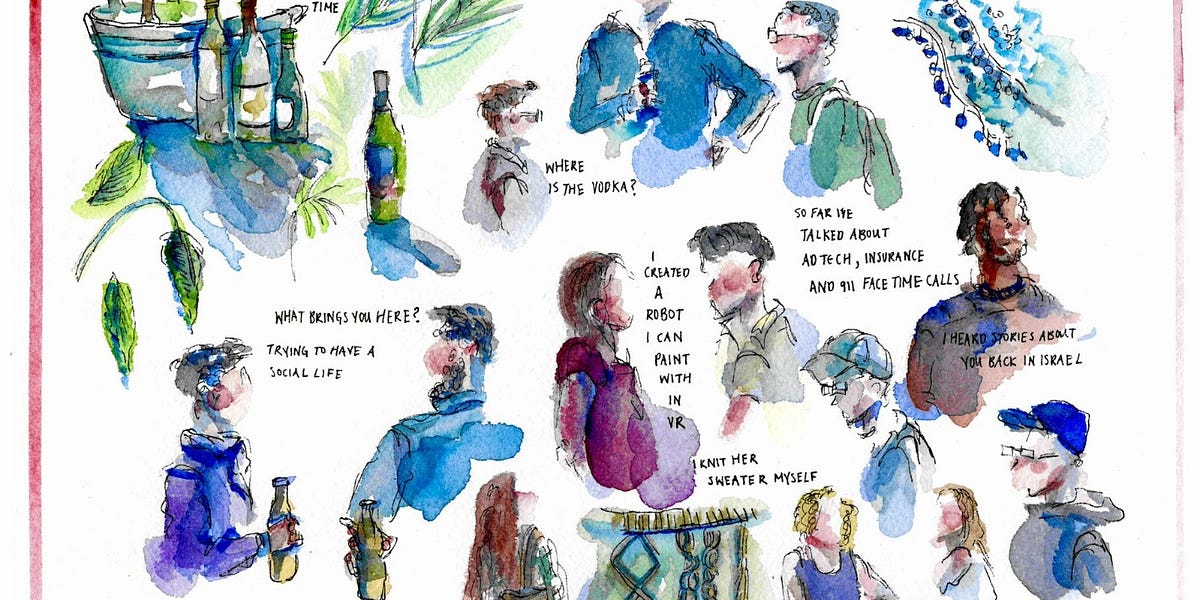 Hello Fintech Friends,
Formal: Thank you to SoftServe for joining us as a Silver Sponsor for The Fintech Formal! SoftServe advises startups and provides guidance at the cutting-edge of technology; check them out here. We're closing in on 500 tickets sold, with a limited amount left… will we see you there?
Podcast: I'm excited to announce our second podcast, which launched last week - Beyond Two Percent!  Beyond Two Percent analyzes the critical questions, issues, and dynamics that affect people differently by gender - and the intersection of those dynamics with finance. Our guests join our two fabulous hosts, Julie and Helen, every month. Listen here.
Talent: If you're not a member yet, you should join our Talent Collective. Since starting our Collective, we've helped over 300 open-to-work readers of the newsletter by putting them in front of companies hiring.
Members of the Collective get exclusive access to opportunities in fintech landscape—  from companies such as Conduit, Causal, Credit Key, and 20+ other companies. If you're open to work, or just open to conversations, sign up here. If your company wants to hire the best talent in fintech, you can sign up here.
Finally, thank you to Shani for the live drawing of our TWIF x Stonks NYC Tech Week event a couple weeks ago! 👇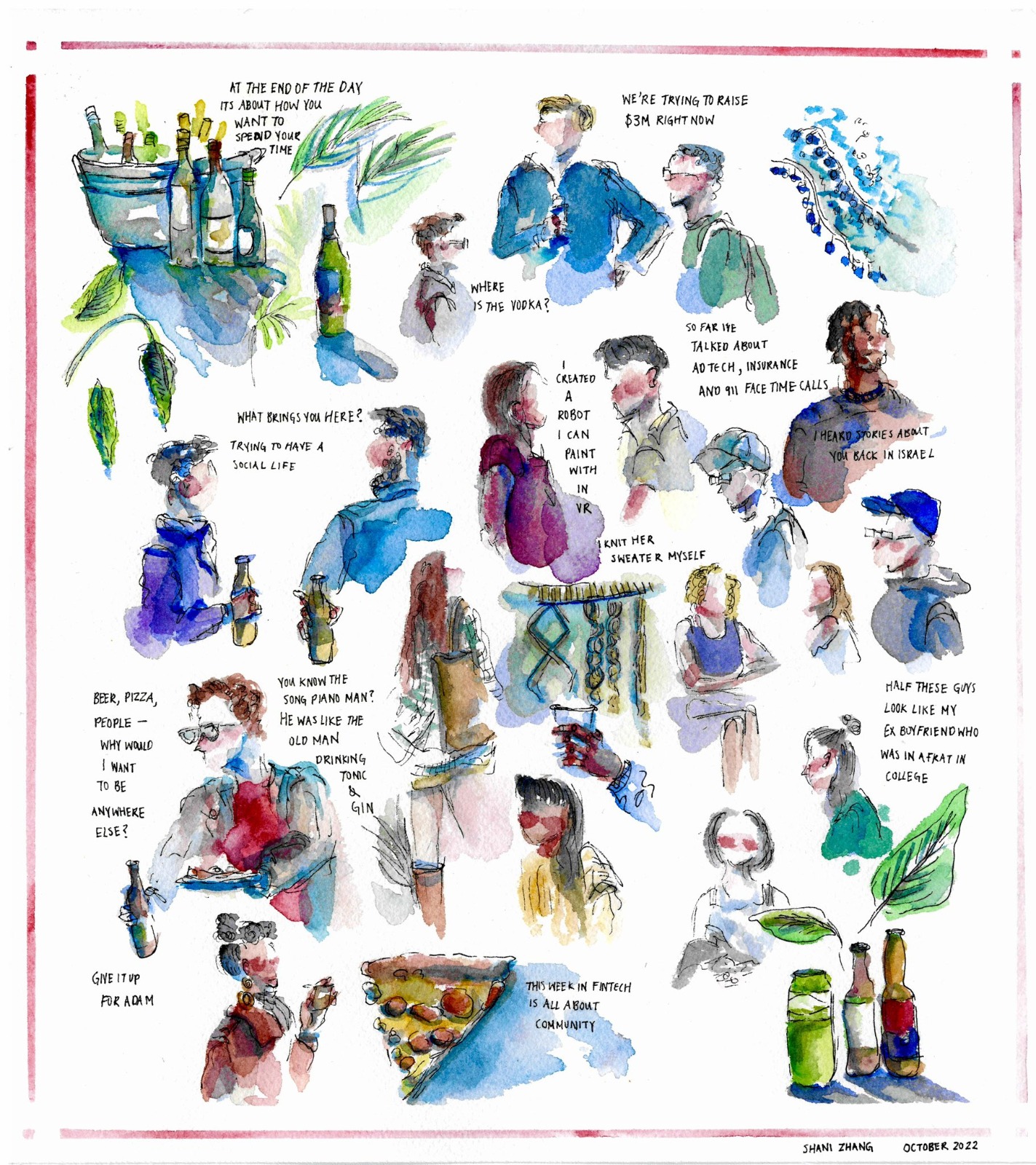 Please enjoy another week of fintech and banking news below.
---
💬 Quote of the Week
📖 Read of the Week
Enabling real-time, costless payments has been a major focus of US fintech over the past half decade. The advent of nationwide systems like India's UPI and Brazil's PIX - which themselves facilitated the growth of entire fintech ecosystems - shook the US out of its complacency with ACH.
Much has been written about some of the lead contenders in the real-time payments space, including stablecoin payments, TheClearingHouse's RTP, Zelle, VisaDirect, and startup challengers like Orum* and Sila*. Less has been written about the Federal Reserve's pending FedNow project, which was pushed to launch in 2023. Jared Franklin provides an excellent writeup of the global and US real-time payments race in Faster payments with FedNow.
Some interesting takeaways for me: FedNow is cheaper on a unit basis than RTP. FedLine will go live with 10k+ financial institutions, and is being piloted now with 110 organizations. FedNow will (unsurprisingly) only enable push payments, but will allow users to send RFPs (similar to Venmo requests).
📊 Stat of the Week
"Q3 saw fintech fundraising activity return to what was normal in 2019 and 2020, meaning that fintech took up 17.3% of the total, closer to one in every six dollars than one in every five (20%)." (Source)
---
Sponsored Content
Unlock Q1's full potential at Fintech Meetup! Start your year off strong with meetings that deliver results. Our powerful technology allows you to meet with anyone for any reason,  easily and efficiently. Don't miss out on 30,000+ double opt-in meetings, 175+ speakers, receptions, exhibit hall and more! At the Aria, Las Vegas March 19-22. Tickets available now!

Want to sponsor a newsletter? See our sponsorship information here.
---
🏦 Financial Services & Banking
🚀 Product Launches
National Australia Bank launched its own mobile payment acceptance app, allowing anyone to collect payment from a smartphone.
Mastercard partnered with crypto-as-a-service provide Paxos to debut Crypto Source, which will let anyone trade crypto tied to a bank account.
Agribusiness Rural Bank in the Philippines launched a mobile app.
Kuwait Finance House - Bahrain launched a new digital wealth management platform.
NatWest is launching its own banking-as-a-service business in the UK.
JPMorgan rolled out a platform called Capital Connect to connect startups with VCs..
Canada's Scotiabank launched an algorithmic trading platform.
Singapore's DBS bank launched an AI-based financing tool for small businesses.
📰 Other News
The Indian government partnered with 20 public and private banks to bring financial inclusion to rural communities, launching 75 'digital banking units' - brick and mortar outlets equipped with online banking services - in small villages across the country.
Apple and Goldman Sachs announced they are partnering to give customers access to a high-yield savings account for their Daily Cash balances.
JP Morgan Chase is playing fintechs at their own game - giving some customers early access to their payroll deposits.
Lloyds Bank set up a fintech sandbox with fintech partner NayaOne and Visa announced its Visa Ready Creator Commerce for creator-focused businesses.
Morgan Stanley is rolling its roboadvisor into E*Trade.
The Bank of England has ruled out extending its bailout of pension funds. The US' FTC is coming after Visa and Mastercard for using their security tokens to prevent rerouting debit transactions over other networks. And the SEC wants the CFTC to have more authority over stablecoins.
The European Central Bank delayed the launch of its real-time gross settlement system.
In bank stability news, Credit Suisse may reportedly face an $8 billion shortfall in 2024, with Jefferies expected to need $9 billion to shore up capital.
Canada delayed the launch of its Real-Time Rail payments system payments system indefinitely.
---
💻 Fintech
🚀 Product Launches
Plaid launched Wallet Onboard, built partly on top of WalletConnect, to let users connect financial institutions to their crypto wallets, and also launched a Privacy Controls suite and faster digital onboarding.
European neobank N26 and US consumer neobank Current went against the grain and both launched crypto trading this week (Current building it via Zero Hash).
Anti-fraud and instant payments provider Sardine launched 'Insights' to manage risk between financial institutions, fintechs, and crypto companies.
Tribal Credit* debuted its own digital currency in Mexico.
Lendica and Altametrics partnered to debut business-to-business buy-now-pay-later for restaurant supply chain.
Clowd9 launched a cloud-based decentralized payments platform.
B2B payments firm TreviPay launched TreviPay Aviation Network, a closed-loop card. Parental fintech app Greenlight launched the Greenlight Family Cash to give parents rewards on purchases for their kids (and added family safety features to its app). Snapcommerce released its SuperCash card.
Revolut launched a holiday home rental service with cashback.
📰 Other News
The CEO of anti-woke bank Glorifi resigned.
Dutch neobank Bunq won a case against the Dutch Central Bank defending its ability to use AI for AML purposes.
Nubank is building its own digital currency in Brazil. Coinbase received preliminary approval to launch its exchange in Singapore and is coming to Europe. UK crypto payments firm BVNK was licensed as a Virtual Asset Services Provider in Spain. Adyen brought its unified commerce payments solution to Mexico.
Apto Payments partnered with Patriot Bank.
Google now shows ETH wallet balances. DefiLlama will now let users lend to themselves to buy NFTs.
Flutterwave CEO Olugbenga Agboola received national honors from Nigeria's president.
Even Stripe is not immune to layoffs.
Crypto custody firm Nydig laid off 100 people - a third of the team. UK digital merchant receipts provider Flux is shutting down. Digital bank Green Dot fired its CEO, replacing him with the company's CFO without elaboration.
PayPal said it never intended to publish a new policy that would let it fine merchants $2,500 for "the sending, posting, or publication of any messages, content, or materials" promoting misinformation."
---
Come meet us in-person at www.fintechhappyhour.com, and join our angel investing syndicate.