UK & Europe
TWIF UK & Europe (31/10) - What will Rishi Sunak mean for fintech in UK?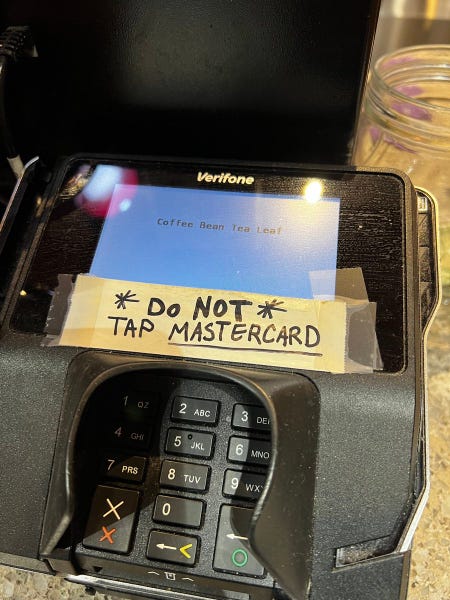 Hello TWIF UK & Europe friends,
The UK welcomed a new Prime Minister, Rishi Sunak, recently, but what does that mean for fintech?
Check out this good summary of his track record so far and Wise's Adnan Chowdhury has three ideas the new PM could tackle.
Please find another week of fintech news, financings and exits below.
---
This Week in Fintech is a reader-supported publication.
To receive new posts and support us, consider becoming a free or paid subscriber.
Please also share with your friends and colleagues.
---

If you're an early-stage startup founder raising equity or debt, we may be able to help - come check out our fund, The Fintech Fund or get in touch.
Are you a fintech angel investor? Come join our syndicate.
---
Sponsored Content 
Want to be a This Week in Fintech - UK & Europe sponsor? Reach out to me at michael@thisweekinfintech.com, find me on Twitter and see our sponsorship information here.
---
Tweet of the week 🦉🏆
---
Funding 💸
Highlights below of deals since the last post in the fintech space across the UK & Europe.
🇪🇺 Worldline has acquired a 55% stake in SoftPos.eu, an Android mPOS company.
🇪🇺 Online lender Floryn raised a €65m round from NatWest.
🇪🇺 Crypto payments startup CryptoRefills raised a seed round led by Eric Barbier.
🇪🇺 Settlement banking platform Arf raised a $13m seed round from investors including Hard Yaka, Circle and UOB Venture.
🇪🇺 Employee benefits fintech All Gravy raised a €3.2m seed round led by Moonfire Ventures.
🇪🇺 Payment solutions provider Inespay raised a €500k round from angels.
🇪🇺Omnichannel payments provider Straal raised a €2m round from MY EU Pay.
🇬🇧 Moneyhub has raised a £35m round from investors including L&G and Lloyds Banking Group.
🇬🇧 BNPL provider Tymit raised a £23m Series A led by Frasers Group, the investment arm of Sports Direct founder Mike Ashley.
🇬🇧 Wealth manager Sidekick raised a £3.33m pre-seed round led by Octopus Ventures and included Seedcamp and Semantic.
🇬🇧 Wise secured a £300m debt facility from Silicon Valley Bank UK.
🌍 SKU data provider Banyan raised $43m ($28m equity + $15m debt) from Fin Capital and M13.
🌍 White label rewards platform Wildfire Systems secured strategic investment from Citi Ventures.
Challenger Banking 🚀
🇪🇺 Serial fintech founder Nick Mulder, founder of Hypofriend is launching Pensionfriend, a private pension insurance startup in Germany.
🇬🇧 Atom Bank named a new CFO.
🇬🇧Starling Bank and Monzo were among the top 5 most switched to banks in Q2. Starling is also looking to grow headcount by 20%.
🇬🇧 Neobank Novus is closing its consumer business and pivoting to supporting B2B companies with ESG.
🇬🇧 Wise is bringing its investing service "Assets" to Europe after getting an Estonian licence.
🇬🇧Wealth manager Wealthyhood launched this week after raising a round in April.
🇬🇧 Zopa is leading a coalition of fintechs to help consumers with the cost of living and has added 10 new members and now includes Google Cloud, Hargreaves Lansdown, CreditLadder, Koodoo, LOQBOX, Nude, Snoop, StepLadder and Tandem Bank.
🌍 P2P lender Zirtue won the $100,000 prize at M2020's startup pitch competition.
🌍 LendingClub's deposit base increased 80% yoy but it sounded warnings of lending volume growth in the rising rate environment.
Digital Assets ₿
🇪🇺 Gemini launched its services in Ireland with its Virtual Asset Service Provider licence.
🇬🇧 Revolut and Sweatcoin are partnering to give first time Revolut customers six months of Sweatcoin premium and three months of Revolut premium for free.
🌍 MetaMask has integrated with Sardine to enable users to purchase crypto straight from their bank accounts.
🌍 Binance has become the second most powerful voting member of the DAO that governs Uniswap.
🌍 The SEC has been forced to turn over a trove of emails to Ripple that will give insight into why it declared Ethereum was not a security.
🌍 Coinbase will not charge fees for USDC sales and purchases made with fiat as it seeks to increase adoption of the stablecoin.
🌍 Anchorage Digital has launched "Build with Anchorage" to enable partners to offer crypto services such as trading, settlement, staking and custody in their own products.
🌍 New layer 1 chain Aptos, coming out of Facebook's Libra initiative, launched this week and its APT token dropped quickly in trading.
🌍 Crypto staking platform Freeway has paused withdrawals due to volatility.
🌍 Japanese payments company JCB is piloting a CBDC with Tokyo merchants.
🌍 Apple greenlit in-app NFT minting, buying and selling but refused to remove its 30% transaction fees.
🌍 Payment giant Visa is filing a trademark for a digital asset exchange, a crypto wallet, NFTs and a metaverse.
Traditional Banking 🏦
🇪🇺 UBS is targeting 50% of its applications in the cloud with Microsoft Azure.
🇪🇺 Savings fintech Raisin is migrating its platform to Clearbank which will provide it with FSCS accounts and payment rails.
🇪🇺 Credit Suisse is cutting 9,000 jobs and spin off its investment bank after it posted a £3.5bn loss in Q3.
🇬🇧 Lloyds Bank has partnered with Billhop to allow its corporate customers to pay any invoice using a Lloyds commercial card.
🇬🇧 NatWest has agreements with Token, Tink Yapily, TrueLayer, GoCardless and Crezco for its VRP
🌍 Chase has unveiled an early direct deposit feature for its customers, joining the likes of Chime, Cash App and Current who already offer the feature.
🌍 Wells Fargo launched a new virtual assistant, Fargo driven by Google Cloud's AI technology.
Fintech Infrastructure 🚧
🇪🇺 Mambu signed up SMB lender Kapitus for its cloud banking service.
🇬🇧 Payments provider Cardstream will integrate EML Payments' 🌍 to give merchants an open banking payment option.
🇬🇧 APImetrics and tomato pay found traditional bank API's slower than neobanks after they analysed 17 million API calls
🌍 Wealthsimple is the first fintech in Canada approved for direct settlement by Bank of Canada.
🌍 Neobank Current has migrated its 4m accounts to Visa DPS Forward, the issuer processor from Visa to give the neobank a deeper integration and new products, cutting out middleman Galileo.
🌍 Marqeta announced a full suite of BaaS products to expand from card issuing to banking products.
🌍 Digital identity firm Prove partnered with credit bureau Experian to promote financial inclusion.
Payments 💰
🇪🇺 The European Commission has approved a merger between Nordic fintechs MobilePay and Vipps.
🇪🇺 Adyen has launched two new products, Capital and Accounts, targeting SMEs.  Capital will provide cash advances and Accounts will offer bank accounts.
🇪🇺 Nets and Softpay came to the rescue for 7-Eleven in Denmark when the merchants payments and checkout terminals were hacked with ransomware. Staff were equipped with Android phones and an app to accept payments, showing the benefits of independent POS hardware solutions.
🇪🇺 The EU is to require all banks in the eurozone to offer instant euro payments. The industry quickly pushed back on the tight timeframe and its impact on security.
🇪🇺Klarna launched "pools" a savings feature in its back accounts, jumping on a trend of "save now, buy later".
🇬🇧 CLOWD9 has launched a payments processing platform aimed at neobanks that routes transactions to the nearest cloud instance.
🇬🇧 The PSR will conclude its market review into Mastercard and Visa fees in two year's time, leaving merchants waiting.
🌍 PayPal is letting Apple users log in via passkeys instead of passwords.
🌍 JP Morgan announced its merchants will be able to enable Meta Pay at checkout.
🌍 Amazon is to enable customers to pay merchants with Venmo.
🌍 Zip has launched a BNPL physical card with WebBank.
🌍 Visa announced TPV increased 10% in its FQ4, with credit surging 20% and debit 5%.  X-Border volumes were nearly 50% higher. B2B volumes +30% and Visa Direct +36%.
Regulatory Corner 🔎
🇬🇧 The UK's Institute of Directors has launched IoD Finance and FinTech Group, a group to boost the UK fintech sector.
🇬🇧 The FCA has started its study on the presence of Big Tech in financial services
🌍 The CFPB has faced a blow with a federal appeals court finding its funding is unconstitutional. The Bureau also announced it will finalise its open banking rules by 2024.
🌍 The CFPB published guidance this week saying that surprise overdraft fees were illegal as were fees for check deposits that bounce.
---
Longer reads 📜
---
Your feedback is a gift, please give below 🙏
See you next week!