Hello TWIF UK & Europe friends,
Despite common rhetoric that incumbent banks are catching up or have caught up with challenger banks, a follow up study by Built for Mars (link in the Long reads section below) reveals they are in fact not catching up.
Putting out a call for our most creative community members!
After many requests we're (finally) putting together One Fintech Swag Store To Rule Them All. Our team has already designed some swag - but we want to hear from *you.*
We're holding a design contest for the most creative fintech swag ideas - hats, sweatshirts, yoga mats, furbys, doilies, mink slippers… It's all fair game.
All winning entries (those that make it to the store), will get 2x free Fintech Formal tickets, a year of TWIF Premium membership, design credit on the website, and a free copy of the item you design!
Show us your creative side by sharing your best fintech swag ideas here.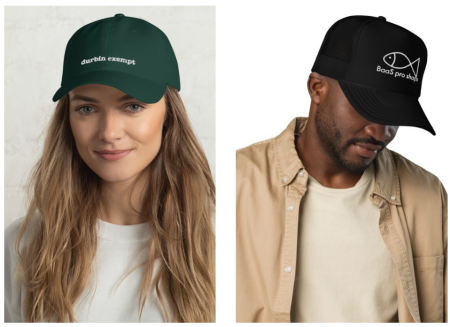 Please find another week of fintech news, financings and exits below.
---
💡
This Week in Fintech is a reader-supported publication.

To receive new posts and support us, consider becoming a free or paid subscriber.

Please also share with your friends and colleagues.
---

If you're an early-stage startup founder raising equity or debt, we may be able to help - come check out our fund, The Fintech Fund or get in touch.
Are you a fintech angel investor? Come join our syndicate.
---
Sponsored Content 
Want to be a This Week in Fintech - UK & Europe sponsor? Reach out to me at michael@thisweekinfintech.com and see our sponsorship information here.
---
🗞️ News to share?
Have any UK/European fintech news/tips? Hit me up michael@thisweekinfintech.com
---
Tweet of the week 🦉🏆
---
Funding 💸
Highlights below of deals since the last post in the fintech space across the UK & Europe.
🇪🇺 Supply chain lender Twinco Capital raised a $12m equity and debt round led by Quona Capital and included Working Capital, Mundi Ventures and Finch Capital.
🇪🇺 Regtech Salv, founded by three Wise alumni raised a €4m seed round led by ffVC.
🇪🇺 Financial management startup Scaleup Finance raised a £6.4m seed round led by PROfounders and included Fin Capital, Clocktower and CircleRock.
🇪🇺Regtech Hawk AI raised a $17m Series B led by Sands Capital and included DN Capital, BlackFin Capital, Picus Capital and Coalition.
🇪🇺 Beginner investment platform Beatvest raised a €1.3m seed round.
🇬🇧 Rent to own startup Keyz raised a £3m seed round led by Axeleo Capital and Outward VC.
🇬🇧B2B BNPL provider Tranch raised $50m in debt from Clear Haven Capital and $50m in equity from YC, Global Founders Capital and Soma Capital.
🇬🇧 Automotive fintech Caura raised £4m from Lloyds Banking Group.
🇬🇧 Neobank Monument has sold a 9% stake to Dubai Investments.
🇬🇧 Crypto asset recovery specialist Asset Reality raised a $4.9m seed round led by Framework Ventures.
🌍 Fraud monitor Sandbar raised a $4.8m seed round.
Challenger Banking 🚀
🇪🇺 Neobroker Trade Republic has submitted an application to become a bank.
🇪🇺 Airwallex is expanding its team in Lithuania to support further EMEA growth.
🇬🇧 Revolut has opened the waitlist for its highest tier membership plan, Ultra.
🇬🇧 An open letter calling on more credit access for SMEs has been signed by a number of fintechs including Codat, Atom Bank, Funding Circle, Iwoca and Allica Bank.
🇬🇧Q4 2022 marked a high for the Current Account Switch Service, no doubt buoyed by the generous sign up offers of up to £200.  Santander and HSBC were the most switched to and Starling and Monzo having the highest net gains.
🇬🇧 Atlantic Money has complained to the CMA that its competitor Wise delisted it from its price comparison search engine.
Digital Assets ₿
🇪🇺 The ECB is considering a digital euro app to standardise the approach for intermediaries to present to consumers.
🇪🇺 Banks in Europe that hold crypto are to face the highest risk weightings against their holdings.
🇪🇺 Coinbase is fined €3.3m for failing to register with the central bank in Netherlands.
🇬🇧 UK Treasury is hiring for a leader for its CBDC project.
🇬🇧 Crypto custody provider Copper has appointed former chancellor Philip Hammond as its chairman.
🇬🇧 The FCA referred some crypto companies who requested registration to law enforcement due to links to financial or organise crime.
🌍 Binance's bank partner is retreating from the digital asset space and will only process transactions over SWIFT that exceed $100,000. The exchange also confirmed it accidentally co-mingled collateral and customer funds.
🌍 Gemini is laying off another 10% of staff.
🌍 Circle has blamed the SEC for its failed $9bn SPAC due to a slow response to its deal review.
🌍 Bankrupt crypto lender Celsius is allowed to process withdrawals for customers who transferred assets to the platform after it filed for bankruptcy protection.
🌍 Crypto exchange Luno is cutting 35% of staff.
🌍 The SEC has charged the Mango Markets attacker of manipulating the price of a security.
Traditional Banking 🏦
🇪🇺 Commerzbank is suing EY over its €200m Wirecard loss.
🇬🇧 NatWest is shutting 23 bank branches.
🌍 Morgan Stanley has fined its bankers for conducting business over Whatsapp, in breach of regulations which are increasingly being cracked down.
Fintech Infrastructure 🚧
🇪🇺Regulatory monitoring platform SparQ has been acquired by Corlytics for €5m.
🇪🇺 Solaris is to face new restrictions by the regulator Bafin due to deficiencies in risk management and reporting.
🇬🇧 The Strategic Working Group working on behalf of the FCA on the future of open banking has found key players have limited agreement. TPPs wanted a broad expansion of data openness while retail banks were focused on commercial returns.
🇬🇧 Former president of Mastercard UK Marion King is to take over as chair of the OBIE.
🇬🇧 Capital market fintechs PrimaryBid and Winterflood are partnering to offer the others services to clients.
🌍 Marqeta announced its CPO will become its new CEO.
Payments 💰
🇪🇺The German antitrust regulator is investigating PayPal for obstructing rivals and restricting price competition for merchant services.
🇪🇺 Klarna launched "Money Story" a personalised summary of 2022 spending habits akin to Spotify.
🇪🇺Mollie is to name former Klarna CTO as its new CEO.
🇬🇧 HMRC has processed over £10.5bn via its open banking partner Ecospend.
🌍 Stripe has become Amazon's strategic payments partner in the US, Europe and Canada. Stripe will also expand its use of AWS. The payments company has also set a 12 month timetable for a decision on its IPO.
🌍 New e-commerce payment processor Wafi, founded by former Plaid product lead Victor Umunze, launched.
🌍 Australian BNPL provider Zip is forecasting to break even by the end of the year.
🌍 One click checkout provider Bolt is laying off another 10% of staff.
Regulatory Corner 🔎
🇬🇧 The FCA is warning firms to adequately prepare for its new Consumer Duty rules as it noticed some failing to properly prepare with the right resources.
---
Longer reads 📜
---
👍 👎 Have feedback for us? Let us know!

See you next week!