UK & Europe
TWIF UK & Europe (28/11) - Two more UK fintechs show signs of trouble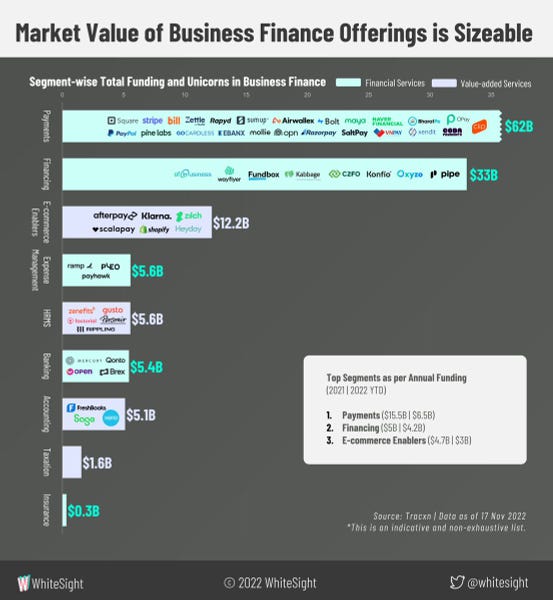 Hello TWIF UK & Europe friends,
The European Women Payments Network (EWPN) released its shortlist of nominees for their annual awards.  Good luck to all the awesome nominees.
Please find another week of fintech news, financings and exits below.
---
This Week in Fintech is a reader-supported publication.
To receive new posts and support us, consider becoming a free or paid subscriber.
Please also share with your friends and colleagues.
---

If you're an early-stage startup founder raising equity or debt, we may be able to help - come check out our fund, The Fintech Fund or get in touch.
Are you a fintech angel investor? Come join our syndicate.
---
Sponsored Content 
Want to be a This Week in Fintech - UK & Europe sponsor? Reach out to me at michael@thisweekinfintech.com and see our sponsorship information here.
---
🗞️ News to share?
Have any UK/European fintech news/tips? Hit me up michael@thisweekinfintech.com
---
Tweet of the week 🦉🏆
---
Funding 💸
Highlights below of deals since the last post in the fintech space across the UK & Europe.
🇪🇺 Credit decision engine builder Taktile raised a $20m Series A co-led by Index Ventures and Tiger Global.
🇪🇺 Proptech fintech InRento raised a €230k seed round
🇪🇺 Payment orchestrator Devengo raised a €1.2m seed round led by TheVentureCity.
🇪🇺Employee benefits management fintech Cobee raised a €40m Series B led by Octopus Ventures and Notion Capital and also included Speedinvest and Balderton Capital.
🇪🇺 French neobank Onlyone raised a €35m round from GEM Global Yield.
🇬🇧 Payments startup Atoa Payments raised a $2.2m pre-seed round led by Passion Capital, and Leo Capital with participation from angels.
🇬🇧 Atom Bank raised £30m in equity from BBVA, Toscafund and Infinity Investment Partners.
🇬🇧 Invoice financing lender Hydr raised £335k on crowdfunding platform Seedrs.
🌍 LGBTQ+ neobank Daylight raised a $15m Series A led by Anthemis.
🌍 SMB neobank Novo raised a $35m Series B+ from GGV Capital.
₿ Crypto hardware wallet NGRAVE raised  a Series A led by Binance Labs.
₿ NFT platform Tropee raised a €5m seed round from angels.
Challenger Banking 🚀
🇪🇺 German BNPL provider Billie has laid off 12 employees.
🇬🇧 Savings and investment all Plum was ranked the fastest growing fintech and 5th overall on Deloitte's Fast 50 list.
🇬🇧 Alternative investment app Ctrl Alt launched in the UK to provide digital shares in property and sustainability.
🇬🇧 Alternative credit investor Fasanara Capital received a $200m mandate from a Canadian pension fund to continue to provide funding for its lending operations.
🇬🇧 Neobroker Freetrade is in strategic talks about a new raise or potential sale.
🇬🇧 Revolut claims to be seeing a rise in older customers that are attracted to its savings rate. It claims customers over 45 are depositing 64% more than those younger.
🇬🇧 Expense management fintech Pleo has signed a strategic partnership with TravelPerk to enable a simplified travel expense experience for its users.
🌍 HR giant ADP has added Earned Wage Access to its platform through a partnership with DailyPay.
🌍 Revenue based financing marketplace Pipe has had its three founders announce a desire to hand over the reigns of the company to a more experienced CEO and executive team.  Rumours surfaced on Twitter of an impending blowup due to some dodgy dealings.
Digital Assets ₿
🇪🇺 Bitpanda has received a Bafin licence to operate in Germany, allowing N26 to start offering its Bitpanda powered crypto service.
🇪🇺 Two men in Estonia have been arrested in connection to a $575m crypto fraud.
🇬🇧 BoE deputy governor Jon Cunliffe has said the FTX collapse has highlighted the need for regulation of crypto.
🇬🇧 Starling Bank is to block all income and outgoing crypto transactions.
🌍 Digital asset bank Sygnum is giving customers the opportunity to own part of Andy Warhol's Four Marilyn's painting, which it has tokenised under the Swiss DLT framework.
🌍 Genesis Block is closing its OTC portal amidst the fallout from FTX.
🌍 Regulators in the Bahamas have ordered FTX to move assets from its crypto wallets to government-controlled wallets. The exchange's Japanese arm is set to allow customer withdrawals by year end.
🌍 Rumours are circulating about the bankruptcy of Genesis which sent BTC to a two-year low. It has engaged Moelis & Co to explore options. DCG has $575m of exposure to the lender.
🌍 Bank of America has called out the shortcomings of the rush to "proof of assets" due to their snapshot nature and lack of proof of liabilities.
🌍 Alameda Research, the now bankrupt sister company of crypto exchange FTX, has been confirmed as having a backdoor into the exchange which exempted it from the exchanges liquidation procedures.
🌍 Uniswap is collecting some on-chain user data in its privacy policy update so it can make "data-driven decisions".
🌍 The discount on Grayscale's GBTC has hit over 40% as concerns mount about its owner Digital Currency Group faces losses and is seeking to raise $1bn.
🌍 US Congress is set to ask the SEC Chair what his agency could have done to prevent FTX collapse.
🌍 Binance is targeting a $1bn recovery fund for the crypto industry.  Its US arm will also be making a bid for bankrupt lender Voyager.
Traditional Banking 🏦
🇪🇺 Italian bank Sella Group is trialling a biometric credit card developed with Idemia.
🇬🇧 Lloyds Bank is trialling personalised gambling spending limits for their debit cards.
🇬🇧 The Bank of London has recruited a new CTO from 10x Banking.
🇬🇧 NatWest is working with the Financial Services Skills Commission to develop a framework of how to tackle the shortage of IT talent in UK banks.
🇬🇧 Clearing bank ClearBank reached monthly profitability in October, driven by transaction volumes and interest income on the £3bn in deposit it holds. It is now looking to expand internationally.
🌍 RBC is the first Canadian bank to roll out Swift Go, an instant low-value cross border payment service from Swift.
🌍 JPMorgan has received a trademark for "JP Morgan Wallet" as it positions itself to offer crypto services.
Fintech Infrastructure 🚧
🇬🇧 API first bank Griffin has launched its BaaS sandbox out of beta.
🇬🇧 Truelayer secured trading platform Naga as a customer for its A2A payments service.
🇬🇧 Featurespace secured funding from the UK and US governments to develop AI systems to prevent financial crime for banks and PSPs.
🇬🇧 ThoughtMachine signed up payments provider Payset as a customer.
🇬🇧 JP Morgan has opted out of investing in open banking platform Yapily, in a blow to the company.
🌍 Bank software provider Finzly has added a treasury management solution to its platform.
🌍 Galileo is to power the "Remit Now, Pay later" card from Pomelo.
🌍 DBS completed an intraday repo transaction on JP Morgan's Onyx blockchain network using its JPM Coin to complete instant settlements and maturity in hours instead of days.
Payments 💰
🇬🇧 Payment orchestrator Br-dge has extended its partnership with payment giant Worldline to give the former's merchants access to solutions from Worldline's global acquiring platform.
🇬🇧 Paysafe has launched Paysafecard, a prepaid alternative payment option, on Microsoft and Xbox platforms.
🌍 Visa is using the World Cup to demonstrate its face payments, working with Qatar National Bank and POP ID, as well as instantly issued prepaid cards with the tournament mascot.  The payment giant also named a new CEO.
🌍 Incumbent payment processor FIS may cut thousands of workers in a $500m cost reduction program.
🌍 Afterpay has secured Expedia as a client to offer its BNPL product to travellers.
Regulatory Corner 🔎
🇬🇧 The FCA has issued a warning to neobrokers and stock trading apps about their gamification which can prompt consumers to take actions that may harm them.
🇬🇧 The FCA is calling for a reform of Credit Rating Agencies (CRA) to introduce more competition and easier switching
🇬🇧 An international fraud ring that resulted in losses for 200,000 victims in the UK has been shit down through collaboration between Scotland Yard's Cyber Crime Unit and international law enforcement.
🌍 The SEC has a revision of Reg D, which defines a "Accredited Investor", at the top of its priority list.
---
Longer reads 📜
---
Your feedback is a gift, please give below 🙏
See you next week!