Hello TWIF UK & Europe friends,
Please find another week of fintech news, financings and exits below.
---
Sponsored Content 
Our State of Financial Crime 2022 survey shows: Crypto has become mainstream. But what are the trends firms operating in the crypto space should be aware of for 2022? From DeFi to Central Bank Digital Currencies to ransomware and hiring, our report includes the essential information you need. Built on a survey of 800 compliance professionals globally, you can be sure you're at the cutting edge of the financial crime landscape.
Download now: https://complyadvantage.com/insights/the-state-of-financial-crime-2022/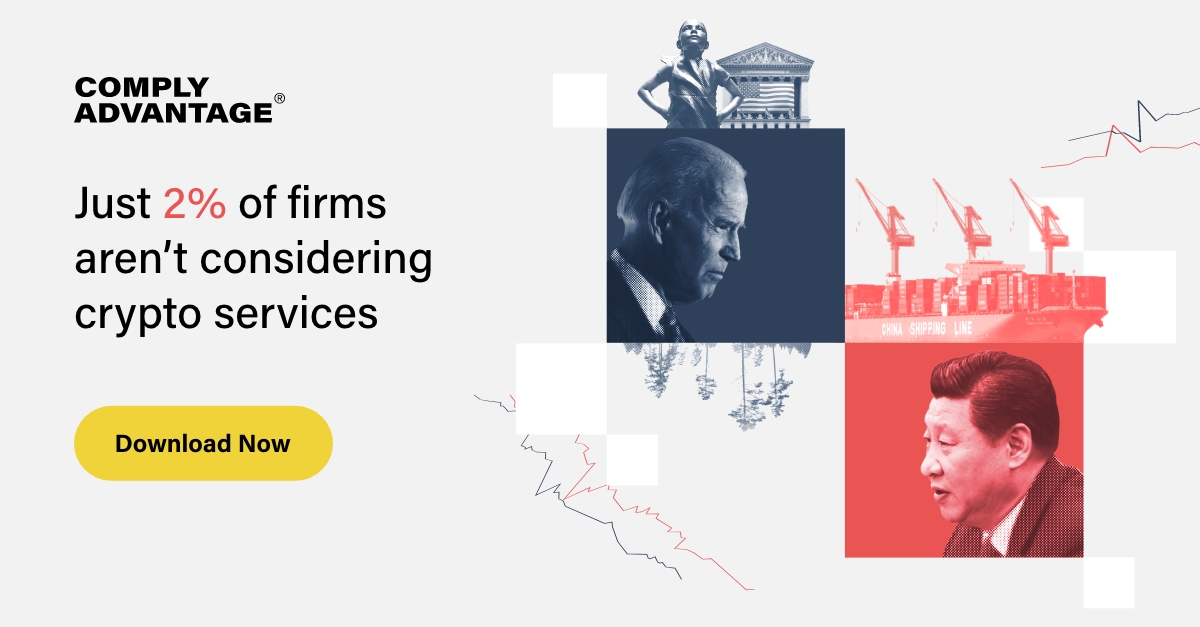 ---
Tweet of the week 🦉🏆
---
💼 Open Role Spotlight
Come find your place on the team at the most inspiring fintech startups! Browse open roles on This Week in Fintech's job board.
---
Funding 💸
There were 14 deals in the fintech space across the UK and Europe since the last post, with a total investment of $740m. Some highlights are below.
🇪🇺 Investment tracking fintech Finary has raised a €8m Series A from Speedinvest, Y Combinator and angels.
🇪🇺 BNPL fintech Scalapay raised a $497m Series B co-led by Tencent and Willoughby Capital.
🇪🇺 Embedded finance startup Hubuc raised a $10m seed co-led by Runa Capital and WndrCo.
🇬🇧 Investment platform PrimaryBid raised a $190m Series C led by SoftBank.
🇬🇧 Embedded banking platform Weavr raised a $40m Series A led by Tiger Global.
🇬🇧 Embedded finance and automation platform Monite raised a $5m round led by Point72 Ventures.
🌍 Lender SoFi is buying core banking platform Technisys for $1.1bn.
🌍 Indian neobank Niyo raised a $100m Series C led by Accel and Lightrock India.
Challenger Banking 🚀
🇬🇧 New Flux CEO Veronique Barbosa has criticised the lack of female leaders within the fintech industry.
🇬🇧 Moneybox is adding ETFs as investment options for its customers.
🇬🇧 Zopa is launching a hybrid savings account as it targets £2bn in deposits.
🇬🇧 Revolut is bringing fractional share trading of US stocks to its Australian users.
🇬🇧 LHV Bank has applied for a UK licence.
Digital Assets ₿
🇪🇺 N26 is partnering with exchange Bitpanda for the launch of its crypto project.  Bitpanda has also acquired custody provider Trustology.
🌍  The FBI is setting up a specific cryptocurrency unit.
🌍  A Canadian court has ruled that crypto platforms need to freeze assets related to the "freedom convoy" protest.
🌍 A small handful of OpenSea users reported that some of their NFTs had been stolen in a phishing attack to the tune of $1.8m.
🌍 Christine Moy, the head of JP Morgan's crypto and blockchain activities has left.
🌍 Crypto banking platform hi has partnered with Contis to issue a card that allows users to spend their crypto assets as well as use BNPL functionality.
🌍 The Luna Foundation Guard sold $1bn in LUNA to create a BTC reserve for UST.
Traditional Banking 🏦
🇪🇺 Credit Suisse have recruited experts to try and find the whistleblower who leaked account details of clients involved in torture, drugs, money laundering and corruption.
🇬🇧 Investment platform Hargreaves Lansdown announced it will cut its dividend until 2024 in favour of investing £175m into its digital strategy to redefine wealth management.
🇬🇧 TSB has integrated with Onfido to reduce its onboarding time to 10 minutes.
🇬🇧 Lloyds is to spend £1bn over three years on a digital strategy designed to move 20% of apps to the cloud by 2024 and increase digitally active customers by 10% to 24m+.
🇬🇧 The CMA has given the banks under its purview a deadline of July to implement variable recurring payments.
🌍 US Bank has selected Microsoft Azure as the cloud provider for its applications.
Payments 💰
🇪🇺 Nexi is set to sell its merchant payments business to BPER.
🇬🇧 Klarna is launching a rewards program in the UK, giving shoppers points each time they make repayments which can be redeemed at merchants.
🇬🇧 International transfer companies Wise and Europe based Paysera are restricting exchanges to Russia.
🇬🇧 Efforts are underway by the UK to exclude Russia from the Swift payments system.
🌍 Delta Airlines has launched a BNPL option with American Express.
Regulatory Corner 🔎
🇬🇧 The FCA has authorised Viola Money, a neobank, whilst its owner was under investigation for money laundering.
---
Sponsored Content 
Join TrueLayer, Bloom Money, and guests to celebrate women in fintech this International Women's Day. The theme is past, present, future.
We'll kick off with a panel discussion where you'll hear from incredible leaders across the fintech industry, followed by food, drinks and networking. Women and allies, come through!

---
Longer reads 📜
---
Your feedback is a gift, please give below 🙏
See you next week!