Hello TWIF UK & Europe friends,
Exciting times as fintech is going mainstream with a Netflix show about the Wirecard scandal.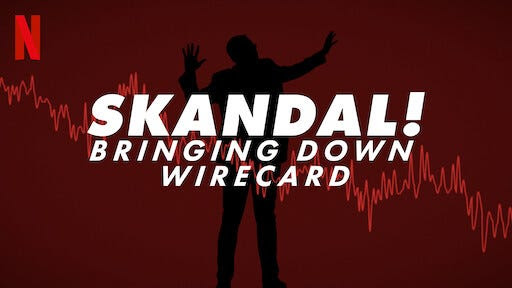 Please find another week of fintech news, financings and exits below.
---
This Week in Fintech is a reader-supported publication.
To receive new posts and support us, consider becoming a free or paid subscriber.
Please also share with your friends and colleagues.
---
Sponsored Content 
Want to be a This Week in Fintech - UK & Europe sponsor? Reach out to me at michael@thisweekinfintech.com, find me on Twitter and see our sponsorship information here.
---
Tweet of the week 🦉🏆
---
Funding 💸
Highlights below of deals since the last post in the fintech space across the UK & Europe.
🇪🇺 Equity management platform Ledgy raised a $22m Series B round led by NEA and included Sequoia and others.
🇪🇺 Turkish neobank Turan raised TRY 45m.
🇪🇺 Business payments fintech Julaya raised a $5m seed round led by Speedinvest.
🇪🇺Neobank Lunar raised €28.5m from investors.
🇪🇺Embedded insurance provider hakuna raised a €4m seed round from Earlybird Ventures and others.
🇬🇧 Monese has secured $35m of investment from HSBC to support the formers moved into BaaS.
🇬🇧 Impact Investing platform Vested raised a €25k pre-seed round from Impact Shakers.
🇬🇧 Lender Porthos & Co raised a £104k seed round from Techstars.
🇬🇧 B2B payments provider Sequence raised a €19m seed round led by a16z, Passion Capital, Salesforce Ventures, Fin Venture Capital and others.
🇬🇧 Digital mortgage platform Habito raised £5m from SBI Investment, Augmentum and Voluton Ventures.
🇬🇧 Collaborative tax platform LocTax raised a $12m Series A from Index Ventures, Seedcamp and others.
🌍 Fraud and compliance platform Sardine raised a $51.5m Series B led by a16z.
🌍 Cross-border money transfer platform for freelancers Higlobe raised a $14m from investors including Battery Ventures, Raptor Ventures, Digital Currency Group and more.
🌍 Capital markets risk provider AccessFintech raised a $60m Series C led by WestCap and included big banks BNY Mellon and BofA.
₿ FTX is seeking to raise $1bn from investors at a $32bn valuation.
Challenger Banking 🚀
🇬🇧 Revolut has suffered a data breach, with 50,000 customer worldwide impacted. It also launched its BNPL product in Ireland and Revolut Pro, a set of business management tools for freelancers and self-employed.
🇬🇧 Starling Bank investor Jupiter Fund Management is to sell its 7% stake at a significant discount to its recent £2.5bn valuation.
🌍 Shares in Robinhood jumped 9% on news the SEC has scrapped plans to restrict PFOF.
Digital Assets ₿
🇪🇺 Norway is to use the Ethereum as the technology for its CBDC sandbox.
🇪🇺 The ECB is to partner with Amazon, CaixaBank and others to develop a digital euro prototype.
🇬🇧 The FCA has told consumers that FTX is operating in the country without proper authorisation.
🌍 The White House has put together a framework for the "reasonable development" of digital assets with a focus on tackling fraud.
🌍 OFAC has issued new guidelines clarifying rules around usage of Tornado Cash that make not all transactions to be illegal.
🌍 Coinbase and Lido Protocol have been responsible for 40% of the Ethereum networks new blocks in the post-merge proof of stake blockchain, raising concerns over centralisation. SEC Chair Gensler has hinted ether may now be a security.
🌍 The SEC and Ripple have called for an immediate decision on whether sales of XRP violated securities law.
🌍 Crypto market maker Wintermute has been hacked and suffered losses of $160m.
🌍 The Hong Kong Monetary Authority has committed to rolling out a retail CBDC.
🌍 Latest draft legislation on a proposed bill to regulate crypto would ban algorithmic stablecoins like TerraUSD for two years while a study is undertaken.
🌍 Kraken CEO Jesse Powell is stepping down and will be replaced by current COO, David Ripley.
🌍 Digital asset intelligence company Inca Digital has secured a government contract from DARPA.
Traditional Banking 🏦
🇪🇺 Goldman Sachs is opening its Transaction Banking platform to its corporate customers in Europe.
🇪🇺 German credit specialist SWK Bank is partnering with Mambu to create a a BaaS offering to rival Solarisbank, as the incumbent BaaS provider switches strategies to card instead of account.
🇪🇺 Deutsche Bank is using AI to fraud risk score individual transactions for merchants.
🇬🇧 Citi is closing its UK retail operations and will focus on wealth management.
🇬🇧 Barclays Rise program will shift focus to supporting fintech talent that have recently been laid off.
🇬🇧 Insurer Aviva has invested $10m into Anthemis Female Innovators Lab fund, a VC fund to back female fintech founders.
🌍 American Express is hiring 1,500 tech workers by the end of 2022.
Fintech Infrastructure 🚧
🇪🇺 Open banking platform Nordigen has partnered with NeteraPay, a Czech fintech, to improve their KYC processes.
🇪🇺 Solaris has secured the ADAC credit card portfolio of 1.3m cards for the automobile club.
🇪🇺 Finastra and Visa are working on a BaaS collaboration to expand push payment product Visa Direct for faster cross border payouts.
🇬🇧 Open banking platform TrueLayer announced its cutting 10% of staff
🇬🇧 Fintech infrastructure providers Plaid, Truelayer and Yapily have launched a non-profit trade associated called Open Finance Association pushing for open finance in the UK and Europe.
🌍 Open banking platform MX has rolled out product updates including broadening connectivity, adding a budgeting tool and a new SDK to allow developers to build a mobile banking app on top of its API platform.
Payments 💰
🇪🇺 The European Commission has stopped a merger between Finland mobile payments app Pivo and MobilePay and Vipps to create one of the largest payments app in the Nordics due to competition concerns.
🇪🇺 Adyen is to launch Cash App Pay as a payment method to their US customers, the first time Square's payment method has been available outside of the Square ecosystem.
🇪🇺 Munich payments company Dock Financial has acquired a 10% stake in SME financing platform Compeon through a secondary sale.
🇬🇧 PPRO has integrated BNPL provider Zip into its platform to grown their presence in the Australian e-commerce sector.
🇬🇧 Checkout.com has launched "Integrated Platforms" a solution for marketplaces to build custom payment flows through APIs.
🌍 Travel industry software platform Amadeus has partnered with BNPL provider Uplift to offer travellers new ways to pay.
🌍 Zelle was a target for lawmakers for its fraud and scam issues.
---
Longer reads 📜
---
Your feedback is a gift, please give below 🙏
See you next week!