Hello TWIF UK & Europe friends,
Tickets are all sold out for the London Fintech Happy Hour this week but join the waitlist if you couldn't get a ticket as there might be some last minute movement.  If you got a ticket and can't make it, please cancel it so others can come.
Who is going to be at Money 2020 Europe in June? Hit me up if you are going!
Please find another week of fintech news, financings and exits below. If you are reading this but haven't already subscribed, you can click below 🙏
Don't forget to also share with colleagues and friends!
---
Sponsored Content 
2022 is set to be a pivotal year in the adoption and regulation of cryptocurrencies. So as regulators, policymakers and the media pay more attention to the financial crime risks associated with crypto, what can compliance teams do to ensure their AML programs are best-in-class? Our new guide addresses this question. Download your free copy today.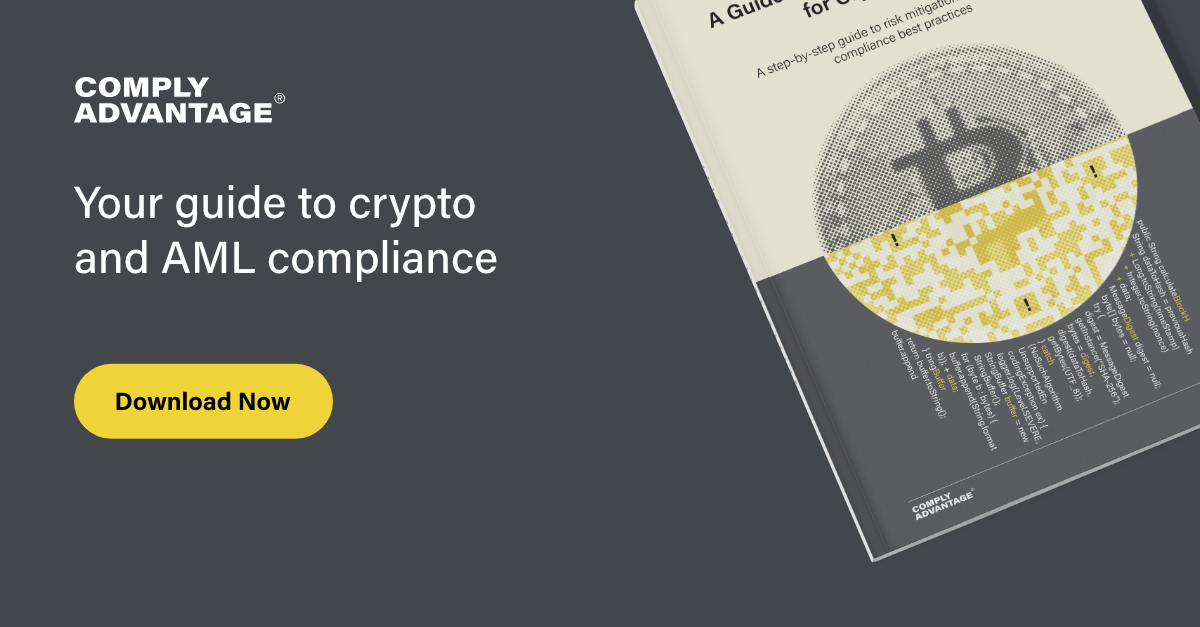 ---
Tweet of the week 🦉🏆
---
Funding 💸
Highlights below of deals since the last post in the fintech space across the UK & Europe.
🇪🇺 Bitcoin investment app Relai raised €2m in Crowdcube's first bitcoin-centric funding round.
🇪🇺 Upfin has raised a €30m fund to invest in fintechs in the Nordics.
🇪🇺 Klarna is rumoured to be raising money at a $30bn valuation, a third below its $46bn valuation less than a year ago, just as it announces it reached 150m users and 400,000 merchants.
🇪🇺 B2B BNPL Treyd raised a $10.5m Series A from DHS Venture Partners , Zenith Venture Capital and more.
🇪🇺 Financial audit platform Circit raised a €6.5m Series A from Middlegame Ventures and Aquiline Technology Growth.
🇬🇧 SME bank Recognise Bank raised £8.7m in capital from City of London Group.
🇬🇧 Payments platform Modulr raised £83m in a Series C led by General Atlantic.
🇬🇧 Core banking provider Thought Machine raised a $160m round led by Temasek, doubling its valuation to $2.7bn.
🇬🇧 B2B BNPL provider Tranch raised a $3m pre-seed round from Y Combinator, Global Founders Capital and Flash Ventures.
🇬🇧 Institutional crypto trading platform Elwood Technologies raised a $70m round, at a rumoured $500m valuation, led by Dawn Capital and included Galaxy Digital, Digital Currency Group, CommerzVentures. Blockfi and Barclays.
🌍 Crypto exchange KuCoin raised a $150m pre-Series B led by Jump Crypto.
🌍 Digital asset risk firm Solidus Labs raised a $45m Series B led by Liberty City Ventures.
🌍 Credit building startup Altro raised $18m from Citi Ventures and Jay-Z.
🌍 Blockchain Flow raised $725m to fuel its growth.
🌍 Former Paypal executives have launched Infinity Ventures, a £158m early stage fintech fund.
🌍 BaaS platform Unit raised $100m in a Series C from Insight Partners and included existing investors Accel, Better Tomorrow Ventures and Flourish Ventures.
Challenger Banking 🚀
🇬🇧 SME bank Tide is partnering with Sage to bring its accounting services to its members embedded within users' accounts.
🇬🇧 Business bank, Bank North, is gearing up for launch after getting its licence and appointing new directors.
🇬🇧 Revolut has reported a 215% increase in users over 55 years old.
🇬🇧 Digital debt collection agency InDebted has expanded to the UK after receiving its FCA authorisation and beta testing.
🇬🇧 Fractional shares in a Ferrari Testarossa sold out in 24hrs on through an MVP between Chip and TheCarCrowd as the savings and investment app gears up for the launch of it's Alternative Asset platform.
🇬🇧 Digital lender MarketFinance is expanding its support for small businesses in the UK with a new £100m debt facility from Deutsche Bank.
🇬🇧 Revolut is to launch a token, dubbed "Revcoin", which will function like airlines air miles programs and reward loyal users.
🌍 US fintech Current has launched a platform API and is partnering with Plaid as its launch partner to enable other fintechs to embed financial services.
Digital Assets ₿
🇬🇧 Crypto exchange Bitpanda now offers more than 2,000 stocks and ETFs on its Stocks platform.
🌍  The Luna Foundation Guard announced its 80,000 BTC reserves have nearly been wiped out, with only ~300 remaining which it will use to compensate small UST holders.
🌍  Crypto exchange FTX is launching stock trading for some US consumers.
Traditional Banking 🏦
🇬🇧 Four banks under the ownership of NatWest have been fined nearly £2m for overcharging interchange on credit cards.
🇬🇧 Lloyds Bank is cutting another 28 branches, in addition to the 60 it announced two months ago.
Fintech Infrastructure 🚧
🇬🇧 Challenger credit provider The Credit Thing has made the first VRP transaction using Truelayer's VRP API.
🌍 Plaid officially announced its expanded business areas at its "Plaid Forum" event which include identity, income verification, fraud prevention and account funding and disbursements, all centred around the onboarding experience.
🌍 Stripe unveiled Data Pipeline, an infrastructure product that will let users link their Stripe transactions with data stored in Amazon Redshift or Snowflake's Data Cloud, to automate downstream reporting of payments data.
Payments 💰
🇪🇺 MultiPay and Mastercard are bringing BNPL to Ireland's physical retail stores.
🇬🇧 GoCardless has secured its first VRP customer, Nude, a savings app for first time home buyers.
🇬🇧 Zilch is soon to open its doors to 150,000 pre-registered US customers and targets 125 million new customers.
🌍 Mastercard has set out a framework for the use of biometrics in payments with the first pilot being launched in Brazil.
🌍 Apple's Tap to Pay has been spotted out in the wild, where else but the Apple Park Visitor Center in Cupertino.
🌍 WhatsApp is enabling P2P payments in India and Brazil.
🌍 Square is rolling out Afterpay integrations to its in-person sells in the US and Australia, allowing consumers to tay with a virtual Afterpay card. Square parent Block had its first investor day where head Jack Dorsey outlined his logic of the conglomerate.
🌍 Visa is looking to eliminate pending charges from card statements using AI.
Regulatory Corner 🔎
🇪🇺 The Swedish banking regulator is appointing external auditors to investigate an IT disturbance that saw Swedbank customers seeing incorrect balances.
🇪🇺 The European Commission is seeking feedback on PSD2 to ensure it is fit for purpose.
🇬🇧 The FCA has been given new powers to ensure access to cash is available from the UK's largest banks and building societies.
---
Longer reads 📜
---
Your feedback is a gift, please give below 🙏
See you next week!