UK & Europe
TWIF UK & Europe (21/11) - A bankruptcy worse than Enron is an achievement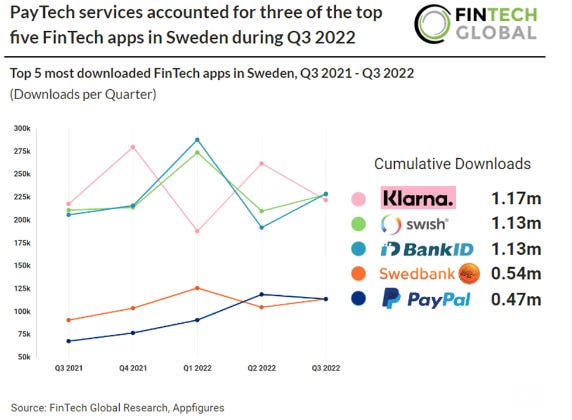 Hello TWIF UK & Europe friends,
"Never in my career have I seen such a complete failure of corporate controls and such a complete absence of trustworthy financial information as occurred here," said John Ray, the new FTX CEO leading the restructuring who previously oversaw the liquidation of Enron.
Check out more insights from FTX Chapter 11 filling below
Paytech is top of mind in Sweden according to data from Fintech Global.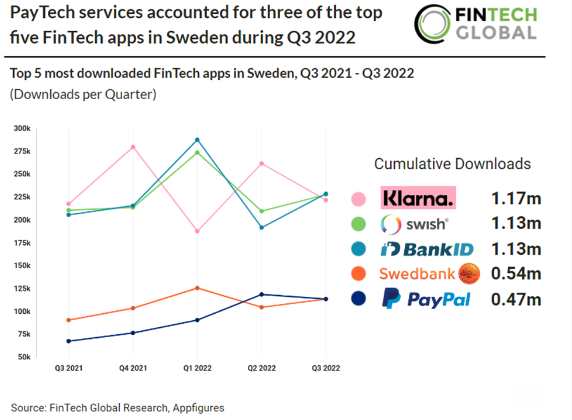 Please find another week of fintech news, financings and exits below.
---
This Week in Fintech is a reader-supported publication.
To receive new posts and support us, consider becoming a free or paid subscriber.
Please also share with your friends and colleagues.
---

If you're an early-stage startup founder raising equity or debt, we may be able to help - come check out our fund, The Fintech Fund or get in touch.
Are you a fintech angel investor? Come join our syndicate.
---
Sponsored Content 
Want to be a This Week in Fintech - UK & Europe sponsor? Reach out to me at michael@thisweekinfintech.com and see our sponsorship information here.
---
🗞️ News to share?
Have any UK/European fintech news/tips? Hit me up michael@thisweekinfintech.com
---
Tweet of the week 🦉🏆
---
Funding 💸
Highlights below of deals since the last post in the fintech space across the UK & Europe.
🇪🇺 Neobank Tomorrow raised €2m on day 1 of its crowdfunding campaign with the total coming in at €3.5m
🇪🇺 Lending platform Mifundo raised a €1.2m pre-seed round.
🇪🇺 Protech fintech Virgil raised €15m to finance property purchases for young professionals in Europe.
🇪🇺 Cyber risk startup Eye raised a €17m round from Bessemer Venture Partners.
🇪🇺 Account automation provider Digitoo raised a €1.1m seed round.
🇬🇧 Digital payments platform WeGift raised a £26m Series B led by Element Ventures and included Clocktower and Volution Capital.
🇬🇧 A2A payment provider Banked raised a $15m Series A+ round led by Insight Partners.
🇬🇧 Insurtech underwriting provider Send raised a £9m Series A led by Breega.
🇬🇧 A2A payment provider Boodil raised a £525,000 pre-seed round from angels.
🇬🇧 Insurance API provider Habit raised a €5.2m round from SixThirty Ventures, BiG Start Ventures and others.
🌍 Middle-eastern neobroker Baraka raised a $20m Series A.
Challenger Banking 🚀
🇪🇺 eToro has lost its head of Germany, who left the trading company recently.
🇪🇺 Swedish neobank Juni is laying off a third of its 217 staff.
🇬🇧 Little Birdie, a subscription and recurring payments management  tool has launched, having raised £500,000 to date.
🇬🇧 58% of 14 - 18 year olds are following TikTok influencers that talk about budgeting, money and personal finance.  40% of these say they get better advice than traditional media.
🇬🇧 Revolut has reached 25 million retail users, four months after it crossed the 20 million mark. Revolut's customers make 330 million transactions each month.
🌍 Varo is offering the Zelle P2P service through its mobile app, the first neobank to do so.
Digital Assets ₿
🇪🇺 FTX Europe has had its licence suspended by the Cyprus Securities and Exchange Commission.
🇪🇺 Bitpanda has called in KPMG for a special audit of its assets in the rush for CEX's to provide proof of reserves.
🇬🇧 Coinbase is using TrueLayers PIS product to add instant deposits for UK customers.
🌍 BlockFi suspended withdrawals in the wake of the FTX collapse.
🌍 Crypto.com suffered withdrawals after admitting it transferred $400m by mistake to the wrong account.  It did successfully retrieve funds eventually.
🌍 FTX recovery rates might be as high as 40%-50% based on their balance sheet, shared by the FT. It may have over one million creditors according to a court filing. The new CEO has slammed the exchanges "corporate controls". The FTX attacker is the 35th largest owner of ETH
🌍 Citi, Mastercard, Wells Fargo and the NY Fed are involved in a project to explore a proof of concept for a regulated digital asset settlement platform.
🌍 Genesis has suspended withdrawals from its lending arm due to the FTX collapse. It's parent, Digital Currency Group, provided a $140m equity injection.
🌍 Binance.US is making a bid for Voyager Digital given its previous buyer, FTX, is also bankrupt.
🌍 Circle is adding Apple Pay support for merchants that accept USDC, making it easier for businesses to accept crypto but not exclude customers who want to use traditional methods.
Traditional Banking 🏦
🇪🇺 CaixaBank has reported a third of its digital customers as using its AI bot to answer questions.
🇪🇺 Italian bank Intesa Sanpaolo is selling its stake in payments firm Nexi.
🇬🇧 Barclays is giving its mortgage customers up to £2,000 for energy efficient home improvements.
🇬🇧 NatWest has released a carbon planner for UK businesses
🌍 RBC is utilising Visa's BNPL technology for its credit cardholders.
🌍 American Express is launching an accelerator in partnership with TikTok.
Fintech Infrastructure 🚧
🇪🇺 A report by Open Banking Expert Group has highlighted the opportunity for banks to monetise their open banking APIs through "Premium APIs" and sharing data internally.
🇪🇺 Klarna is providing a free open banking sandbox through its Kosma unit, for startups to build PoC's with its open banking tech.
🌍 New Zealand is starting its open banking journey with the government instructing banks to share data with competitors.
🌍 The Fed has shared pricing for FedNow, with discounts for customers in 2023. These include waiving the $25 monthly service fee and discounting the $0.045 customer credit transfer fee on the first 2,500 customer credit transfers per month Other FedNow Service fees for 2023 include a $1.00 liquidity management transfer fee, $0.01 request for payment fee and $0.045 return customer credit transfer fee.
🌍 The US Treasury has called for more regulation of fintech-bank partnerships to protect consumers and prevent abuses.
🌍 Plaid announced the rollout of it's ML risk engine, Signal, which helps customers accelerate ACH transactions based on 1,000 unique risk factors.
🌍 BaaS provider Unit has launched charge cards and credit accounts.
Payments 💰
🇪🇺 Adyen has been selected by Instacart as one of its PSPs, including the formers PIN-free debit payments.
🇪🇺 Klarna has launched a price comparison tool in its shopping app.
🇪🇺 SumUp has launched SumUp Lite, a new POS option for SMBs.
🇬🇧 Checkout.com has integrated BNPL provider Splitit into its stack to offer its merchants and marketplaces. The PSP also has been selected by Sainsbury's to modernise its payment infrastructure.
🇬🇧 Dapio, a fintech turning Android phones into card readers has launched in the UK.
🇬🇧 Tink hired a former payments head from JP Morgan to lead its VRP unit in the UK.
🌍 Square is partnering with American Express to launch a credit card for square sellers to support the running of their business.  The card will be run over the Amex network, processed by i2C and issued by Celtic Bank.
🌍 Shift4 has launched a new online payments platform for eCommerce.
🌍 YouTube is to lean into social commerce next year and is testing an affiliate marketing scheme.
🌍 Google Wallet has expanded to 12 new countries which are Armenia, Cyprus, Georgia, Kyrgyzstan, Liechtenstein, Luxembourg, Malaysia, Malta, Mexico, Slovenia, Thailand and Vietnam.
🌍 Starbucks claimed $181m in revenue from unspent gift card and loyalty accounts.
🌍 Shopify is working with supply chain e-commerce firm Balance to support checkout and financing options for sellers.
Regulatory Corner 🔎
🇪🇺 Regtech b.fine has been acquired by regulatory reporting firm Regnology.
---
Longer reads 📜
---
Your feedback is a gift, please give below 🙏
See you next week!