Hello TWIF UK & Europe friends,
Just to let you know there will be no TWIF UK & Europe for the next two weeks ( 25th July and 1st August) but we will return to normal service on 7th August. Hope you all manage to stay cool in the meantime.
Please find another week of fintech news, financings and exits below. If you are reading this but haven't already subscribed, you can click below 🙏
Don't forget to also share with colleagues and friends!
---
Sponsored Content 
Want to be a This Week in Fintech - UK & Europe sponsor? Reach out to me at michael@thisweekinfintech.com, find me on Twitter and see our sponsorship information here.
---
Tweet of the week 🦉🏆
---
Funding 💸
Highlights below of deals since the last post in the fintech space across the UK & Europe.
🇪🇺Klarna's rumoured funding round was confirmed, an $800m round at a $6.7bn valuation.
🇪🇺Digital wealth manager RIDE Capital raised a €3m seed round from angel  including Lea-Sophie Cramer, Verena Pausder and footballer Mario Gotze.
🇪🇺 Migrant employee payment fintech Kadmos raised a €29m Series A from Atlantic Labs, Blossom Capital and Addition VC.
🇪🇺 Digital mortgage software provider Oper raised a €11m Series A led by Bessemer Venture Partners and ABN Amro.
🇪🇺 Business spend management provider Fuell raised a €1.5m Series A led by YC and Fin Capital.
🇪🇺 Alternative asset marketplace Stableton raised CHF 15m from TX Ventures.
🇪🇺 Crypto lending DAO Morpho raised a $18m round co-led by a16z and Variant.
🇪🇺 Swedish investor information app Quartr extended its seed round by $2.6m.
🇪🇺Climate investing fintech Carbon Equity raised a €1.8m Seed round from 4Impact, Wi Venture and AENU.
🇪🇺B2B payments provider Hero raised a $12.4m Series A from Rapyd Ventures, Embedded.Capital and angels.
🇪🇺 Digital insurance provider Calingo raised a CHF 1.5m seed round from Swiss Founders Fund, Swiss ICT Investors Club and others.
🇬🇧Neobroker Lightyear raised a $25m Series A led by Lightspeed with Virgin Group also joining.
🇬🇧 Revenue based lender Capchase has secured a $400m debt round from i80 Group.
🇬🇧Workplace pension provider Smart raised £40m from CIBC.
🇬🇧 Cross border payments fintech Zazuu raised a $2m seed round led by Launch Africa and Founders Factory Africa.
🇬🇧 Layer 1 sustainable blockchain 5ire raised a $100m Series A from SRAM & MRAM Group.
🇬🇧 Pension finding fintech Penny raised a £4m seed round led by Gradient Ventures.
🌍 PE firm Motive Partners raised $2.45bn for a new fintech fund.
🌍 Digital asset management fintech Gnosis Safe raised $100m from Coinbase Ventures, Tiger Global, Lightspeed, DCG and others, and rebranded to Safe.
🌍 Fintech darling Stripe has lowered its internal valuation by 28%to $74bn according to WSJ.
Challenger Banking 🚀
🇪🇺 Neobank Nuri was reportedly looking for investors right at the same time it was caught up in the Celsius meltdown with its customers funds at the crypto lender being frozen.
🇪🇺 Neobroker BUX has split its app and rebranded one to Stryk to focus on short-term trading and sticking with BUX Zero for more longer term investors.
🇪🇺 SME neobank Penta is being taken over by french rival Qonto.
🇬🇧 Kid focused financial app GoHenry has acquired Pixpay to expand into Europe.
🇬🇧 Revolut has lost its head of global affairs and only female executive Deirdre Halligan, amid its rumoured tussle with the FCA. The neobank also announced it hit 20m retail customers across the globe.
🇬🇧 Activist investing fintech Tulipshare has surpassed 15,000 users in Q2, up 133% from Q1.
🇬🇧 Challenger credit card Tymit has become a customer of Truelayer for its repayments and topups.
🇬🇧 Monzo narrowed losses from £131m to £119m and reported revenue increase 92% to £154m due to increased card spend as well as a surge in premium Monzo Plus accounts to 430,000.
Digital Assets ₿
🇪🇺 Banking Circle has added the stablecoin USDC to its payment rails as it moves into the crypto space.
🇪🇺 The French central bank, Banque de France, is accelerating its wholesale CBDC program.
🇪🇺 Societe Generale has proposed to deposit OHF tokens as collateral to borrow $30m in DAI from Maker DAO.
🇬🇧 Revolut is launching "learn and earn" crypto courses with customers earning DOT tokens from the Polkadot network.
🌍  Celsius reportedly lost $350m of customers funds with a high-risk leveraged crypto trading strategy according to Arkham Intelligence. A former partner claims Celsius was a ponzi scheme and the crypto lender has now filed for Chapter 11 bankruptcy with its largest creditor a fund tied to SBF, and a lawsuit has begun.
🌍 Justin Sun, the founder of Tron blockchain, is ready to spend $5bn to help struggling crypto firms.
🌍 BNPL is coming to the NFT space thanks to DeFi lender Teller.
🌍 BlockFi is not accepting GBTC as collateral given its recent NAV drop.
🌍 The 3AC saga continues as its founders accuse liquidators of ignoring their attempts to help.  They also defaulted on a $270m loan to Blockchain.com
Traditional Banking 🏦
🇪🇺Santander is holding an awards ceremony in the metaverse to announce the winners of its global blockchain challenge.
🇪🇺 ING is trialling ultra-wideband technology that will let payments be made by pointing a handset at another.
🇪🇺 Deutsche Bank is developing a white label BNPL solution for merchants alongside fintech Credi2.
🇬🇧 NatWest Markets is transitioning to Google Cloud and wants to build out AI and ML capabilities.
🇬🇧 Barclays is closing 15 additional branches by the end of the year.
🌍 Goldman Sachs is opening a new innovation office and hired Google exec Jared Cohen to co-lead it.
Fintech Infrastructure 🚧
🇪🇺 IBAN name check provider SurePay is working with Consortium of Italian Banks to allow the, to verify European account holders.
🇪🇺 Tink has rolled out settlement accounts to enable merchants to complete the full-stack payments service.
🇬🇧Yapily secured expense management company Soldo as a customer, providing their A2A to allow Soldo customers to top up their accounts instantly.
🇬🇧 European Card-as-a-service platform Enfuce is launching in the UK.
🇬🇧Payments infrastructure ClearBank has secured neobank Kroo as a customer for its payment technology.
🌍 Plaid has added accounts from crypto exchanges Binance, Kraken and Gemini to its platform that can show balances, transactions and types of assets held.
Payments 💰
🇪🇺 Payments company Qori launched to allow merchants to accept A2A and crypto payments using QR codes.
🇪🇺 Business platform Pelvo is to integrate with Yapily and Klarna Kosma into its all in one business platform.
🇪🇺Adyen has launched Apple Tap to Pay for high street stores.
🇪🇺The EPI initiative has been given until October to show some progress by German's savings banks.
🇬🇧 Sibstar, a Mastercard debit card and app for people living with dementia has launched.
🇬🇧 WorldRemit parent company Zepz has delayed its IPO due to accounting issues and churn in its executive team.
🇬🇧 UK MPs are asking Visa and Mastercard to justify their increased fees from October 2021.
🌍 Australian BNPL provider Zip has abandoned its $500m merger with US firm Sezzle. Zip is also looking to pull out of the UK.
Regulatory Corner 🔎
🇬🇧 The FCA has appointed six new directors as it looks to execute on its ambitious new strategy of preventing serious harm, setting higher standards and promoting competition.
---
Sponsored Content 
We're the tooling for today's trading communities. Rules Engine lets you find undervalued stocks and get notified when the time is right to buy. Easily create, back test and execute strategies in spoken English for stocks and crypto.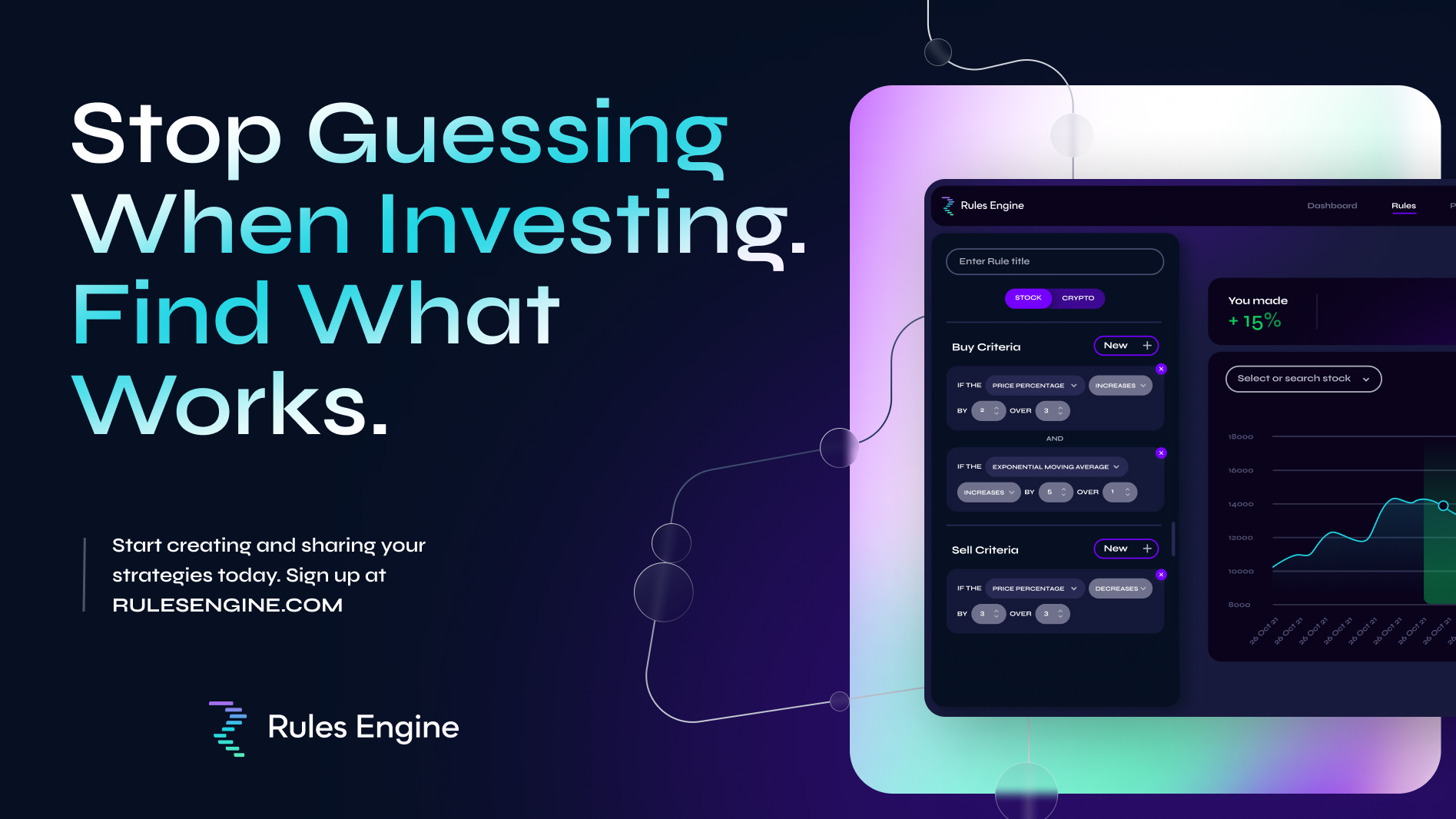 ---
Longer reads 📜
---
Your feedback is a gift, please give below 🙏
See you next week!