Hello TWIF UK & Europe friends,
Don't forget to grab your tickets to the next London Fintech Happy Hour hosted by This Week in Fintech and sponsored by ComplyAdvantage and Clocktower Technology Ventures.
It has been a wild week in the financial and crypto markets. So much has happened with a focus in the crypto space where Tether (USDT) de-pegged temporarily, TerraUSD (UST) de-pegged and remains so and is at $0.17 at time of writing and popular token LUNA lost over 99% of its value.
There are many tweet threads explaining what has happened but they are not always easy to understand. This one from Bankless is one of the best I have seen.
Don't forget to also share with colleagues and friends!
---
Sponsored Content 
From the conflict in Ukraine to the fall of Afghanistan, economic and financial sanctions have never played a greater role in Western statecraft. This report is an essential read for anyone working in anti-money laundering compliance, exploring what EU, UK and other European sanctions programs mean for businesses, and how to ensure compliance.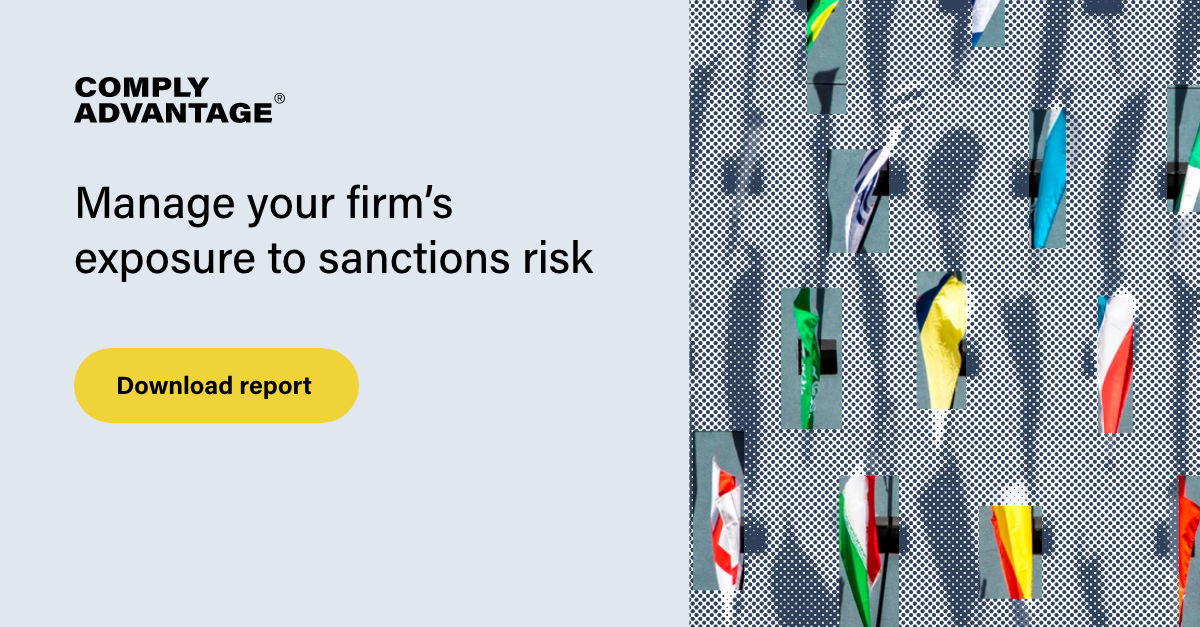 ---
Tweet of the week 🦉🏆
---
Funding 💸
Highlights below of deals since the last post in the fintech space across the UK & Europe.
🇪🇺 BNPL provider IN3 raised a €40.5m Series B from Finch Capital, FOMC and Waterfall Asset Management.
🇪🇺 Web3 development company Moralis raised a $40m Series A from EQT Ventures, Coinbase Ventures, Fabric Ventures and Dispersion Capital.
🇪🇺 NFT infrastructure platform Arianee raised a $21m Series A from Tiger Global, Bpifrance, Commerce Ventures and others.
🇪🇺 Financial crime platform Elucidate raised $8m from Frontline Ventures, SixThirty Ventures and others.
🇬🇧 Payments provider Paddle raised a $200m in debt and equity in a Series D at a $1.4bn valuation, led by KKR.
🇬🇧 Investor insights fintech Tumelo raised a $19m Series A led by Treasury and included L&G and FISV.
🇬🇧 Fasanara Capital is seeking $350m to invest in fintech and crypto.
🇬🇧 Crypto bank platform BVNK raised a $40m Series A led by Tiger Global.
🇬🇧 Open banking payments platform Token raised a $40m Series C co-led by Cota Capital and TempoCapital.
🌍 Fintech as a stack solution Meld came out of stealth and announced its $8m seed round led by Coatue.
🌍 Embedded payments fintech Infinicept raised $23m in a growth round led by SVB Financial and Piper Sandler.
🌍 Chainalysis raised a $170m Series F led by GIC, at a $8.6bn valuation, double its valuation from its last round in June 2021.
🌍 Bitcoin and Lightening focused payments fintech Lightspark, founded by David Marcus came out of stealth with backing from a16z, Paradigm, Coatue and Matrix.
🌍 Metaverse search engine Lighthouse raised $7m from Accel, White Star and others.
Challenger Banking 🚀
🇬🇧 Monzo ended Starling Bank's run of four years as the top Best British Bank and it also took Best Business Banking Provider and Best Banking App.
🇬🇧 Cash deposit fintech Flagstone added two new directors to its board, Leda Glyptis and Meri Williams, as it beefs up its executives in the lead up to its Series B.
🇬🇧 Tide and Coconut have partnered to allow Tide business account holders to connect their accounts to Coconut via open banking.
🇬🇧 Starling Bank has doubled the size of its Cardiff office.
🇬🇧 Chase is allowing customers to earn up to £400 for referring friends as it accelerates its customer acquisition strategy for its new UK bank.
🌍 Shares in Robinhood jumped 20% on news that FTX CEO Sam Bankman-Fried acquired a 7.6% stake in the company.
Digital Assets ₿
🌍  The Terra ecosystem completely fell apart this week with the LUNA token losing nearly all its value and UST de-pegging as well. Rumours swelled that Blackrock and Citadel were responsible, but both have denied the accusations.  Terra founder Do Kwon proposes a rescue plan and questions what remains of the Luna Foundation Guard's funds. h/t to JonWu above.
🌍 Binance briefly froze LUNA and UST trading due to congestion on the system and has since delisted all Terra deposits and withdrawals.  Coinbase also suspended UST and WLUNA trading.
🌍  Instagram is starting to test displaying NFTs this week.
🌍 Solana Pay took over Atlas Cafe in San Francisco to showcase its demo.
🌍 Visa's head of crypto Terry Angelos left to join DriveWealth as its CEO.
🌍 Coinbase shares have dropped over 60% in the past month in tandem with the broader crypto markets but on its earnings call, in which it announced revenue -35% yoy, is said it was not making cuts and is focusing on the long term
🌍 Sweatcoin announced it has 80 million users.
🌍 Compound Treasury has received a B- credit rating from S&P Global Ratings, making it the first DeFi offering to receive a rating from a major credit rating agency.
Traditional Banking 🏦
🇪🇺 German banks are looking to integrate Girocard into the online Integrate payment method Giropay.
🇪🇺 Bank of Ireland is putting €2m into an awareness campaign for people who want to move banks.
🇬🇧 Thousands of NatWest customers saw them charged twice for Visa debit transactions
🇬🇧 Nationwide says the introduction of SCA is helping it stop 2,000 cases of fraud per month
🌍 Bank of America is giving £1.2m to University of Oxford researchers tackling greenhouse gas removal and sustainable finance research.
Fintech Infrastructure 🚧
🇪🇺 Swiss core banking provider Temenos is being scouted by private equity firms.
🇪🇺 Santander has developed internal software to digitise its core banking platform and has already migrated 80% of its IT infrastructure to the cloud.
🇬🇧 Open banking platform Yapily has acquired German competitor FinAPI in its first acquisition that doubles its customer base and makes it the largest open banking payments provider with $39.5bn in annual payments.
🇬🇧 ComplyAdvantage has launched a live sanctions tracker displaying the latest sanctions on Russia.
🇬🇧 Codat launched its Assets product that allows lenders to more easily underwrite small businesses for loans.
🇬🇧 ex-HSBC colleagues have got together to start WCKD RZR, a "data enablement" startup which raised $1.2m in seed funding in March.
🇬🇧 ID-Pal has launched in the UK.
🇬🇧 British BaaS fintech Griffin successfully submitted its UK banking licence to the FCA.
🌍 Google is working with the major card networks to bring virtual cards to Chrome and Android.
🌍 FIS is partnering with Treasury Prime to enable small businesses to offer embedded financial services to their customers.
Payments 💰
🇪🇺 Adyen is to offer BNPL services from Afterpay to its merchants worldwide.
🇪🇺 Klarna is testing its live shopping function, giving consumers the ability to be connected to employees from shops via a video call or messenger whilst they are shopping online.
🇪🇺 Zettle now will allow SMBs to accept contactless payments directly on their Android devices with no additional hardware required.
🇬🇧 Asda has partnered with Jaja Finance to provide a rewards-led credit card to the supermarkets 18m customers.
🇬🇧 Checkout has acquired Ubble.
🇬🇧 The Payment Services Regulator (PSR) released its Digital Payments Initiatives report, with recommendations focused on awareness and understanding of digital payments, innovation, improving trust by reducing fraud and reducing digital exclusion.
🌍 Google is bringing back Google Wallet, a place to store cards, digital IDs, tickets etc.
🌍 Affirm shares jumped after strong results and optimistic guidance.  Active customers roubled to 12.7m, GMV +73% to $3.9bn with 81% of transactions were repeat customers and added 1.5m new customers and they had 207,000 merchants on its platform.
🌍 Square is releasing a Bookings API, to expand use of Square Appointments, and Checkout API, to integrate Square through checkout pages and supports Afterpay, Cash App Pay and Square Pay.
Regulatory Corner 🔎
🇬🇧 British regulators seem to be reluctant to give Revolut a UK banking licence due to concern over its crypto unit and its KYC processes.
🇬🇧 The new Financial Services and Markets Bill will protect access to cash across the UK and enable the Payment Systems Regulator to require banks to reimburse APP fraud.
🌍 US SEC Commissioner says stablecoins are likely to be regulated after the price of UST crashed this week.
---
Longer reads 📜
---
Your feedback is a gift, please give below 🙏
See you next week!