UK & Europe
TWIF UK & Europe (14/11) - Co-mingled. Colluding. Illiquid. Bankrupt. Hacked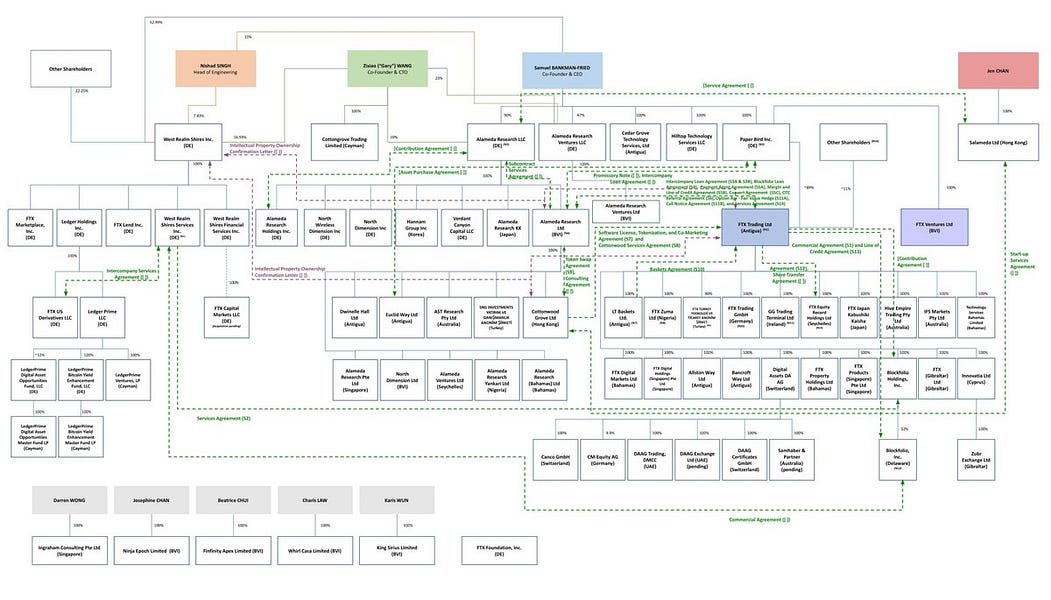 Hello TWIF UK & Europe friends,
Spanish fintech funding is trending down, counter to last weeks trend of Portugal and Switzerland hitting record high's in 2022.  Spain's fintech funding is projected to fall over 50% from 2021's $985m level.
The crypto industry faces its toughest challenge yet with the fallout from the bankruptcy of FTX and the loss of confidence in the sector following major problems at the exchange.
See more on FTX/Binance and another week of fintech news, financings and exits below.
---
This Week in Fintech is a reader-supported publication.
To receive new posts and support us, consider becoming a free or paid subscriber.
Please also share with your friends and colleagues.
---

If you're an early-stage startup founder raising equity or debt, we may be able to help - come check out our fund, The Fintech Fund or get in touch.
Are you a fintech angel investor? Come join our syndicate.
---
Sponsored Content 
Want to be a This Week in Fintech - UK & Europe sponsor? Reach out to me at michael@thisweekinfintech.com and see our sponsorship information here.
---
🗞️ News to share?
Have any UK/European fintech news/tips? Hit me up michael@thisweekinfintech.com
---
Tweet of the week 🦉🏆
---
Funding 💸
Highlights below of deals since the last post in the fintech space across the UK & Europe.
🇪🇺 Payment operations startup Atlar, formed by ex-Tink employees, raised a €5m seed round led by Index Ventures.
🇪🇺 Web3 access provider Lympid raised a $400k pre-seed round.
🇪🇺 Alternative asset platform Splint Invest raised a CHF 500k seed round.
🇪🇺Payroll aggregator PayBIX raised a €1.2m seed round from VLAIO.
🇬🇧 Savings and investments app Chip raised £3m in its first day of crowdfunding on Crowdcube.
🇬🇧 Crypto onramp Ramp raised a $70m Series B led by Mubadala Capital and Korelya Capital.
🇬🇧 Payments fintech KodyPay raised a £4.4m seed round.
🇬🇧 Digital asset platform Archax raised a$28.5m Series A from Tezos Foundation, BitRock Capital, Blockchain Coinvestors and Abrdn.
🇬🇧Insurtech startup Napo raised a £15m Series A.
🌍 Quona Capital raised its third funtech fund, $332m, focused on financial inclusion in emerging markets.
🌍 Family office for the masses Arta raised $90m from Ribbit Capital, Coatue and others.
₿ Blockchain intelligence startup TRM Labs raised a $70m Series B round led by Thomas Bravo and included Goldman Sachs, PayPal, American Express and Citi.
Challenger Banking 🚀
🇪🇺 US based revenue based lender Capchase is expanding to Germany and the charge is being led by Frank Bertele, former manager at Mollie.
🇬🇧 Revolut has partnered with the Royal British Legion again to give users an easy way to support the Poppy Appeal and receive a Poppy Card with a £5 donation. The neobank is also eyeing up the mortgage market.
🇬🇧 Corporate card provider Debite has launched Debite Pay, a way for customers to send payments directly from their corporate card to a bank account.
🇬🇧 Starling has partnered with end-of-life admin service Settld.
🌍 Cash App is aiming to be the primary account and card for consumers according to parent company Block's co-founder, Jack Dorsey on its Q3 earnings call.  Cash App has 49m users, generated $774m in profit in Q3 (+51% yoy).
Digital Assets ₿
🇪🇺 The EU has delayed voting on its MiCA Legislation until February due to the length and complexity of the text.
🇪🇺 Coinbase found itself in hot water with the German regulator Bafin over its risk management processes.
🇪🇺 30 Spanish banks are working together with a POC to assess the impact of a digital euro, alongside infrastructure providers Bizum, Iberpay and Redsys.
🌍 OpenSea can detect stolen NFTs and scam links in a boost to stop fraud.
🌍 Coinbase lost $545m in Q3 and missed earnings targets ($590m revenue vs $654m expected) with user numbers dropping less than expected.
🌍 Goldman Sachs, MSCI and Coin Metrics launched a classification system for the digital assets market.
🌍 Fidelity Investments has started a waitlist for Fidelity Crypto, it's crypto trading offering for retail investors.
🌍 Meta announced tools to allow Instagram users to mint and sell NFTs on Polygon, providing the blockchains token MATIC with strong support.
🌍 Circle has begun to move its fiat reserves backing USDC to a dedicated fund set up by BlackRock with the end goal for the funds to be held at the Federal Reserve through a repo program with Blackrock.
🌍 The Binance FTX saga has taken too many twists and turns this week to post everything but checkout the breakdown above. US regulators are also investigating FTX over mishandling of customer funds.
🌍 Binance is accused of processing $8bn in transaction for IRan despite US sanctions.
🌍 Gate.io, a US crypto exchange, is set to launch payments products to enable merchants and users to pay with crypto.
🌍 The Federal Reserve Bank of New York has developed a wholesale CBDC prototype.
Traditional Banking 🏦
🇪🇺 Fidor Bank is to be liquidated by its French owner, BPCE.
🇬🇧 Santander's UK arm is putting a £3,000 monthly limit on payments to crypto exchanges to combat fraud.
🇬🇧 OBIE chair Charlotte Crosswell OBE is stepping down from her post in January 2023 and will char the Centre for Finance, Innovation and Technology (CFIT).
🇬🇧 NatWest have released a set of APIs for its corporate customers to make real-time payments and automate reconciliations.
🌍 Goldman Sachs has reportedly mulled acquiring a credit card platform such as Deserve, Cardless and CoreCard.
Fintech Infrastructure 🚧
🇬🇧 Rapyd has launched a multi-currency treasury solution for its international customers in APAC which features cash management solutions.
🇬🇧 Embedded finance platform Railsr (formerly Railsbank) is exploring strategic options including a sale after it closed a discounted round at a $250m valuation. Its apparently planning 16% of job losses and the sale of its Singapore business.
🇬🇧 BaaS provider LHV has secured neobroker Lightyear as a customer for real-time Euro payments.
🇬🇧 API bank Griffin is partnering with 11:FS Foundry to distribute its BaaS products.
🌍 A survey by Citi showed a majority of market participants were in favour of reducing equity settlement cycle to T+1 in the next five years.
🌍 Saudi Arabia's central bank has set out its open banking framework, focusing on AIS first with PIS to follow.
🌍 JP Morgan has partnered with Mastercard to create "Pay by Bank", a service to let customers pay using their bank account on ACh rails.
Payments 💰
🇪🇺 French payment provider Wordline is boosting its Italian presence by acquiring Banco Desio's acquiring business for €100m.
🌍 Block, Binance Pay and Bitcoin Lightning Network payment provider Strike are all in the running to provide payment technology to Twitter, with Elon Musk looking to turn Twitter into a super-app. Twitter meanwhile halted it's plans to build a crypto wallet.
🌍 PayPal reported Q3 processing volumes of $5bn (+157% yoy) and total volume of $337bn (+14%) and 25m customers of its BNPL solution with 280,000 merchants displaying it at checkout.
🌍 Affirm reported Q3 2022 results of GMV to $4.4bn (+62% yoy), 14.7m customers (+69%), 3.3 transactions per active customer and $362m of revenue (+34%). The stock plummeted due to macro risks and slowdowns at Peloton.
🌍 Federal Reserve data showed that the growth of credit card debt slowed.
🌍 Elon Musk has outlined his plans to transform Twitter into a financial super app by allowing users to connect their bank accounts to the app and has filed paperwork to process payments.
🌍 Stripe has launched its Tap to Pay SDK for merchants.
Regulatory Corner 🔎
🇬🇧 FCA has warned BNPL bosses they could face jail if they do not stick to financial promotion rules.
🌍 Workers using Zelle to receive payments are avoiding reporting earnings to the IRS as the bank owned payments service does not have to declare transactions unlike Venmo and PayPal.
---
Longer reads 📜
---
Your feedback is a gift, please give below 🙏
See you next week!