Hello TWIF UK & Europe friends,
Please find another week of fintech news, financings and exits below.
---
Sponsored Content 
Suspicious activity report (SAR) filing trends reflect the continued volatility of the financial crime landscape. In the final months of 2021, ComplyAdvantage surveyed 800 C-suite and senior compliance decision-makers across North America, Europe, and Asia Pacific - our findings showed that 80% of firms said they filed more SARs in 2021, compared to 70% who said the same in 2020. Almost a third of respondents (31%) said they filed 10–20% more SARs in 2021 compared to 2020.

Download the report today to uncover more financial crime trends for 2022: https://complyadvantage.com/insights/the-state-of-financial-crime-2022/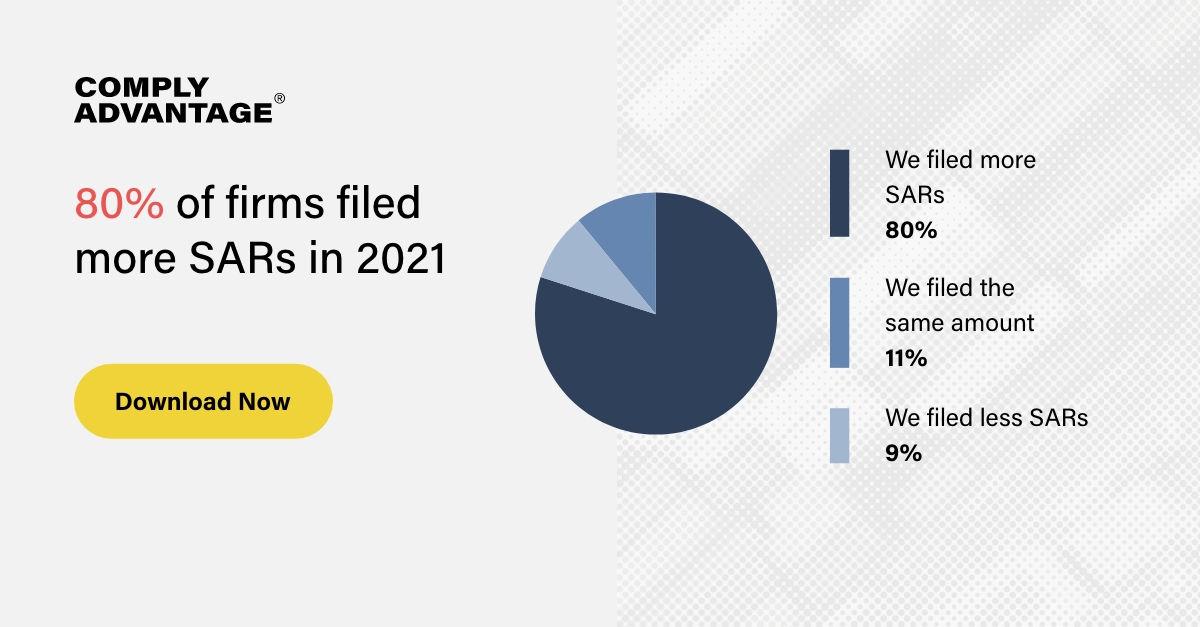 ---
Tweet of the week 🦉🏆
---
💼 Open Role Spotlight
Come find your place on the team at the most inspiring fintech startups! Browse open roles on This Week in Fintech's job board.
---
Funding 💸
There were 15 deals in the fintech space across the UK and Europe since the last post, with a total investment of $1bn. Some highlights are below.
🇪🇺 Neobank Vivid Money raised a €100m Series C at a €775m valuation led by Greenoaks Capital and included SoftBank and Ribbit Capital.
🇪🇺 Business finance platform Silvr raised a €130m debt and equity Series A from Bpifrance, Eurazeo, Otium Capital and angel investors.
🇪🇺 French payments platform Alma raised a €130m Series C round from Tencent, Bpifrance, Eurazeo and others.
🇪🇺 Cross-chain liquidity protocol Qredo raised a $80m Series A led by 10T Holdings and included AVA Labs, Coinbase Ventures, Raptor Group and more.
🇬🇧 Fintech infrastructure platform Railsbank is looking to add $100m in funding which would value it at $1bn.
🇬🇧 GoCardless raised a $312m Series G at a $2.1bn valuation led by Permira and included BlackRock.
🇬🇧 Inclusion fintech lender Fintern raised £8m in capital.
🇬🇧 Klarna is considering a new fundraising round with a $50bn-$60bn valuation.
🌍 Subscription platform ChargeBee raised $250m led by Sequoia and Tiger.
🌍 Sardine raised a $19.5m Series A from a16z, NYCA and Experian.
Challenger Banking 🚀
🇪🇺 Four executives of N26 are being investigated in Berlin due to increased fraudulent activity.
🇪🇺 Trade Republic gave researchers some customer statistics which shows that 70% are under 35 years old, 60% have <2yrs of investing experience and were 83% male.
🇬🇧 Savings and investment app Chip has added Invesco's Crypto Companies Fund to its platform for its ChipX subscribers.
🇬🇧 Neo-broker Lightyear is looking to socialise its app with "Profiles", allowing users to share portfolio details.
🇬🇧 Tide has signed up 1,000 customers to its Open Access service who bring their existing bank accounts to its software platform.
🇬🇧 Charity donation fintech Toucan has publicly launched.
🇬🇧 Alternative lender Selina Finance has raised £150m to support its home equity lending product.
🇬🇧 Sokin is partnering with Visa for its Global Currency Account and debit cards.
🇬🇧 Wealth management app Plum is to launch US stocks in Q1, with EU, UK and crypto to come later in the year.
Digital Assets ₿
🇪🇺 Crypto.com could be in trouble in Germany where it entered without having the required license in place. The crypto firm is also looking to expand globally with the help of Worldpay.
🇬🇧 Fnality successfully conducted a proof of concept transaction with Santander and NatWest to use its instant settlement distributed ledger technology.
🌍  Researchers at MIT in conjunction with the Boston Fed have designed a CBDC system that processes 1.7m transactions per second without using distributed ledger technology.
🌍  Jump Trading has replaced 120,000 ETH that were stolen when the Wormhole bridge was hacked last week.
🌍 US officials have seized $3.6bn from the 2016 Bitfinex hack and arrested two individuals.
🌍 DriveWealth is acquiring a crypto trading from as it seems to offer crypto services to its customers.
🌍 Blackrock is to offer crypto trading to its institutional clients as well as plans for a Blockchain ETF.
Traditional Banking 🏦
🇪🇺 JP Morgan is looking to enter the German retail market with a robo advisor.
🇬🇧 Nationwide is partnering with Funding Circle to offer insurance and capital to SMEs.
Fintech Infrastructure 🚧
🇬🇧 The Faster Payment System has had its transaction limit increased 4x, to £1m, with LHV UK already offering payments at this increased limit.
🇬🇧 Tink has embedded subscription platform Youtility into its money management tools to enable banks with a subscription management platform.
🇬🇧 TransUnion is the first credit agency in the UK to ingest BNPL data.
🇬🇧 Tillit has partnered with TrueLayer to enable easier account funding.
🇬🇧 Thought Machine has signed Italian bank Intesa Sanpaolo for its more core infrastructure for a new mass market digital bank.
🇬🇧 WealthKernel launched Instant Matching Deposits in a collaboration with ClearBank which provides instant funding for investors.
🌍 Fiserv is acquiring cloud banking provider Finxact for $650m.
Payments 💰
🇬🇧 Payments platform Paysafe has acquired SafetyPay as it expands its footprint in LATAM.
🌍 Apple finally unveiled "Tap to Pay", which enables merchants to use iPhones as payment terminals without any additional hardware.
🌍 A study from Splitit has indicated consumers prefer BNPL with existing credit cards vs new lines of credit alongside a preference for monthly not bi-weekly repayments.
Regulatory Corner 🔎
🇪🇺 The ECB has warned banks under its supervision about potential Russian-sponsored cyberattacks.
🇪🇺 The European Commission is introducing laws to cover a digital euro and to expand Sepa Instant across the EU.
🇬🇧 Freetrade suffered the ire of the FCA over its misleading social media influencer posts and has been forced to take them down.
🌍 Data from the Federal Reserve puts bank losses due to synthetic fraud at $20bn.
---
Longer reads 📜
---
Your feedback is a gift, please give below 🙏
See you next week!