Hello TWIF UK & Europe friends,
The team at C-Innovation has put together the current status of Fintech IPOs in 2021 which shows that only 2 are above their IPO price as of early December (Paytm and LendInvest.  Whilst private markets are on fire, this shows it hasn't extended to public markets where investors can be more scrutinising.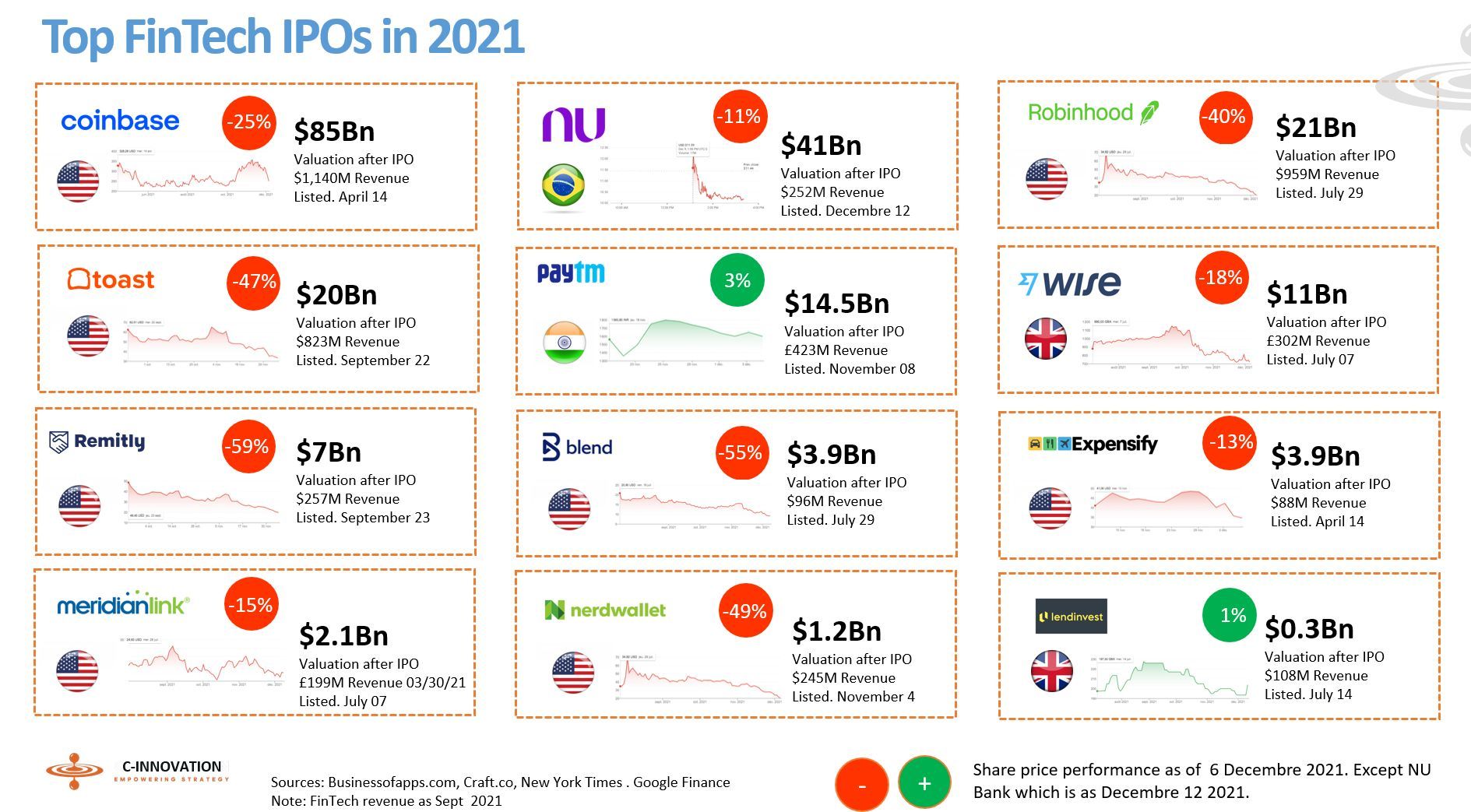 Please find another week of fintech news, financings and exits below.
---
Sponsored Content 
Want to sponsor a newsletter? See our sponsorship information here.
---
Tweet of the week 🦉🏆
---
Funding 💸
There were 18 deals in the fintech space across the UK and Europe since the last post, with a total investment of $1.5bn. Some highlights are below.
🇪🇺 Card infrastructure platform Enfuce has raised a €45m Series C led by Vitruvian Partners.
🇪🇺 French neobank Lydia raised a $100m Series C led from Tencent, Accel, Dragoneer, Founders Future and Echo Street.
🇪🇺 Core banking provider Mambu rasied a €235m Series E led by EQT.
🇪🇺 Business spend platform Pleo raised a $350m Series C co-led by Coatue and Bain Capital.
🇬🇧 Monzo raised $500m at a $4.5bn valuation led by Abu Dhabi Growth Fund and included Coatue, Alpha Wave, Accel and Goodwater.
🙌🏻 TWIF Take - This is a great turnaround from the "going concern" warnings last year with the company reporting doubling of revenues, five million customers with a 6% conversion to paid and 100,000 business accounts.
🇬🇧 SaaS payroll service Pento raised a $35m Series B led by Avid Ventures and included Latitude, General Catalyst, Seedcamp and Tiger Global.
🌍 TRM Labs raised a $60m Series B from Visa, Amex, Citi, PayPal and Block.
Challenger Banking 🚀
🇪🇺 Neobank Bunq is partnering with green lending platform Tulp to offer mortgages.
🇬🇧 Canadian wealth management company Wealthsimple is pulling out of the UK and transferring its 16,000 customers to Moneyfarm as it seeks to focus domestically.
🇬🇧 Lender Zopa is exiting the P2P lending space and focusing on its banking operations.
🇬🇧 Starling Bank found 63% of SME business leaders feel lonely and struggle with creativity and ideation.  Maybe a gap in the market for a SMB focused neobank to help connect SME leaders together?
🇬🇧 Wise has replaced co-founder Taavet Hinrikus as Chairman of the Board with David Wells, former CFO of Netflix.
🇬🇧 Sugi has partnered with Artorius to give the latter's wealth management clients access to tools to invest in greener portfolios.
🇬🇧 Research from Credit Kudos has found that 9 in 10 of the 102 lenders it surveyed planned to adopt Open Banking technology within two years.
🇬🇧 Earnr has launched a booking and tax return app for the eight million people with side hustles.
🇬🇧 LendInvest reported 28% revenue growth (to £72.4m) and a 51% increase in gross profit to £26.5m.
Digital Assets ₿
🇪🇺 Tokenchampions have launched a tokenised investment fund allowing users to invest in footballer's image rights with the goal of broaden access
🇪🇺 Banque de France, Swiss National Bank and BIS Innovation Hub have completed their wholesale CBDC experiment, Project Jura, which involved the direct transfer of EUR and CHF wCBDCs between commercial banks on a single DLT platform.
🌍  Bitmart has suffered a ~$200m security breach
🌍  Blockchain settlement infrastructure SETL has claimed its Regulated Liability Network (RLN) processed 1 million transactions per second.
🌍  Has Satoshi been found?  Australian Craig Wright claimed victory in a civil lawsuit but many in the crypto space are unconvinced.
🌍 Visa is launching a Global Crypto Advisory Practice to help its clients advance in the space, as part of its consulting services.
Traditional Banking 🏦
🇪🇺 Ireland's banks new payment app, Yippay, has hit a snag with news that the Competition and Consumer Protection Commission (CCPC) would launch an investigation on its impact on consumers.
🇬🇧 TSB has partnered with Cogo to help its customers monitor and reduce carbon footprint.
Fintech Infrastructure 🚧
🇬🇧 Paymentology is merging with South African rival Tutuka to create one issuer-processor with a near global reach, spanning nearly 50 countries.
🇬🇧 The Open banking Limited (OBL) board is seeking a CEO to lead the Open Banking Implementation Entity (OBIE) and its transition.
🌍 The CEO of digital mortgage solution Better.com fired 900 employees at once via Zoom and accused many of "stealing".
Payments 💰
🇪🇺 Klarna is partnering with luxury retailer Harrods to offer its BNPL services to customers.
🇪🇺 Payments processor Worldline is buying a majority stake in Eurobank Merchant Acquiring, a greek acquirer.
🇪🇺 Subscription management platform Minna Technologies is bringing the 1-click experience to subscription management, allowing bank customers to manage subscription spend frictionlessly in their banking app.
🇬🇧 Former TSB, Metro Bank and Atom Bank executives have come together to launch Loop, a social networking app to enable friends and family to share money.
🇬🇧 BNPL company Butter is launching its own BNPL card, joining the likes of Monzo and Klarna that also have issued cards.
🇬🇧 Visa announced it is piloting a bill management service which is powered by its request to pay platform.
🇬🇧 Payments company Rapyd is boosting its Asia business by acquiring Hong Kong fintech Neat.
🇬🇧 Amazon is partnering with Barclays in the UK for BNPL. h/t to Chris Gledhill.
🇬🇧 Fashion brands Levi, Superdry and AllSaints are seeking legal action over card fees charged by Mastercard and Visa.
🌍 Social media platform TikTok is partnering with Stripe to allow users to pay for tips with credit and debit cards, firstly in the US and then more broadly.
🌍 Affirm launches a Pay Now option where customers can also earn rewards.
🌍 Meta has extended its pilot of Novi, its stablecoin based crypto wallet, to Whatsapp.
Regulatory Corner 🔎
In collaboration with Kat Cloud
🇪🇺 ECB to redesign euro banknotes - The ECB plans to redesign euro banknotes, working with European citizens in a process that is expected to lead to a final decision in 2024. The redesign process will start with the creation of focus groups. Tasked with gathering opinions from people across the euro area.
🇪🇺 BIS cross-border payments taskforce - The Bank for International Settlements (BIS) is setting up a task force on defining common features of cross-border payment service levels. The findings of this taskforce will feed into the development of service level templates.
---
2022 Predictions
It's that time of year again where people in the fintech space are making their 2022 predictions so I will include a list here of some of the best in the coming weeks.
---
Longer reads 📜
---
Want to be a This Week in Fintech - UK & Europe sponsor? Reach out to me at michael@thisweekinfintech.com or find me on Twitter.
Your feedback is a gift, please give below 🙏
See you next week!