UK & Europe
TWIF UK & Europe (12/12) - Five hours to read out list of charges for payments executive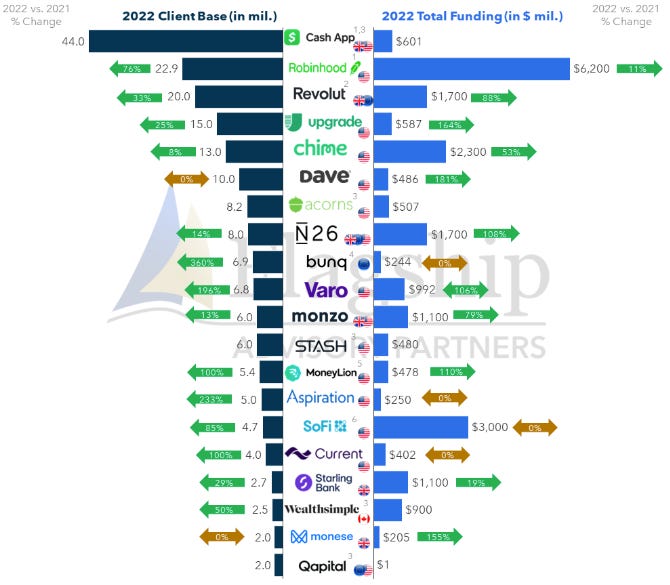 Hello TWIF UK & Europe friends,
Q3 fintech funding in Germany falls by 20% and projected full year numbers look likely to be 15% lower than 2021.  Without the huge $400m Series D of insurtech wefox, the situation would be even more bleak.
The charge sheet against Wirecard boss Marcus Braun runs 474 pages and took five hours to read out in court this week.
Please find another week of fintech news, financings and exits below.
---
This Week in Fintech is a reader-supported publication.
To receive new posts and support us, consider becoming a free or paid subscriber.
Please also share with your friends and colleagues.
---

If you're an early-stage startup founder raising equity or debt, we may be able to help - come check out our fund, The Fintech Fund or get in touch.
Are you a fintech angel investor? Come join our syndicate.
---
Sponsored Content 
Want to be a This Week in Fintech - UK & Europe sponsor? Reach out to me at michael@thisweekinfintech.com and see our sponsorship information here
---
🗞️ News to share?
Have any UK/European fintech news/tips? Hit me up michael@thisweekinfintech.com
---
Tweet of the week 🦉🏆
---
Funding 💸
Highlights below of deals since the last post in the fintech space across the UK & Europe.
🇪🇺 Stablecoin issuer Membrane Finance raised a €2m seed fund and secured an EMI licence.
🇪🇺 Revenue based lender Tapline raised a €31.7m pre-seed round of €30m debt from Fasanara Capital and €1.7m in equity led by V-Sharp Venture Studio.
🇪🇺 European lender Younited raised a €60m round from Bpifrance, Eurazeo, Goldman Sachs and Credit Mutuel Arkea.
🇪🇺 Data encryption provider Vaultree raised a $12.8m Series A from Molten Ventures, SentinelOne, TenEleven Ventures and others.
🇬🇧 SME lender Allica Bank raised a £100m Series C led by TVC.
🇬🇧 Card app Curve has secured a $1bn credit line from Credit Suisse to support its BNPL product, Curve Flex.
🇬🇧 Startup investing AI solution Koble raised a £1m pre-seed round from Pitchdrive and Modus Capital.
🇬🇧Employee ethics compliance provider Argus raised a $2.8m seed round led by CRV.
🇬🇧 Capital markets data provider 9fin raised a $23m Series A led by Spark Capital.
🇬🇧 Wealth manager T8 raised £3.3m via crowdfunding platform Seedrs.
🇬🇧 Personal tax solution Taxd raised investment from QVentures.
Challenger Banking 🚀
🇪🇺 Neobroker BUX has acquired the retail business of Spanish rival Ninety Nine, with the latter exiting the B2C market.
🇪🇺 A new agreement has been reached on updating consumer credit rules to protect borrowers from new types of debt such as BNPL by increasing assessment of ability to repay, capping interest rates and making advertising clearer.
🇪🇺 German SME neobank Penta is migrating customers to new parent company Qonto and has paused new account openings, a blow for Baas provide Solaris.
🇬🇧 Neobank Kroo launched its flagship current account and offers 2% interest.
🇬🇧 Starling Bank has told the Public Accounts Committee that a third of its bounceback loans are at risk of default. It also released virtual cards for customers to make it easier to budget.
🇬🇧 Flagship Advisors highlight Bunq (above) as a neobank to watch as it increased its customer base in 2022 without raising new funds.
🇬🇧 Tide launched its business bank account offering in India.
🇬🇧 Moneyfarm is acquiring pension provider Profile Pensions.
🌍 Fintech lenders Blueacorn PPP, Bluevine, Kabbage, Womply, Celtic Bank and Cross River Bank have been accused of facilitating fraud in the Paycheck Protection Program by a House subcommittee by failing to screen out fraudulent applications.
🌍 Intuit has acquired credit builder SeedFi and will seek to combine it with Credit Karma.
🌍Neobroker Robinhood has launched a waitlist for Robinhood Retirement, an IRA with 1% matched on every contribution.
Digital Assets ₿
🇪🇺 Concedus Digital Assets is looking for a new partner after its previous partner, FTX, collapsed.
🇪🇺 PayPal is rolling out its crypto services in Luxembourg as part of a wider European push.
🇪🇺 The EU is trying to figure out how best to regulate crypto for its citizens by requiring foreign providers to register with the EU.
🌍 Infrastructure provider Ankr and stablecoin issuer Helio Protocol suffered connected hacks with a total loss of $20m.
🌍 Coinbase has been forced to disable NFT transfers on its iOS app citing Apple wanting a 30% cut of gas fees on its in-app transactions.
🌍 Circle has cancelled its planned SPAC.
🌍 Genesis is rumoured to owe up to $1.8bn to creditors.
🌍 Goldman Sachs is looking to increase its acquisitions in the distressed crypto space.
🌍 Lender Nexo is to stop serving US customers due to a lack of regulator clarity.
🌍 Grayscale Investments is being sued by hedge fund Fir Tree Partners over its Bitcoin Trust. The hedge fund is short USDT which is rumoured to be the real target.
🌍 Blockstream is seeking to raise funds at a $1bn valuation, down 70% from its 2021 valuation.
🌍 Stablecoin collateral custody provider Signature Bank is to offload $8bn of deposits.
🌍 Metamask parent ConsenSys has updated and clarified its policy on storing user data after community pushback against last months updated policy to collect users wallet and IP data.
🌍 Former FTX CEO SBF is to be subpoenaed by the Senate Banking Committee and House Financial Services Committee if he does not appear next week voluntarily.
🌍 Bankrupt crypto lender Celsius has been ordered to return $50m in crypto to custody account users.
🌍 Hong Kong is to require crypto providers to comply with the same AML and terrorist financing laws as traditional financial institutions.
Traditional Banking 🏦
🇪🇺 UBS is partnering with Regula to streamline its customer onboarding process.
🇪🇺 Commerzbank has chosen Nexi for card processing.
🇪🇺 Deutsche Bank is to partner with NVIDIA to accelerate its use of AI.
🇪🇺 ABN Amro has released a B2C payments app Tikkie to allow businesses to create and send payments to customers via Whatsapp, text, email or QR code.
🇬🇧 NatWest hired a former Google exec to head up its new innovation and partnerships team and a former PayPal and Amex executive to head up payments.
🌍 Wells Fargo launched a new digital banking platform, Vantage, for its commercial clients.
Fintech Infrastructure 🚧
🇪🇺 The ECB has delayed the launch of its new collateral management system from November 2023 to April 2024.
🇬🇧 Custody infrastructure platform Seccl is powering GoHenry's JISA.
🌍 Marqeta has integrated Mastercard Track Instant Pay to enable supplier invoices to be paid instantly via a virtual card.
🌍 Galileo has released a BNPL offering for its bank and fintech customers.
🌍 Plaid announced 20% of its workforce, some 260 employees, are being laid off.
Payments 💰
🇪🇺 The European Payments Council has published its first SEPA scheme rulebook which outlines two "premium services" which include payment certainty mechanisms and PSD2 services not available via online banking interfaces.
🇪🇺 Italy's new government is promoting the use of cash over digital payments and has been rebuked by the Italian central bank. It is also considering a tax on banks to reduce the fees merchants are charged for accepting digital payments
🇬🇧 Online Payments Group has been acquired by US payments company Shift4, for $126m, as it continues its global expansion.
🇬🇧 The PSR revised its part of its approach regarding APP fraud and propose the 14 largest PSP groups to provide data every 6 months on APP scam performance.
🌍 Block has been ordered by the CFPB to provide emails from executives as part of its investigation into how the company handles customer complains about fraud and errors.
🌍 Thales has introduced a Voice Payment Card for people that are visually impaired
🌍Affirm is debating increasing the interest rate it charges consumers as well as increasing merchant charges.
🌍 American Express has launched Amex Business Link, a B2B payments system for SMEs. It is also facing a lawsuit in Australia over credit card issuing.
🌍 BNPL provider Splitit is expanding its partnership with the Google Store to customers in US, Canada and Australia.
🌍 A report from Flagship Advisors highlights the increase in late fees and delinquency rates as well as a decline in margins for US BNPL providers.
---
Longer reads 📜
---
Your feedback is a gift, please give below 🙏
See you next week!