Hello TWIF UK & Europe friends,
Please find another week of fintech news, financings and exits below.
---
Sponsored Content 
From supply chains in crisis to high-wire geopolitical standoffs and the implementation of massive new regulatory frameworks, it's going to be a landmark year for compliance professionals. In the final months of 2021, ComplyAdvantage surveyed over 800 C-suite and senior compliance decision-makers across North America, Europe, and Asia Pacific to see how they are navigating anti-financial crime compliance.
Download the report today: https://complyadvantage.com/insights/the-state-of-financial-crime-2022/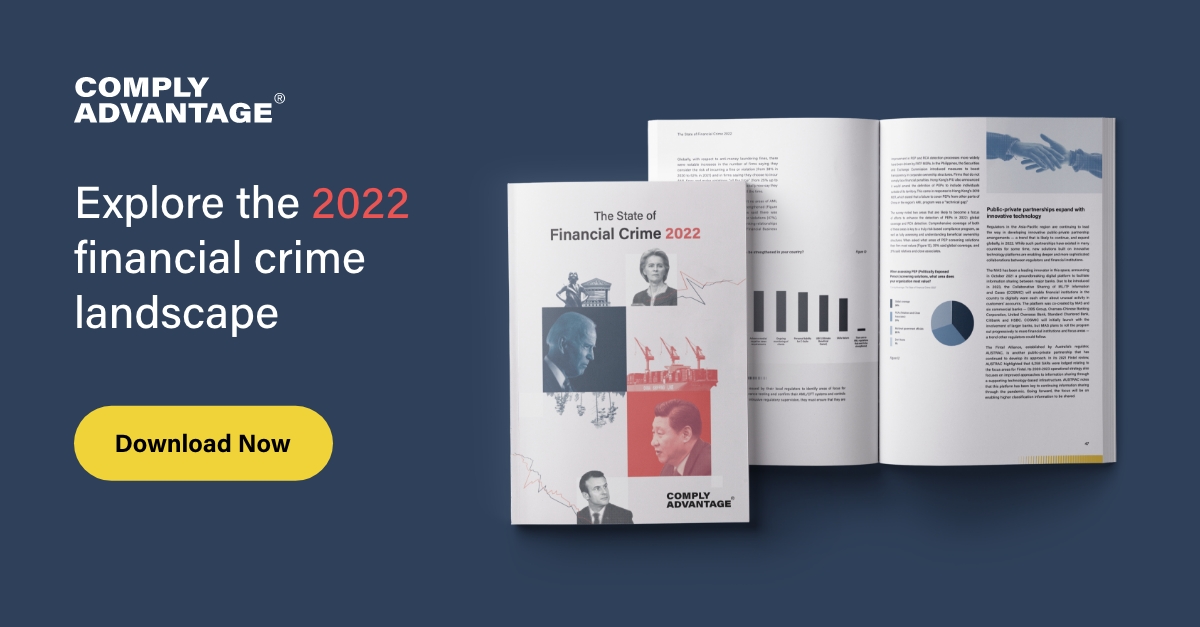 ---
Tweet of the week 🦉🏆
---
💼 Open Role Spotlight
Come find your place on the team at the most inspiring fintech startups! Browse open roles on This Week in Fintech's job board.
---
Funding 💸
There were 19 deals in the fintech space across the UK and Europe since the last post, with a total investment of $549m. Some highlights are below.
🇪🇺 Expense management platform Circula raised a €12m Series A led by Alstin Capital and included Peak Ventures and Storm Ventures.
🇪🇺 Revenue financing platform Wayflyer raised a $150m Series B co-led by QED Investors and DST Global.
🇪🇺 Crypto analytics platform Dune raised a $70m Series B led by Coatue.
🇬🇧 Sustainable investment app Etcho raised a £280,000 pre-seed round from angel investors and via Crowdcube.
🇬🇧 Cross-border payments fintech NALA raised a $10m seed round led by Amplo and included Accel, Bessemer and angel investors.
🌍 FTX raised a $400m Series C funding at a $32bn valuation.
🌍 Solana crypto wallet Phantom raised a $109m Series B
🌍 Plaid announced their second FinRise accelerator cohort which includes Dollarito, Kaoshi, Perch, Portabl and Pyroscope
Challenger Banking 🚀
🇪🇺 Neobank Northmill has acquired Moreflo as it looks to move into B2B payments.
🇪🇺 Neobank Bunq has partnered with Birdee to let users invest their cash.
🇬🇧 Revolut announced free P2P transactions between US customers and Mexico and launched in Ireland.  The neobank also started to offer pet insurance.
🇬🇧 Founders of fintechs Checkout.com, Bought by Many and Oaknorth met with the government regarding listing reforms to encourage more tech firms to list in London.
🇬🇧 Mortgage platform Kensington is being fought over by Starling Bank and Barclays.
🇬🇧 The National Literacy Trust is starting a campaign of financial literacy for young people in the UK with the support of Experian.
🇬🇧 UK lender Shawbrook Bank has built an in-house pricing tool using AI which is 5x quicker.
🇬🇧 Monzo has publicly launched in the US after running a private beta.  It was also reprimanded by the CMA for failing to disclose credit limit charges and announced three-month paid sabbaticals for staff.
🌍 Shares in Robinhood fell over 15% after it missed estimates for its Q4 results.
Digital Assets ₿
🌍  Google Cloud has launched a Digital Assets Team to explore blockchain platforms.
🌍 DeFi protocol Wonderland voted its treasury manager out after it was revealed to be Michael Patryn, a co-founder of exchange QuadrigaCX who was convicted of financial crimes.
🌍 Solana Pay, a collaboration between Solana, Circle (USDC) and Phantom wallet, has been announced to enable merchants to accept and settle USDC for payments online and offline.
🌍 Crypto lending platform Genesis is to offer loans using NFTs as collateral.
Traditional Banking 🏦
🇬🇧 Lloyds has signed JCT600, a car dealership, as its first retailer for its new PayFrom Bank A2A product for customers who want to buy a vehicle online.
🇬🇧 HSBC is investing $100m in green technology projects.
🇬🇧 Barclays is partnering with Rainmaking to launch Rise Start-Up Academy, an accelerator targeting early-stage fintech founders.
Fintech Infrastructure 🚧
🇪🇺 Solarisbank and Contis have completed their partnership, creating a entity with a combined €100m in revenue.
🇬🇧 Tink released its "Income Check" product in the UK which enables lenders to verify an applicants income using open banking technology.
🇬🇧 Modulr has partnered with Ripple to offer RippleNet customers an alternative to correspondent banking in the UK and Europe.
🇬🇧 Bud is working with TotallyMoney to incorporate open banking technology into credit scoring.
🇬🇧 OneBanks Hub, the shared bank branch hub is partnering with Answer Pay to offer Request to Pay solutions to low-income customers to benefit from direct debit discounts that were previously out of reach.
Payments 💰
🇪🇺 Worldline is hiring 5,000 new staff as it accelerates its geographical expansion.
🇪🇺 PayPal is launching its BNPL "Pay in 30" service in Germany.
🇬🇧 Pell Capital has launched a contactless card project, Oratio Project, for the homeless so they can take donations.
🌍 Square announced that purchases are 20% larger for Square merchants when shoppers use Afterpay, the BNPL provider it acquired. It has also hired a manager for its European expansion and is hiring in Berlin.
🌍 Bolt CEO has stepped back into a new role of executive chairman.
🌍 During its Q4 earnings call, PayPal mentioned 4.5m accounts were closed due to being "illegitimate", with shares falling 25% as a result of that and earnings missing expectations.
🌍  Zelle announced 49% increase in transaction volumes in 2021, with business payments seeing a 162% increase.
Regulatory Corner 🔎
In collaboration with Kat Cloud
🇬🇧 FCA staff have voted to take industrial action over pending pay cuts.
---
Longer Reads 📜
---
Your feedback is a gift, please give below 🙏
See you next week!