Hello TWIF UK & Europe friends,
Please find another week of fintech news, financings and exits below. If you are reading this but haven't already subscribed, you can click below 🙏
Don't forget to also share with colleagues and friends!
---
Sponsored Content 
From the conflict in Ukraine to the fall of Afghanistan, economic and financial sanctions have never played a greater role in Western statecraft. This report is an essential read for anyone working in anti-money laundering compliance, exploring what the evolving use of sanctions means for businesses, and how to ensure compliance.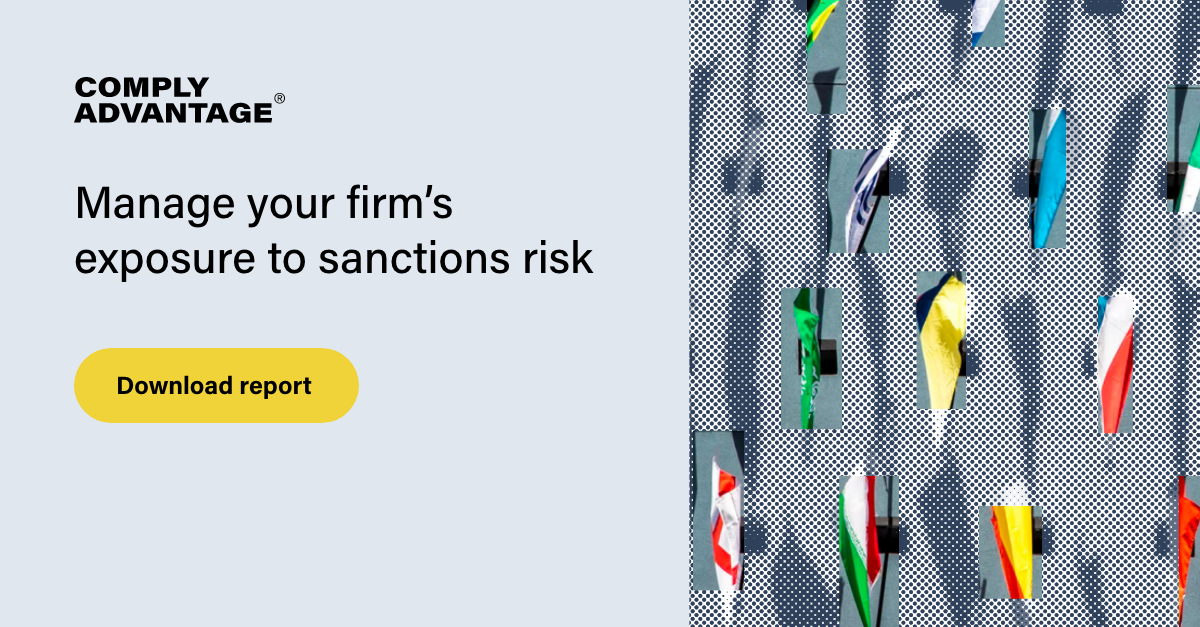 ---
Tweet of the week 🦉🏆
---
Funding 💸
Highlights below of deals since the last post in the fintech space across the UK & Europe.
🇪🇺 German tax fintech Taxfix raised $220m at a $1bn valuation from investors including Creandum, Index Ventures and Valar Ventures.
🇪🇺 Polish earned wage access company Flexee raised a $3m seed round.
🇪🇺 Business treasury management platform Embat raised a €1.5m seed round led by VentureFriends.
🇪🇺 Swiss business accounting platform numarics raised a CHF 2.1m seed round.
🇪🇺 Customs and VAT automation fintech Eurora raised a €36.3m Series A.
🇬🇧 Starling Bank raised £130.5m at a pre-money valuation of £2.5bn from existing investors.
🇬🇧 Open banking payments provider Volume raised a $2.4m pre-seed round led by firstminute Capital.
🇬🇧 Revenue based financer Outfund raised £15m of equity and £100m of debt in a Series A round that included Force Over Mass Capital, Tribe Capital and more.
🇬🇧 Crypto wallet Argent raised a $40m Series B led by Fabric Ventures and Metaplanet.
🌍 US lifestyle neobank Cogni raised a $23m Series A.
🌍 DeFi investment bank Ondo Finance raised a $20m Series A from investors including Tiger Global, Pantera, Founders Fund, Coinbase and Wintermute.
🌍 Intelligent invoicing fintech Streamlined raised a $4m seed round from Greycroft, SignalFire and Unusual Ventures.
🌍 Neobank for digital entrepreneurs Winden raised $5.3m in seed funding led by Accel.
Challenger Banking 🚀
🇪🇺 N26 has apologised for accounts it closed by mistake due to AML measures.
🇪🇺 Swedish edtech startup Gimi is partnering with ABN Amro to educate young people on personal finance and financial literacy.
🇪🇺 Mondu has partnered with Raisin to offer BNPL to B2B merchants.
🇬🇧 Revolut has halted its Ukraine refugee referral scheme after users gamed the system to earn the referral fee.
🇬🇧 SME lender Allica Bank is launching a fixed rate commercial mortgage.
🇬🇧 Moneyhub is partnering with Wyzr to automate financial planning.
🇬🇧 Lender Sonovate is pivoting to embrace embedded finance with a new API lending platform for businesses.
🌍 Robinhood announced its cutting 9% of jobs after a period of exuberant growth led to duplication.
Digital Assets ₿
🇪🇺 The ECB's Fabio Panetta is pushing for a global crypto regulatory framework.
🇬🇧 Revolut announced they have nearly 100 people working in the web3 space.
🇬🇧 UK cybercrime police are earning 3x by moving into the private sector at firms like Coinbase and Chainalysis.
🌍 The OCC has flagged Anchorage Digital Bank as failing AML and not reporting suspicious activity.
🌍 MetaMask went down earlier this week due to an outage at Infura, an ethereum infrastructure provider.
🌍 Twitter is partnering with Stripe to allow the creators on its platform to be paid in USDC, using Polygon.
🌍  Fidelity has launched a financial education experience in metaverse Decentraland. They will also allow bitcoin investing through 401(k) retirement accounts.
🌍 Crypto.com launched a lobbying operation at the start of the year, spending $230k in Q1.
🌍  DEX Saddle Finance was hacked for $10m due to a smart contract bug.
Traditional Banking 🏦
🇬🇧 AJ Bell has released a new investing app Dodl, designed for people new to investing.
🇬🇧 Standard Chartered as acquired a plot of virtual land in The Sandbox's Mega City.
🌍 Bank of America and Citi are converting their cards to using recycled plastic.
Fintech Infrastructure 🚧
🇪🇺 Klarna is enabling gambling blocks for open banking payments through Sofort, utilising open source code developed by Monzo and Truelayer.
🇪🇺 Core banking platform Tuum received a €1m investment from LHV Group, one of its customers.
🇬🇧 Contis launched a new card processing solution called process.pay, a solution to process any card globally.
🇬🇧 TrueLayer has created the first variable recurring payment API, a first for the industry.
🇬🇧 Capital markets fintech PrimaryBid is looking to expand to the US next year
🇬🇧 New Zealand's First AML has launched in the UK.
🌍 Bond has added Evolve to its ecosystem of partners for its BaaS solution.
🌍 Credit bureau Experian is to release its BNPL credit bureau this spring.
Payments 💰
🇪🇺 Trustly is partnering with Razorpay to allow users to make payments directly from their bank accounts.
🇬🇧 Payment orchestrater Primer has partnered with Asian BNPL firm hoolah to make it easy for merchants to add a BNPL option in their systems.
🇬🇧 GoCardless has found that open banking payments generate 4x less carbon emissions than card payments.
🌍 Apple Cash's virtual card images seem to have switched from Discover to Visa. The tech giant is also hiring in London for its Wallets team.
🌍 Mastercard is to link all employee bonuses to its ESG performance.
🌍 One click checkout provider Bolt is being sued by its most prominent customer, Forever 21 owner, Authentic Brands Group.
🌍 Bank owned payments solution Zelle has released QR codes, allowing users to pay by scanning their unique QR code.
🌍 Amazon is launching "Buy with Prime" to allow Amazon merchants to sell their wares directly from their own website as the tech giant looks to compete with Shopify. Quick Amazon Prime checkout will be available.
Regulatory Corner 🔎
🇬🇧 An FCA review found six unnamed neobanks are not doing adequate checks on new customers which is resulting in a rise in the number of Suspicious Activity Reports.
🌍 The CFPB is planning to use a legal provision in the Dodd-Frank Act to supervise "nonbanks whose activities the CFPB has reasonable cause to determine pose risks to consumers".
---
Longer reads 📜
---
Your feedback is a gift, please give below 🙏
See you next week!